Holly Schmidt

Artist

Holly Schmidt is an artist, curator and educator who engages processes of embodied research, collaboration and informal pedagogy to explore the multiplicity of human relations with the natural world. Her work involves the creation of temporary site-specific projects and residencies, along with material-based explorations in the studio. Her national and international exhibitions, projects and residencies include: Vegetal Encounters (2019-21) with the UBC Outdoor Art Program, Quiescence (2019) at the Burrard Arts Foundation, A-Y with Locals Only (2018) at AKA Gallery, Pollen Index (2016) at the Charles H. Scott Gallery, Till (2014-15) at the Santa Fe Art Institute, Moveable Feast (2012) at the Burnaby Art Gallery and Grow (2011) with Other Sights for Artists' Projects. Schmidt is grateful to live and work in Vancouver, Canada, the unceded territories of the Musqueam, Squamish and Tsleil-Waututh Nations.

Read More
Vegetal Encounters is Holly Schmidt's multi-year residency with the Outdoor Art program at UBC. Through this residency, Schmidt has been creatively engaging with plant life as a significant source of life, connection and learning. The artist suggests that learning with plant life involves slowing down and using all of the senses to engage deeply and with respect. As part of her residency, she has been creating opportunities for students, staff and faculty on campus to attend to the plants around them, which has resulted in a range of art projects in various media and of different durations. Vegetal Encounters is curated by Barbara Cole and commissioned with support from UBC's Matching Fund for Outdoor Art through Infrastructure Impact Charges. For more information on Holly Schmidt's residency, contact Barbara Cole, Curator of Outdoor Art at the Belkin.
Associated Events
Fireweed Fields, Spring 2021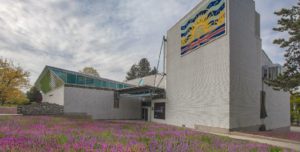 Fireweed Fields transforms a UBC lawn site into a fireweed meadow, encouraging increased biodiversity through gradual succession as a metaphor for the resurgence of life after a crisis. This installation acknowledges the global climate emergency: by tearing through the fabric of maintained lawns and colonial ideals, it plants the initial seeds for change and catalyzes dialogue, creative experimentation, and new biodiversity research and learning opportunities.
Accretion, Spring 2020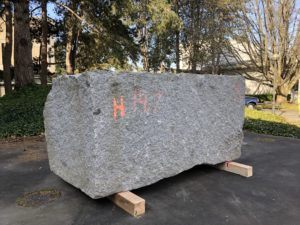 Schmidt describes Accretion (2017-), a different but overlapping community-engagement project that is already underway, thusly: "The first phase of Accretion examined the concept of precarity through a particular type of granite used in the construction of early colonial buildings at the turn of the last century and in recent developments in Vancouver. Through photography, video and writing, I documented the journey of a 14.7-ton slab of granite from its extraction on Hardy Island (the traditional territories of the Shishalh and Sliammon Nations) and transportation to the Vancouver Mainland." The granite was moved by crane to a site behind the Belkin for the final phase of Accretion, which will involve consultation and gatherings with a diverse group of project contributors to determine the future of the granite.
Nomadic Structures, Spring 2020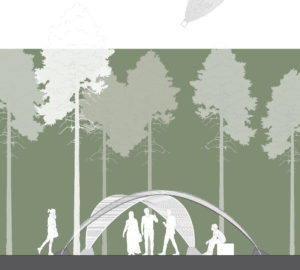 Working with students from UBC's Environmental Design program, part of the School of Architecture and Landscape Architecture, Schmidt led an exploration of nomadic architecture that would lead to a design-build project for artist-led gatherings throughout the UBC campus.
Mycology Collaboration and a Sensorial Walk, Fall 2019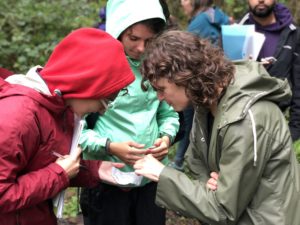 During the Fall of 2019, Holly Schmidt, Shelly Rosenblum, Belkin Curator of Academic Programs and Brett Couch, Senior Instructor in the Departments of Botany and Zoology worked together to create novel pedagogical experiences for students in a third year biology course on Mycology. The groups came together to consider how research and teaching methodologies might mutually inform one another's practices, both in terms of obstacles and achievements, and how to use these insights to enhance and enrich students' experiences.
Forecast, Summer 2019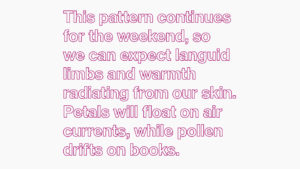 Schmidt's Forecast (2019) – the first public intervention that developed as part of Vegetal Encounters – offers an alternative approach to experiencing weather. Throughout the first week of June, when UBC hosted the Congress of the Humanities and Social Sciences, Schmidt daily installed a brief text describing the environmental conditions to be expected – "environmental" in the most open sense of the word.
IMAGES (from top):
HOLLY SCHMIDT, Accretion, 2020. Photo: Nigel Laing.
HOLLY SCHMIDT, FIREweed fields (artist's Rendering), 2021.
HOLLY SCHMIDT, Nomadic Structures, 2020. COURTESY OF Carmen Kam, Nazanin Seifi Hessar and Tiff Nguyen.
HOLLY SCHMIDT, Sensorial Walk, 2019. PHoto: NIGEL LAING.
HOLLY SCHMIDT, FORECAST (SCREEN CAPTURE FROM DIGITAL PROJECT), 2020. PHoto: Nigel Laing
Holly Schmidt

Artist

Holly Schmidt is an artist, curator and educator who engages processes of embodied research, collaboration and informal pedagogy to explore the multiplicity of human relations with the natural world. Her work involves the creation of temporary site-specific projects and residencies, along with material-based explorations in the studio. Her national and international exhibitions, projects and residencies include: Vegetal Encounters (2019-21) with the UBC Outdoor Art Program, Quiescence (2019) at the Burrard Arts Foundation, A-Y with Locals Only (2018) at AKA Gallery, Pollen Index (2016) at the Charles H. Scott Gallery, Till (2014-15) at the Santa Fe Art Institute, Moveable Feast (2012) at the Burnaby Art Gallery and Grow (2011) with Other Sights for Artists' Projects. Schmidt is grateful to live and work in Vancouver, Canada, the unceded territories of the Musqueam, Squamish and Tsleil-Waututh Nations.

Read More