Holly Schmidt

Artist

Holly Schmidt is an artist, curator and educator who engages processes of embodied research, collaboration and informal pedagogy to explore the multiplicity of human relations with the natural world. Her work involves the creation of temporary site-specific projects and residencies, along with material-based explorations in the studio. Her national and international exhibitions, projects and residencies include: Vegetal Encounters (2019-21) with the UBC Outdoor Art Program, Quiescence (2019) at the Burrard Arts Foundation, A-Y with Locals Only (2018) at AKA Gallery, Pollen Index (2016) at the Charles H. Scott Gallery, Till (2014-15) at the Santa Fe Art Institute, Moveable Feast (2012) at the Burnaby Art Gallery and Grow (2011) with Other Sights for Artists' Projects. Schmidt is grateful to live and work in Vancouver, Canada, the unceded territories of the Musqueam, Squamish and Tsleil-Waututh Nations.

Read More
Fireweed Fields is part of Vegetal Encounters, Holly Schmidt's durational artist residency in the Outdoor Art program. Vegetal Encounters is one of a number of public art initiatives at the UBC Vancouver campus.
Fireweed Fields transforms the Belkin's lawns into a fireweed meadow, encouraging increased biodiversity through gradual succession as a metaphor for the resurgence of life after a crisis. This installation acknowledges the global climate emergency: by tearing through the fabric of maintained lawns and colonial ideals, it plants the initial seeds for change and catalyzes dialogue, creative experimentation and new biodiversity research and learning opportunities. Meadow plants include fireweed, lupins, yarrow and Idaho fescue. Two cedar boardwalks will lead into the meadow, their configurations referencing the rhizomatic root structure of fireweed. The boardwalk design was a collaboration between Schmidt and artist/designer Charlotte Falk.
Fireweed Fields is a collaboration between the Belkin, the Sustainability Initiative and the Botanical Garden's Horticulture Training Program at UBC. A robust program of discussions, workshops, screenings and field research will unfold with project collaborators and campus partners, including the Beaty Biodiversity Museum, Climate Hub and the Botanical Garden at UBC and the Sierra Club BC. Additional contributors include Marina Roy (Department of Art History, Visual Art and Theory) and Chrystal Sparrow (Faculty of Land and Food Systems).
Fireweed Fields is curated by Barbara Cole and commissioned with support from UBC's Matching Fund for Outdoor Art through Infrastructure Impact Charges. The artist would like to acknowledge that this work is situated on the traditional, ancestral and unceded territory of the hən̓q̓əmin̓əm̓-speaking Musqueam people and invites reflection on this relationship. Fireweed has many gifts to offer and the artist is assisting in the respectful gathering and sharing of those gifts.
Watch a video of planting Fireweed Fields at the Belkin below:
IMAGEs (From top) HOLLY SCHMIDT, FIREweed fields (artist's Rendering), 2021; planting fireweed at the belkin, april 12, 2021. PHotos: Nigel Laing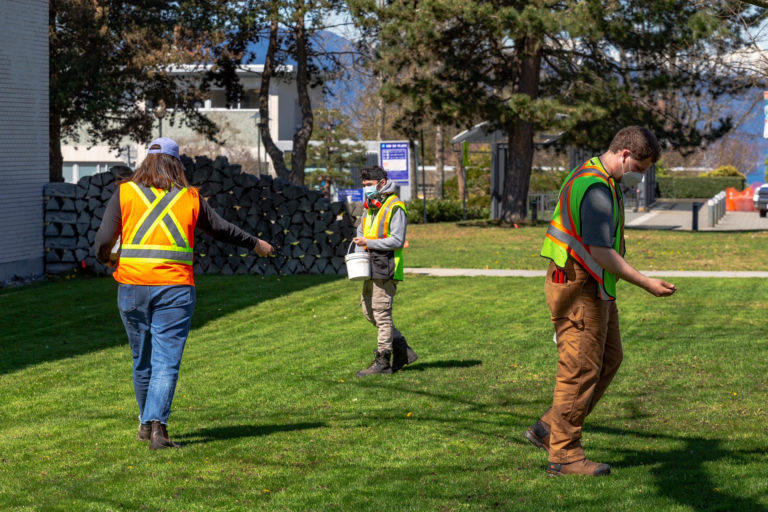 Holly Schmidt

Artist

Holly Schmidt is an artist, curator and educator who engages processes of embodied research, collaboration and informal pedagogy to explore the multiplicity of human relations with the natural world. Her work involves the creation of temporary site-specific projects and residencies, along with material-based explorations in the studio. Her national and international exhibitions, projects and residencies include: Vegetal Encounters (2019-21) with the UBC Outdoor Art Program, Quiescence (2019) at the Burrard Arts Foundation, A-Y with Locals Only (2018) at AKA Gallery, Pollen Index (2016) at the Charles H. Scott Gallery, Till (2014-15) at the Santa Fe Art Institute, Moveable Feast (2012) at the Burnaby Art Gallery and Grow (2011) with Other Sights for Artists' Projects. Schmidt is grateful to live and work in Vancouver, Canada, the unceded territories of the Musqueam, Squamish and Tsleil-Waututh Nations.

Read More