Holly Schmidt

Artist

Holly Schmidt is an artist, curator and educator who engages processes of embodied research, collaboration and informal pedagogy to explore the multiplicity of human relations with the natural world. Her work involves the creation of temporary site-specific projects and residencies, along with material-based explorations in the studio. Her national and international exhibitions, projects and residencies include: Vegetal Encounters (2019-21) with the UBC Outdoor Art Program, Quiescence (2019) at the Burrard Arts Foundation, A-Y with Locals Only (2018) at AKA Gallery, Pollen Index (2016) at the Charles H. Scott Gallery, Till (2014-15) at the Santa Fe Art Institute, Moveable Feast (2012) at the Burnaby Art Gallery and Grow (2011) with Other Sights for Artists' Projects. Schmidt is grateful to live and work in Vancouver, Canada, the unceded territories of the Musqueam, Squamish and Tsleil-Waututh Nations.

Read More

Chrystal Sparrow

Artist

Chrystal Sparrow is a xʷməθkʷəy̓əm (Musqueam) Coast Salish artist and female carver who was traditionally mentored by her late father Irving Sparrow. Sparrow is a traditional and contemporary Coast Salish artist who uses feminine designs to express her culture, history and personal experiences. Her public work can seen at the YVR International Airport, Vancouver School Board, Starbucks Canada, BC Children's Hospital and other new locations. She believes her art is a living Coast Salish art language that encompasses her identity and culture.

Read More
Join artists Chrystal Sparrow and Holly Schmidt for an afternoon of drawing in Fireweed Fields. The artists will guide a series of drawing experiences to deeply engage with the clover, plantain, buttercup and grasses in the meadow. Using materials such as oil pastels and charcoal, we will explore memory, emotion and kinship relations with plants to create expressive and unique drawings. No previous drawing experience is required. This workshop is intended for adults and families with children ages 7 and up. The workshop is free, and all necessary materials will be provided for attendees. Spaces are limited and available on a first-come, first-served basis; to register, email us at belkin.rsvp@ubc.ca with your name, age and number of attendees.
About Fireweed Fields
Fireweed Fields transforms a UBC lawn site into a fireweed meadow, encouraging increased biodiversity through gradual succession as a metaphor for the resurgence of life after a crisis. This installation acknowledges the global climate emergency: by tearing through the fabric of maintained lawns and colonial ideals, it plants the initial seeds for change and catalyzes dialogue, creative experimentation, and new biodiversity research and learning opportunities.
Reflections on Drawing in the Meadow, Summer 2021
The meadow outside the Belkin in mid-summer is growing tall and golden, indicating that August is near. The grasses are a setting for – and agents taking part in – a complicated web of relationships. Ants, beetles and bees slide up against and among the stems and flowers, and buttercup, clover and self-heals weave themselves into spaces where light and air are accessible.
Drawing in the Meadow, a workshop guided by artists Chrystal Sparrow and Holly Schmidt, took place among Schmidt's work Fireweed Fields, a part of the artist's Vegetal Encounters residency at the Belkin. The workshop, like the work itself, emphasized relationships; what it means to know something or someone, and to develop sustained and profound connections with human and non-human beings alike. It was an opportunity to meet and create together, and to feel a sense of community after more than a year of missing it.
Chrystal Sparrow is a Coast Salish carver, traditionally mentored by her late father and master carver Irving Sparrow. She uses Coast Salish designs in order to express her culture and her experiences. Her work with art therapy endowed the workshop with a sense of ease as participants engaged openly and fully with memory and emotion. Holly Schmidt's practice has been described as a gesture toward those who engage with her work and, importantly, toward the land her work is situated on. It is an action that generates a connection, a prompt for further communication.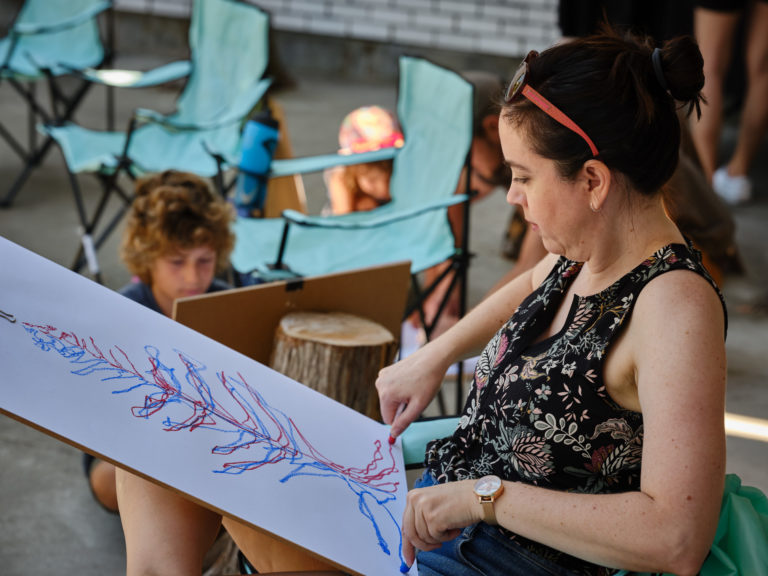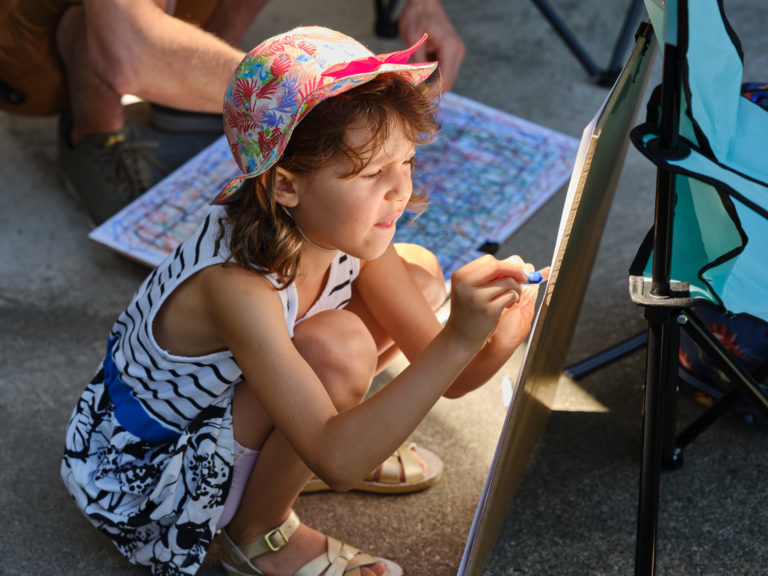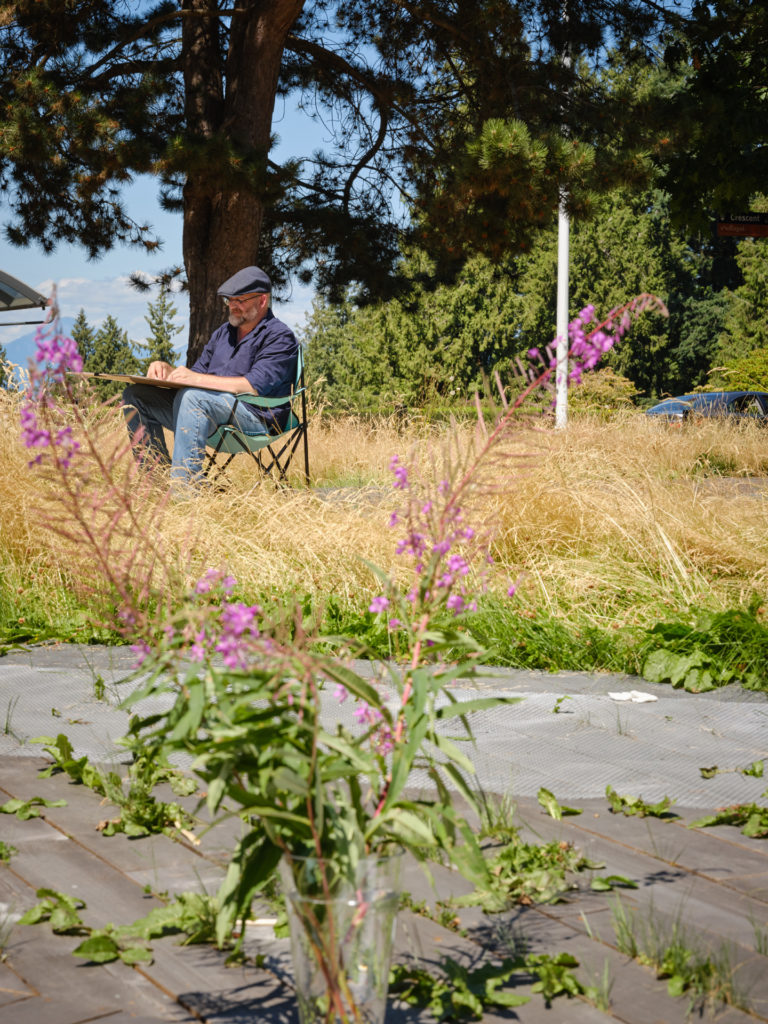 Bilateral drawing, or the action of drawing with both hands, allows open and freer movement and engagement with feelings and experiences. Oil pastels are an ideal medium, in their ability to glide smoothly over large surfaces – the bigger the better – and deposit rich fields of pigment. This first exercise was less about seeing and more about feeling the way. Sparrow explained that the movement that this type of drawing calls for can feel like a dance, and that the forms flowing out of those gestures can take on meanings or begin to resemble things. Richly varied forms of expression emerged from the exercise, including dashes resembling knitting patterns, blind contours meeting one another in unexpected ways, and swirling, energetic lines building up toward central nebulae.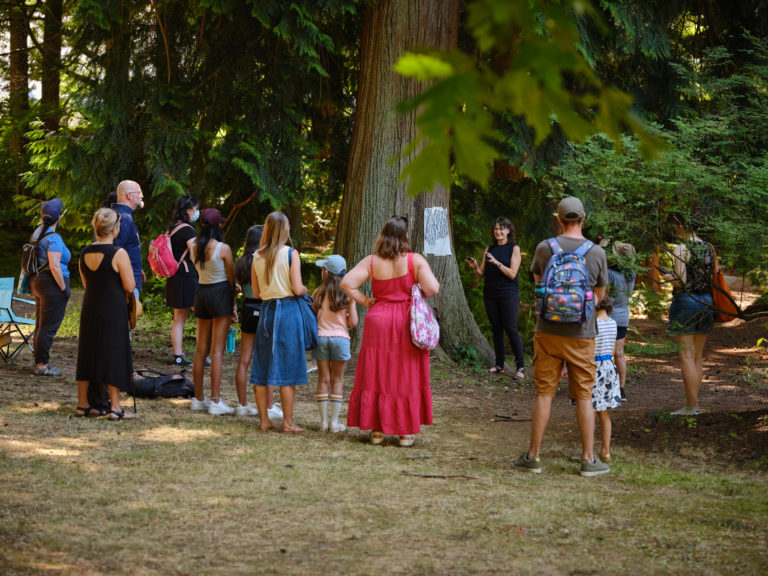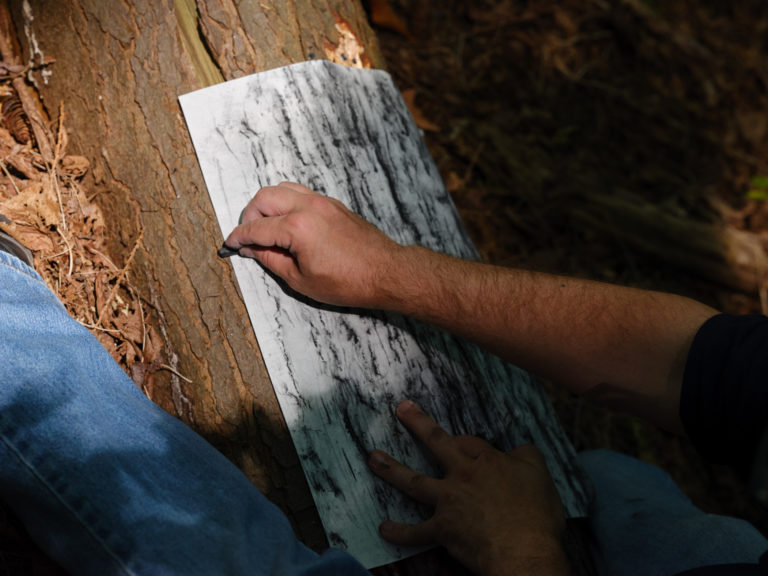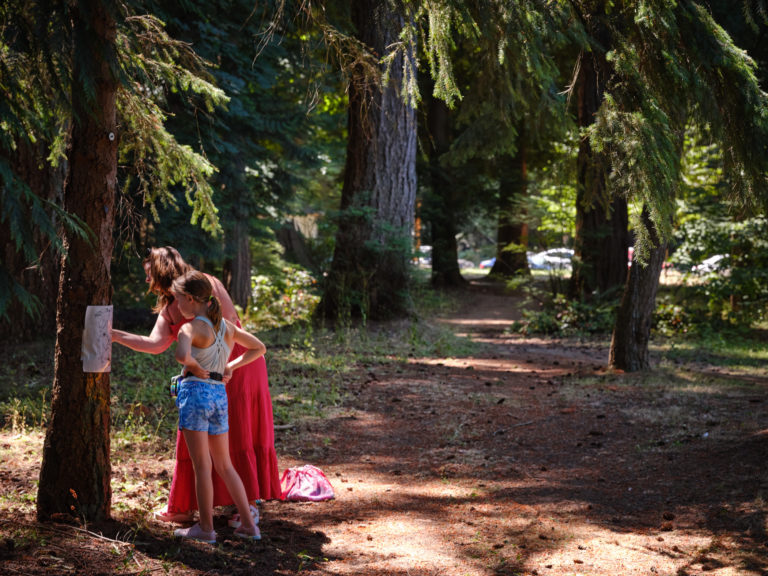 Tree rubbings took place in a shaded cedar grove, a few minutes by foot from the meadow. Participants applied charred, silvered pinecones, branches and twigs, carbonized by Schmidt, onto rice paper using a gentle rubbing motion, producing impressions of the bark underneath. Rice paper is a sensitive surface and charcoal picks up every knot and burl in the bark. The slow up-and-down motion required by this exercise echoed the physicality of the bilateral drawing. It was a chance to slow down and connect with the trees, to become familiar with the textures and forms latent in the bark, needles and leaves of local conifers, and to soak up the woody scent and the sunlight streaming through the branches.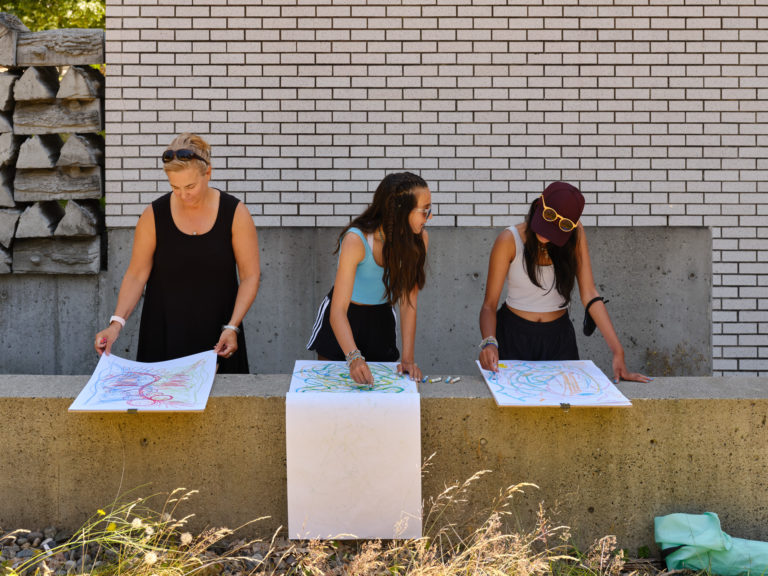 The boardwalk and meadow that make up Fireweed Fields have become a space to gather and celebrate one another's company. Families, groups of friends and individual participants were all in attendance, and it felt both familiar and new to be sitting comfortably among one another. Sensorially speaking, it was a feast: one to be continued into the fall and beyond as it once again becomes possible to gather.
Images: Rachel Topham Photography
Holly Schmidt

Artist

Holly Schmidt is an artist, curator and educator who engages processes of embodied research, collaboration and informal pedagogy to explore the multiplicity of human relations with the natural world. Her work involves the creation of temporary site-specific projects and residencies, along with material-based explorations in the studio. Her national and international exhibitions, projects and residencies include: Vegetal Encounters (2019-21) with the UBC Outdoor Art Program, Quiescence (2019) at the Burrard Arts Foundation, A-Y with Locals Only (2018) at AKA Gallery, Pollen Index (2016) at the Charles H. Scott Gallery, Till (2014-15) at the Santa Fe Art Institute, Moveable Feast (2012) at the Burnaby Art Gallery and Grow (2011) with Other Sights for Artists' Projects. Schmidt is grateful to live and work in Vancouver, Canada, the unceded territories of the Musqueam, Squamish and Tsleil-Waututh Nations.

Read More

Chrystal Sparrow

Artist

Chrystal Sparrow is a xʷməθkʷəy̓əm (Musqueam) Coast Salish artist and female carver who was traditionally mentored by her late father Irving Sparrow. Sparrow is a traditional and contemporary Coast Salish artist who uses feminine designs to express her culture, history and personal experiences. Her public work can seen at the YVR International Airport, Vancouver School Board, Starbucks Canada, BC Children's Hospital and other new locations. She believes her art is a living Coast Salish art language that encompasses her identity and culture.

Read More