Holly Schmidt

Artist

Holly Schmidt is an artist, curator and educator who engages processes of embodied research, collaboration and informal pedagogy to explore the multiplicity of human relations with the natural world. Her work involves the creation of temporary site-specific projects and residencies, along with material-based explorations in the studio. Her national and international exhibitions, projects and residencies include: Vegetal Encounters (2019-21) with the UBC Outdoor Art Program, Quiescence (2019) at the Burrard Arts Foundation, A-Y with Locals Only (2018) at AKA Gallery, Pollen Index (2016) at the Charles H. Scott Gallery, Till (2014-15) at the Santa Fe Art Institute, Moveable Feast (2012) at the Burnaby Art Gallery and Grow (2011) with Other Sights for Artists' Projects. Schmidt is grateful to live and work in Vancouver, Canada, the unceded territories of the Musqueam, Squamish and Tsleil-Waututh Nations.

Read More
As part of her Vegetal Encounters residency, Holly Schmidt collaborated with Bill Pechet and Mari Fujita and their students from UBC's Environmental Design (ENDS) program in the School of Architecture and Landscape Architecture to explore the potential for a mobile structure to support residency programming on campus.
For this Spring 2020 project, ENDS 401 students were asked to consider Schmidt's focus on human relationships with plant life and her embodied approach to engaging deeply with the natural world in the design of a mobile structure. Parameters around ease of transportation and installation, sustainable materials and comfortable spaces for gathering helped shape their proposals. Students were eager for an opportunity to create designs in response to an artist's vision and to see those design realized in some way on campus; because of COVID-19 constraints, these proposals have not yet been constructed.
For more about the project, read Laura Beshears's "Experience and the Object: Experiments in Relational Art & Architecture" in Peripheral Review (27 May 2021).
IMAGEs (From Above) Carmen Kam, Nazanin Seifi Hessar, Tiff Nguyen, Pa-Leaf-Ion, 2020; Claudio Cabana, Tyler Harvey, Percival Ren, Portable Gallery, 2020; Megan Berry, Narita Ico, Robert Ferguson, Oasis, 2020; Carmen Kam, Nazanin Seifi Hessar, Tiff Nguyen, Pa-Leaf-Ion, 2020. All Courtesy of the artists.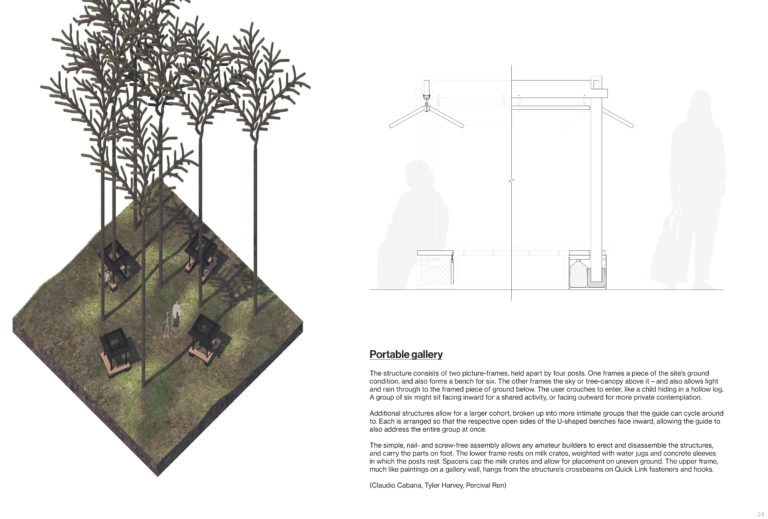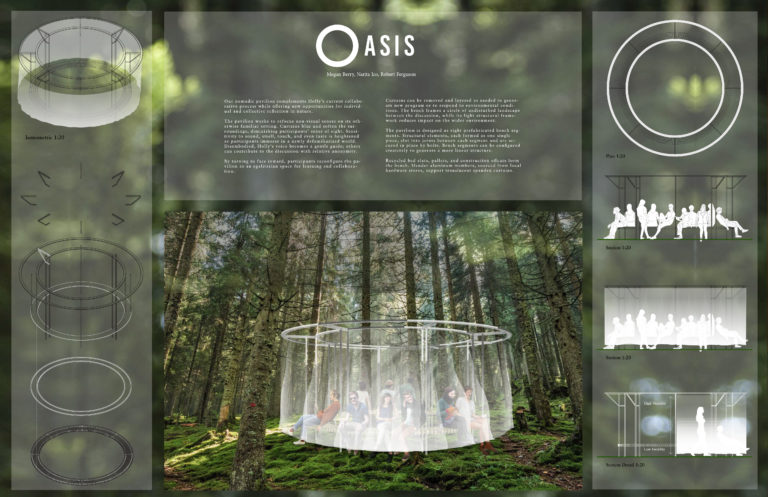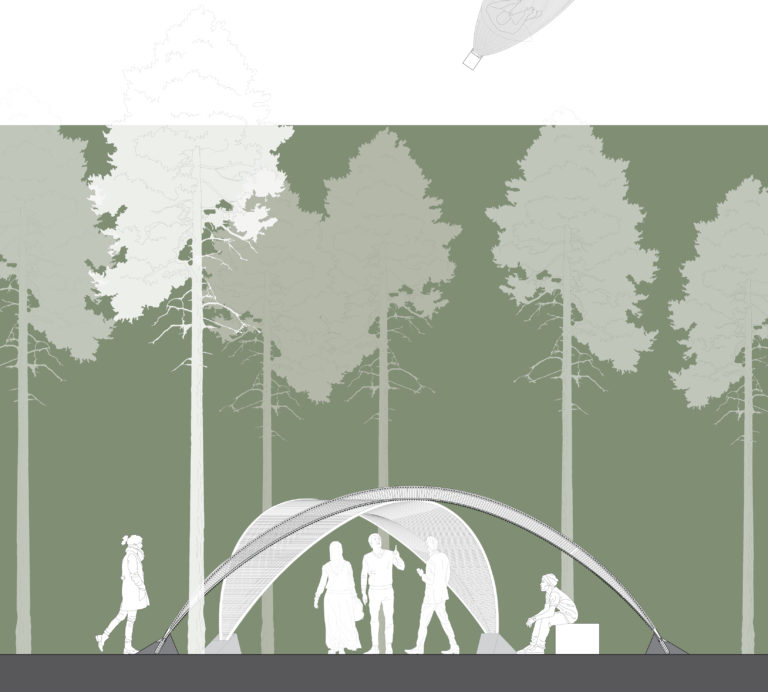 Holly Schmidt

Artist

Holly Schmidt is an artist, curator and educator who engages processes of embodied research, collaboration and informal pedagogy to explore the multiplicity of human relations with the natural world. Her work involves the creation of temporary site-specific projects and residencies, along with material-based explorations in the studio. Her national and international exhibitions, projects and residencies include: Vegetal Encounters (2019-21) with the UBC Outdoor Art Program, Quiescence (2019) at the Burrard Arts Foundation, A-Y with Locals Only (2018) at AKA Gallery, Pollen Index (2016) at the Charles H. Scott Gallery, Till (2014-15) at the Santa Fe Art Institute, Moveable Feast (2012) at the Burnaby Art Gallery and Grow (2011) with Other Sights for Artists' Projects. Schmidt is grateful to live and work in Vancouver, Canada, the unceded territories of the Musqueam, Squamish and Tsleil-Waututh Nations.

Read More