Sempùlyan

Musician

Sempùlyan is of Musqueam and Squamish descent. His late mother Norma Campbell was from Musqueam and his late father Harvey Gonzales from Squamish. He is an Indian Day School and Indian Residential School survivor. As a Cultural Worker with the Squamish Nation, Sempùlyan teaches the youngest population of the Nation.

Read More
Sonic Responses invites eight musicians and one composer to respond to the changed aural conditions of UBC's outdoor spaces. Their music making confronts and enters into a dialogue with the quiet that currently resides on campus. Responding to different locales and situations, the repertoire for Sonic Responses stretches across a broad range of traditions.
The paddle song plays many roles in Musqueam culture. It is sung to greet visitors as well as to say farewell to those embarking on trips or who have passed away. The paddle song also serves as a song of celebration. Sempùlyan learned the song from his cousin Mary Point. Noticing a mature cedar tree amongst the plantings of Library Garden, Sempùlyan chose to stand in its presence for his rendition of this piece. Beyond the cedar's branches is the shuttered Irving K. Barber Learning Centre.
Sonic Responses furthers the collaborations between the Morris and Helen Belkin Art Gallery and the School of Music that will continue through Soundings: An Exhibition in Five Parts (Fall 2020). The project is led by Barbara Cole, Curator of Outdoor Art, David Metzer, Professor of Musicology and Chair of the University Art Committee, and Judith Valerie Engel, a doctoral candidate in piano performance.
Sonic Responses was initiated by the Morris and Helen Belkin Art Gallery in collaboration with the School of Music and supported by the British Columbia Arts Council's Arts and Culture Resilience Supplemental Award and UBC's Catalyzing Research Clusters Program.
Images (above and below): Rachel Topham Photography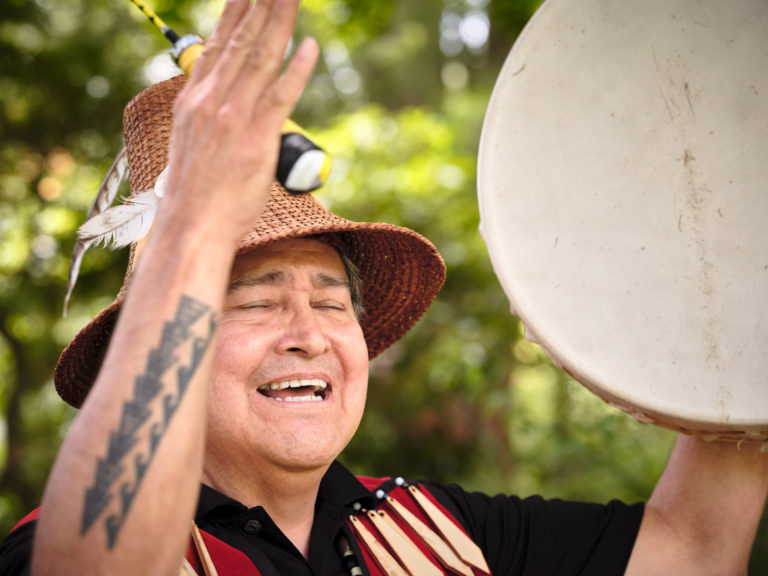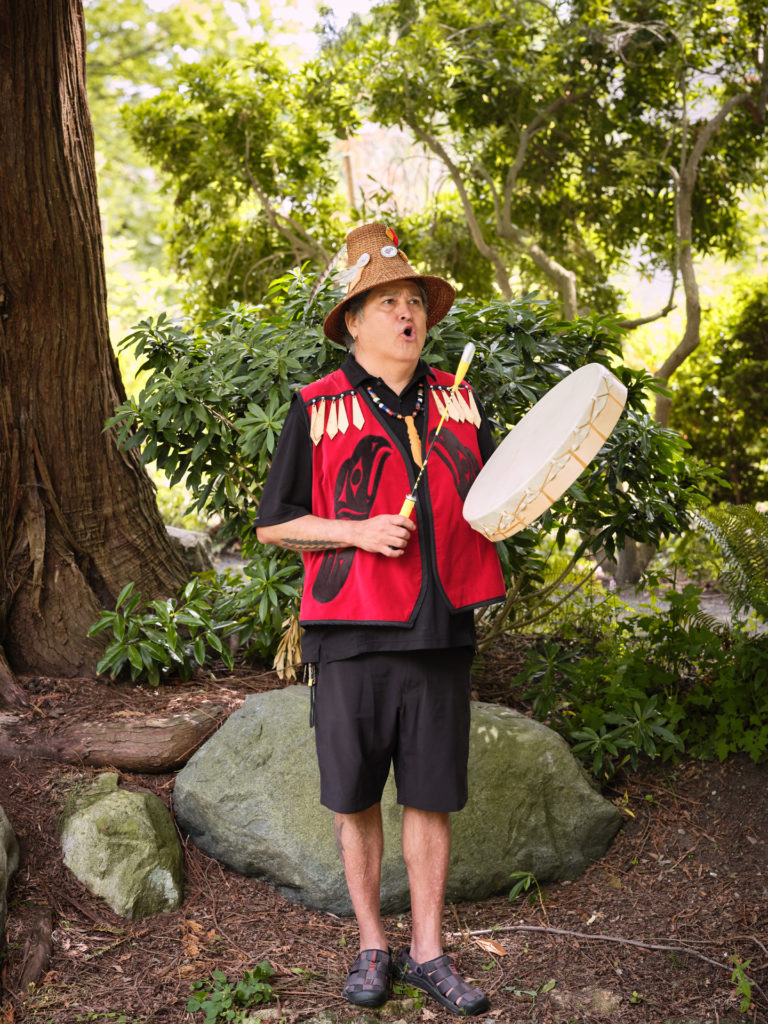 Sempùlyan

Musician

Sempùlyan is of Musqueam and Squamish descent. His late mother Norma Campbell was from Musqueam and his late father Harvey Gonzales from Squamish. He is an Indian Day School and Indian Residential School survivor. As a Cultural Worker with the Squamish Nation, Sempùlyan teaches the youngest population of the Nation.

Read More