Raven Chacon

Artist

Raven Chacon is a composer, performer and installation artist from Fort Defiance, Navajo Nation whose practice centers in sound. Chacon is one of the three members of the interdisciplinary arts collective Post-commodity, along with Cristobal Martínez and Kade L. Twist. As a solo artist and in collaborations, Chacon has exhibited or performed at Whitney Biennial, documenta 14, REDCAT, Musée d'art Contemporain de Montréal, San Francisco Electronic Music Festival, Chaco Canyon, Ende Tymes Festival, 18th Biennale of Sydney, and The Kennedy Center. Every year, he teaches 20 students to write string quartets for the Native American Composer Apprenticeship Project (NACAP). He is the recipient of the United States Artists fellowship in Music, The Creative Capital award in Visual Arts, The Native Arts and Cultures Foundation artist fellowship, and the American Academy's Berlin Prize for Music Composition. He lives in Albuquerque, New Mexico, and Toronto, ON.

Read More

Sebastian De Line

Artist

Sebastian De Line is a queer, trans artist and scholar of Haudenosaunee-Métis-Cantonese descent who was born in Burnaby, BC, on the unceded territories of the Musqueam, Squamish and Tsleil-Waututh nations. He/they hold a BFA in Autonomous Fine Art from the Gerrit Rietveld Academy, an MA in Art Praxis from the Dutch Art Institute and is currently a PhD Candidate in Cultural Studies at Queen's University (situated on traditional Haudenosaunee and Anishinaabe territory). His/their work seeks a non-spectacular form of art that enables an intimacy with the spectator – encompassing drawing, painting, sculptural installation and storytelling.

Read More

Camille Georgeson-Usher

Artist

Camille Georgeson-Usher is a Skwxwú7mesh / Hul'q'umi'num / Sahtu Dene/Scottish scholar, artist and writer from Galiano Island, British Columbia, which is of the Pune'laxutth' (Penelakut) Nation. Usher completed her MA in Art History at Concordia University, focusing her research on how the arts may be used as a tool to engage Indigenous youth in discussions of health and sexuality, drawing predominantly on the work of Qaggiavuut!, an Arctic performing arts group. She is currently a PhD candidate in the Cultural Studies department at Queen's University and has been awarded the Joseph-Armand Bombardier Canada Graduate Scholarships-Doctoral for her research-creation work around urban Indigenous experiences within Indigenous arts collectives and other groups activating public spaces through gestures both little and big. She has been awarded the 2018 Canadian Art Writing Prize and has been lucky to develop her installation-based artistic practice through acts of love and care in collaboration with filmmaker Asinnajaq (Isabella Weetaluktuk).

Read More

Maggie Groat

Artist

Maggie Groat

is an artist who utilizes a range of media including works on paper, sculpture, textiles, site-specific interventions and publications to interrogate methodologies of collage and salvage practices. Her current research surrounds site-responsiveness, shifting territories, decolonial ways-of-being, gardens, slowness, margins and the transformative potentials of found and ritual materials. Her practice is informed by her Skarú:

ręʔ

and Settler backgrounds, her role as a mother and the environmental impacts of the Anthropocene. Recent notable activities include public exhibitions at AKA (Saskatoon, SK), Western Front (Vancouver, BC), and the Courthouse Project on Armoury Street (Toronto ON), exhibitions,

Living Entities

included in Momenta Biennale de l'image (Montreal),

Illusion of Process 

at the Art Gallery of York University (Toronto) and alternative anthologies, The Lake (Art Metropole 2014) and ALMANAC (KWAG 017) Her work has been twice recognized on the Sobey Award long-list (2015, 2018) and received the Ontario Association of Art Galleries Award for Exhibition of the Year (budget under $10,000) in 2018 for the solo exhibition s

uns also seasons

 at Kitchener Waterloo Art Gallery. Groat is a lecturer in Visual Studies in the John H. Daniels Faculty of Architecture, Landscape and Design at the University of Toronto and lives with her partner and three children on the traditional territory of the Chonnonton, Anishnaabeg and Haudenosaunee.

Read More

Kite

Artist

Kite aka Suzanne Kite is an Oglala Lakota performance artist, visual artist and composer raised in Southern California, with a BFA from CalArts in music composition, an MFA from Bard College's Milton Avery Graduate School, and is a PhD student at Concordia University and Research Assistant for the Initiative for Indigenous Futures. Her research is concerned with contemporary Lakota epistemologies through research-creation, computational media, and performance practice. Recently, Kite has been developing a body interface for movement performances, carbon fiber sculptures, immersive video and sound installations, as well as co-running the experimental electronic imprint, Unheard Records. The Conch Ensamble performed her work at HMCS York as part of the Toronto Biennale 2019.

Read More

Germaine Koh

Artist

Germaine Koh is a Canadian artist based in Vancouver, unceded ancestral territories of the Musqueam, Squamish and Tsleil-Waututh First Nations. Her work often adapts familiar situations, everyday actions and common spaces to encourage connections between people, technology and natural systems. Her ongoing projects include Home Made Home (http://homemadehome.ca), an initiative to build and advocate for alternative forms of housing, and League (http://league-league.org), a participatory project using play as a form of creative practice. She was the City of Vancouver's first Engineering Artist in Residence in 2018-20, and is scheduled to be the Koerner Artist in Residence at the University of British Columbia in 2021. In Summer 2020 she worked with the Belkin staff to help shape COVID-19 reopening protocols

Read More

Cheryl L'Hirondelle

Artist

Cheryl L'Hirondelle (Cree/Half Breed; German/Polish) is an award-winning and community-engaged interdisciplinary artist, singer/songwriter and critical thinker whose family is from Papaschase First Nation / amiskwaciy wâskahikan (Edmonton, AB) and Kikino Metis Settlement. Her work investigates and attempts to articulate an intersection of nêhiyawin (Cree worldview) with contemporary time-place by incorporating sound, Indigenous language(s), music, plus old and new technologies. Her current ongoing projects include: Why the Caged Bird Sings, a collaborative songwriting project with incarcerated women, men and detained youth; nîpawiwin ohci, a series of immersive installations created to evoke embodied concepts towards solidarity and inclusion; yahkâskwan mîkiwahp (aka light tipi) ‒ a participatory action 'virtual' tipi made of light and sage smudge (with Joseph Naytowhow); and Singing Land – a multi-iterative international songwriting/sonic mapping project where she "sings land" as a process of personal treaty-making. She is currently a PhD candidate at SMARTlab/UCD in Dublin, Ireland.

Read More

Tanya Lukin Linklater

Artist

Tanya Lukin Linklater is an Alutiiq multidisciplinary artist and performer whose work, performances, videos and installations have been exhibited in Canada and abroad. Her work centres Indigenous knowledge production in and through orality, conversation and embodied practices, including dance. While reckoning with histories that affect Indigenous peoples' lives, lands and ideas, she investigates insistence. She considers That which sustains us a conceptual and affective line within her work, alongside histories and structural violences that Indigenous peoples continue to respond to. In 2017, as a member of Wood Land School, she participated in Under the Mango Tree – Sites of Learning, a gathering for documenta14 in Athens and Kassel. In 2018, Lukin Linklater presented a commissioned performance for Art for a New Understanding: Native Voices, 1950s to Now at Crystal Bridges Museum of American Art. Lukin Linklater was the inaugural recipient of the Wanda Koop Research Fund administered by Canadian Art. She will present currrent and new works, including a performance, for the BMW Tate Live Exhibition 2020 in London. She originates from the Native Villages of Afognak and Port Lions in Alaska and is based in Northern Ontario.

Read More

Cristóbal Martínez

Artist

Cristóbal Martínez is an artist and publishing Liberal Arts and Sciences scholar. Martinez has dedicated his career to interdisciplinary collaboration in contemporary art. He positions metaphors to mediate complications within sites of dromological, spatial, social, cultural, political, ecological and economic anxiety. Within these locations, Martinez aestheticizes complexity to generatively engage publics in recovering/connecting knowledge. He has been a member of the interdisciplinary artist collective Post-commodity since 2010, and founded the artist-hacker performance ensemble Radio Healer in 2003. In 2015 Martinez completed his PhD in Rhetoric, Composition, and Linguistics at Arizona State University, and is currently the Chair of Art and Technology at the San Francisco Art Institute.

Read More

Peter Morin

Artist

Peter Morin is a Tahltan Nation artist and curator. Throughout his artistic practice, Morin investigates the impact zones that occur when Indigenous practices collide with Western-settler colonialism. Morin's artworks are shaped, and reshaped, by Tahltan epistemological production and often takes the form of performance interventions. In addition to his exhibition history, Morin has curated exhibition for the Museum of Anthropology, Western Front, Bill Reid Gallery and Burnaby Art Gallery. In 2016, Morin received the Hnatyshyn Foundation Award for Outstanding Achievements by a Canadian Mid-Career Artist. Morin's practice has spanned twenty years so far, with exhibitions in London, Berlin, Singapore, New Zealand, and Greenland, as well as across Canada and the United States. Morin currently holds a tenured appointment in the Faculty of Arts at the Ontario College of Art and Design University in Toronto.

Read More

Ogimaa Mikana

Artists

Artist collective founded by Susan Blight (Anishinaabe, Couchiching) and Hayden King (Anishinaabe, Gchi'mnissing) in January 2013. Through public art, site-specific intervention and social practice, they assert Anishinaabe self-determination on the land and in the public sphere, as an effort to transform a landscape that often obscures or makes invisible the presence of Indigenous peoples.

Read More

Diamond Point

Artist

Diamond Point is a contemporary Coast Salish artist and a member of the Musqueam Indian Band. Point grew up on Reserve, and currently resides in Ladner with her daughter and husband. As an emerging artist, Point feels her artwork is current and belongs within the present, and she continues to develop and change her techniques and style throughout her experiences. In her work, Point respectfully incorporates traditional Coast Salish design elements to represent the beautiful teachings and history that her ancestors have passed down through generations since time immemorial.

In 2014, Point work was included in Claiming Space: Voices of Urban Indigenous Youth at the UBC Museum of Anthropology. In 2018, Diamond created designs for the UBC Totem Park residences that were named after the traditional Musqueam village sites c̓əsnaʔəm, həm̓ləsəm̓ and q̓ələχən. In 2019, Point's artwork became the logo for the Humanities, Arts, Science, Technology Alliance and Collaboratory (HASTAC) conference at UBC, on the traditional, ancestral and unceded territory of the Musqueam people. Point's work was also showcased at the Richmond Brighouse Canada Line Station, as part of the 2019 Capture Photography Festival.

Point currently studies at UBC in the NITEP Indigenous Teacher Education Program in the Faculty of Education. Point aims to work as a secondary social studies and art teacher, and feels fortunate to have had the opportunities to express her Indigenous identity and culture within many realms.

Read More

Lisa C. Ravensbergen

Artist

Lisa C. Ravensbergen is an established multi-disciplinary creator and writer, and also works across Turtle Island as a Jessie-nominated actor and dramaturge, director and dancer. A tawny mix of Ojibwe/ Swampy Cree and English/ Irish, Ravensbergen resides on unceded Coast Salish territory in Vancouver, BC. She supplements her eclectic theatre practice with the delights of motherhood and the challenges of self-produced works. Ravensbergen is an Associate Artist with Full Circle and Playwright-in-Residence with Delinquent Theatre. She holds undergraduate degrees from TWU and SFU and is currently in the final year of her MA in Cultural Studies at Queens.

Read More

Heidi Aklaseaq Senungetuk

Artist

Heidi Aklaseaq Senungetuk is the granddaughter of Helen Aklaseok and Willie Senungetuk, and the daughter of Ron and Turid Senungetuk. She is an Inupiaq scholar of ethnomusicology and a musician, who has focused her research in Indigenous people practicing and performing music and dance in urban areas throughout the Arctic. Currently, she serves the University of Alaska Anchorage as the first postdoctoral fellow in Alaska Native Studies. She continues to perform with the Kingikmiut Dancers and Singers of Anchorage, a traditional Inupiaq dance group with ancestral ties to Wales, Alaska, and with the Anchorage Symphony Orchestra.

Read More

Greg Staats

Artist

Greg Staats (Skarù:ręˀ[tuscarora] Kanien'kehá:ka [Mohawk]) was born in 1963 in Ohsweken, Six Nations of the Grand River Territory, Ontario, and has lived and worked in Toronto since 1986, pursuing lens-based photography, video installation/performance, and sculpture. He received a degree in Applied Photography from Sheridan College, Oakville in 1983.

Staats' lens based work combines language, mnemonics, and the natural world as an ongoing process of visualizing a Hodinohso:ni: restorative aesthetic that defines relational multiplicities with condolence and renewal. Motivation of his work comes from an existential displacement from the Kanien'kehá:ka language and subsequent relational worldview, while at the same time reflecting his on reserve lived experience. Staats' installations combine the performative burdens of condolence, renewal, and his continuously re-imagined role as observer and participant, in an effort to elevate the mind and countervail complex trauma, disassociation, and loss of self. His ongoing photographic practice situates itself in a continuum of remembering and self-reflection, strengthened through orality, embodied wampum, and visualized mnemonics.

Upcoming solo exhibitions are planned for the Art Gallery of Hamilton, ON (2023), the Art Gallery of Ontario, CONTACT Photo Festival and Todmorden Mills, Toronto (2021); recent solo exhibitions include: Gallery 44, Toronto (2019); Tom Thomson Gallery, Owen Sound, ON and Woodstock Art Gallery (2016); and Art Gallery of Ontario, Art Gallery of Southern Manitoba (2015). Recent group exhibitions include: Soundings at Agnes Etherington Art Centre, Morris and Helen Belkin Art Gallery and Kamloops Art Gallery (2019-21); Varley Art Gallery of Markham, ON (2019); and the Art Gallery of York University (2016). His work is in public collections across Canada, including the National Gallery of Canada, Ottawa; the Canadian Museum of Contemporary Photography, Ottawa; and the Museum of Contemporary Canadian Art, Toronto.

Read More

Olivia Whetung

Artist

Olivia Whetung is anishinaabekwe and a member of Curve Lake First Nation. She completed her BFA with a minor in anishinaabemowin at Algoma University in 2013, and her MFA at the University of British Columbia in 2016. Whetung works in various media including beadwork, printmaking, and digital media. Her work explores acts of/active native presence, as well as the challenges of working with/in/through Indigenous languages in an art world dominated by the English language. Her work is informed in part by her experiences as an anishinaabemowin learner. Whetung is from the area now called the Kawarthas, and presently resides on Chemong Lake.

Read More

Tania Willard

Artist

Tania Willard (Secwépemc Nation) works within the shifting ideas of contemporary and traditional as it relates to cultural arts and production. Often working with bodies of knowledge and skills that are conceptually linked to her interest in intersections between Aboriginal and other cultures. Willard has worked as a curator in residence with grunt gallery and Kamloops Art Gallery. Willard's curatorial work includes Beat Nation: Art Hip Hop and Aboriginal Culture, a national touring exhibition first presented at Vancouver Art Gallery in 2011, Unceded Territories: Lawrence Paul Yuxweluptun at the Museum of Anthropology co-curated by Karen Duffek in 2016 and CUSTOM MADE at Kamloops Art Gallery. She has also been selected as one of five national curators for a national scope exhibition in collaboration with Partners in Art and National Parks. Willard's personal curatorial projects include BUSH gallery, a conceptual space for land based art and action led by Indigenous artists. Willard's current research constructs a land rights aesthetic through intuitive archival acts and land-based practices, focusing on Secwepemc aesthetics/language/land and interrelated Indigenous art practices.

Read More

Candice Hopkins

Curator

Candice Hopkins is a curator and writer of Tlingit descent originally from Whitehorse, Yukon. She is Senior Curator of the Toronto Biennial of Art and co-curator of the 2018 SITE Santa Fe biennial, Casa Tomada. She was a part of the curatorial team for documenta 14 in Athens, Greece and Kassel, Germany and a co-curator of the major exhibitions Sakahàn: International Indigenous Art, Close Encounters: The Next 500 Years, and the 2014 SITElines biennial, Unsettled Landscapes in Santa Fe, New Mexico. Her writing is published widely and her recent essays and presentations include "Outlawed Social Life" for South as a State of Mind and Sounding the Margins: A Choir of Minor Voices at Small Projects, Tromsø, Norway. She has lectures internationally including at the Witte de With, Tate Modern, Dak'Art Biennale, Artists Space, Tate Britain and the University of British Columbia. She is the recipient of numerous awards including the Hnatyshyn Foundation Award for Curatorial Excellence in Contemporary Art and the 2016 the Prix pour un essai critique sur l'art contemporain by the Foundation Prince Pierre de Monaco. She is a citizen of Carcross/Tagish First Nation.

Read More

Dylan Robinson

Curator

Dylan Robinson is a xwélméxw artist and writer of Stó:lō descent, and the Canada Research Chair in Indigenous Arts at Queen's University. His current work focuses on the return of Indigenous songs to communities who were prohibited by law to sing them as part of the Indian Act from 1882‒1951. Robinson's previous publications include the edited volumes Music and Modernity Among Indigenous Peoples of North America (2018); Arts of Engagement: Taking Aesthetic Action in and Beyond the Truth and Reconciliation Commission of Canada (2016) and Opera Indigene (2011). His monograph, Hungry Listening, is forthcoming in early 2020 with Minnesota University Press.

Read More
How can a score be a call and tool for decolonization?
Soundings: An Exhibition in Five Parts features newly commissioned scores, performances, videos, sculptures and sound by Indigenous and other artists who respond to this question. Unfolding in a sequence of five parts, the scores take the form of beadwork, videos, objects, graphic notation, historical belongings and written instructions. During the exhibition, these scores are activated at specific moments by musicians, dancers, performers and members of the public, gradually filling the gallery and surrounding public spaces with sound and action.
Curated by Candice Hopkins and Dylan Robinson, Soundings is cumulative, limning an ever-changing community of artworks, shared experience and engagement. Shifting and evolving, it gains new artists and players in each location. For this iteration on Musqueam territory, the Belkin has collaborated with UBC's Musqueam Language Program in partnership with the Musqueam Indian Band Language and Culture Department;  School of Music; Chan Centre for Performing Arts; First Nations House of Learning and Museum of Anthropology to support the production of new artworks and performances by local artists.
At the core of the exhibition is a grounding in concepts of Indigenous land and territory. To move beyond the mere acknowledgement of land and territory here means offering instructions for sensing and listening to Indigenous histories that trouble the colonial imaginary. Soundings activates and asserts Indigenous resurgence through the actions these artworks call forth and includes work by Raven Chacon and Cristóbal Martínez, Sebastian De Line, Camille Georgeson-Usher, Maggie Groat, Kite, Germaine Koh, Cheryl L'Hirondelle, Tanya Lukin Linklater, Peter Morin, Ogimaa Mikana, Diamond Point, Lisa C. Ravensbergen, Heidi Aklaseaq Senungetuk, Greg Staats, Olivia Whetung and Tania Willard.
Soundings: An Exhibition in Five Parts is curated by Candice Hopkins and Dylan Robinson, and organized by Agnes Etherington Art Centre, Queen's University, Canada. The traveling exhibition is organized by Independent Curators International (ICI). The exhibition and tour are made possible, in part, with the generous support from ICI's International Forum and the ICI Board of Trustees. Additional support has been provided by the Social Sciences and Humanities Research Council of Canada, the Canada Council for the Arts' New Chapter Program, the Isabel and Alfred Bader Fund of Bader Philanthropies, the Ontario Arts Council, the City of Kingston Arts Fund through the Kingston Arts Council, and the George Taylor Richardson Memorial Fund at Queen's University. The presentation at the Morris and Helen Belkin Art Gallery has been organized in collaboration with Lorna Brown and Barbara Cole. The Belkin gratefully acknowledges the generous support of the Canada Council for the Arts, the Province of British Columbia through the BC Arts Council, UBC Infrastructure Impact Charges (IIC) Outdoor Art Fund, UBC Grants for Catalyzing Research Clusters, and our Belkin Curator's Forum members.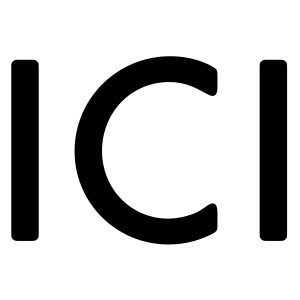 Image (above): Tania Willard, Surrounded/Surrounding, 2018.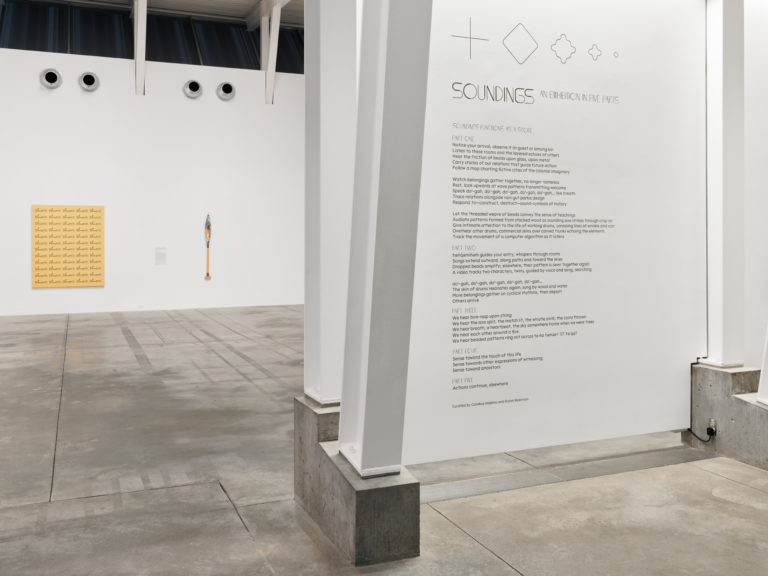 Soundings curatorial score by Candice Hopkins and Dylan Robinson (foreground), Greg Staats, Do'-gah – I don't know [shrugging shoulders], 2020, and Diamond Point and Jordan Point, wəɬ m̓i ct q̓pəθət tə ɬniməɬ, 2018 (background). Photo: Rachel Topham Photography.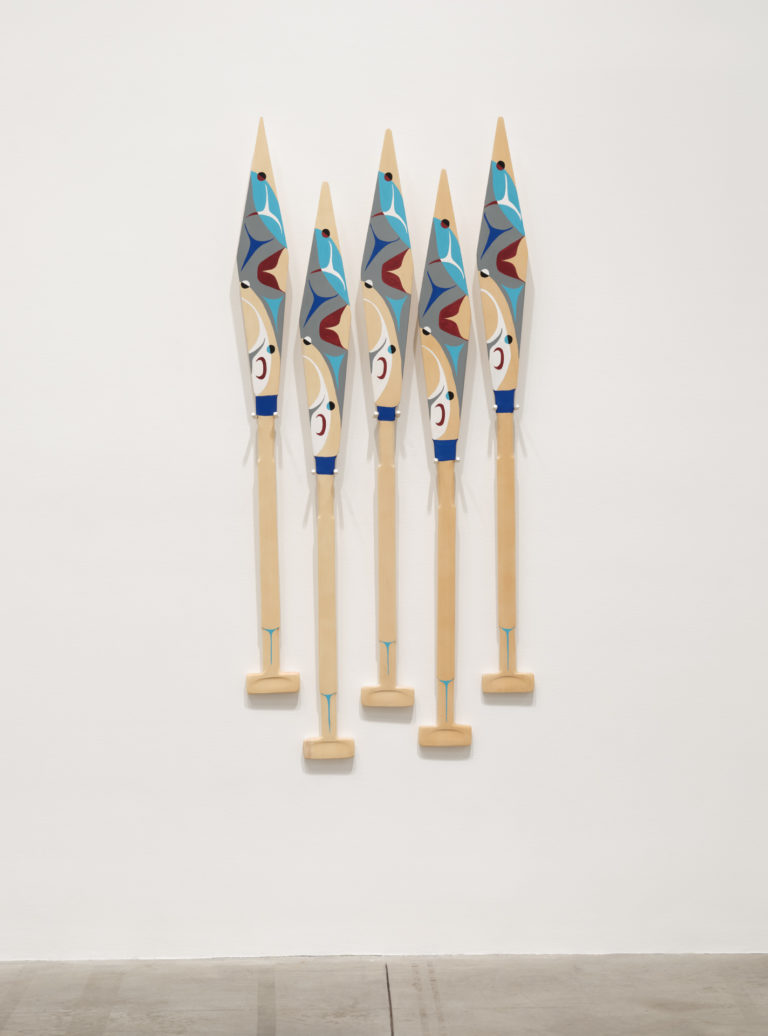 Diamond Point and Jordan Point, wəɬ m̓i ct q̓pəθət tə ɬniməɬ, 2020, cedar, paint. Collection of the artist. Photo: Rachel Topham Photography.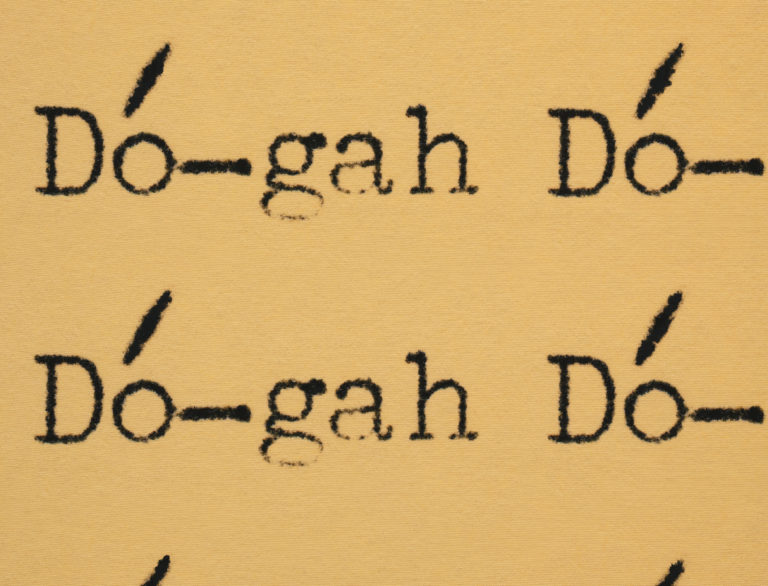 Greg Staats, Do'-gah – I don't know [shrugging shoulders] (detail), 2020, photo matte canvas, oil, earth and indian tobacco ash. Collection of the artist. Photo: Rachel Topham Photography.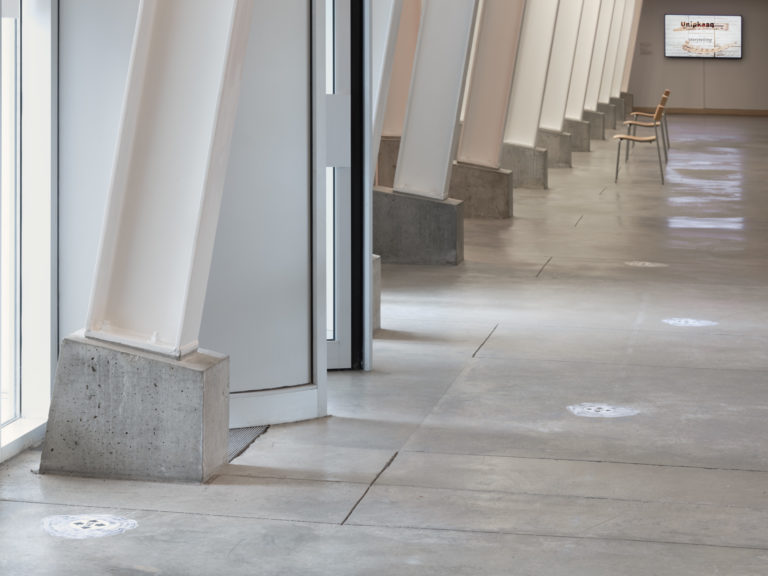 Germaine Koh intervention, Crowd Shyness, 2020. Photo: Rachel Topham Photography.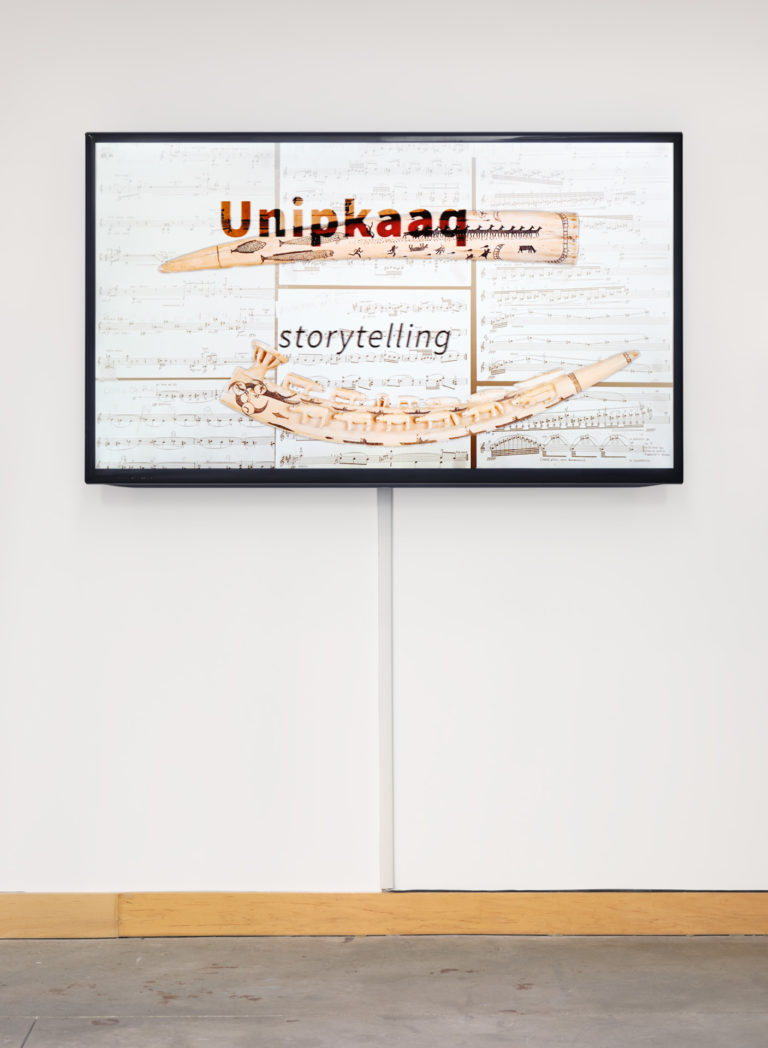 Heidi Senungetuk, Qutaaŋuaqtuit: Dripping Music, 2018, video. Collection of the artist. Photo: Rachel Topham Photography.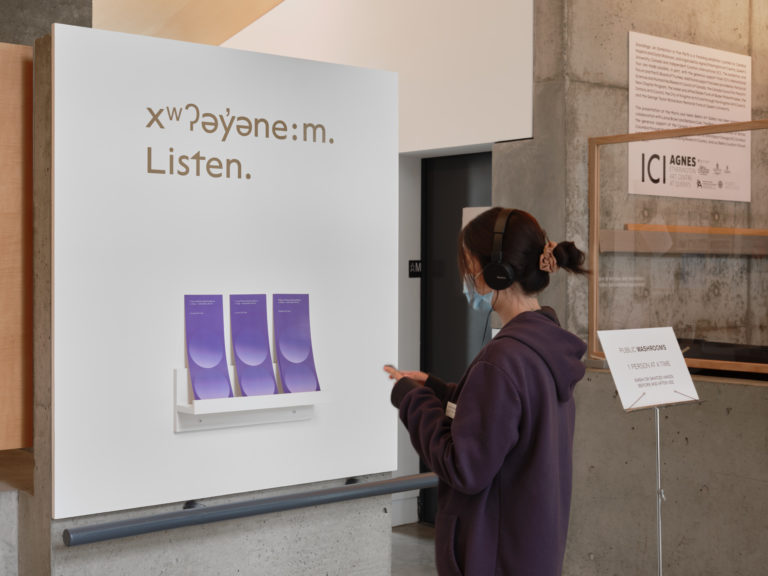 Sebastian de Line, Walking Ohénton Karihwatéhkwen (walking + works before all else), 2018, Audio tour With Adria Kurchina-Tyson and Nathan Thanyehténhas Brinklow. Collection of the artist. Photo: Rachel Topham Photography.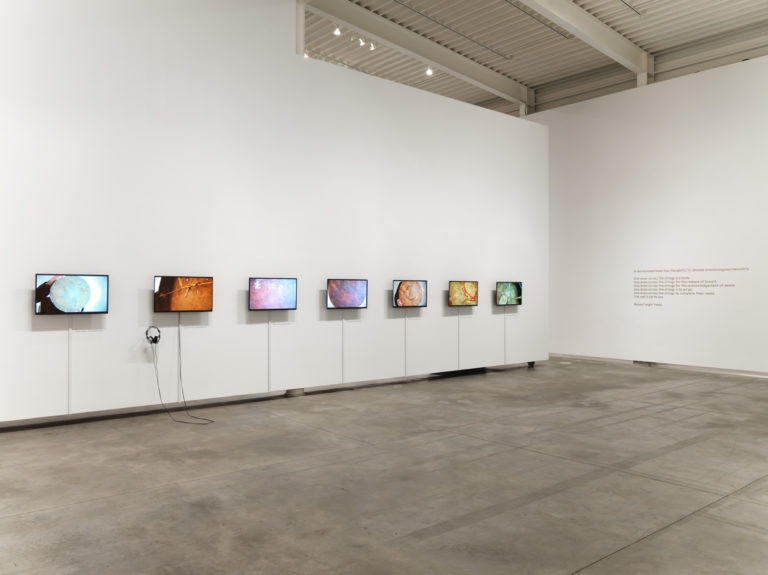 Peter Morin, NDN Love Songs, 2018-ongoing, vinyl transfer, digital video with Navarana Igloliorte. Collection of the artist. Photo: Rachel Topham Photography.
Ogimaa Mikana, Never Stuck, 2018, vinyl transfer, artist booklet. Collection of the artists. Photo: Rachel Topham Photography.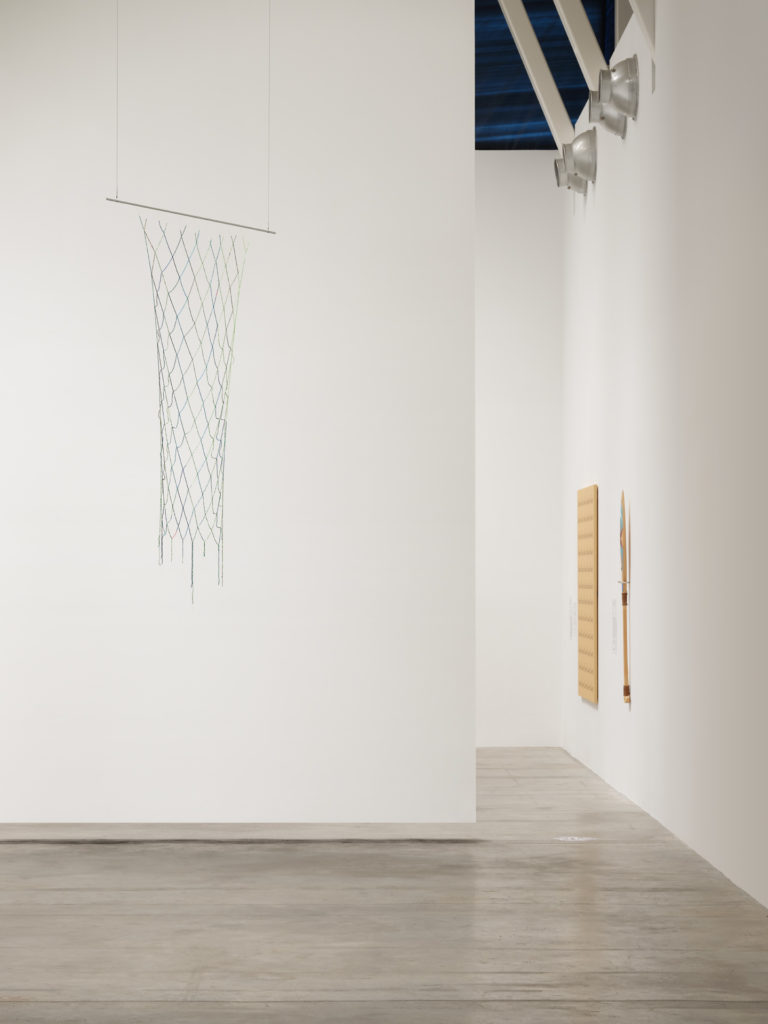 Camille Georgeson-Usher, through, in between oceans part 2, 2020, beaded installation (foreground). Collection of the artist. Photo: Rachel Topham Photography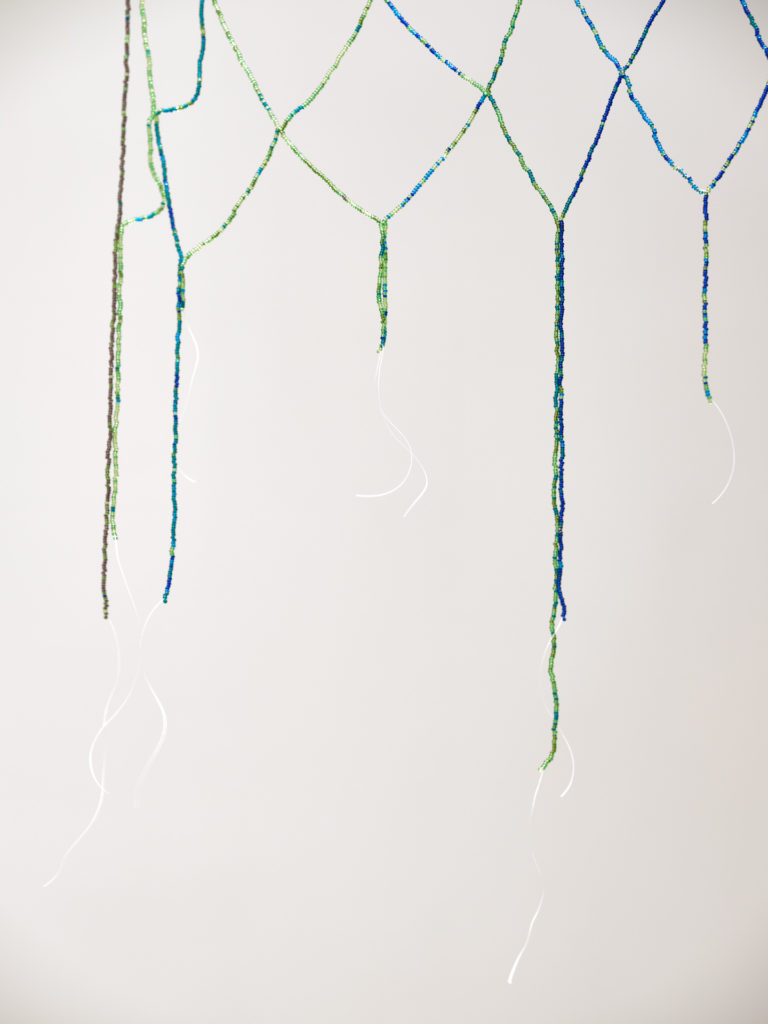 Camille Georgeson-Usher, through, in between oceans part 2, 2020, beaded installation. Collection of the artist. Photo: Rachel Topham Photography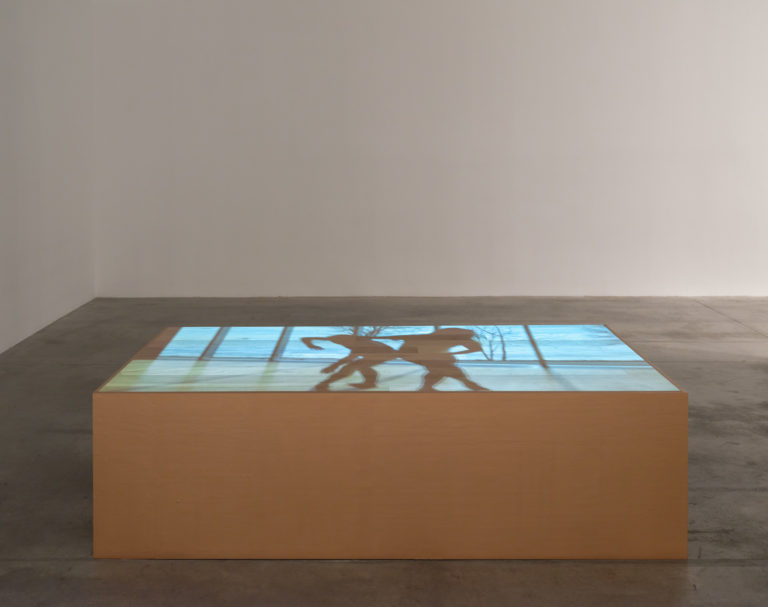 Tanya Lukin Linklater, We wear one another, 2019, digital video installation. Collection of the artist. Photo: Rachel Topham Photography.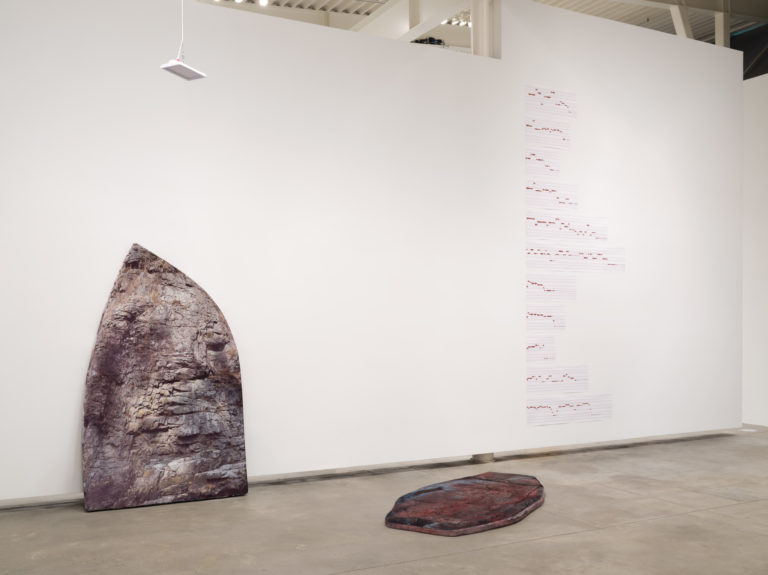 Cheryl L'Hirondelle, nîpawiwin: nanâskomowin êkwa sohkêyimitowin ohci, 2018, vinyl transfer, audio installation with Kanonhysyonne (Janice Hill). Collection of the artist. Photo: Rachel Topham Photography.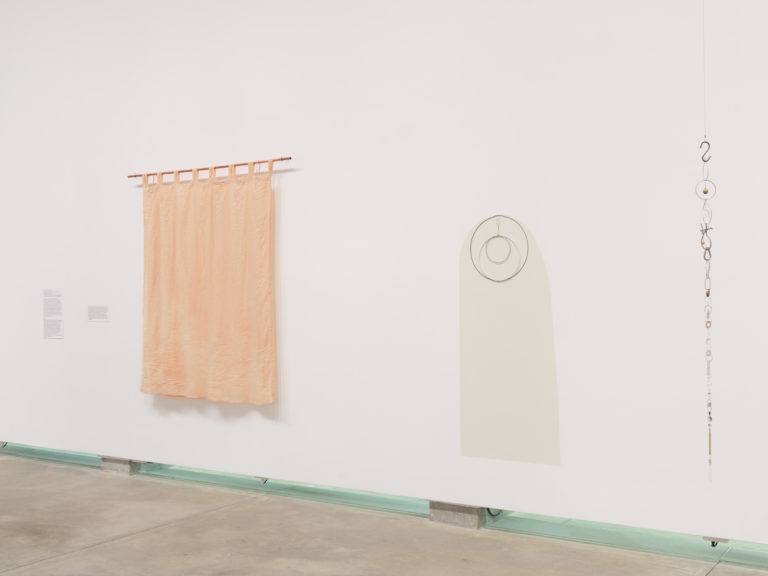 Maggie Groat, arrangements for rotations – rotations for collections – collections for sounds – sounds for
light – light for transformations – transformations for arrangements – using only found materials of significance create an /object – collection – tool/ to / mark > absorb > reflect > refract > witness > carry
> light + sound of your surroundings – between the shortest day and the longest night + the day that is equal to the night – between the day that is equal to the night + the longest day and the shortest night – between the longest day and the shortest night + the day that is equal to the night – between the day that is equal to the night +the shortest day and the longest night, 2020, salvaged, collected, modified + found metal, wood, glass, brass, copper, crystal, plastic, fabric, thread, cord and paper collected from my living spaces, from second-hand economies, found by my kids on walks, and materials left by previous occupants of exhibition spaces and of our home. Commissioned by the Kitchener/Waterloo Art Gallery. Collection of the artist. Photo: Rachel Topham Photography.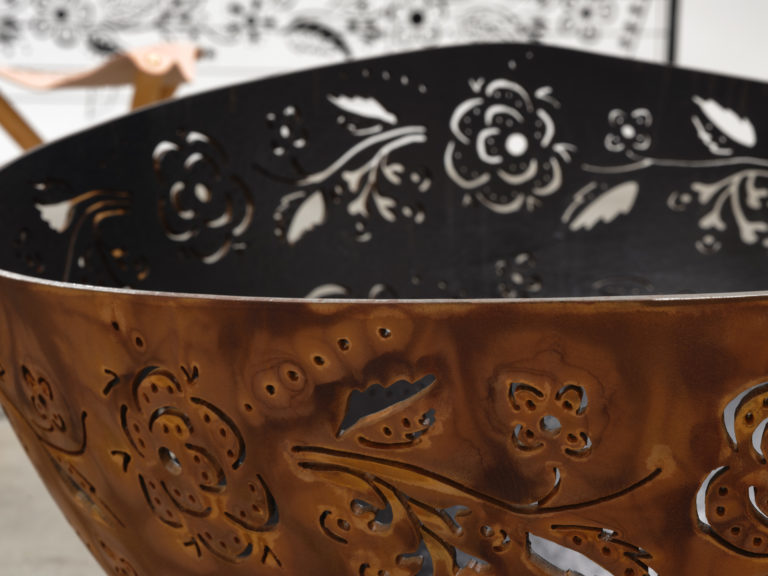 Tania Willard, Surrounded/Surrounding, 2018, wood burning fire ring, laser etched leather, wood, vinyl transfer. Collection of the artist. Photo: Rachel Topham Photography.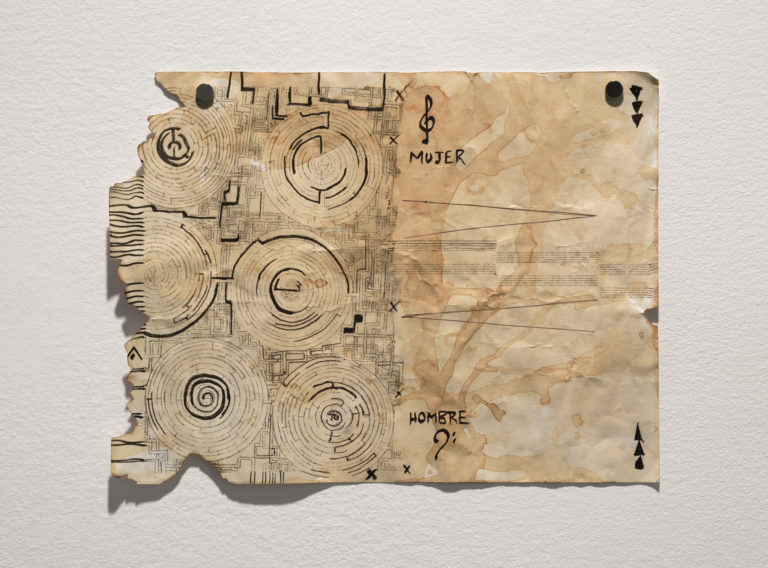 Raven Chacon and Cristóbal Martínez, A Song Often Played on the Radio, 2018. Ink, graphite, earth, blood and wine on archival paper, digital video, 24 minutes. Collection of the artists. Photo: Rachel Topham Photography.
Raven Chacon and Cristóbal Martínez, A Song Often Played on the Radio, 2018. Ink, graphite, earth, blood and wine on archival paper, digital video, 24 minutes. Collection of the artists. Photo: Rachel Topham Photography.
Germaine Koh, Crowd Shyness: the sound of its making, 2020, Hollowed cedar stump, drum head, hardware, resin, weather report. Collection of the artist. Photo: Rachel Topham Photography.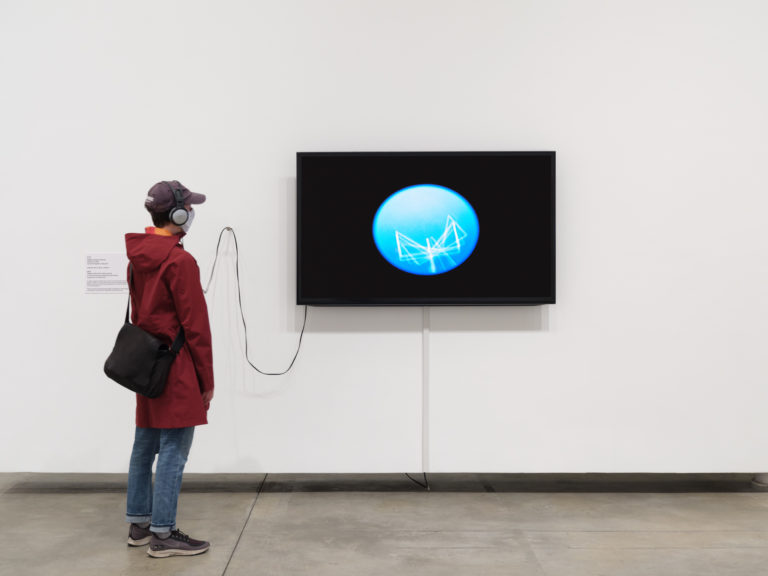 Kite, L-sys visualization, Listener, 2018, video. Collection of the artist. Photo: Rachel Topham Photography.
Raven Chacon

Artist

Raven Chacon is a composer, performer and installation artist from Fort Defiance, Navajo Nation whose practice centers in sound. Chacon is one of the three members of the interdisciplinary arts collective Post-commodity, along with Cristobal Martínez and Kade L. Twist. As a solo artist and in collaborations, Chacon has exhibited or performed at Whitney Biennial, documenta 14, REDCAT, Musée d'art Contemporain de Montréal, San Francisco Electronic Music Festival, Chaco Canyon, Ende Tymes Festival, 18th Biennale of Sydney, and The Kennedy Center. Every year, he teaches 20 students to write string quartets for the Native American Composer Apprenticeship Project (NACAP). He is the recipient of the United States Artists fellowship in Music, The Creative Capital award in Visual Arts, The Native Arts and Cultures Foundation artist fellowship, and the American Academy's Berlin Prize for Music Composition. He lives in Albuquerque, New Mexico, and Toronto, ON.

Read More

Sebastian De Line

Artist

Sebastian De Line is a queer, trans artist and scholar of Haudenosaunee-Métis-Cantonese descent who was born in Burnaby, BC, on the unceded territories of the Musqueam, Squamish and Tsleil-Waututh nations. He/they hold a BFA in Autonomous Fine Art from the Gerrit Rietveld Academy, an MA in Art Praxis from the Dutch Art Institute and is currently a PhD Candidate in Cultural Studies at Queen's University (situated on traditional Haudenosaunee and Anishinaabe territory). His/their work seeks a non-spectacular form of art that enables an intimacy with the spectator – encompassing drawing, painting, sculptural installation and storytelling.

Read More

Camille Georgeson-Usher

Artist

Camille Georgeson-Usher is a Skwxwú7mesh / Hul'q'umi'num / Sahtu Dene/Scottish scholar, artist and writer from Galiano Island, British Columbia, which is of the Pune'laxutth' (Penelakut) Nation. Usher completed her MA in Art History at Concordia University, focusing her research on how the arts may be used as a tool to engage Indigenous youth in discussions of health and sexuality, drawing predominantly on the work of Qaggiavuut!, an Arctic performing arts group. She is currently a PhD candidate in the Cultural Studies department at Queen's University and has been awarded the Joseph-Armand Bombardier Canada Graduate Scholarships-Doctoral for her research-creation work around urban Indigenous experiences within Indigenous arts collectives and other groups activating public spaces through gestures both little and big. She has been awarded the 2018 Canadian Art Writing Prize and has been lucky to develop her installation-based artistic practice through acts of love and care in collaboration with filmmaker Asinnajaq (Isabella Weetaluktuk).

Read More

Maggie Groat

Artist

Maggie Groat

is an artist who utilizes a range of media including works on paper, sculpture, textiles, site-specific interventions and publications to interrogate methodologies of collage and salvage practices. Her current research surrounds site-responsiveness, shifting territories, decolonial ways-of-being, gardens, slowness, margins and the transformative potentials of found and ritual materials. Her practice is informed by her Skarú:

ręʔ

and Settler backgrounds, her role as a mother and the environmental impacts of the Anthropocene. Recent notable activities include public exhibitions at AKA (Saskatoon, SK), Western Front (Vancouver, BC), and the Courthouse Project on Armoury Street (Toronto ON), exhibitions,

Living Entities

included in Momenta Biennale de l'image (Montreal),

Illusion of Process 

at the Art Gallery of York University (Toronto) and alternative anthologies, The Lake (Art Metropole 2014) and ALMANAC (KWAG 017) Her work has been twice recognized on the Sobey Award long-list (2015, 2018) and received the Ontario Association of Art Galleries Award for Exhibition of the Year (budget under $10,000) in 2018 for the solo exhibition s

uns also seasons

 at Kitchener Waterloo Art Gallery. Groat is a lecturer in Visual Studies in the John H. Daniels Faculty of Architecture, Landscape and Design at the University of Toronto and lives with her partner and three children on the traditional territory of the Chonnonton, Anishnaabeg and Haudenosaunee.

Read More

Kite

Artist

Kite aka Suzanne Kite is an Oglala Lakota performance artist, visual artist and composer raised in Southern California, with a BFA from CalArts in music composition, an MFA from Bard College's Milton Avery Graduate School, and is a PhD student at Concordia University and Research Assistant for the Initiative for Indigenous Futures. Her research is concerned with contemporary Lakota epistemologies through research-creation, computational media, and performance practice. Recently, Kite has been developing a body interface for movement performances, carbon fiber sculptures, immersive video and sound installations, as well as co-running the experimental electronic imprint, Unheard Records. The Conch Ensamble performed her work at HMCS York as part of the Toronto Biennale 2019.

Read More

Germaine Koh

Artist

Germaine Koh is a Canadian artist based in Vancouver, unceded ancestral territories of the Musqueam, Squamish and Tsleil-Waututh First Nations. Her work often adapts familiar situations, everyday actions and common spaces to encourage connections between people, technology and natural systems. Her ongoing projects include Home Made Home (http://homemadehome.ca), an initiative to build and advocate for alternative forms of housing, and League (http://league-league.org), a participatory project using play as a form of creative practice. She was the City of Vancouver's first Engineering Artist in Residence in 2018-20, and is scheduled to be the Koerner Artist in Residence at the University of British Columbia in 2021. In Summer 2020 she worked with the Belkin staff to help shape COVID-19 reopening protocols

Read More

Cheryl L'Hirondelle

Artist

Cheryl L'Hirondelle (Cree/Half Breed; German/Polish) is an award-winning and community-engaged interdisciplinary artist, singer/songwriter and critical thinker whose family is from Papaschase First Nation / amiskwaciy wâskahikan (Edmonton, AB) and Kikino Metis Settlement. Her work investigates and attempts to articulate an intersection of nêhiyawin (Cree worldview) with contemporary time-place by incorporating sound, Indigenous language(s), music, plus old and new technologies. Her current ongoing projects include: Why the Caged Bird Sings, a collaborative songwriting project with incarcerated women, men and detained youth; nîpawiwin ohci, a series of immersive installations created to evoke embodied concepts towards solidarity and inclusion; yahkâskwan mîkiwahp (aka light tipi) ‒ a participatory action 'virtual' tipi made of light and sage smudge (with Joseph Naytowhow); and Singing Land – a multi-iterative international songwriting/sonic mapping project where she "sings land" as a process of personal treaty-making. She is currently a PhD candidate at SMARTlab/UCD in Dublin, Ireland.

Read More

Tanya Lukin Linklater

Artist

Tanya Lukin Linklater is an Alutiiq multidisciplinary artist and performer whose work, performances, videos and installations have been exhibited in Canada and abroad. Her work centres Indigenous knowledge production in and through orality, conversation and embodied practices, including dance. While reckoning with histories that affect Indigenous peoples' lives, lands and ideas, she investigates insistence. She considers That which sustains us a conceptual and affective line within her work, alongside histories and structural violences that Indigenous peoples continue to respond to. In 2017, as a member of Wood Land School, she participated in Under the Mango Tree – Sites of Learning, a gathering for documenta14 in Athens and Kassel. In 2018, Lukin Linklater presented a commissioned performance for Art for a New Understanding: Native Voices, 1950s to Now at Crystal Bridges Museum of American Art. Lukin Linklater was the inaugural recipient of the Wanda Koop Research Fund administered by Canadian Art. She will present currrent and new works, including a performance, for the BMW Tate Live Exhibition 2020 in London. She originates from the Native Villages of Afognak and Port Lions in Alaska and is based in Northern Ontario.

Read More

Cristóbal Martínez

Artist

Cristóbal Martínez is an artist and publishing Liberal Arts and Sciences scholar. Martinez has dedicated his career to interdisciplinary collaboration in contemporary art. He positions metaphors to mediate complications within sites of dromological, spatial, social, cultural, political, ecological and economic anxiety. Within these locations, Martinez aestheticizes complexity to generatively engage publics in recovering/connecting knowledge. He has been a member of the interdisciplinary artist collective Post-commodity since 2010, and founded the artist-hacker performance ensemble Radio Healer in 2003. In 2015 Martinez completed his PhD in Rhetoric, Composition, and Linguistics at Arizona State University, and is currently the Chair of Art and Technology at the San Francisco Art Institute.

Read More

Peter Morin

Artist

Peter Morin is a Tahltan Nation artist and curator. Throughout his artistic practice, Morin investigates the impact zones that occur when Indigenous practices collide with Western-settler colonialism. Morin's artworks are shaped, and reshaped, by Tahltan epistemological production and often takes the form of performance interventions. In addition to his exhibition history, Morin has curated exhibition for the Museum of Anthropology, Western Front, Bill Reid Gallery and Burnaby Art Gallery. In 2016, Morin received the Hnatyshyn Foundation Award for Outstanding Achievements by a Canadian Mid-Career Artist. Morin's practice has spanned twenty years so far, with exhibitions in London, Berlin, Singapore, New Zealand, and Greenland, as well as across Canada and the United States. Morin currently holds a tenured appointment in the Faculty of Arts at the Ontario College of Art and Design University in Toronto.

Read More

Ogimaa Mikana

Artists

Artist collective founded by Susan Blight (Anishinaabe, Couchiching) and Hayden King (Anishinaabe, Gchi'mnissing) in January 2013. Through public art, site-specific intervention and social practice, they assert Anishinaabe self-determination on the land and in the public sphere, as an effort to transform a landscape that often obscures or makes invisible the presence of Indigenous peoples.

Read More

Diamond Point

Artist

Diamond Point is a contemporary Coast Salish artist and a member of the Musqueam Indian Band. Point grew up on Reserve, and currently resides in Ladner with her daughter and husband. As an emerging artist, Point feels her artwork is current and belongs within the present, and she continues to develop and change her techniques and style throughout her experiences. In her work, Point respectfully incorporates traditional Coast Salish design elements to represent the beautiful teachings and history that her ancestors have passed down through generations since time immemorial.

In 2014, Point work was included in Claiming Space: Voices of Urban Indigenous Youth at the UBC Museum of Anthropology. In 2018, Diamond created designs for the UBC Totem Park residences that were named after the traditional Musqueam village sites c̓əsnaʔəm, həm̓ləsəm̓ and q̓ələχən. In 2019, Point's artwork became the logo for the Humanities, Arts, Science, Technology Alliance and Collaboratory (HASTAC) conference at UBC, on the traditional, ancestral and unceded territory of the Musqueam people. Point's work was also showcased at the Richmond Brighouse Canada Line Station, as part of the 2019 Capture Photography Festival.

Point currently studies at UBC in the NITEP Indigenous Teacher Education Program in the Faculty of Education. Point aims to work as a secondary social studies and art teacher, and feels fortunate to have had the opportunities to express her Indigenous identity and culture within many realms.

Read More

Lisa C. Ravensbergen

Artist

Lisa C. Ravensbergen is an established multi-disciplinary creator and writer, and also works across Turtle Island as a Jessie-nominated actor and dramaturge, director and dancer. A tawny mix of Ojibwe/ Swampy Cree and English/ Irish, Ravensbergen resides on unceded Coast Salish territory in Vancouver, BC. She supplements her eclectic theatre practice with the delights of motherhood and the challenges of self-produced works. Ravensbergen is an Associate Artist with Full Circle and Playwright-in-Residence with Delinquent Theatre. She holds undergraduate degrees from TWU and SFU and is currently in the final year of her MA in Cultural Studies at Queens.

Read More

Heidi Aklaseaq Senungetuk

Artist

Heidi Aklaseaq Senungetuk is the granddaughter of Helen Aklaseok and Willie Senungetuk, and the daughter of Ron and Turid Senungetuk. She is an Inupiaq scholar of ethnomusicology and a musician, who has focused her research in Indigenous people practicing and performing music and dance in urban areas throughout the Arctic. Currently, she serves the University of Alaska Anchorage as the first postdoctoral fellow in Alaska Native Studies. She continues to perform with the Kingikmiut Dancers and Singers of Anchorage, a traditional Inupiaq dance group with ancestral ties to Wales, Alaska, and with the Anchorage Symphony Orchestra.

Read More

Greg Staats

Artist

Greg Staats (Skarù:ręˀ[tuscarora] Kanien'kehá:ka [Mohawk]) was born in 1963 in Ohsweken, Six Nations of the Grand River Territory, Ontario, and has lived and worked in Toronto since 1986, pursuing lens-based photography, video installation/performance, and sculpture. He received a degree in Applied Photography from Sheridan College, Oakville in 1983.

Staats' lens based work combines language, mnemonics, and the natural world as an ongoing process of visualizing a Hodinohso:ni: restorative aesthetic that defines relational multiplicities with condolence and renewal. Motivation of his work comes from an existential displacement from the Kanien'kehá:ka language and subsequent relational worldview, while at the same time reflecting his on reserve lived experience. Staats' installations combine the performative burdens of condolence, renewal, and his continuously re-imagined role as observer and participant, in an effort to elevate the mind and countervail complex trauma, disassociation, and loss of self. His ongoing photographic practice situates itself in a continuum of remembering and self-reflection, strengthened through orality, embodied wampum, and visualized mnemonics.

Upcoming solo exhibitions are planned for the Art Gallery of Hamilton, ON (2023), the Art Gallery of Ontario, CONTACT Photo Festival and Todmorden Mills, Toronto (2021); recent solo exhibitions include: Gallery 44, Toronto (2019); Tom Thomson Gallery, Owen Sound, ON and Woodstock Art Gallery (2016); and Art Gallery of Ontario, Art Gallery of Southern Manitoba (2015). Recent group exhibitions include: Soundings at Agnes Etherington Art Centre, Morris and Helen Belkin Art Gallery and Kamloops Art Gallery (2019-21); Varley Art Gallery of Markham, ON (2019); and the Art Gallery of York University (2016). His work is in public collections across Canada, including the National Gallery of Canada, Ottawa; the Canadian Museum of Contemporary Photography, Ottawa; and the Museum of Contemporary Canadian Art, Toronto.

Read More

Olivia Whetung

Artist

Olivia Whetung is anishinaabekwe and a member of Curve Lake First Nation. She completed her BFA with a minor in anishinaabemowin at Algoma University in 2013, and her MFA at the University of British Columbia in 2016. Whetung works in various media including beadwork, printmaking, and digital media. Her work explores acts of/active native presence, as well as the challenges of working with/in/through Indigenous languages in an art world dominated by the English language. Her work is informed in part by her experiences as an anishinaabemowin learner. Whetung is from the area now called the Kawarthas, and presently resides on Chemong Lake.

Read More

Tania Willard

Artist

Tania Willard (Secwépemc Nation) works within the shifting ideas of contemporary and traditional as it relates to cultural arts and production. Often working with bodies of knowledge and skills that are conceptually linked to her interest in intersections between Aboriginal and other cultures. Willard has worked as a curator in residence with grunt gallery and Kamloops Art Gallery. Willard's curatorial work includes Beat Nation: Art Hip Hop and Aboriginal Culture, a national touring exhibition first presented at Vancouver Art Gallery in 2011, Unceded Territories: Lawrence Paul Yuxweluptun at the Museum of Anthropology co-curated by Karen Duffek in 2016 and CUSTOM MADE at Kamloops Art Gallery. She has also been selected as one of five national curators for a national scope exhibition in collaboration with Partners in Art and National Parks. Willard's personal curatorial projects include BUSH gallery, a conceptual space for land based art and action led by Indigenous artists. Willard's current research constructs a land rights aesthetic through intuitive archival acts and land-based practices, focusing on Secwepemc aesthetics/language/land and interrelated Indigenous art practices.

Read More

Candice Hopkins

Curator

Candice Hopkins is a curator and writer of Tlingit descent originally from Whitehorse, Yukon. She is Senior Curator of the Toronto Biennial of Art and co-curator of the 2018 SITE Santa Fe biennial, Casa Tomada. She was a part of the curatorial team for documenta 14 in Athens, Greece and Kassel, Germany and a co-curator of the major exhibitions Sakahàn: International Indigenous Art, Close Encounters: The Next 500 Years, and the 2014 SITElines biennial, Unsettled Landscapes in Santa Fe, New Mexico. Her writing is published widely and her recent essays and presentations include "Outlawed Social Life" for South as a State of Mind and Sounding the Margins: A Choir of Minor Voices at Small Projects, Tromsø, Norway. She has lectures internationally including at the Witte de With, Tate Modern, Dak'Art Biennale, Artists Space, Tate Britain and the University of British Columbia. She is the recipient of numerous awards including the Hnatyshyn Foundation Award for Curatorial Excellence in Contemporary Art and the 2016 the Prix pour un essai critique sur l'art contemporain by the Foundation Prince Pierre de Monaco. She is a citizen of Carcross/Tagish First Nation.

Read More

Dylan Robinson

Curator

Dylan Robinson is a xwélméxw artist and writer of Stó:lō descent, and the Canada Research Chair in Indigenous Arts at Queen's University. His current work focuses on the return of Indigenous songs to communities who were prohibited by law to sing them as part of the Indian Act from 1882‒1951. Robinson's previous publications include the edited volumes Music and Modernity Among Indigenous Peoples of North America (2018); Arts of Engagement: Taking Aesthetic Action in and Beyond the Truth and Reconciliation Commission of Canada (2016) and Opera Indigene (2011). His monograph, Hungry Listening, is forthcoming in early 2020 with Minnesota University Press.

Read More
Bibliography
Robinson, Dylan. Hungry Listening: Resonant Theory for Indigenous Sound Studies. University of Minnesota Press, 2020.

Durón, Maximiliano. "The Sound of Listening: Candice Hopkins's Curating Lets Indigenous Artists Do the Talking." Artnews, June 25, 2019.

Green, Christopher. "Beyond Inclusion." Artnews, February 1, 2019. https://www.artnews.com/art-in-america/features/beyond-inclusion-63604/

Hopkins, Candice. Towards a Practice of Decolonial Listening: Sounding the Margins. Public lecture presented at President's Dream's Colloquium on Creative Ecologies, Simon Fraser University, November 21, 2019. https://www.youtube.com/watch?v=vt1SBjDCJco

Robinson, Dylan. "Speaking to Water, Singing to Stone. Peter Morin, Rebecca Belmore, and the Ontologies of Indigenous Modernity.", in Victoria Lindsay Levine and Dylan Robinson (eds.). Music and Modernity among Indigenous Peoples of North America. Middletwn: Wesleyan University Press, 2019.

Besaw, Mindy N., Candice Hopkins, Manuela Well-Off-Man (eds.), Art for a new understanding: native voices, 1950s to now. Exhibition catalogue. Fayetteville: University of Arkansas Press, 2018.

Hopkins, Candice. "The appropriation debates." MOUSSE Magazine, 60, 2017. http://moussemagazine.it/candice-hopkins-the-appropriation-debates-2017/

Robinson, Dylan. "Enchantment's Irreconcilable Connection: Listening to Anger, Being Idle No More." In Laura Levin and Marlis Schweitzer (eds.). Performance Studies in Canada. McGill-Queen's University Press, 2017.

Robinson, Dylan. "Public Writing, Sovereign Reading: Indigenous Language Art in Public Space", Art Journal, 76:2, 85-99, 2017.

Hopkins, Candice. "Inventory." C: International Contemporary Art, Issue 131, 76-78, Autumn 2016.

Robinson, Dylan. "Welcoming Sovereignty." In Yvette Nolan and Richard Paul Knowles (eds.). Performing Indigeneity. Toronto: Playwrights Canada Press, 2016.

Ochoa Gautier, Ana María. "Silence." In David Novak and Matt Sakakeeny (eds.). Keywords in Sound. Durham and London: Duke University Press, 2015.

Hopkins, Candice. "If History Moves at the Speed of Its Weapons…" In Steven Loft and Kerry Swanson (eds.). Coded Territories: Tracing Indigenous Pathways in New Media Art, Calgary: University of Calgary Press, 2014.

Robinson, Dylan. "Feeling Reconciliation, Remaining Settled." In Erin Hurley (ed.). Theatres of Affect. Toronto: Playwrights Canada Press, 2014.

Hopkins, Candice. "Why Can't Beauty Be a Call to Action?"In Sherry Farrell Racette (ed.), Close Encounters: The Next 500 Years. Exhibition catalogue. Winnipeg: Plug In Editions, 2011.

Hopkins, Candice. "How to Get Indians Into An Art Gallery." In Lee-Ann Martin (ed.), Making a Noise! Aboriginal Perspectives on Art, Art History, Critical Writing and Community, The Banff International Curatorial Institute, Banff, AB: Walter Phillips Gallery, 2005.

Schafer, R. Murray, The Book of Noise. Wellington: Price Milburn, 1970.

Jacobson, Kelsey, "Soundings: An Exhibition in Five Acts and the Ka'tarohkwi Festival as Participatory Calls for Decolonization," Canadian Theatre Review 182 (Spring 2020): 87 – 91. https://muse.jhu.edu/article/753576