Valerie Whitney

Musician

Valerie Whitney is Assistant Professor of Horn and Director of Brass at the UBC School of Music. Prior to her appointment at UBC, Whitney entertained audiences across the midwestern United States for over a decade, with regular appearances with the Chicago Symphony Orchestra, the Milwaukee Symphony, Grand Rapids Symphony and Lyric Opera Orchestra. She appears regularly with performing organizations in the US as an orchestral and chamber musician and is earning an international reputation with recent and upcoming engagements in China and Korea. She served as hornist of Fifth House Ensemble from 2013-16 and is a founding member of the Vancouver Brass Orchestra. Whitney holds a Doctor of Musical Arts in Horn Performance from Northwestern University.

Read More
Sonic Responses invites eight musicians and one composer to respond to the changed aural conditions of UBC's outdoor spaces. Their music making confronts and enters into a dialogue with the quiet that currently resides on campus. Responding to different locales and situations, the repertoire for Sonic Responses stretches across a broad range of traditions.
Canadian composer Elizabeth Raum's "Idiom" for solo horn is, as Valerie Whitney writes, "exactly what the title suggests – a work evoking all traits characteristic of this wildly versatile instrument. An opening fanfare calls us to the hunt and we're off on a ride of galloping rhythms with classic rustic tonalities and timbres that are idiomatic of the natural horn. As most hunting music has been moved to indoor concert halls, it is a rare and delightful treat to have a work like this actually realized in an outdoor setting, a setting in which the horn's raw and vibrant personality is most at home." Whitney performs "Idiom" on the exterior stairway of the Friedman Building – one of the many modernist buildings at UBC – with the sound of her horn carrying across the empty expanse of the neighbouring commons. The open metal staircase where she stands wraps around a concrete buttress that was added to the building in 2008 as part of a seismic upgrade. Referencing the Brutalist style of the modern era, this new addition pays homage to the stripped-down materiality of concrete and metal and the simple structural effectiveness of rhythm and repetition – an apt backdrop for Whitney's performance.
Sonic Responses furthers the collaborations between the Morris and Helen Belkin Art Gallery and the School of Music that will continue through Soundings: An Exhibition in Five Parts (Fall 2020). The project is led by Barbara Cole, Curator of Outdoor Art, David Metzer, Professor of Musicology and Chair of the University Art Committee, and Judith Valerie Engel, a doctoral candidate in piano performance. Sonic Responses was initiated by the Morris and Helen Belkin Art Gallery in collaboration with the School of Music and supported by the British Columbia Arts Council's Arts and Culture Resilience Supplemental Award and UBC's Catalyzing Research Clusters Program.
Images (above and below): Rachel Topham Photography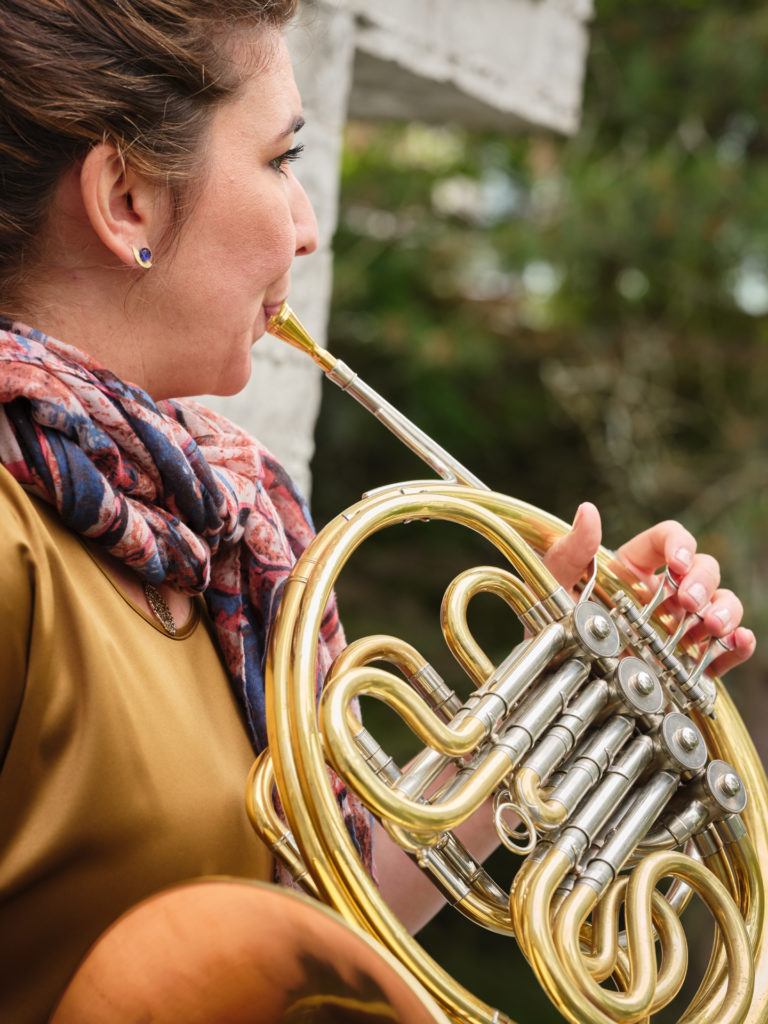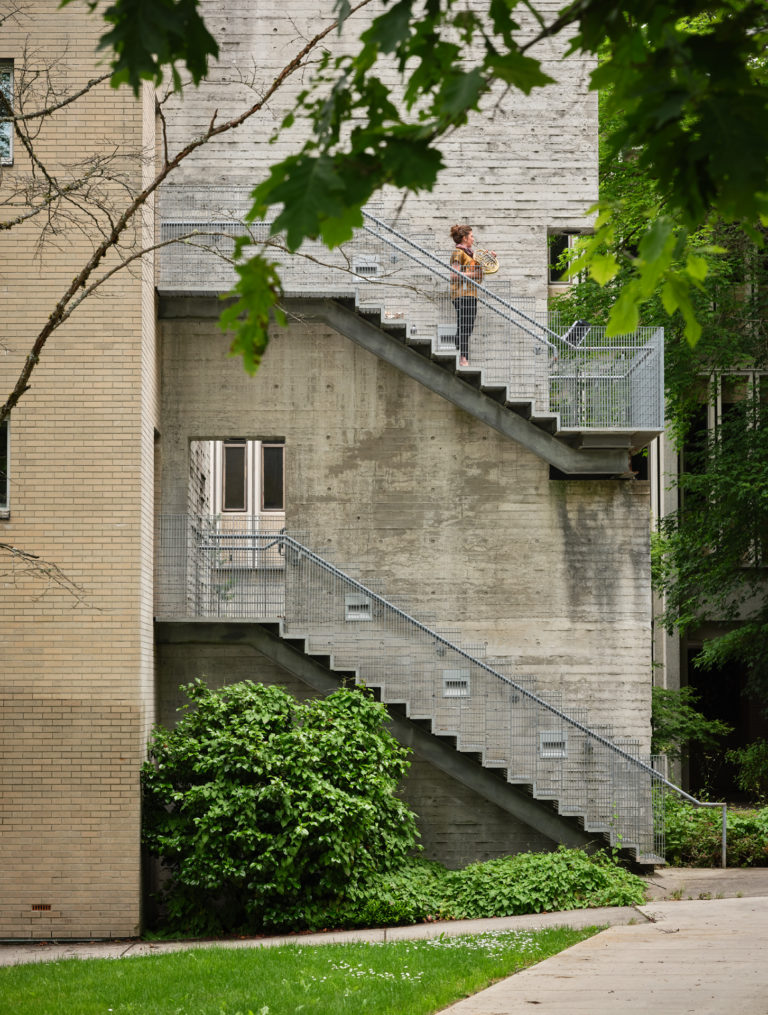 Valerie Whitney

Musician

Valerie Whitney is Assistant Professor of Horn and Director of Brass at the UBC School of Music. Prior to her appointment at UBC, Whitney entertained audiences across the midwestern United States for over a decade, with regular appearances with the Chicago Symphony Orchestra, the Milwaukee Symphony, Grand Rapids Symphony and Lyric Opera Orchestra. She appears regularly with performing organizations in the US as an orchestral and chamber musician and is earning an international reputation with recent and upcoming engagements in China and Korea. She served as hornist of Fifth House Ensemble from 2013-16 and is a founding member of the Vancouver Brass Orchestra. Whitney holds a Doctor of Musical Arts in Horn Performance from Northwestern University.

Read More