Catherine David

Presenter

Catherine David is an independent curator based in Paris. She began her career as a curator at the National Museum of Modern Art at the Centre Georges Pompidou (1982-1990), followed by curator at the Galerie Nationale du Jeu de Paume (1990-1994), both in Paris. From 1994 to 1997, David served as Artistic Director for documenta X in Kassel, Germany, and from 1998 onwards has been Director of the long-term project Contemporary Arab Representations (Beirut/Cairo/Iraqi Equation), produced by Fundació Antoni Tàpies in Barcelona. In 2000, David organized The State of Things for the KW Institute for Contemporary Art, Berlin. Between 2002 and 2004, she was Director of the Witte de With Center for Contemporary Art, Rotterdam. As an independent curator, David organized the monograph exhibition of Bahman Jalali at Tàpies Fondation in Barcelona and the interdisciplinary event Di/Visions: Culture and Politics of the Middle East at Haus der Kulturen der Welt in Berlin (2007); received the Bard Award for curatorial excellence in New York (2008); curated the Abu Dhabi Authority for Culture and Heritage pavilion at the Venice Biennale (2009); organized the Hassan Sharif exhibition Experiments & Objects 1979-2011 at the ADACH Exhibition Hall in Abu Dhabi and launched the first monographic book on the artist at the Venice Biennale (2011); and curated A Blind Spot at Haus der Kulturen der Welt (HKW) in Berlin, Mutatis Mutandis at Secession in Vienna and Marwan & Abdelrahman Munif Correspondences 1991-2004 for the Beirut Art Fair (2012).

Read More
The University of British Columbia's Critical and Curatorial Studies Program, the Morris and Helen Belkin Art Gallery and the French Consulate in Vancouver present a talk by Catherine David, Histories of Modern Art, as part of the Curatorial Lecture Series.
"In the context of the globalisation of the art market and contemporary art collections, many artists from non-western geocultural spaces appear as 'emerging' … as from nothing, or from a black hole. And there are indeed many reasons for the ignorance or denial of modern cultures developed by several generations of artists in many parts of the world, beginning with the Middle East and Arab world."
The Curatorial Lecture Series presents lectures on contemporary curatorial practice. It is organized by the Morris and Helen Belkin Art Gallery in collaboration with the Department of Art History, Visual Art and Theory with the support of the Audain Endowment for Curatorial Studies and the Faculty of Arts at The University of British Columbia. Catherine David's lecture is made possible with the support of the French Consulate in Vancouver as part of a French Curators Lecture Series, a joint initiative of the Consulate General of France and the Belkin Art Gallery.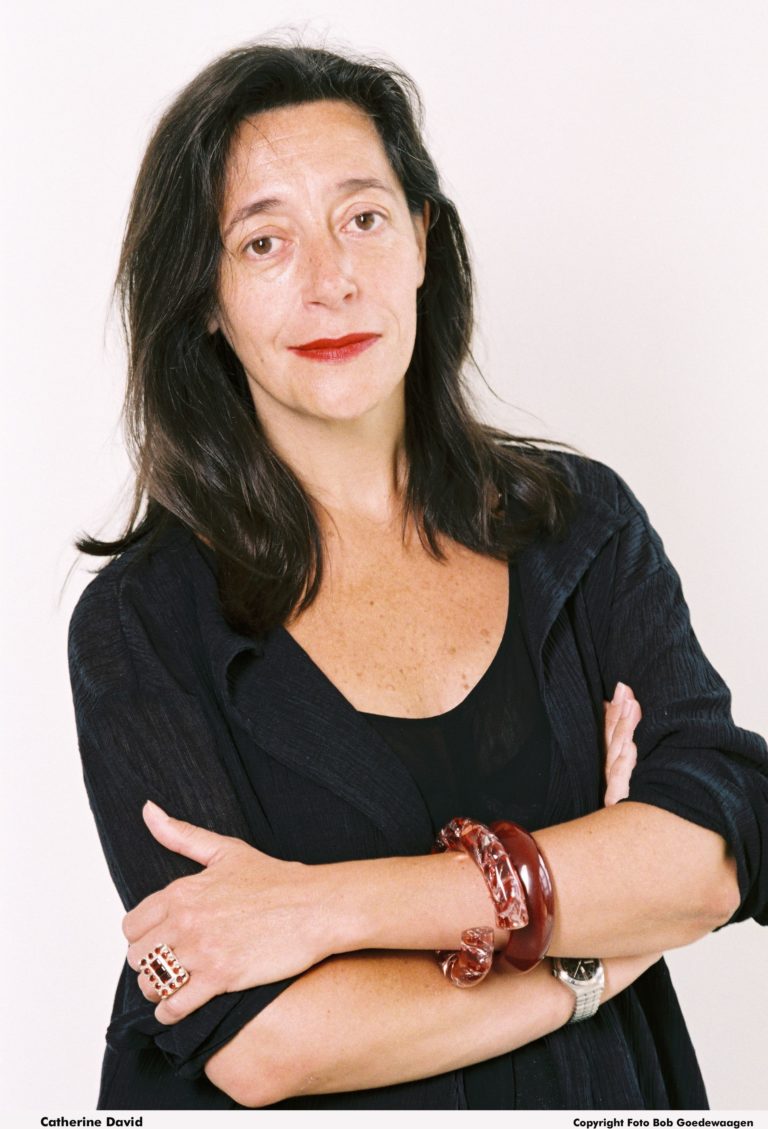 The Morris and Helen Belkin Art Gallery
Catherine David

Presenter

Catherine David is an independent curator based in Paris. She began her career as a curator at the National Museum of Modern Art at the Centre Georges Pompidou (1982-1990), followed by curator at the Galerie Nationale du Jeu de Paume (1990-1994), both in Paris. From 1994 to 1997, David served as Artistic Director for documenta X in Kassel, Germany, and from 1998 onwards has been Director of the long-term project Contemporary Arab Representations (Beirut/Cairo/Iraqi Equation), produced by Fundació Antoni Tàpies in Barcelona. In 2000, David organized The State of Things for the KW Institute for Contemporary Art, Berlin. Between 2002 and 2004, she was Director of the Witte de With Center for Contemporary Art, Rotterdam. As an independent curator, David organized the monograph exhibition of Bahman Jalali at Tàpies Fondation in Barcelona and the interdisciplinary event Di/Visions: Culture and Politics of the Middle East at Haus der Kulturen der Welt in Berlin (2007); received the Bard Award for curatorial excellence in New York (2008); curated the Abu Dhabi Authority for Culture and Heritage pavilion at the Venice Biennale (2009); organized the Hassan Sharif exhibition Experiments & Objects 1979-2011 at the ADACH Exhibition Hall in Abu Dhabi and launched the first monographic book on the artist at the Venice Biennale (2011); and curated A Blind Spot at Haus der Kulturen der Welt (HKW) in Berlin, Mutatis Mutandis at Secession in Vienna and Marwan & Abdelrahman Munif Correspondences 1991-2004 for the Beirut Art Fair (2012).

Read More