Julian Myers

Presenter

Julian Myers is Assistant Professor of Visual Studies and Curatorial Practice at the California College of the Arts, and is the author of numerous articles, including The Future as Fetish and If it need be termed surrender, then let it be so, appearing in publications such as Documents, October, Afterall, and frieze. His published works include Ellsworth Kelly in San Francisco (2002), Sightlines (2005), Super-Pride and Super Prejudice (2005) and Zoe Crosher: Out the Window (2006). His research is concentrated on earthworks and American spatial politics, the social and political dynamics of consumer society, and socio-historical frameworks for contemporary art. He has held teaching positions at the University of California, Davis, San Francisco Art Institute, and at University of California, Santa Cruz. He received his PhD in Art History from the University of California, Berkeley, in 2006.

Read More
In collaboration with the Department of Art History, Visual Art and Theory, the Museum of Anthropology, the Interdisciplinary Graduate Program, and the Faculty of Arts, the Morris and Helen Belkin Art Gallery is please to announce that Julian Myers will be participating in their ongoing series of lectures on contemporary curatorial practice.
An art historian, critic, and curator, Myers will address so-called riot shows, rock concerts when the audience actively intervenes in the performance, forcing the band to end the show unexpectedly. His lecture will present audio and visual recordings of disrupted performances by bands such as Suicide, Black Sabbath, Cabaret Voltaire, Morrissey, Public Image Ltd., and Guns 'N' Roses. Each recording is marked by the convergence of four things: a concert of some kind, with a large audience; a part of that audience who, for one reason or another, stops that show by various means; the crucial presence of a recording device of some kind; the exchange of that recording, either as a bootleg or as an official release. Myers will elucidate how these recordings—strange, funny, boring and scary in turns—allow us to perceive the intensities and instabilities at the heart of the rock concert and, perhaps, in spectacular entertainment in general. In addition, Myers will produce a 'zine gathering stills, transcripts, and photo-documentation of various riot shows.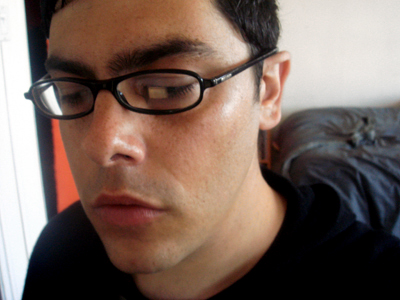 Organized by Naomi Sawada, Scott Watson
Julian Myers

Presenter

Julian Myers is Assistant Professor of Visual Studies and Curatorial Practice at the California College of the Arts, and is the author of numerous articles, including The Future as Fetish and If it need be termed surrender, then let it be so, appearing in publications such as Documents, October, Afterall, and frieze. His published works include Ellsworth Kelly in San Francisco (2002), Sightlines (2005), Super-Pride and Super Prejudice (2005) and Zoe Crosher: Out the Window (2006). His research is concentrated on earthworks and American spatial politics, the social and political dynamics of consumer society, and socio-historical frameworks for contemporary art. He has held teaching positions at the University of California, Davis, San Francisco Art Institute, and at University of California, Santa Cruz. He received his PhD in Art History from the University of California, Berkeley, in 2006.

Read More