Hans Winkler

Presenter

Hans Winkler (b. 1955) is an artist and curator who lives and works in Berlin and New York. Since 1999, he has been Visiting Artist and Lecturer at the San Francisco Art Institute. Winkler's art projects include The Escape of the Iceman/Ötzi (2008) in collaboration with the Department of Archaeology at EURAC, Bolzano and the Museum of Modern Art; Held Saga (2005) at Adademie der Kuenste, Berlin. In 2005, Winkler worked with grunt gallery and organizations in Vancouver's Downtown Eastside to produce Nova Library (Junkie Reading Room), a library of books about "junkie literature" inside the main branch of the Vancouver Public Library. Inspired by William S. Burroughs' novel Nova Express, the library/social sculpture, created both for and by a community, challenged assumptions about literature, drug culture knowledge and the public sphere. Recently co-curated exhibitions include California Conceptual Art (2010) with Paul Kos and Tony Labat at ar/ge kunst in Bolzano, Italy; and legal/illegal (2004) with Helen Adkins and Kai Bauer at NGBK, Berlin.

Read More
The Belkin Art Gallery is pleased to present a talk by Hans Winkler about the exhibition Looking for Mushrooms: Beat Poets, Hippies, Funk, Minimal Art, San Francisco 1955-68 as part of the Curatorial Lecture Series. The exhibition, which he co-curated with Barbara Engelbach and Friederike Wappler in 2008 at Museum Ludwig, Cologne, considered a time and place where the boundaries between the arts were broken down, leading not only to a politicized counterculture, but also to the mingling of theatre, dance, the visual arts, literature and film. Winkler's lecture will also include an introduction to his own artistic practice, in particular his interventions in the public space.
Hans Winkler will be speaking at the Native Education College at 285 East 5th Avenue, Vancouver, on Thursday, April 7 at 12:15 pm with Cease Wyss about the Kahoolawe Project as part of Spark: A Fireside Artist Talk Series sponsored by grunt gallery. For details, visit ""grunt.ca."":http://grunt.ca/
The Curatorial Lecture Series presents lectures on contemporary curatorial practice. The series is organized by the Morris and Helen Belkin Art Gallery in collaboration with the UBC Department of Art History, Visual Art and Theory with the support of the Audain Endowment for Curatorial Studies. Hans Winkler's visit to Vancouver is a collaboration with [grunt gallery, Vancouver] <http://grunt.ca/>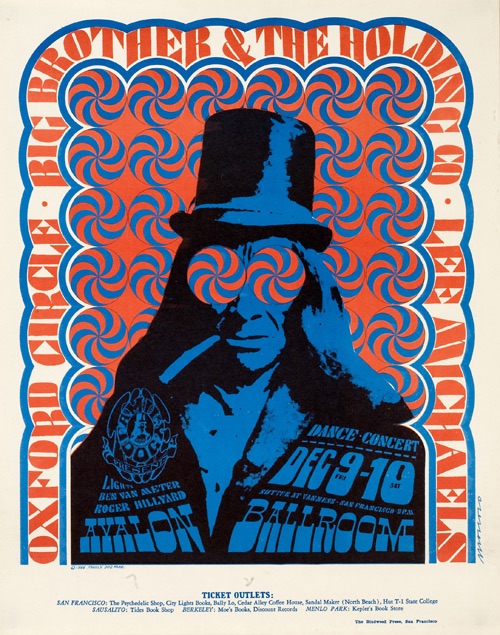 Victor Moscoso, Concert poster Top Hat for Big Brother & the Holding Co., 1966. Collection of Uwe Husslein, Cologne.
Organized by Morris and Helen Belkin Art Gallery ;; UBC Department of Art History, Visual Art and Theory
Hans Winkler

Presenter

Hans Winkler (b. 1955) is an artist and curator who lives and works in Berlin and New York. Since 1999, he has been Visiting Artist and Lecturer at the San Francisco Art Institute. Winkler's art projects include The Escape of the Iceman/Ötzi (2008) in collaboration with the Department of Archaeology at EURAC, Bolzano and the Museum of Modern Art; Held Saga (2005) at Adademie der Kuenste, Berlin. In 2005, Winkler worked with grunt gallery and organizations in Vancouver's Downtown Eastside to produce Nova Library (Junkie Reading Room), a library of books about "junkie literature" inside the main branch of the Vancouver Public Library. Inspired by William S. Burroughs' novel Nova Express, the library/social sculpture, created both for and by a community, challenged assumptions about literature, drug culture knowledge and the public sphere. Recently co-curated exhibitions include California Conceptual Art (2010) with Paul Kos and Tony Labat at ar/ge kunst in Bolzano, Italy; and legal/illegal (2004) with Helen Adkins and Kai Bauer at NGBK, Berlin.

Read More