Peter Morin

Artist

Peter Morin is a Tahltan Nation artist and curator. Throughout his artistic practice, Morin investigates the impact zones that occur when Indigenous practices collide with Western-settler colonialism. Morin's artworks are shaped, and reshaped, by Tahltan epistemological production and often takes the form of performance interventions. In addition to his exhibition history, Morin has curated exhibition for the Museum of Anthropology, Western Front, Bill Reid Gallery and Burnaby Art Gallery. In 2016, Morin received the Hnatyshyn Foundation Award for Outstanding Achievements by a Canadian Mid-Career Artist. Morin's practice has spanned twenty years so far, with exhibitions in London, Berlin, Singapore, New Zealand, and Greenland, as well as across Canada and the United States. Morin currently holds a tenured appointment in the Faculty of Arts at the Ontario College of Art and Design University in Toronto.

Read More

Parmela Attariwala

Musician

Toronto-based violinist/violist, composer and ethnomusicologist Parmela Attariwala has been described as "one of Canada's most original and compelling artists," traversing genres from Mozart to the avant-garde, from fiddle to rock, from free improvisation to non-Western crossovers, with virtuosic fluidity.

Read More
Peter Morin
NDN Love Songs, 2018-ongoing
vinyl transfer, digital video
Collection of the artist
In Part One of NDN Love Songs, the artist offers a score of instructions to  musicians presented alongside seven video portraits. Part Two presents videos of recordings of previous iterations of the Soundings exhibition at Agnes Etherington Art Centre, Gund Gallery and Kitchener-Waterloo Art Gallery. In Part Three, Parmela Attariwala performs the score on the violin at the Belkin. NDN Love Songs presents seven short videos that can be read as "drum portraits." The drums featured are from the Royal British Columbia Museum in Victoria, and each represent someone that Morin has loved in his life, and for whom he has not fully been able to express that love. Playing in succession in a line and moving at different speeds, the drum portraits can be interpreted through the written score on the adjacent wall that reads:
A decolonized body has the ability to remake love/loving/sex/sexuality
One draw across the strings is a body
One draw across the strings for the release of breath
One draw across the strings for the acknowledgement of desire
One draw across the strings is to let go
One draw across the strings to complete their name
The rest is up to you
Repeat eight times
Your browser does not support the video tag.
Peter Morin and Parmela Attariwala in Conversation
25 minutes, 20 seconds
Peter Morin's work is part of Soundings: An Exhibition in Five Parts at the Morris and Helen Belkin Art Gallery (September 8-December 6, 2020).
Photos: Rachel Topham Photography
Video: Aya Garcia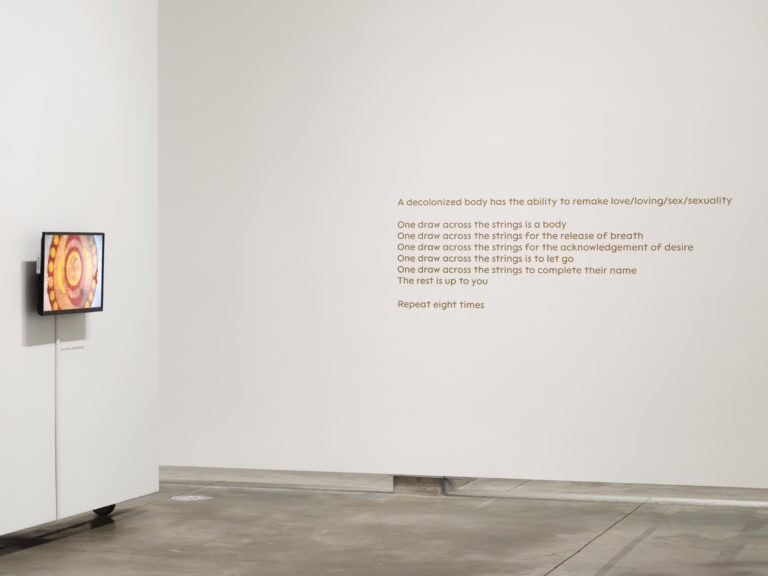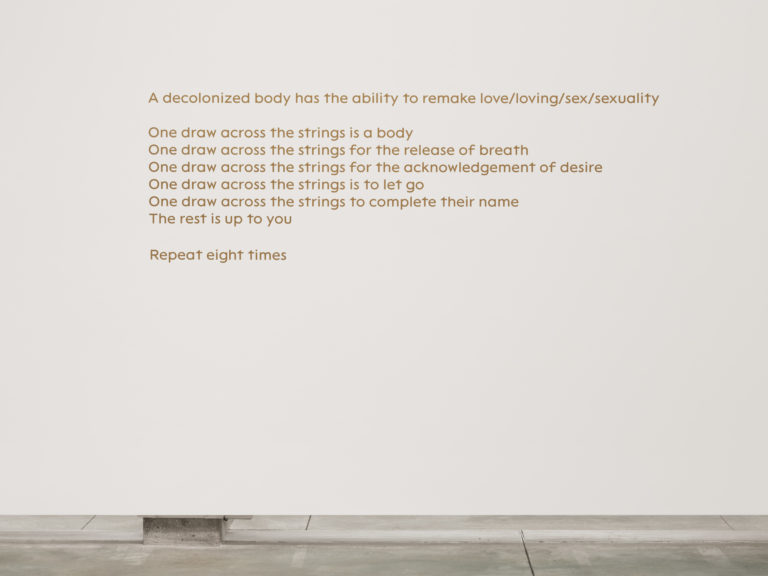 Peter Morin

Artist

Peter Morin is a Tahltan Nation artist and curator. Throughout his artistic practice, Morin investigates the impact zones that occur when Indigenous practices collide with Western-settler colonialism. Morin's artworks are shaped, and reshaped, by Tahltan epistemological production and often takes the form of performance interventions. In addition to his exhibition history, Morin has curated exhibition for the Museum of Anthropology, Western Front, Bill Reid Gallery and Burnaby Art Gallery. In 2016, Morin received the Hnatyshyn Foundation Award for Outstanding Achievements by a Canadian Mid-Career Artist. Morin's practice has spanned twenty years so far, with exhibitions in London, Berlin, Singapore, New Zealand, and Greenland, as well as across Canada and the United States. Morin currently holds a tenured appointment in the Faculty of Arts at the Ontario College of Art and Design University in Toronto.

Read More

Parmela Attariwala

Musician

Toronto-based violinist/violist, composer and ethnomusicologist Parmela Attariwala has been described as "one of Canada's most original and compelling artists," traversing genres from Mozart to the avant-garde, from fiddle to rock, from free improvisation to non-Western crossovers, with virtuosic fluidity.

Read More