Camille Georgeson-Usher

Artist

Camille Georgeson-Usher is a Skwxwú7mesh / Hul'q'umi'num / Sahtu Dene/Scottish scholar, artist and writer from Galiano Island, British Columbia, which is of the Pune'laxutth' (Penelakut) Nation. Usher completed her MA in Art History at Concordia University, focusing her research on how the arts may be used as a tool to engage Indigenous youth in discussions of health and sexuality, drawing predominantly on the work of Qaggiavuut!, an Arctic performing arts group. She is currently a PhD candidate in the Cultural Studies department at Queen's University and has been awarded the Joseph-Armand Bombardier Canada Graduate Scholarships-Doctoral for her research-creation work around urban Indigenous experiences within Indigenous arts collectives and other groups activating public spaces through gestures both little and big. She has been awarded the 2018 Canadian Art Writing Prize and has been lucky to develop her installation-based artistic practice through acts of love and care in collaboration with filmmaker Asinnajaq (Isabella Weetaluktuk).

Read More

Rachel Kiyo Iwaasa

Musician

Rachel Kiyo Iwaasa is recognized among Canada's foremost contemporary music pianists.  Selected to close the ISCM World New Music Days 2017 in Vancouver, Iwaasa has performed in the Netherlands, Germany, US and across Canada, with engagements including Muziekweek Gaudeamus, Music TORONTO, Music on Main, Vancouver New Music, Redshift, Western Front, Vancouver Symphony, Victoria Symphony, the Aventa Ensemble (Victoria), CONTACT contemporary music (Toronto), New Works Calgary, Groundswell New Music (Winnipeg) and Vancouver Pro Musica. Iwaasa is a co-founder of the Queer Arts Festival in Vancouver.

Read More
Camille Georgeson-Usher
through, in between oceans part 2, 2020
beaded installation
Collection of the artist
through, in between oceans part 2 by Camille Georgeson-Usher is a beaded installation, completed during the isolation of the Spring 2020 pandemic. The artist worked from home in Toronto, a departure from her intention to spend several months on Galiano Island, BC, where she was raised. This time had been set aside to spend time and learn with her family, and to allow the work to unfold as stories were shared. Instead, Georgeson-Usher improvised by fashioning a beadwork net to be viewed from below speaking to an awkwardness that searching for knowledge and learning often entails. The iridescent blue, green and sparingly used red beads shimmer overhead, their threads trailing off in space. Diamond-shaped absences are drawn in the air, the installation evoking the unfinished dialogue between generations of women separated by time and geography.
Rachel Kiyo Iwaasa, encountering the beadwork in the gallery, remarked on the Japanese Buddhist nenju, or prayer beads, and how she had learned that the set of nenju she inherited had sections missing. A shared experience of familial gaps, silences and ellipses informs Iwaasa's interpretation of through, in between oceans part 2, developed in conversation with Georgeson-Usher and recorded at the School of Music's Roy Barnett Hall on Sunday, November 8, 2020.
Camille Georgeson-Usher's work is part of Soundings: An Exhibition in Five Parts at the Morris and Helen Belkin Art Gallery (September 8-December 6, 2020).
Photos: Rachel Topham Photography
Video: Aya Garcia
Your browser does not support the video tag.
Rachel Kiyo Iwaasa performing Camille Georgeson-Usher's through, in between oceans part 2 (2020)
Performed 8 November 2020
8 minutes, 28 seconds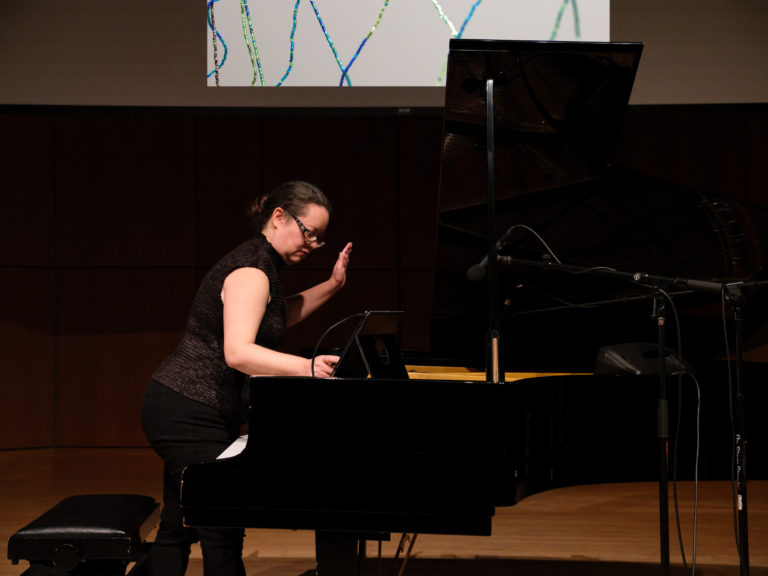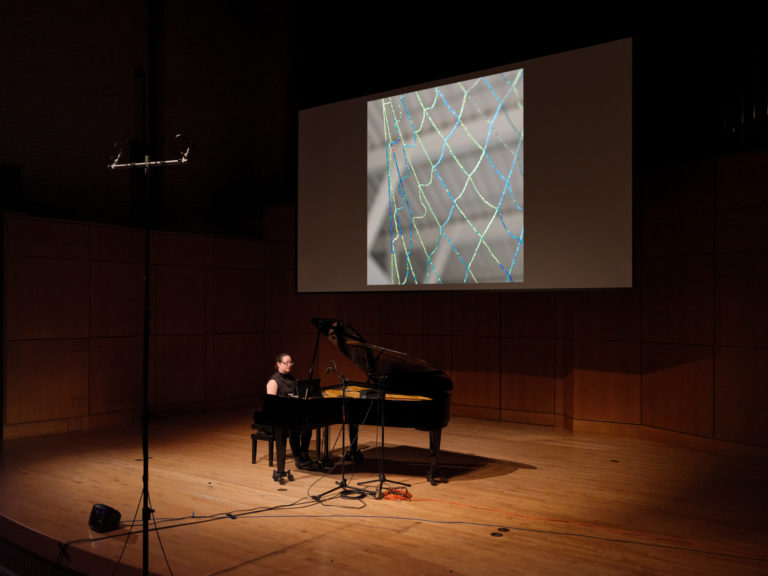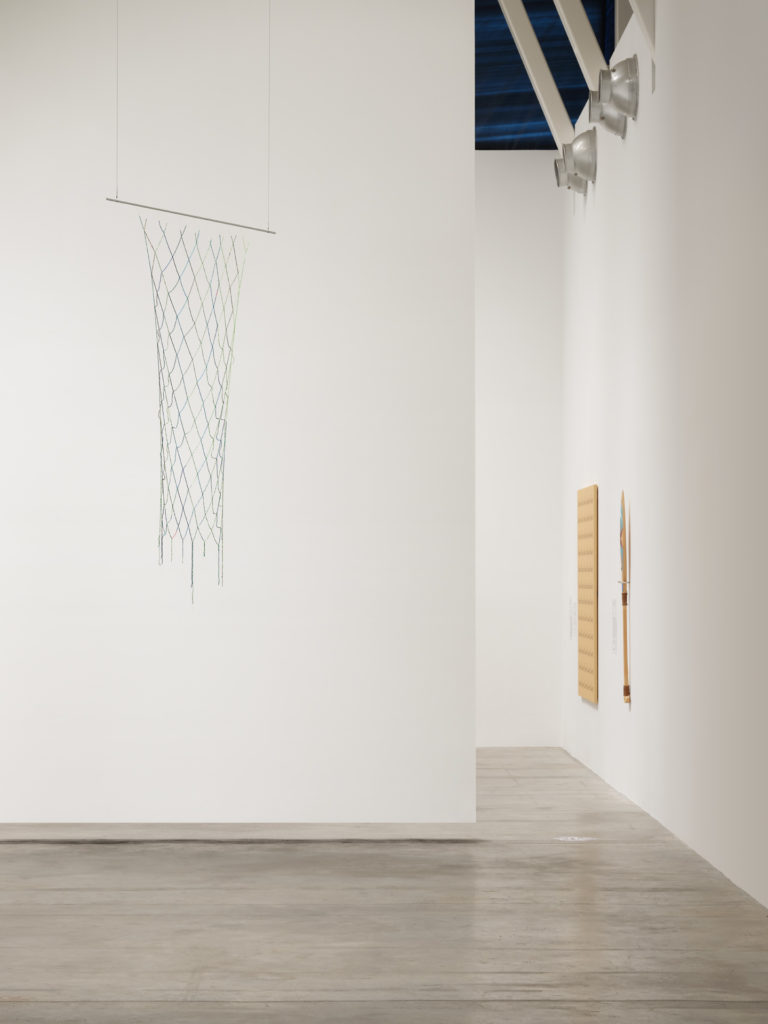 Camille Georgeson-Usher

Artist

Camille Georgeson-Usher is a Skwxwú7mesh / Hul'q'umi'num / Sahtu Dene/Scottish scholar, artist and writer from Galiano Island, British Columbia, which is of the Pune'laxutth' (Penelakut) Nation. Usher completed her MA in Art History at Concordia University, focusing her research on how the arts may be used as a tool to engage Indigenous youth in discussions of health and sexuality, drawing predominantly on the work of Qaggiavuut!, an Arctic performing arts group. She is currently a PhD candidate in the Cultural Studies department at Queen's University and has been awarded the Joseph-Armand Bombardier Canada Graduate Scholarships-Doctoral for her research-creation work around urban Indigenous experiences within Indigenous arts collectives and other groups activating public spaces through gestures both little and big. She has been awarded the 2018 Canadian Art Writing Prize and has been lucky to develop her installation-based artistic practice through acts of love and care in collaboration with filmmaker Asinnajaq (Isabella Weetaluktuk).

Read More

Rachel Kiyo Iwaasa

Musician

Rachel Kiyo Iwaasa is recognized among Canada's foremost contemporary music pianists.  Selected to close the ISCM World New Music Days 2017 in Vancouver, Iwaasa has performed in the Netherlands, Germany, US and across Canada, with engagements including Muziekweek Gaudeamus, Music TORONTO, Music on Main, Vancouver New Music, Redshift, Western Front, Vancouver Symphony, Victoria Symphony, the Aventa Ensemble (Victoria), CONTACT contemporary music (Toronto), New Works Calgary, Groundswell New Music (Winnipeg) and Vancouver Pro Musica. Iwaasa is a co-founder of the Queer Arts Festival in Vancouver.

Read More