Siku Allooloo

Artist

Siku Allooloo (Inuk/Haitian Taino) is a writer, facilitator and land-based educator from Denendeh (NWT) and Pond Inlet, NU. She also belongs to a Dene family and a strong lineage of storytellers/leaders on all three sides who have raised her to be close to the land. Allooloo has led resurgence-based work on the land in Denendeh since 2014, and in artistic collaborations with Indigenous artists across the country. Much of her work centres on decolonial ethics, resurgence and transformation. Her writing has been featured in Briarpatch Magazine, The Malahat Review, Nuit Blanche Toronto and Surrey Art Gallery Presents, among others. In 2018, she joined Gwaandak Theatre, Whitehorse as the Artistic Producer and was a guest faculty member at Banff Centre's The Space Between Us: Technology, Collaboration and the Future. She is deeply honoured to be part of this project.

Read More

Scott Benesiinaabandan

Artist

Scott Benesiinaabandan (Anishinaabe) is an intermedia artist who works primarily in photography, video, audio and printmaking. Benesiinaabandan has completed international residencies at Parramatta Artist Studios in New South Wales, Australia, Context Gallery in Derry, Northern Ireland and the Royal Melbourne Institute of Technology iAIR Residency, along with international collaborative projects in the United Kingdom. Benesiinaabandan is currently based in Montreal where he is completing a year-long Canada Council New Media Production grant through Obx Labs/AbTeC and the Initiative for Indigenous Futures, investigating virtual reality (VR) as a medium. He recently completed a National Film Board-Ford Foundation intensive residency around VR. In the past years, Benesiinaabandan has received grants from the Canada Council for the Arts, Manitoba Arts Council, Winnipeg Arts Council and Conseil des arts et des lettres du Québec. Benesiinaabandan has taken part in exhibitions across Canada and internationally, including Flatter the Land, Bigger the Ruckus at the Winnipeg Harbourfront Festival (2006), Subconscious City at the Winnipeg Art Gallery (2008), Ghost Dance at Ryerson Image Centre (2013) and The Fifth World at Mendel Art Gallery, Saskatoon (2015), as well as solo exhibitions unSacred at Gallery 1C03, University of Winnipeg (2011), Mii Omaa Ayaad/Oshiki Inendemowin, Sydney, Australia (2012), Blood Memories, Melbourne, Australia (2013) and little resistances at Platform Gallery, Winnipeg (2015). His work can be found in collections throughout Canada.

Read More

Lorna Brown

Curator

Lorna Brown (Canadian, b. 1958) is Acting Director/Curator at the Morris and Helen Belkin Art Gallery and a visual artist, writer, educator and editor. She has exhibited her work internationally since 1984. Brown was the Director/Curator of Artspeak Gallery from 1999 to 2004 and is a founding member of Other Sights for Artists' Projects, a collective of artists, architects and curators presenting projects that consider the varying conditions of public places and public life. She has taught at Emily Carr University of Art and Design and Simon Fraser University. Her recent curatorial projects include Digital Nativesand Institutions by Artists. Brown received an honorary degree from Emily Carr University of Art and Design (2015), the Vancouver Institute for the Visual Arts Award (1996) and the Canada Council Paris Studio Award (2000). Her work is in the collections of the Morris and Helen Belkin Art Gallery, the National Gallery of Canada, the BC Arts Council, the Surrey Art Gallery and the Canada Council Art Bank.

Read More

Darryll Dawson Jr.

Artist

Darryll Dawson Jr. (Kwakwak'wakw) is a proud member of the Musgamakw Dzawada'nuxw First Nation of Kingcome Inlet. Growing up in Kingcome, his grandparents took him to numerous potlatches and feasts in Kingcome as well as with other tribes within the Kwakwak'wakw Nation. These experiences led him to learn dancing and singing at an early age. In 1993, he moved to Victoria and took his first Native Art class where he built the foundation of painting and design and started to develop his own style by age 17. In 2000, the Nanwakola Cultural Society commissioned him to design and paint a lamilas (ceremonial designed screen) for the Bighouse opening in Kingcome, where he also painted house posts carved by Master carver Beau Dick. Dawson apprenticed with Master carver Rande Cook and worked with Master carver John Livingston in Victoria, BC. His artistic inspirations are his late father Darryll Dawson Sr., his uncle Peter Dawson, William Wasden Jr., Beau Dick, Wayne Alfred, John Livingston, Rande Cook, Frances Dick and Marianne Nicolson. In 2013, Dawson moved back home to Kingcome. He currently works as a cultural co-ordinator in Kingcome to bring the community together to learn cultural practices, traditions, and ceremonies.

Read More

Jaymyn La Vallee

Artist

Jaymym La Vallee (Sḵwx̱wú7mesh, Kwikwasut'inuxw and 'Namgis) grew up in North Vancouver, BC on the Capilano Reservation. She is currently learning her Indigenous language, Kwakwala, and is completing her Bachelor of Education through the Indigenous Teacher Education Program (NITEP) at the University of British Columbia. La Vallee hopes to work with Indigenous children and young adults, teaching language and culture. She is passionate about food sovereignty and hopes to incorporate land-based learning values into her philosophy of teaching.

Read More

Marianne Nicolson

Artist

Marianne Nicolson's ('Tayagila'ogwa) (Canadian, Scottish, Dzawada̱'enux̱w, b. 1969) training encompasses both traditional Kwakwa̱ka̱'wakw forms and culture and Western European based art practice. She holds a BFA from Emily Carr University of Art and Design (1996), an MFA (1999), an MA in Linguistics and Anthropology (2005) and a PhD in Linguistics, Anthropology and Art History (2013) from the University of Victoria. She has exhibited her artwork locally, nationally and internationally as a painter, photographer and installation artist, has written and published numerous essays and articles, and has participated in multiple speaking engagements. Her practice engages with issues of Aboriginal histories and politics arising from a passionate involvement in cultural revitalization and sustainability.

Nicolson works as a cultural researcher and historian for the Kwakwaka'wakw as well as an advocate for Indigenous land rights. Her practice is multi-disciplinary, encompassing photography, painting, carving, video, installation, monumental public art, writing and speaking. All her work is political in nature and seeks to uphold Kwakwaka'wakw traditional philosophy and worldview through contemporary mediums and technology. Exhibitions include the 17th Biennale of Sydney, Australia; The Vancouver Art Gallery; The National Museum of the American Indian in New York; Nuit Blanche in Toronto, Ontario; and many others. Major monumental public artworks are situated in Vancouver International Airport; the Canadian Embassy in Amman, Jordan; and the Canadian Embassy in Paris, France.

Read More

Diane Roberts

Artist

Diane Roberts (American) is an interdisciplinary performance creator, director, dramaturge and cultural animator who has collaborated with theatre artists for the past thirty years. Her directorial and dramaturgical work has been seen on stages across Canada and her reputation as a mentor, teacher and community collaborator is nationally and internationally recognized. Through practice and teaching, Roberts has developed her voice as a cultural leader—cultivating and promoting a vision for performance that encourages Indigenous ways of knowing as a stepping-stone to authentic creative expression. This vision is bolstered by the creation of innovative projects inspiring trans-disciplinary and trans-cultural collaborations. Roberts's Arrivals Personal Legacy Project (www.arrivalslegacy.com) developed during her seven-year tenure as Artistic Director of Urban Ink productions and has yield interdisciplinary works across Canada, throughout the Americas, in the UK, Europe and the Caribbean. Roberts is also a founding member of Obsidian Theatre and backforward collective in Toronto, Associate Artist of lbs/sq" (Toronto) and co-founder and Artistic Director of Boldskool Productions (Vancouver, Montreal) with playwright Omari Newton. Roberts is currently pursuing her PhD in Interdisciplinary Studies at Concordia University.

Read More

Sara Siestreem

Artist

Sara Siestreem (Hanis Coos) is a multi-disciplinary artist and educator working in painting, photography, printmaking, sculpture and traditional Indigenous weaving based in Portland, OR. Siestreem's artistic practice engages in critical issues of sovereign Indigenous rights, Indigenous knowledge systems and ecology. Siestreem's current project of learning, practicing and teaching traditional Indigenous basket weaving stems from her work on institutional critique and access to historic collections of Coos material and archives. Through engaging in these traditional practices, Siestreem invokes the complex histories and embodied knowledges of the communities and peoples who have also woven these baskets across eras. Siestreem received her MFA from the Pratt Art Institute in Brooklyn, NY, and is the recipient of numerous grants, scholarships and residencies. Siestreem's work has been shown across the US and BC, including at the Portland Art Museum in Portland, OR; The Museum of Natural and Cultural History at the University of Oregon; The Art Gallery of Greater Victoria in Victoria, BC; The Museum of Northwest Art in Seattle, WA; among many other spaces. She is currently represented by the Augen Gallery in Portland, OR.

Read More

Juliana Speier

Artist

Juliana Speier is an emerging visual artist who recently graduated from high school and plans to attend the University of Victoria for biology and arts. The youth artist/activist is of mixed heritage and comes from the non-treaty Dzawada'enuxw First Nation of Kingcome Inlet, BC. Her interests lie in painting and photography. Her work predominantly involves themes of nature, using it as a connection point for education on issues relating to both her Indigenous heritage and the environment. In 2017, Speier was part of an Indigenous emerging artist project with the Pacific Peoples' Partnership, and in 2019 she will travel to Brazil for five months to volunteer at IPBIO, a biological research station in one of the national parks. 

Read More

Nabidu Taylor

Artist

Nabidu Taylor (Musgamagw Dzawada'enuxw) is an emerging artist who was raised in the Musgamagw Dzawada'enuxw First Nation, and is currently based in Victoria, BC. She had her first training with elders in traditional media and has gone on to work in photography and video. Her work explores relationships between contemporary youth and their ancestral territory and culture. She is completing a program in environmental tourism and she has an extensive photo practice on Instagram @Nabidu 

Read More

Althea Thauberger

Artist

Althea Thauberger (Canadian, b. 1970) is an artist and filmmaker based in Vancouver, unceded Coast Salish Territories. Thauberger's practice is primarily concerned with the use of performative and collaborative processes in the research and production of social documentaries. Her locally and internationally-produced projects involve long-term negotiations, cooperations and collaborations with individuals, communities and institutions in processes of their own representation. They invoke provocative reflections of social, political and institutional power relations and create situations in which these dynamics may be challenged or break down. Thauberger's works additionally involve sustained engagement in the histories and contestations of the sites of their production. These have included the Bohnice Psychiatric Hospital in Prague; the Kandahar International Airport at the Kandahar Airfield, southern Afghanistan; the 200 block of Carrall Street in Vancouver's Downtown Eastside; the Haskell Opera House on the Quebec/Vermont border; and the former Rikard Benčić factory in Rijeka, Croatia. Thauberger's exhibitions and screenings have included the Audain Gallery, Vancouver; National Gallery of Canada, Ottawa; Capri Cinema, Karachi; Art Gallery of Southern Alberta, Lethbridge; Susan Hobbs Gallery, Toronto; Polygon Gallery, North Vancouver among many other spaces. She is an assistant professor in the Department of Art History, Visual Art and Theory at the University of British Columbia.

Read More

Kamala Todd

Artist

Kamala Todd is Métis-Cree with roots in St. Paul de Métis Settlement and Whitefish Lake Alberta. She is grateful to live in the beautiful homelands of the hən̓q̓əmin̓əm̓- and Skwxwú7mesh-speaking people, also known as Vancouver, where she was born and raised. Todd is a community planner, filmmaker, writer and curator with an MA in cultural geography (UBC). For six years, she was the City of Vancouver's Aboriginal Social Planner (2000-06). Todd's film credits include Indigenous Plant Diva, Cedar and Bamboo, RELAW: Living Indigenous Laws and Sharing our Stories: The Vancouver Dialogues Project. In 2015, she created a video series about Indigenous law for the University of Victoria's Indigenous Law Research Unit. Todd writes and directs for children's television, including the Indigenous science series Coyote's Crazy Smart Science Show on APTN. She is the author of "This Many-storied Land" published in In This Together: Fifteen Stories of Truth and Reconciliation (2016). She recently completed a report for the Vancouver Parks Board entitled Truth-Telling: Indigenous Perspectives on Working with Municipal Governments (2017). Todd has curated special events and exhibits for such groups as Indian Summer Festival, David Suzuki Foundation and the Roundhouse Community Arts and Recreation Centre. She is the proud and grateful mother of Kai and Anostin, emerging artists and storytellers themselves.

Read More

William Hiłamas Edward Wasden Jr.

Artist

William Hiłamas Edward Wasden Jr. Wax̱a̱widi "Canoes Come to His Shore" was born at 'Ya̱lis (Alert Bay), BC on October 14, 1967, and is a member of the 'Na̱mg̱is Nation "Nimpkish Valley Tribe". Wasden has always been fascinated with the artwork and style of his Kwakwa̱ka̱'wakw and belongs to many respective tribes within the Kwakwa̱ka̱'wakw. Wasden carries many names and dances that have been bestowed on him by various sides of his families. He is a member of the most sacred 'Mamaḵ̓a "Shaman Dance Society" and Hamat̓sa "Cannibal Dance Society", among others. Wasden is also a descendant of the Cook, Wanukw, Hunt, Alfred, Harris and Innis families; tracing his ancestry to the Tłingit of Alaska and the Mowachaht of the West Coast. The last Kwakwa̱ka̱'wakw Song Keeper/Composer/Historian Chief Hiwaki̱lis Tom Willie "Mackenzie" and wife Matriarch 'Ma̱lidi Elsie (nee Wamiss) daughter of Chief Helagi̱lis Tom "Patch" Wamiss were Wasden's mentors. From them Wasden learned numerous Kwakwaka'wakw traditional songs and how to compose them. He continues to teach all that he knows to the next generation. Wasden also led the G̱wa'wina Dancers Cultural Society, an adult professional dance group intending to share authentic Kwakwa̱ka̱'wakw culture and teachings. Presently, Wasden is the Cultural Coordinator and teaches at Ḵ̓aḵ̓udłat̓s "House of Learning," a First Nation's School at Quatsino, BC.

Read More

Tania Willard

Artist

Tania Willard (Secwepemc) works within the shifting ideas of contemporary and traditional as it relates to cultural arts and production. Often working with bodies of knowledge and skills that are conceptually linked to her interest in intersections between Aboriginal and other cultures. Willard has worked as a curator in residence with grunt gallery and Kamloops Art Gallery. Willard's curatorial work includes Beat Nation: Art Hip Hop and Aboriginal Culture, a national touring exhibition first presented at Vancouver Art Gallery in 2011, Unceded Territories: Lawrence Paul Yuxweluptun at the Museum of Anthropology co-curated by Karen Duffek in 2016 and CUSTOM MADE at Kamloops Art Gallery. She has also been selected as one of five national curators for a national scope exhibition in collaboration with Partners in Art and National Parks. Willard's personal curatorial projects include BUSH gallery, a conceptual space for land based art and action led by Indigenous artists.

Read More

Lindsey Mae Willie

Artist

Lindsey Mae Willie (Musgamagw Dzawada'enuxw) lives and works in Kingcome Inlet, BC. Her filmmaking explores Indigenous identities, particularly by youth who are hungry to learn their ancestral knowledge and wisdom from their elders. Willie explores the revitalization of her community's language, culture, and arts, and in doing so, helps to recover and sustain Musgamagw Dzawada'enuxw artistic heritage. Willie's practice as a documentary filmmaker and storyteller has evolved from eleven years of professional work behind the camera as both camera operator and editor. She has worked with CTV, Aboriginal Peoples Television Network (APTN), City TV, and OMNI Television. In 2012, Willie was awarded the Aboriginal Peoples Television Network's Emerging Director Award and produced her first film, The Potlatch Keepers (2014), which aired on APTN. As an artist, activist and researcher, Willie works as the Traditional Land and Governance Coordinator for the Dzawada'enuxw First Nation. In this role, she has helped develop a governance engagement strategy to enhance the capacity of the Dzawada'enuxw First Nation to assert authority over its territory while engaging in the reconciliation process. Willie seeks out her culture by listening to her elders, and through hunting, fishing, traversing the wilderness, constructing traditional shelters and harvesting plants.

Read More
Opening Reception: Thursday, January 10, 6-9 pm
Book a weekend introductory tour at the Reception Desk or call 604-822-4883
Including work by artists Marianne Nicolson and Althea Thauberger with Siku Allooloo, Scott Benesiinaabandan, Darryl Dawson, Jaymyn La Vallee, Diane Roberts, Sara Siestreem, Juliana Speier, Nabidu Taylor, Kamala Todd, William Wasden Jr., Tania Willard and Lindsey Willie.
In 1914, delegates of the McKenna-McBride Royal Commission met with Johnny Scow (Kwikwasuti'nuxw), Copper Johnson (Ha'xwa'mis), Dick Webber and Dick Hawkins (Dzawada̱'enux̱w), and Alec Morgan (Gwawa'enuxw), as well as all the Kwakwa̱ka̱'wakw Chiefs, to establish the land base of the Kwakwa̱ka̱'wakw group of nations. A century later, in May 2018, the Dzawada̱'enux̱w First Nation launched the first-ever BC Supreme Court case to extend Aboriginal title to the ocean, claiming that the Province does not have the authority to grant tenures to salmon farms in the Broughton Archipelago. As two moments in a tangled timeline of resistance, these legal encounters bring forward the ways that cultural practices can bring new realities into being for a community experiencing ongoing social, cultural and ecological effects of colonization and globalizing economics.
Working together at Kingcome Inlet in Summer 2018, a group of artists used film, video, social media, weaving, animation, drawing, language and song to address the urgent threats to the land and water. A manifestation of the relationships formed between the participants over this past year, this exhibition is based on sharing knowledges and respectful collaboration. Simultaneously research, material, media, testimony and ceremony, Hexsa'a̱m: To Be Here Always challenges the western concept that the power of art and culture are limited to the symbolic or metaphoric, and that the practices of First Peoples are simply part of a past heritage. As Marianne Nicolson states, "We must not seek to erase the influence of globalizing Western culture, but master its forces selectively, as part of a wider Canadian and global community, for the health of the land and the cultures it supports. The embodied practice of ceremonial knowledge relates to artistic experience – not in the aesthetic sense, but in the performative: through gestures that consolidate and enhance knowledge for positive change." Hexsa'a̱m: To Be Here Always positions the gallery as an active location for this performance, drawing together many faculties and disciplines of the university in generative exchange.
Image (above): From 

Hexsa'a̱m

: To Be Here Always, 2018. Photo: Marianne Nicolson.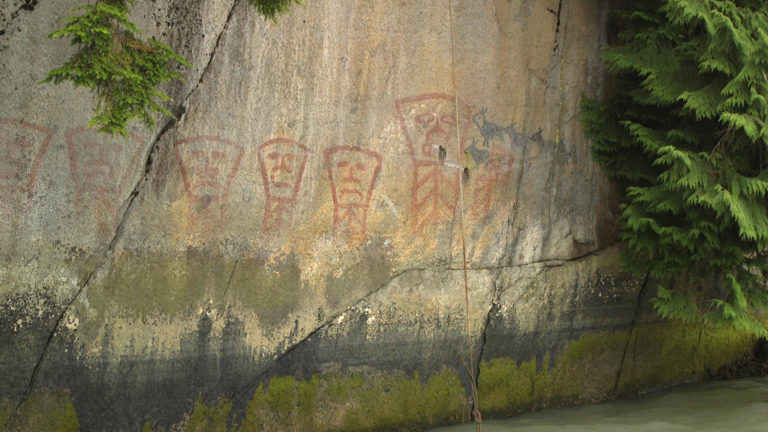 Photo: Scott Benesiinaabandan.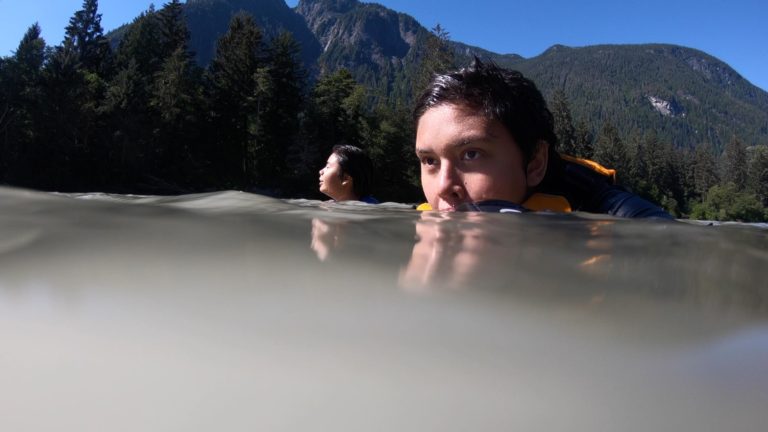 From Hexsa'a̱m: To Be Here Always, 2018, Photo: Nabidu Taylor.
Siku Allooloo

Artist

Siku Allooloo (Inuk/Haitian Taino) is a writer, facilitator and land-based educator from Denendeh (NWT) and Pond Inlet, NU. She also belongs to a Dene family and a strong lineage of storytellers/leaders on all three sides who have raised her to be close to the land. Allooloo has led resurgence-based work on the land in Denendeh since 2014, and in artistic collaborations with Indigenous artists across the country. Much of her work centres on decolonial ethics, resurgence and transformation. Her writing has been featured in Briarpatch Magazine, The Malahat Review, Nuit Blanche Toronto and Surrey Art Gallery Presents, among others. In 2018, she joined Gwaandak Theatre, Whitehorse as the Artistic Producer and was a guest faculty member at Banff Centre's The Space Between Us: Technology, Collaboration and the Future. She is deeply honoured to be part of this project.

Read More

Scott Benesiinaabandan

Artist

Scott Benesiinaabandan (Anishinaabe) is an intermedia artist who works primarily in photography, video, audio and printmaking. Benesiinaabandan has completed international residencies at Parramatta Artist Studios in New South Wales, Australia, Context Gallery in Derry, Northern Ireland and the Royal Melbourne Institute of Technology iAIR Residency, along with international collaborative projects in the United Kingdom. Benesiinaabandan is currently based in Montreal where he is completing a year-long Canada Council New Media Production grant through Obx Labs/AbTeC and the Initiative for Indigenous Futures, investigating virtual reality (VR) as a medium. He recently completed a National Film Board-Ford Foundation intensive residency around VR. In the past years, Benesiinaabandan has received grants from the Canada Council for the Arts, Manitoba Arts Council, Winnipeg Arts Council and Conseil des arts et des lettres du Québec. Benesiinaabandan has taken part in exhibitions across Canada and internationally, including Flatter the Land, Bigger the Ruckus at the Winnipeg Harbourfront Festival (2006), Subconscious City at the Winnipeg Art Gallery (2008), Ghost Dance at Ryerson Image Centre (2013) and The Fifth World at Mendel Art Gallery, Saskatoon (2015), as well as solo exhibitions unSacred at Gallery 1C03, University of Winnipeg (2011), Mii Omaa Ayaad/Oshiki Inendemowin, Sydney, Australia (2012), Blood Memories, Melbourne, Australia (2013) and little resistances at Platform Gallery, Winnipeg (2015). His work can be found in collections throughout Canada.

Read More

Lorna Brown

Curator

Lorna Brown (Canadian, b. 1958) is Acting Director/Curator at the Morris and Helen Belkin Art Gallery and a visual artist, writer, educator and editor. She has exhibited her work internationally since 1984. Brown was the Director/Curator of Artspeak Gallery from 1999 to 2004 and is a founding member of Other Sights for Artists' Projects, a collective of artists, architects and curators presenting projects that consider the varying conditions of public places and public life. She has taught at Emily Carr University of Art and Design and Simon Fraser University. Her recent curatorial projects include Digital Nativesand Institutions by Artists. Brown received an honorary degree from Emily Carr University of Art and Design (2015), the Vancouver Institute for the Visual Arts Award (1996) and the Canada Council Paris Studio Award (2000). Her work is in the collections of the Morris and Helen Belkin Art Gallery, the National Gallery of Canada, the BC Arts Council, the Surrey Art Gallery and the Canada Council Art Bank.

Read More

Darryll Dawson Jr.

Artist

Darryll Dawson Jr. (Kwakwak'wakw) is a proud member of the Musgamakw Dzawada'nuxw First Nation of Kingcome Inlet. Growing up in Kingcome, his grandparents took him to numerous potlatches and feasts in Kingcome as well as with other tribes within the Kwakwak'wakw Nation. These experiences led him to learn dancing and singing at an early age. In 1993, he moved to Victoria and took his first Native Art class where he built the foundation of painting and design and started to develop his own style by age 17. In 2000, the Nanwakola Cultural Society commissioned him to design and paint a lamilas (ceremonial designed screen) for the Bighouse opening in Kingcome, where he also painted house posts carved by Master carver Beau Dick. Dawson apprenticed with Master carver Rande Cook and worked with Master carver John Livingston in Victoria, BC. His artistic inspirations are his late father Darryll Dawson Sr., his uncle Peter Dawson, William Wasden Jr., Beau Dick, Wayne Alfred, John Livingston, Rande Cook, Frances Dick and Marianne Nicolson. In 2013, Dawson moved back home to Kingcome. He currently works as a cultural co-ordinator in Kingcome to bring the community together to learn cultural practices, traditions, and ceremonies.

Read More

Jaymyn La Vallee

Artist

Jaymym La Vallee (Sḵwx̱wú7mesh, Kwikwasut'inuxw and 'Namgis) grew up in North Vancouver, BC on the Capilano Reservation. She is currently learning her Indigenous language, Kwakwala, and is completing her Bachelor of Education through the Indigenous Teacher Education Program (NITEP) at the University of British Columbia. La Vallee hopes to work with Indigenous children and young adults, teaching language and culture. She is passionate about food sovereignty and hopes to incorporate land-based learning values into her philosophy of teaching.

Read More

Marianne Nicolson

Artist

Marianne Nicolson's ('Tayagila'ogwa) (Canadian, Scottish, Dzawada̱'enux̱w, b. 1969) training encompasses both traditional Kwakwa̱ka̱'wakw forms and culture and Western European based art practice. She holds a BFA from Emily Carr University of Art and Design (1996), an MFA (1999), an MA in Linguistics and Anthropology (2005) and a PhD in Linguistics, Anthropology and Art History (2013) from the University of Victoria. She has exhibited her artwork locally, nationally and internationally as a painter, photographer and installation artist, has written and published numerous essays and articles, and has participated in multiple speaking engagements. Her practice engages with issues of Aboriginal histories and politics arising from a passionate involvement in cultural revitalization and sustainability.

Nicolson works as a cultural researcher and historian for the Kwakwaka'wakw as well as an advocate for Indigenous land rights. Her practice is multi-disciplinary, encompassing photography, painting, carving, video, installation, monumental public art, writing and speaking. All her work is political in nature and seeks to uphold Kwakwaka'wakw traditional philosophy and worldview through contemporary mediums and technology. Exhibitions include the 17th Biennale of Sydney, Australia; The Vancouver Art Gallery; The National Museum of the American Indian in New York; Nuit Blanche in Toronto, Ontario; and many others. Major monumental public artworks are situated in Vancouver International Airport; the Canadian Embassy in Amman, Jordan; and the Canadian Embassy in Paris, France.

Read More

Diane Roberts

Artist

Diane Roberts (American) is an interdisciplinary performance creator, director, dramaturge and cultural animator who has collaborated with theatre artists for the past thirty years. Her directorial and dramaturgical work has been seen on stages across Canada and her reputation as a mentor, teacher and community collaborator is nationally and internationally recognized. Through practice and teaching, Roberts has developed her voice as a cultural leader—cultivating and promoting a vision for performance that encourages Indigenous ways of knowing as a stepping-stone to authentic creative expression. This vision is bolstered by the creation of innovative projects inspiring trans-disciplinary and trans-cultural collaborations. Roberts's Arrivals Personal Legacy Project (www.arrivalslegacy.com) developed during her seven-year tenure as Artistic Director of Urban Ink productions and has yield interdisciplinary works across Canada, throughout the Americas, in the UK, Europe and the Caribbean. Roberts is also a founding member of Obsidian Theatre and backforward collective in Toronto, Associate Artist of lbs/sq" (Toronto) and co-founder and Artistic Director of Boldskool Productions (Vancouver, Montreal) with playwright Omari Newton. Roberts is currently pursuing her PhD in Interdisciplinary Studies at Concordia University.

Read More

Sara Siestreem

Artist

Sara Siestreem (Hanis Coos) is a multi-disciplinary artist and educator working in painting, photography, printmaking, sculpture and traditional Indigenous weaving based in Portland, OR. Siestreem's artistic practice engages in critical issues of sovereign Indigenous rights, Indigenous knowledge systems and ecology. Siestreem's current project of learning, practicing and teaching traditional Indigenous basket weaving stems from her work on institutional critique and access to historic collections of Coos material and archives. Through engaging in these traditional practices, Siestreem invokes the complex histories and embodied knowledges of the communities and peoples who have also woven these baskets across eras. Siestreem received her MFA from the Pratt Art Institute in Brooklyn, NY, and is the recipient of numerous grants, scholarships and residencies. Siestreem's work has been shown across the US and BC, including at the Portland Art Museum in Portland, OR; The Museum of Natural and Cultural History at the University of Oregon; The Art Gallery of Greater Victoria in Victoria, BC; The Museum of Northwest Art in Seattle, WA; among many other spaces. She is currently represented by the Augen Gallery in Portland, OR.

Read More

Juliana Speier

Artist

Juliana Speier is an emerging visual artist who recently graduated from high school and plans to attend the University of Victoria for biology and arts. The youth artist/activist is of mixed heritage and comes from the non-treaty Dzawada'enuxw First Nation of Kingcome Inlet, BC. Her interests lie in painting and photography. Her work predominantly involves themes of nature, using it as a connection point for education on issues relating to both her Indigenous heritage and the environment. In 2017, Speier was part of an Indigenous emerging artist project with the Pacific Peoples' Partnership, and in 2019 she will travel to Brazil for five months to volunteer at IPBIO, a biological research station in one of the national parks. 

Read More

Nabidu Taylor

Artist

Nabidu Taylor (Musgamagw Dzawada'enuxw) is an emerging artist who was raised in the Musgamagw Dzawada'enuxw First Nation, and is currently based in Victoria, BC. She had her first training with elders in traditional media and has gone on to work in photography and video. Her work explores relationships between contemporary youth and their ancestral territory and culture. She is completing a program in environmental tourism and she has an extensive photo practice on Instagram @Nabidu 

Read More

Althea Thauberger

Artist

Althea Thauberger (Canadian, b. 1970) is an artist and filmmaker based in Vancouver, unceded Coast Salish Territories. Thauberger's practice is primarily concerned with the use of performative and collaborative processes in the research and production of social documentaries. Her locally and internationally-produced projects involve long-term negotiations, cooperations and collaborations with individuals, communities and institutions in processes of their own representation. They invoke provocative reflections of social, political and institutional power relations and create situations in which these dynamics may be challenged or break down. Thauberger's works additionally involve sustained engagement in the histories and contestations of the sites of their production. These have included the Bohnice Psychiatric Hospital in Prague; the Kandahar International Airport at the Kandahar Airfield, southern Afghanistan; the 200 block of Carrall Street in Vancouver's Downtown Eastside; the Haskell Opera House on the Quebec/Vermont border; and the former Rikard Benčić factory in Rijeka, Croatia. Thauberger's exhibitions and screenings have included the Audain Gallery, Vancouver; National Gallery of Canada, Ottawa; Capri Cinema, Karachi; Art Gallery of Southern Alberta, Lethbridge; Susan Hobbs Gallery, Toronto; Polygon Gallery, North Vancouver among many other spaces. She is an assistant professor in the Department of Art History, Visual Art and Theory at the University of British Columbia.

Read More

Kamala Todd

Artist

Kamala Todd is Métis-Cree with roots in St. Paul de Métis Settlement and Whitefish Lake Alberta. She is grateful to live in the beautiful homelands of the hən̓q̓əmin̓əm̓- and Skwxwú7mesh-speaking people, also known as Vancouver, where she was born and raised. Todd is a community planner, filmmaker, writer and curator with an MA in cultural geography (UBC). For six years, she was the City of Vancouver's Aboriginal Social Planner (2000-06). Todd's film credits include Indigenous Plant Diva, Cedar and Bamboo, RELAW: Living Indigenous Laws and Sharing our Stories: The Vancouver Dialogues Project. In 2015, she created a video series about Indigenous law for the University of Victoria's Indigenous Law Research Unit. Todd writes and directs for children's television, including the Indigenous science series Coyote's Crazy Smart Science Show on APTN. She is the author of "This Many-storied Land" published in In This Together: Fifteen Stories of Truth and Reconciliation (2016). She recently completed a report for the Vancouver Parks Board entitled Truth-Telling: Indigenous Perspectives on Working with Municipal Governments (2017). Todd has curated special events and exhibits for such groups as Indian Summer Festival, David Suzuki Foundation and the Roundhouse Community Arts and Recreation Centre. She is the proud and grateful mother of Kai and Anostin, emerging artists and storytellers themselves.

Read More

William Hiłamas Edward Wasden Jr.

Artist

William Hiłamas Edward Wasden Jr. Wax̱a̱widi "Canoes Come to His Shore" was born at 'Ya̱lis (Alert Bay), BC on October 14, 1967, and is a member of the 'Na̱mg̱is Nation "Nimpkish Valley Tribe". Wasden has always been fascinated with the artwork and style of his Kwakwa̱ka̱'wakw and belongs to many respective tribes within the Kwakwa̱ka̱'wakw. Wasden carries many names and dances that have been bestowed on him by various sides of his families. He is a member of the most sacred 'Mamaḵ̓a "Shaman Dance Society" and Hamat̓sa "Cannibal Dance Society", among others. Wasden is also a descendant of the Cook, Wanukw, Hunt, Alfred, Harris and Innis families; tracing his ancestry to the Tłingit of Alaska and the Mowachaht of the West Coast. The last Kwakwa̱ka̱'wakw Song Keeper/Composer/Historian Chief Hiwaki̱lis Tom Willie "Mackenzie" and wife Matriarch 'Ma̱lidi Elsie (nee Wamiss) daughter of Chief Helagi̱lis Tom "Patch" Wamiss were Wasden's mentors. From them Wasden learned numerous Kwakwaka'wakw traditional songs and how to compose them. He continues to teach all that he knows to the next generation. Wasden also led the G̱wa'wina Dancers Cultural Society, an adult professional dance group intending to share authentic Kwakwa̱ka̱'wakw culture and teachings. Presently, Wasden is the Cultural Coordinator and teaches at Ḵ̓aḵ̓udłat̓s "House of Learning," a First Nation's School at Quatsino, BC.

Read More

Tania Willard

Artist

Tania Willard (Secwepemc) works within the shifting ideas of contemporary and traditional as it relates to cultural arts and production. Often working with bodies of knowledge and skills that are conceptually linked to her interest in intersections between Aboriginal and other cultures. Willard has worked as a curator in residence with grunt gallery and Kamloops Art Gallery. Willard's curatorial work includes Beat Nation: Art Hip Hop and Aboriginal Culture, a national touring exhibition first presented at Vancouver Art Gallery in 2011, Unceded Territories: Lawrence Paul Yuxweluptun at the Museum of Anthropology co-curated by Karen Duffek in 2016 and CUSTOM MADE at Kamloops Art Gallery. She has also been selected as one of five national curators for a national scope exhibition in collaboration with Partners in Art and National Parks. Willard's personal curatorial projects include BUSH gallery, a conceptual space for land based art and action led by Indigenous artists.

Read More

Lindsey Mae Willie

Artist

Lindsey Mae Willie (Musgamagw Dzawada'enuxw) lives and works in Kingcome Inlet, BC. Her filmmaking explores Indigenous identities, particularly by youth who are hungry to learn their ancestral knowledge and wisdom from their elders. Willie explores the revitalization of her community's language, culture, and arts, and in doing so, helps to recover and sustain Musgamagw Dzawada'enuxw artistic heritage. Willie's practice as a documentary filmmaker and storyteller has evolved from eleven years of professional work behind the camera as both camera operator and editor. She has worked with CTV, Aboriginal Peoples Television Network (APTN), City TV, and OMNI Television. In 2012, Willie was awarded the Aboriginal Peoples Television Network's Emerging Director Award and produced her first film, The Potlatch Keepers (2014), which aired on APTN. As an artist, activist and researcher, Willie works as the Traditional Land and Governance Coordinator for the Dzawada'enuxw First Nation. In this role, she has helped develop a governance engagement strategy to enhance the capacity of the Dzawada'enuxw First Nation to assert authority over its territory while engaging in the reconciliation process. Willie seeks out her culture by listening to her elders, and through hunting, fishing, traversing the wilderness, constructing traditional shelters and harvesting plants.

Read More
Funders
Hexsa'a̱m: To Be Here Always takes place as part of Mirrored In Stone, a project commissioned by Cineworks and the Morris and Helen Belkin Art Gallery at the University of British Columbia in partnership with the Dzawada̱'enux̱w First Nation. Cineworks gratefully acknowledges the generous support of the Canada Council for the Arts New Chapter fund, British Columbia Arts Council Youth Engagement Program and the annual assistance of the Canada Council for the Arts, British Columbia Arts Council, City of Vancouver and Province of British Columbia. The Belkin Gallery gratefully acknowledges the generous support of the Vancouver Foundation, Canada Council for the Arts, British Columbia Arts Council, our Belkin Curator's Forum members and the Department of Canadian Heritage Young Canada Works Program.

Mirrored In Stone is one of the 200 exceptional projects funded through the Canada Council for the Arts' New Chapter program. With this $35M investment, the Council supports the creation and sharing of the arts in communities across Canada.

Cineworks and the Belkin Gallery pay special respect to the xʷməθkʷəy̍əm (Musqueam), Sk̠wx̠wú7mesħ (Squamish) and Səl̓ílwətaʔ/Selilwitulh (Tsleil-Waututh) First Nations on whose unceded traditional territories much of the work facilitating this project has been undertaken.