Marianne Nicolson

Presenter

Marianne Nicolson ('Tayagila'ogwa) is an artist of Scottish and Dzawada'enuxw First Nations descent. The Dzawada'enuxw People are a member tribe of the Kwakwaka'wakw Nations of the Pacific Northwest Coast. Working in a variety of media, her artistic practice engages with issues of Aboriginal histories and politics arising from a passionate involvement in cultural revitalization and sustainability. Nicolson's training encompasses both traditional Kwakwaka'wakw forms and culture and Western European based art practice. She holds a BFA from Emily Carr University of Art + Design (1996), an MFA (1999), an MA in Linguistics and Anthropology (2005) and a PhD in Linguistics, Anthropology and Art History (2013) from the University of Victoria.

Read More
Join artist Marianne Nicolson who will talk about two works that are part of the Belkin's current exhibition To refuse/To wait/To sleep.  Tunics of the Changing Tide (2007) in the Walter C. Koerner Library and The Sun is Setting on the British Empire (2016) on the facade of the Belkin Art Gallery both relate to Nicolson's body of research-based works that explore the appropriation and counter-appropriation of objects, images, symbols and materials between European, Asian and Indigenous cultures.
We will meet at the Belkin Art Gallery at 1 pm and walk to Koerner Library; bring your umbrellas in case of rain. Nicolson's talk is part of the Spring Fever: Vancouver Independent Archives 2017 events.
In conjunction with the artist talk, the Belkin will launch the catalogue to accompany the presentation of To refuse/To wait/To sleep and M&A at 2 pm in the Gallery.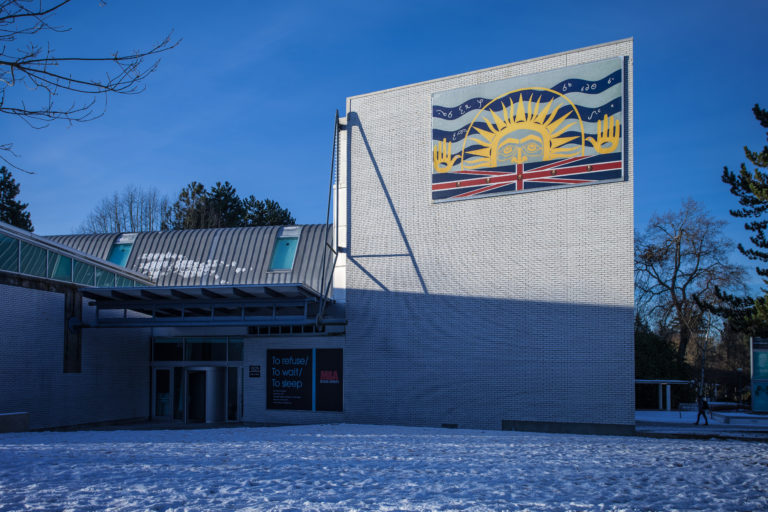 Marianne Nicolson, The Sun is Setting on the British Empire, 2016
Photo: Michael R. Barrick
Marianne Nicolson, Tunics of the Changing Tide: Dzawada'enuxw Histories, 2007. Photo: Two Rivers Gallery, 2015
Marianne Nicolson

Presenter

Marianne Nicolson ('Tayagila'ogwa) is an artist of Scottish and Dzawada'enuxw First Nations descent. The Dzawada'enuxw People are a member tribe of the Kwakwaka'wakw Nations of the Pacific Northwest Coast. Working in a variety of media, her artistic practice engages with issues of Aboriginal histories and politics arising from a passionate involvement in cultural revitalization and sustainability. Nicolson's training encompasses both traditional Kwakwaka'wakw forms and culture and Western European based art practice. She holds a BFA from Emily Carr University of Art + Design (1996), an MFA (1999), an MA in Linguistics and Anthropology (2005) and a PhD in Linguistics, Anthropology and Art History (2013) from the University of Victoria.

Read More