Marianne Nicolson

Presenter

Marianne Nicolson is an artist activist of the Musgamakw Dzawada'enuxw First Nations.  The Musgamakw Dzawada'enuxw Nations are part of the Kwakwaka'wakw (Kwak'wala speaking peoples) of the Pacific Northwest Coast. She is trained in both traditional Kwakwaka'wakw forms and culture and contemporary gallery and museum-based practice.  She holds a BFA from the Emily Carr University of Art and Design (1996), an MFA (2000) from the University of Victoria, as well as an MA (2005) in Linguistics and Anthropology and a PhD (2013) in Linguistics and Anthropology with a focus on space as expressed in the Kwak'wala language.  Nicolson works as a Kwakwaka'wakw cultural researcher and historian, as well as an advocate for Indigenous land rights.  Her practice is multi-disciplinary encompassing photography, painting, carving, video, installation, monumental public art, writing and speaking.  All her work is political in nature and seeks to uphold Kwakwaka'wakw traditional philosophy and worldview through contemporary mediums and technology. Exhibitions include the 17thBiennale of Sydney, Australia; The Vancouver Art Gallery; The National Museum of the American Indian, New York; Nuit Blanche, Toronto; Museum Arnhem, Netherlands and many others.  Major monumental public artworks are situated in Vancouver International Airport, the Canadian Embassy in Amman, Jordan and the Canadian Embassy in Paris, France.

Read More
Join artist Marianne Nicolson who will talk about two works that are part of the Belkin's current exhibition To refuse/To wait/To sleep.  Tunics of the Changing Tide (2007) in the Walter C. Koerner Library and The Sun is Setting on the British Empire (2016) on the facade of the Belkin Art Gallery both relate to Nicolson's body of research-based works that explore the appropriation and counter-appropriation of objects, images, symbols and materials between European, Asian and Indigenous cultures.
We will meet at the Belkin Art Gallery at 1 pm and walk to Koerner Library; bring your umbrellas in case of rain. Nicolson's talk is part of the Spring Fever: Vancouver Independent Archives 2017 events.
In conjunction with the artist talk, the Belkin will launch the catalogue to accompany the presentation of To refuse/To wait/To sleep and M&A at 2 pm in the Gallery.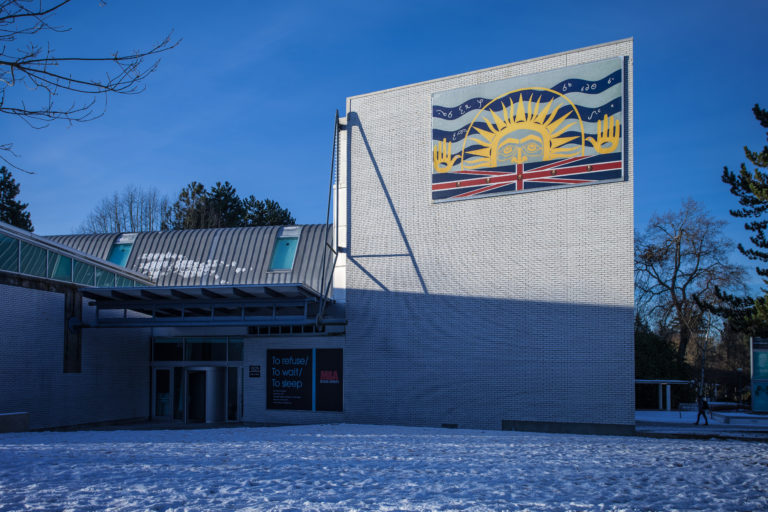 Marianne Nicolson, The Sun is Setting on the British Empire, 2016
Photo: Michael R. Barrick
Marianne Nicolson, Tunics of the Changing Tide: Dzawada'enuxw Histories, 2007. Photo: Two Rivers Gallery, 2015
Marianne Nicolson

Presenter

Marianne Nicolson is an artist activist of the Musgamakw Dzawada'enuxw First Nations.  The Musgamakw Dzawada'enuxw Nations are part of the Kwakwaka'wakw (Kwak'wala speaking peoples) of the Pacific Northwest Coast. She is trained in both traditional Kwakwaka'wakw forms and culture and contemporary gallery and museum-based practice.  She holds a BFA from the Emily Carr University of Art and Design (1996), an MFA (2000) from the University of Victoria, as well as an MA (2005) in Linguistics and Anthropology and a PhD (2013) in Linguistics and Anthropology with a focus on space as expressed in the Kwak'wala language.  Nicolson works as a Kwakwaka'wakw cultural researcher and historian, as well as an advocate for Indigenous land rights.  Her practice is multi-disciplinary encompassing photography, painting, carving, video, installation, monumental public art, writing and speaking.  All her work is political in nature and seeks to uphold Kwakwaka'wakw traditional philosophy and worldview through contemporary mediums and technology. Exhibitions include the 17thBiennale of Sydney, Australia; The Vancouver Art Gallery; The National Museum of the American Indian, New York; Nuit Blanche, Toronto; Museum Arnhem, Netherlands and many others.  Major monumental public artworks are situated in Vancouver International Airport, the Canadian Embassy in Amman, Jordan and the Canadian Embassy in Paris, France.

Read More