Marianne Nicolson

Artist

Marianne Nicolson's ('Tayagila'ogwa) (Canadian, Scottish, Dzawada̱'enux̱w, b. 1969) training encompasses both traditional Kwakwa̱ka̱'wakw forms and culture and Western European based art practice. She holds a BFA from Emily Carr University of Art and Design (1996), an MFA (1999), an MA in Linguistics and Anthropology (2005) and a PhD in Linguistics, Anthropology and Art History (2013) from the University of Victoria. She has exhibited her artwork locally, nationally and internationally as a painter, photographer and installation artist, has written and published numerous essays and articles, and has participated in multiple speaking engagements. Her practice engages with issues of Aboriginal histories and politics arising from a passionate involvement in cultural revitalization and sustainability.

Nicolson works as a cultural researcher and historian for the Kwakwaka'wakw as well as an advocate for Indigenous land rights. Her practice is multi-disciplinary, encompassing photography, painting, carving, video, installation, monumental public art, writing and speaking. All her work is political in nature and seeks to uphold Kwakwaka'wakw traditional philosophy and worldview through contemporary mediums and technology. Exhibitions include the 17th Biennale of Sydney, Australia; The Vancouver Art Gallery; The National Museum of the American Indian in New York; Nuit Blanche in Toronto, Ontario; and many others. Major monumental public artworks are situated in Vancouver International Airport; the Canadian Embassy in Amman, Jordan; and the Canadian Embassy in Paris, France.

Read More

Lorna Brown, Curator

Curator
Marianne Nicolson's paintings graphically depict the back view of two tunic forms placed upon black- and grey-bordered backgrounds. Ghostly traces of raven, human and wolf figures float on the negative spaces like constellations, while a tree of life along with thunderbird, mink and serpent forms sit in bold symmetry on the tunic shapes. Signifying wealth and social standing, coppers (both intact and ceremonially broken) are affixed to the panel, as are abalone discs, coins and military-style brass buttons. With these paintings, Marianne Nicolson addresses the shifting state of economic growth and decline amongst the Kwikwasut'inuxw and Dzawada̱'enux̱w – the Gilford Island and Kingcome Inlet communities of Nicolson's ancestry – following from contact with non-Indigenous peoples. The "changing tides" of the titles suggest the irresistible forces of economic and cultural change as fortune and influence turned from a mutually beneficial economic relationship in the 1880s to an amplified campaign of cultural suppression. The earlier period saw an influx of wealth through trade and the availability of new materials – as well as the introduction of decimating diseases. The tradition of button blankets and tunics grew from access to new materials, emerging when the culture was intact enough to incorporate new materials into existing forms in ways consistent with tradition. The 1920s saw the enforcement of the anti-potlatch laws that had a devastating effect on the social, cultural and economic well being of many Northwest Coast communities. On the Kwikwasut'inuxw painting, centered on the Thunderbird's abdomen, is a coin dated 1929. This is the year that the tides turned on the decline of the Kwakwa̱ka̱'wakw, marking the beginning of a population revival that continues into the present. Tracing the push and pull of world views through the materials she uses, Nicolson's work is part of a contemporary resurgence of Indigenous cultural practice and a means to resist its political and social assimilation.
These works are presented in conjunction with the exhibition To refuse/To wait/To sleep at the Morris and Helen Belkin Art Gallery, and is a collaboration between the Morris and Helen Belkin Art Gallery and the Walter C. Koerner Library at The University of British Columbia, and is made possible with the generous support of the Audain Foundation. Art in the Library offers new perspectives on contemporary art by presenting art that questions our current perceptions about the world around us.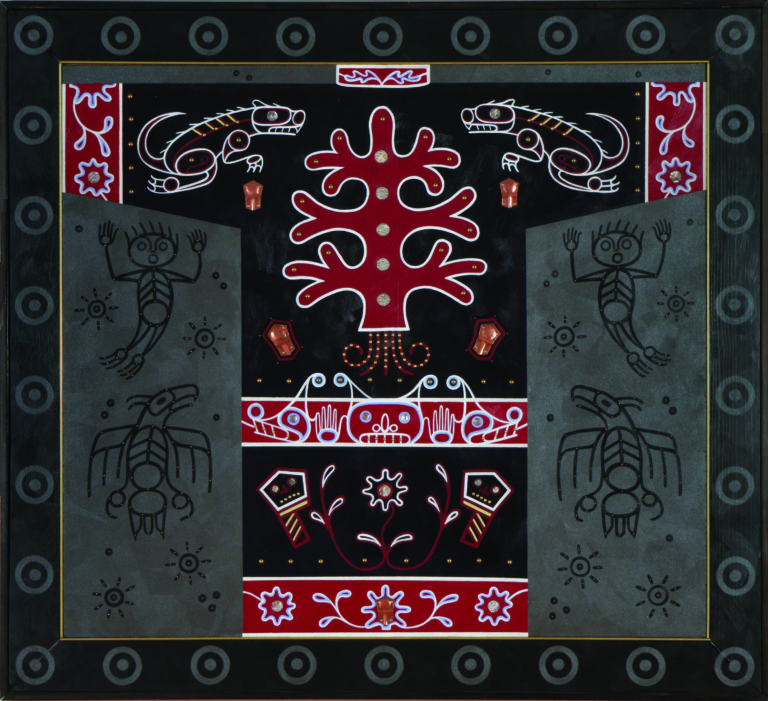 Marianne Nicolson, Tunics of the Changing Tide: Dzawada'enuxw Histories, 2007.
Photo: Two Rivers Gallery, 2015
Marianne Nicolson

Artist

Marianne Nicolson's ('Tayagila'ogwa) (Canadian, Scottish, Dzawada̱'enux̱w, b. 1969) training encompasses both traditional Kwakwa̱ka̱'wakw forms and culture and Western European based art practice. She holds a BFA from Emily Carr University of Art and Design (1996), an MFA (1999), an MA in Linguistics and Anthropology (2005) and a PhD in Linguistics, Anthropology and Art History (2013) from the University of Victoria. She has exhibited her artwork locally, nationally and internationally as a painter, photographer and installation artist, has written and published numerous essays and articles, and has participated in multiple speaking engagements. Her practice engages with issues of Aboriginal histories and politics arising from a passionate involvement in cultural revitalization and sustainability.

Nicolson works as a cultural researcher and historian for the Kwakwaka'wakw as well as an advocate for Indigenous land rights. Her practice is multi-disciplinary, encompassing photography, painting, carving, video, installation, monumental public art, writing and speaking. All her work is political in nature and seeks to uphold Kwakwaka'wakw traditional philosophy and worldview through contemporary mediums and technology. Exhibitions include the 17th Biennale of Sydney, Australia; The Vancouver Art Gallery; The National Museum of the American Indian in New York; Nuit Blanche in Toronto, Ontario; and many others. Major monumental public artworks are situated in Vancouver International Airport; the Canadian Embassy in Amman, Jordan; and the Canadian Embassy in Paris, France.

Read More

Lorna Brown, Curator

Curator