Eleanor Antin

Artist

Eleanor Antin, (American, b. 1935), is a foundational figure in the history of performance art. Using photography, video, film, performance, installation, drawing, and writing, Antin employs historical settings and allegory, mythical characters, fictional personas, and alter egos to construct metaphors about the malleability of gender and identity formation. Appearing as any number of selves in scripted as well as improvisational performances for several decades, Antin has built a rich body of work and blurred the distinction between her own identity and that of her characters.

Antin's awards include several AICA (International Association of Art Critics) awards including best gallery show for The Last Days of Pompeiiin 2003, and a Guggenheim Foundation Fellowship in 1997. Her numerous solo exhibitions include an award-winning retrospective at the Los Angeles County Museum of Art in 1999. Antin has written, directed and produced many videotapes and films, among them the cult feature, The Man Without a World, (1991). Her recent book, An Artist's Life by Eleanora Antinovawas recently published by Hirmerverlag, Munich. Antin is Professor Emerita at the  University of California, San Diego. (2018)

Read More

Kate Craig

Artist

Kate Craig (Canadian, 1947-2002) was a performance artist, costumier, and early pioneer of media and video arts in Vancouver. Craig formed an artistic partnership with her first husband, Eric Metcalfe. Assuming the alter egos of Dr. Brute and Lady Brute, Metcalfe and Craig participated in the Fluxus network and adopted the values of anti-commercialism, collaboration and lifestyle as art. Craig eventually abandoned Lady Brute but continued to experiment with role-play and costumes in performance and video. Her late works also critically adopted the camera as a mediating device, challenging the conventions of realist narratives around the female body and the natural landscape.

In 1971 Craig and Metcalfe moved to Vancouver where they met artists Michael Morris, Vincent Trasov, Glenn Lewis, Martin Bartlett, Mo van Nostrand and Henry Greenhow. Together, they founded the Western Front artist-run centre in 1973. Craig founded and curated the Artist-in-Residence Video Program from 1977 to the 1990s, which significantly expanded local and international networks for artists in video production and performance. In 1998 the Vancouver Art Gallery held Skin, a retrospective of Craig's life and work. (2018)

Read More

Michael de Courcy

Artist

Michael de Courcy (Canadian, b 1944) is a multidisciplinary artist and educator. His practice addresses themes of locality, community and the importance of documentation. Frequently collaborative, de Courcy' photographic projects capture fleeting cultural moments on the west coast, connecting them to their geography. From the late 1960s to the 1990s, de Courcy was a core member of the Intermedia Society, an artists' collective based in Vancouver. His extensive photo documentation of the society's experiments and members became The Intermedia Catalogue(2003 -2009), an online archive project documenting Intermedia's art and artists.

De Courcy studied at the Ecole des Beaux Arts, Montreal and the Vancouver School of Art. In 1994 the Richmond Art Gallery held Surveying a Territory – Urban Wilderness Revisited, a 25 year retrospective of de Courcy's career. Other solo exhibitions and performances include The Cameraat the School of The Art Institute of Chicago (1972), Michael de Courcyat the Vancouver Art Gallery (1974) and Yard Sale / Recent Works at the Museum of Contemporary Photography, Ottawa (1996). (2018)

Read More

Helen Goodwin

Artist

Helen Goodwin(British, 1927-1985) was a dancer and Laban-trained choreographer who continues to hold an ethereal presence in Vancouver's dance history. Goodwin taught at the University of British Columbia in the Physical Education and Theatre Departments beginning in 1955. During this period, Goodwin organized with Al Neil and Sam Perry the Sound Gallery, an artist-initiated space credited as having hosted Vancouver's earliest multimedia performance in March 1966. Goodwin also founded the Box 80 Theatre Co. Dance Company (sometimes abbreviated to TheCo). TheCo was closely linked to the Intermedia Society, which was co-founded in 1967 by Goodwin together with a group of visual artists, musicians, poets, dancers, architects, scientists, engineers, academics and filmmakers she had collaborated with at UBC through festivals or as faculty. Advocating for a "live art" focus, Intermedia members resituated the body as the ideal medium for depicting movement within visual arts. Before the collective ended in 1971, Goodwin and her collaborators held many highly successful performance events and festivals of local and international acclaim throughout metro Vancouver, at UBC and the Vancouver Art Gallery.

Read More

Carole Itter

Artist

Carole Itter, (Canadian, b 1939) is a Vancouver-based artist whose interdisciplinary practice includes sculpture, film, performance and writing. She is known for her large-scale assemblage sculptures of found wooden objects arranged on gallery floors or wired together to produce "rattles" that can be activated through performance. From 1979 until 2014, Itter occupied a one-room studio cabin near Cates Park and the Tsleil-Waututh nation on the North Shore. Itter's observations of Burrard Inlet and its wildlife were a focus of her practice during this time and she created many large assemblages around the cabin.

Itter has exhibited solo at the Vancouver Art Gallery, Or Gallery, Grunt Gallery, Western Front (Vancouver) and Open Space (Victoria). Her work has been included in the group exhibitions WACK! Art and the Feminist Revolution (Vancouver Art Gallery, 2008) and Traffic: Conceptual Art in Canada, 1965-1980, (Badischer Kunstverein, Karlsrhue, Germany). She is the recipient of the Audain Prize for Lifetime Achievement in the Visual Arts (2017), the Vancouver Insitute of Visual Arts award (1989). (2018)

Read More

Walter Marchetti

Artist

Walter Marchetti (Italian, 1931-2005) was a composer and a key figure in the world of avant-garde composition. Marchetti spent much of the 1960s and 1970s in Spain as part of the avant-garde formation, Zaj, founded by Spanish composer Juan Hidalgo and himself in Madrid. 1958, Marchetti and Hidalgo collaborated with John Cage and adopted his Dadaist aesthetic to pioneer interactive and concrete music and produce gallery works and installations that blurred the distinctions between composer, player and listener.

For more than forty years Marchetti's work has been presented at significant international music events. Solo exhibitions of his work include Nova Musica e Musica Raraat DAAD Galerie, Berlin (1981), and Homenajes y Conmemoraciones at Galeria de Arte A + A in Madrid (1996). His work has been included in numerous group exhibitions including the 1976 and 1993 Venice Biennales, and the 1998 touring exhibition Out of Actions: Between Performance and the Object, 1949-1979 (Los Angeles, Vienna, Barcalona, Tokyo), as well as many Fluxus shows and retrospectives from the 1970s onwards. (2018)

Read More

Rosa Maria Robles

Artist

Rosa Maria Robles's (Mexican, b. 1960) practice concerns political and historical legitmizations of violence, the corruption of power, and impunity in Mexican governance. Narcoculture features largely in her work and is linked to the complex issues of biopower and necropolitics as propagated by the global war on drugs. Robles is also known for her performance and installation work. In both its presence and absence, the artist's body funtions as a mediator for symbolic iconography and historical references and transports social problems into the realm of aesthetic perception by bringing violence directly into the realm of art.

From 1977 to 1979 Robles studied painting at the School of Arts at the Universidad Autónoma de Sinaloa. She continued her studies at the National School of Painting, Sculpture and Engraving "La Esmeralda" of the National Institute of Fine Arts of Mexico City from 1979 to 1981. Between 1985 and 1995, her practice mainly revolved around sculpture, a discipline in which she is self-taught. She is the recipient of more than 20 awards and distinctions, national and international, most of them for her work as a sculptor.

Read More

Rhoda Rosenfeld

Artist

Rhoda Rosenfeld (Canadian, b. 1942) is an artist and writer based in Vancouver since 1968. In her early life, Rosenfeld took inspiration from her experience growing up in Montreal during Quiet Revolution, wave of socio-political transformations aimed at combatting a period of conservative politics in Quebec. Meeting artists and poets from the west in the mid 60's, particularly Roy Kiyooka, deeply influenced her practice. Her interest in both painting and photography, and her attempts to balance the oppositions of these distinct media, has been influential to the structure of her work.

Rosenfeld received a B.A. from McGill University in 1963, and completed her studies at the École des Beaux-Arts in the same year. She has exhibited at the Contemporary Art Gallery, Brittania Library, The Carnegie Center and the UBC Fine Arts Gallery. Her work (both visual and literary) has been published in West Coast Line, Raddle Moon, W, and the Capilano Review.

Read More

Carolee Schneemann

Artist

Carolee Schneemann (American, b. 1939) is a multidisciplinary artist whose pioneering investigations into subjectivity, the social construction of the female body and the cultural biases of art history have significantly influenced subsequent generations of artists.In the late 1960s Schneemann began positioning her own body within her work performing the roles of "both image and image-maker."Using her body as a medium, Schneemann subverts the use of the female nude in male-dominated artistic practice and communicates the joy and intimacy of the female body in resistance to objectification and fetishization.

Schneemann received a B.A. from Bard College and an MFA from the University of Illinois. Her work has been exhibited extensively throughout North America and Europe including at the Los Angeles Museum of Contemporary Art, the Museum of Modern Art (New York), the Centre Georges Pompidou, (Paris) and the Museum of Contemporary Art in New York. In 2017, MoMA PS1, New York, presented a major retrospective of Schneemann's six-decade career and she was awarded the Venice Biennale's Golden Lion Award For Lifetime Achievement.

Read More

Evann Siebens

Artist

Evann Siebens, (Canadian, b. 1971) is a media artist, videographer and dancer based in Vancouver. Her practice aims to translate three-dimensional movement, memory and emotion into the still image and screen. Her concern with the moving body is influenced her personal history with dance, having trained and performed in ballet. Her work often investigates the political implications of bodies as they move through time and space, and she has staged several interventions in the public realm. For Siebens, the visual transgressions of dance media are an entry point for feminists and activists to disrupt and reflect on complex historical narratives.

Siebens graduated from the New York University with a BA in Film Production and Philosophy. Working as a cinematographer in New York, she documented dancers such as Lucinda Childs, Mikhail Baryshnikov, Sara Rudner, Jose Navas and Bill T. Jones. Her short filmsPOTHEADand do not call it fixity…have screened at film festivals and on arts networks worldwide and have earned numerous awards, including First Prize for Best Video at ID/Identities Istanbul (2012). Her projects and documentaries have been exhibited at Centre Georges Pompidou, Paris (1997) and MOMA, New York (2000).

Read More

Atsuko Tanaka

Artist

Tanaka Atsuko (Japanese, 1932-2005) was an avant-garde artist and core member of the Gutai art group from 1955 to 1965. Her abstract paintings, drawings, performances and installations often incorporate mass-produced domestic materials such as textiles, light bulbs, doorknobs, doorbells and plastic items that suddenly became ubiquitous in the postwar Japanese economic boom. Tanaka also often used her own body as a part of her performance pieces. Her later paintings are characterized by her use of gestural lines and circular shapes in the bright colours, recalling images of circuit boards and diagrams of nervous systems.

Tanaka held her first solo exhibition at the Minami Gallery, Tokyo, in 1963. Recent exhibitions include Atsuko Tanaka: Paintings and Drawings, 1980-2002, at the Paula Cooper Gallery, New York (2004), and Electrifying Art, Grey Art Gallery, New York, in collaboration with the Morris & Helen Belkin Art Gallery (2004-2005). She was the recipient of the Mayor's Award for Excellence at the Sixth Contemporary Art Exhibition of Japan in 1964 as well as the Mayor's Award at the Thirteenth Ashiya City Exhibition in 1960.

Read More

Cornelia Wyngaarden

Artist

Cornelia Wyngaarden (Canadian, b. 1942) is a media artist whose work has been influential in establishing new media in the canon of Vancouver's art history. Since the 1980s, her work has explored queer and female subjectivities through topics such as cross-dressing, matricide, the trope of the heroine, and female self-sufficiency to produce a body of work that is both critical of patriarchal culture and expressive of feminist liberation.

Wyngaarden's solo exhibitions have been presented at CSA, The Apartment, Western Front, Presentation House (Vancouver), A Space (Toronto) and Kamloops Art Gallery. Her work has been included in the group exhibitions Pictures from Here(Vancouver Art Gallery, 2017), Wild New Territories, (SFU Gallery, Burnaby, 2013), andUrban Fictions, (Presentation House Gallery, Vancouver, 1996). Her installation As A Wife Has A Cowtoured in the Netherlands in 1985. In 1998 she was the recipient of the VIVA Award.

Read More

Joyce Wieland

Artist

Joyce Wieland (Canadian, 1931-1998) was a mixed media artist and experimental filmmaker celebrated for bringing feminist concerns to the forefront of Canadian art in the 1960s and 1970s. Wieland drew inspiration from Canadian history, politics and ecology, and she became widely known for her innovative approach to gender and landscape in the film. After returning to Canada from New York, Wieland's work began to challenge modernist ideals by incorporating traditionally feminine materials, such as sewing, knitting, rug hooking and embroidery.

Wieland's career as an artist began in painting with her first solo exhibition in 1960 at the Isaacs Gallery, Toronto.From 1962 to 1971, she relocated to New York, where she produced award-winning experimental video works. In 1971, Wieland opened "True Patriot Love", the first retrospective for a living Canadian woman artist at the National Gallery of Canada. In 1987, the Art Gallery of Ontario mounted a major travelling exhibition of Wieland's work, also its first retrospective of a living Canadian woman artist. Joyce Wieland was a member of the Royal Canadian Academy of Arts and was made an Officer of the Order of Canada in 1982.

Read More

Jin-Me Yoon

Artist

Jin-me Yoon (Korean Canadian, b.1960) is an artist whose practice explores the intersections between identity, location, and nationhood. In 1968 Yoon immigrated to Vancouver, Canada from Seoul, Korea where she has since established herself as a vital contributor to the Vancouver arts community. Along with other artists in the 1980s and early 1990s, Jin-me Yoon's work critically foregrounded – through formal and conceptual means – the processes of racialization as well as sexual difference to subvert stereotypes and dominant discourses around identity politics. She uses her work as an opportunity to challenge stereotypical constructs that continue to permeate contemporary culture.

Yoon received her BA from the University of British Columbia in 1985, her BFA from Emily Carr College of Art in 1990, and her MFA from Concordia University in 1992. Since 1992, she has taught at Simon Fraser University's School for the Contemporary Arts. Yoon has exhibited extensively nationally and internationally.In 2009, she was nominated for the Grange Prize; her art has been exhibited at the National Gallery of Canada and the Vancouver Art Gallery, as well as internationally.

Read More

Lorna Brown, Curator

Curator
How is an archive formed? Memories of performance often exceed the containment of the document, whether photography, film, prop or testimony. As communities disperse and regroup over time, figures may slip away from the centre. Circling around the embodied archive, the exhibition Radial Change is drawn from the title of a dance work by Helen Goodwin. The elusive histories of Goodwin's choreography and her influence on the interdisciplinary art scene of the 1970s are explored in new installation works by Evann Siebens and by Michael de Courcy.
Rhoda Rosenfeld's photographs of Goodwin's Environmental Opera document the 1971 beach performance with an immersive, process-based lens. Artworks and objects from the Belkin's collection and archives track the performance of alter egos and overturn gender constructs, evoke absent bodies and recall remembered gestures. Kate Craig's film record of the final death-defying flight of Lady Brute and Jin-Me Yoon's Hey You, Ya You! (Jimmie Yoo) are joined by works by Eleanor Antin, Carole Itter, Walter Marchetti, Rosa Maria Robles, Carolee Schneemann, Atsuko Tanaka, Joyce Wieland and Cornelia Wyngaarden.
Beginning with the Seventies: Radial Change is curated by Lorna Brown and is the second of four exhibitions based upon the Belkin Art Gallery's research project investigating the 1970s, an era when social movements of all kinds – feminism, environmentalism, LGBTQ rights, Indigenous rights, access to health services and housing – began to coalesce into models of self-organization that overlapped with the production of art and culture. Noting the resurgence of art practice involved with social activism and an increasing interest in the 1970s from younger producers, the Belkin has connected with diverse archives and activist networks to bring forward these histories, to commission new works of art and writing and to provide a space for discussion and debate.
Michael de Courcy, Photograph of Helen Goodwin, 1968. Courtesy of the artist.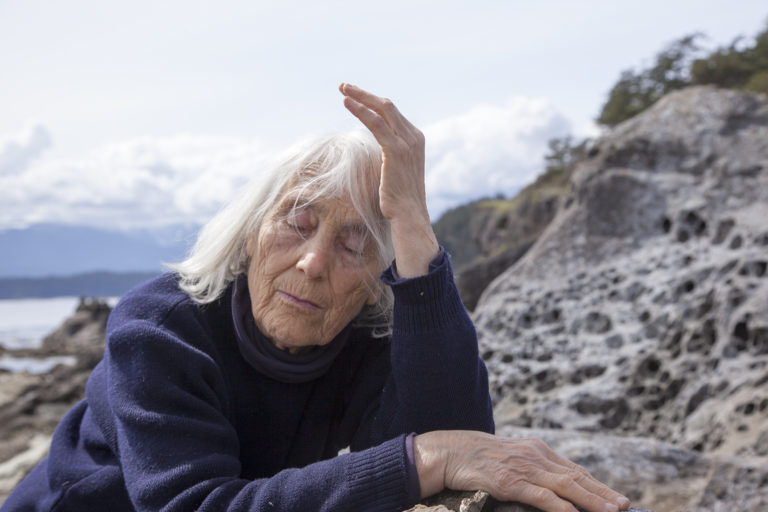 Evann Siebens, Plus TheCo, Minus Helen Goodwin,2018, production still. Courtesy of the artist and Wil Aballe Art Projects. Photo: Evann Siebens.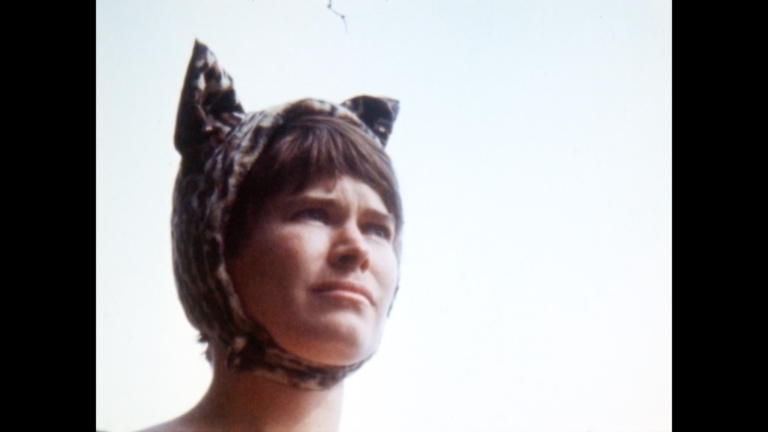 Kate Craig, Flying Leopard, 1972/2015, film still. Collection of the Morris and Helen Belkin Art Gallery, gift of Hank Bull.
Eleanor Antin

Artist

Eleanor Antin, (American, b. 1935), is a foundational figure in the history of performance art. Using photography, video, film, performance, installation, drawing, and writing, Antin employs historical settings and allegory, mythical characters, fictional personas, and alter egos to construct metaphors about the malleability of gender and identity formation. Appearing as any number of selves in scripted as well as improvisational performances for several decades, Antin has built a rich body of work and blurred the distinction between her own identity and that of her characters.

Antin's awards include several AICA (International Association of Art Critics) awards including best gallery show for The Last Days of Pompeiiin 2003, and a Guggenheim Foundation Fellowship in 1997. Her numerous solo exhibitions include an award-winning retrospective at the Los Angeles County Museum of Art in 1999. Antin has written, directed and produced many videotapes and films, among them the cult feature, The Man Without a World, (1991). Her recent book, An Artist's Life by Eleanora Antinovawas recently published by Hirmerverlag, Munich. Antin is Professor Emerita at the  University of California, San Diego. (2018)

Read More

Kate Craig

Artist

Kate Craig (Canadian, 1947-2002) was a performance artist, costumier, and early pioneer of media and video arts in Vancouver. Craig formed an artistic partnership with her first husband, Eric Metcalfe. Assuming the alter egos of Dr. Brute and Lady Brute, Metcalfe and Craig participated in the Fluxus network and adopted the values of anti-commercialism, collaboration and lifestyle as art. Craig eventually abandoned Lady Brute but continued to experiment with role-play and costumes in performance and video. Her late works also critically adopted the camera as a mediating device, challenging the conventions of realist narratives around the female body and the natural landscape.

In 1971 Craig and Metcalfe moved to Vancouver where they met artists Michael Morris, Vincent Trasov, Glenn Lewis, Martin Bartlett, Mo van Nostrand and Henry Greenhow. Together, they founded the Western Front artist-run centre in 1973. Craig founded and curated the Artist-in-Residence Video Program from 1977 to the 1990s, which significantly expanded local and international networks for artists in video production and performance. In 1998 the Vancouver Art Gallery held Skin, a retrospective of Craig's life and work. (2018)

Read More

Michael de Courcy

Artist

Michael de Courcy (Canadian, b 1944) is a multidisciplinary artist and educator. His practice addresses themes of locality, community and the importance of documentation. Frequently collaborative, de Courcy' photographic projects capture fleeting cultural moments on the west coast, connecting them to their geography. From the late 1960s to the 1990s, de Courcy was a core member of the Intermedia Society, an artists' collective based in Vancouver. His extensive photo documentation of the society's experiments and members became The Intermedia Catalogue(2003 -2009), an online archive project documenting Intermedia's art and artists.

De Courcy studied at the Ecole des Beaux Arts, Montreal and the Vancouver School of Art. In 1994 the Richmond Art Gallery held Surveying a Territory – Urban Wilderness Revisited, a 25 year retrospective of de Courcy's career. Other solo exhibitions and performances include The Cameraat the School of The Art Institute of Chicago (1972), Michael de Courcyat the Vancouver Art Gallery (1974) and Yard Sale / Recent Works at the Museum of Contemporary Photography, Ottawa (1996). (2018)

Read More

Helen Goodwin

Artist

Helen Goodwin(British, 1927-1985) was a dancer and Laban-trained choreographer who continues to hold an ethereal presence in Vancouver's dance history. Goodwin taught at the University of British Columbia in the Physical Education and Theatre Departments beginning in 1955. During this period, Goodwin organized with Al Neil and Sam Perry the Sound Gallery, an artist-initiated space credited as having hosted Vancouver's earliest multimedia performance in March 1966. Goodwin also founded the Box 80 Theatre Co. Dance Company (sometimes abbreviated to TheCo). TheCo was closely linked to the Intermedia Society, which was co-founded in 1967 by Goodwin together with a group of visual artists, musicians, poets, dancers, architects, scientists, engineers, academics and filmmakers she had collaborated with at UBC through festivals or as faculty. Advocating for a "live art" focus, Intermedia members resituated the body as the ideal medium for depicting movement within visual arts. Before the collective ended in 1971, Goodwin and her collaborators held many highly successful performance events and festivals of local and international acclaim throughout metro Vancouver, at UBC and the Vancouver Art Gallery.

Read More

Carole Itter

Artist

Carole Itter, (Canadian, b 1939) is a Vancouver-based artist whose interdisciplinary practice includes sculpture, film, performance and writing. She is known for her large-scale assemblage sculptures of found wooden objects arranged on gallery floors or wired together to produce "rattles" that can be activated through performance. From 1979 until 2014, Itter occupied a one-room studio cabin near Cates Park and the Tsleil-Waututh nation on the North Shore. Itter's observations of Burrard Inlet and its wildlife were a focus of her practice during this time and she created many large assemblages around the cabin.

Itter has exhibited solo at the Vancouver Art Gallery, Or Gallery, Grunt Gallery, Western Front (Vancouver) and Open Space (Victoria). Her work has been included in the group exhibitions WACK! Art and the Feminist Revolution (Vancouver Art Gallery, 2008) and Traffic: Conceptual Art in Canada, 1965-1980, (Badischer Kunstverein, Karlsrhue, Germany). She is the recipient of the Audain Prize for Lifetime Achievement in the Visual Arts (2017), the Vancouver Insitute of Visual Arts award (1989). (2018)

Read More

Walter Marchetti

Artist

Walter Marchetti (Italian, 1931-2005) was a composer and a key figure in the world of avant-garde composition. Marchetti spent much of the 1960s and 1970s in Spain as part of the avant-garde formation, Zaj, founded by Spanish composer Juan Hidalgo and himself in Madrid. 1958, Marchetti and Hidalgo collaborated with John Cage and adopted his Dadaist aesthetic to pioneer interactive and concrete music and produce gallery works and installations that blurred the distinctions between composer, player and listener.

For more than forty years Marchetti's work has been presented at significant international music events. Solo exhibitions of his work include Nova Musica e Musica Raraat DAAD Galerie, Berlin (1981), and Homenajes y Conmemoraciones at Galeria de Arte A + A in Madrid (1996). His work has been included in numerous group exhibitions including the 1976 and 1993 Venice Biennales, and the 1998 touring exhibition Out of Actions: Between Performance and the Object, 1949-1979 (Los Angeles, Vienna, Barcalona, Tokyo), as well as many Fluxus shows and retrospectives from the 1970s onwards. (2018)

Read More

Rosa Maria Robles

Artist

Rosa Maria Robles's (Mexican, b. 1960) practice concerns political and historical legitmizations of violence, the corruption of power, and impunity in Mexican governance. Narcoculture features largely in her work and is linked to the complex issues of biopower and necropolitics as propagated by the global war on drugs. Robles is also known for her performance and installation work. In both its presence and absence, the artist's body funtions as a mediator for symbolic iconography and historical references and transports social problems into the realm of aesthetic perception by bringing violence directly into the realm of art.

From 1977 to 1979 Robles studied painting at the School of Arts at the Universidad Autónoma de Sinaloa. She continued her studies at the National School of Painting, Sculpture and Engraving "La Esmeralda" of the National Institute of Fine Arts of Mexico City from 1979 to 1981. Between 1985 and 1995, her practice mainly revolved around sculpture, a discipline in which she is self-taught. She is the recipient of more than 20 awards and distinctions, national and international, most of them for her work as a sculptor.

Read More

Rhoda Rosenfeld

Artist

Rhoda Rosenfeld (Canadian, b. 1942) is an artist and writer based in Vancouver since 1968. In her early life, Rosenfeld took inspiration from her experience growing up in Montreal during Quiet Revolution, wave of socio-political transformations aimed at combatting a period of conservative politics in Quebec. Meeting artists and poets from the west in the mid 60's, particularly Roy Kiyooka, deeply influenced her practice. Her interest in both painting and photography, and her attempts to balance the oppositions of these distinct media, has been influential to the structure of her work.

Rosenfeld received a B.A. from McGill University in 1963, and completed her studies at the École des Beaux-Arts in the same year. She has exhibited at the Contemporary Art Gallery, Brittania Library, The Carnegie Center and the UBC Fine Arts Gallery. Her work (both visual and literary) has been published in West Coast Line, Raddle Moon, W, and the Capilano Review.

Read More

Carolee Schneemann

Artist

Carolee Schneemann (American, b. 1939) is a multidisciplinary artist whose pioneering investigations into subjectivity, the social construction of the female body and the cultural biases of art history have significantly influenced subsequent generations of artists.In the late 1960s Schneemann began positioning her own body within her work performing the roles of "both image and image-maker."Using her body as a medium, Schneemann subverts the use of the female nude in male-dominated artistic practice and communicates the joy and intimacy of the female body in resistance to objectification and fetishization.

Schneemann received a B.A. from Bard College and an MFA from the University of Illinois. Her work has been exhibited extensively throughout North America and Europe including at the Los Angeles Museum of Contemporary Art, the Museum of Modern Art (New York), the Centre Georges Pompidou, (Paris) and the Museum of Contemporary Art in New York. In 2017, MoMA PS1, New York, presented a major retrospective of Schneemann's six-decade career and she was awarded the Venice Biennale's Golden Lion Award For Lifetime Achievement.

Read More

Evann Siebens

Artist

Evann Siebens, (Canadian, b. 1971) is a media artist, videographer and dancer based in Vancouver. Her practice aims to translate three-dimensional movement, memory and emotion into the still image and screen. Her concern with the moving body is influenced her personal history with dance, having trained and performed in ballet. Her work often investigates the political implications of bodies as they move through time and space, and she has staged several interventions in the public realm. For Siebens, the visual transgressions of dance media are an entry point for feminists and activists to disrupt and reflect on complex historical narratives.

Siebens graduated from the New York University with a BA in Film Production and Philosophy. Working as a cinematographer in New York, she documented dancers such as Lucinda Childs, Mikhail Baryshnikov, Sara Rudner, Jose Navas and Bill T. Jones. Her short filmsPOTHEADand do not call it fixity…have screened at film festivals and on arts networks worldwide and have earned numerous awards, including First Prize for Best Video at ID/Identities Istanbul (2012). Her projects and documentaries have been exhibited at Centre Georges Pompidou, Paris (1997) and MOMA, New York (2000).

Read More

Atsuko Tanaka

Artist

Tanaka Atsuko (Japanese, 1932-2005) was an avant-garde artist and core member of the Gutai art group from 1955 to 1965. Her abstract paintings, drawings, performances and installations often incorporate mass-produced domestic materials such as textiles, light bulbs, doorknobs, doorbells and plastic items that suddenly became ubiquitous in the postwar Japanese economic boom. Tanaka also often used her own body as a part of her performance pieces. Her later paintings are characterized by her use of gestural lines and circular shapes in the bright colours, recalling images of circuit boards and diagrams of nervous systems.

Tanaka held her first solo exhibition at the Minami Gallery, Tokyo, in 1963. Recent exhibitions include Atsuko Tanaka: Paintings and Drawings, 1980-2002, at the Paula Cooper Gallery, New York (2004), and Electrifying Art, Grey Art Gallery, New York, in collaboration with the Morris & Helen Belkin Art Gallery (2004-2005). She was the recipient of the Mayor's Award for Excellence at the Sixth Contemporary Art Exhibition of Japan in 1964 as well as the Mayor's Award at the Thirteenth Ashiya City Exhibition in 1960.

Read More

Cornelia Wyngaarden

Artist

Cornelia Wyngaarden (Canadian, b. 1942) is a media artist whose work has been influential in establishing new media in the canon of Vancouver's art history. Since the 1980s, her work has explored queer and female subjectivities through topics such as cross-dressing, matricide, the trope of the heroine, and female self-sufficiency to produce a body of work that is both critical of patriarchal culture and expressive of feminist liberation.

Wyngaarden's solo exhibitions have been presented at CSA, The Apartment, Western Front, Presentation House (Vancouver), A Space (Toronto) and Kamloops Art Gallery. Her work has been included in the group exhibitions Pictures from Here(Vancouver Art Gallery, 2017), Wild New Territories, (SFU Gallery, Burnaby, 2013), andUrban Fictions, (Presentation House Gallery, Vancouver, 1996). Her installation As A Wife Has A Cowtoured in the Netherlands in 1985. In 1998 she was the recipient of the VIVA Award.

Read More

Joyce Wieland

Artist

Joyce Wieland (Canadian, 1931-1998) was a mixed media artist and experimental filmmaker celebrated for bringing feminist concerns to the forefront of Canadian art in the 1960s and 1970s. Wieland drew inspiration from Canadian history, politics and ecology, and she became widely known for her innovative approach to gender and landscape in the film. After returning to Canada from New York, Wieland's work began to challenge modernist ideals by incorporating traditionally feminine materials, such as sewing, knitting, rug hooking and embroidery.

Wieland's career as an artist began in painting with her first solo exhibition in 1960 at the Isaacs Gallery, Toronto.From 1962 to 1971, she relocated to New York, where she produced award-winning experimental video works. In 1971, Wieland opened "True Patriot Love", the first retrospective for a living Canadian woman artist at the National Gallery of Canada. In 1987, the Art Gallery of Ontario mounted a major travelling exhibition of Wieland's work, also its first retrospective of a living Canadian woman artist. Joyce Wieland was a member of the Royal Canadian Academy of Arts and was made an Officer of the Order of Canada in 1982.

Read More

Jin-Me Yoon

Artist

Jin-me Yoon (Korean Canadian, b.1960) is an artist whose practice explores the intersections between identity, location, and nationhood. In 1968 Yoon immigrated to Vancouver, Canada from Seoul, Korea where she has since established herself as a vital contributor to the Vancouver arts community. Along with other artists in the 1980s and early 1990s, Jin-me Yoon's work critically foregrounded – through formal and conceptual means – the processes of racialization as well as sexual difference to subvert stereotypes and dominant discourses around identity politics. She uses her work as an opportunity to challenge stereotypical constructs that continue to permeate contemporary culture.

Yoon received her BA from the University of British Columbia in 1985, her BFA from Emily Carr College of Art in 1990, and her MFA from Concordia University in 1992. Since 1992, she has taught at Simon Fraser University's School for the Contemporary Arts. Yoon has exhibited extensively nationally and internationally.In 2009, she was nominated for the Grange Prize; her art has been exhibited at the National Gallery of Canada and the Vancouver Art Gallery, as well as internationally.

Read More

Lorna Brown, Curator

Curator