Liz Magor

Artist

Liz Magor (Canadian, b. 1948) is a Vancouver-based artist and associate professor at the Emily Carr University of Art and Design. Magor studied at the Vancouver School of Art (1970-71), Parsons School of Design (1968-70) and the University of British Columbia (1966-68). Over her career Magor has been recognized through several prestigious art awards such as the Gershon Iskowitz Foundation in partnership with the Art Gallery of Ontario (2014); The Audain Prize for Lifetime achievement (2009); the Governor General of Canada Award (2001) and York Wilson Endowment Award (2000). Magor has had major exhibitions at Musée d'art contemporain de Montréal (2016); Art Gallery of Ontario (2015); Peephole, Milan (2015); Presentation House Gallery, Vancouver (2014); Triangle, Marseille (2013); Henry Art Gallery, Seattle (2008); The Power Plant, Toronto (2003); Vancouver Art Gallery (2002); Documenta (1987); and the Venice Biennale (1984), among others. Magor is represented by Catriona Jeffries Gallery, Vancouver, Susan Hobbs Gallery, Toronto and Marcelle Alix, Paris.

Read More
Liz Magor
Tent, 1999
silicone rubber and fabric

Collection of the Morris and Helen Belkin Art Gallery. Purchased with support from the Canada Council for the Arts, 2020   
Liz Magor is one of Canada's most respected and internationally known artists whose unique sculptural practice consists of assemblage, casting, moulding, stitching and painting. Her works are often, as in the case of Tent (1999), conflations of disparate materials and suggested function. In this work, a human-scale silicone rubber slab rests leaning on a wall.  The knothole, in place of where a face might be if this cast from a tree trunk were a figure, is oddly and ominously expressive. An ochre camouflage nylon pouch is attached to the back of the slab, not much of it can be seen, but its drawstring opening suggests an entry point for a body. Now the figure is imagined as being inside the form, uncomfortably concealed, using the knothole for surveillance. In an email exchange with curator Scott Watson, Magor describes the process of creating Tent:
"The mould for the silicon front was taken from one of the apple trees here [on Cortes Island]. I have six really old trees that are hollow but somehow keep living. One of them has that opening right at face level and I had the feeling it was a possible hiding place with a cunning peephole. So I took a mould from the tree and cast it in rubber. (The sides are from a different pattern, not the tree. So I guess the rubber piece is a combination.) Then I flattened the cast pieces and made a larger hollow space with the nylon pouch at the back until it was possible to imagine a human body in there. I was looking at the camouflaged spaces and clothing that duck hunters use. I was also thinking about the impulse that some maladjusted people have to flee into the woods to escape the law. At the time, there was a notice at all the ferry terminals telling us to be on the lookout for a fugitive who had killed some people and then run into the woods with his dog and a gun. I thought that escape route was counterintuitive. As a human I'm more concealed in a crowd of other humans than in a stand of trees. But I guess some people, who are at odds with other humans, think of nature as friend and protector. I've always disliked the description of my interests as being about 'shelter.' That sounds so benign, as though you are just taking shelter from the rain. What is it called when you take shelter from exposure to other people? Hiding?"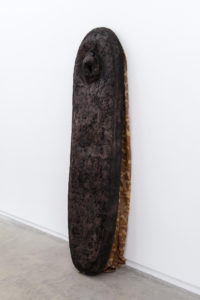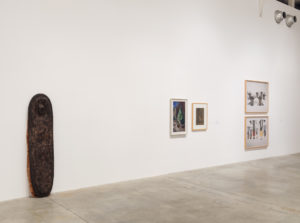 Over the course of Stations: Some Recent Acquisitions, we will consider works from the Belkin's permanent collection through the lens of the pandemic world around us, in particular through the words of the artists themselves. Works from the Collection extends these works from the gallery space to the intimacy of the home; to see more of the Belkin's collection, visit https://collection.belkin.ubc.ca.
Read a 2014 interview with Liz Magor.
The above quotation is from an email exchange between Liz Magor and Scott Watson, June 2020
Liz Magor

Artist

Liz Magor (Canadian, b. 1948) is a Vancouver-based artist and associate professor at the Emily Carr University of Art and Design. Magor studied at the Vancouver School of Art (1970-71), Parsons School of Design (1968-70) and the University of British Columbia (1966-68). Over her career Magor has been recognized through several prestigious art awards such as the Gershon Iskowitz Foundation in partnership with the Art Gallery of Ontario (2014); The Audain Prize for Lifetime achievement (2009); the Governor General of Canada Award (2001) and York Wilson Endowment Award (2000). Magor has had major exhibitions at Musée d'art contemporain de Montréal (2016); Art Gallery of Ontario (2015); Peephole, Milan (2015); Presentation House Gallery, Vancouver (2014); Triangle, Marseille (2013); Henry Art Gallery, Seattle (2008); The Power Plant, Toronto (2003); Vancouver Art Gallery (2002); Documenta (1987); and the Venice Biennale (1984), among others. Magor is represented by Catriona Jeffries Gallery, Vancouver, Susan Hobbs Gallery, Toronto and Marcelle Alix, Paris.

Read More