Janet Cardiff and George Bures Miller, House Burning, 2001
video
Collection of the Morris and Helen Belkin Art Gallery, UBC, gift of Wayne Baerwaldt
I first saw this work at Confederation Centre of the Arts in Charlottetown, PI, years before I started working at the Belkin. Segments of this video are also used in The Paradise Institute (2001), however, as a standalone work it is haunting. House Burning (2001) depicts a large farmhouse engulfed in flames. For the video, the artists arranged to burn down a derelict building on Cardiff's father's farm in rural Ontario and the local fire department agreed to supervise the fire. The camera approaches the residence from a muddy road, trained on the burning house for several minutes, while the viewer hears the sounds of the sirens from far off and eventually sees the fire fighters arriving at the conflagration, with no particular sense of urgency. Wayne Baerwaldt, who was the curator for Cardiff and Miller's exhibition at the Canada Pavilion in the 2001 Venice Biennale, donated the work to the Belkin's collection.
Janet Cardiff and George Bures Miller
Canadian artists Janet Cardiff (b. 1957) and George Bures Miller (b. 1960) are internationally recognized for their immersive multimedia works that create multisensory experiences which draw the viewer into often unsettling narratives. Representing Canada at the 2001 Venice Biennale with Paradise Institute, the artists received the Biennale's Premio Prize and Benesse Prize, which recognizes artists who "break new artistic ground with an experimental and pioneering spirit."
Works from the Collection considers one work in the Belkin's permanent collection that particularly inspires us. This round of Staff Picks is brought to you by Teresa Sudeyko, the Belkin's Registrar since 2008. Teresa manages all things relating to the Belkin's permanent collection, including loans, acquisitions, rights and reproductions, and care and keeping of the artworks. In her spare time, Teresa and her daughter like identifying plants in the neighbourhood. To see more of the Belkin's collection, visit https://collection.belkin.ubc.ca.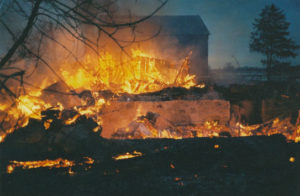 Image (above): Janet Cardiff and George Bures Miller, House Burning (still), 2001.