Rebecca Belmore

Artist

A member of Lac Seul First Nation (Anishinaabe), Rebecca Belmore is an internationally recognized multidisciplinary artist currently residing in Toronto. Rooted in the political and social realities of Indigenous communities, Belmore's works make evocative connections among bodies, land and language. Her exhibitions: include Biinjiya'iing Onji (From Inside), documenta 14 (2017); KWE: The Work of Rebecca Belmore, Justina M. Barnicke Gallery (2011); Rebecca Belmore: Rising to the Occasion, Vancouver Art Gallery (2008); and Fountain, Venice Biennale (2005). Performances include: Facing the Monumental (2012); Victorious (2011); X (2010); Vigil (2002); Wild (2001), and Creation or Death We Will Win (1991). Belmore's sculptures and installations include Wave Sound, Parks Canada, 2017; Trace, Canadian Museum for Human Rights (2014), and Ayum-ee-aawach Oomama-mowan: Speaking to Their Mother, (performances 1991, 1992, 1996 and 2008). Belmore received the Governor General's Award in Visual and Media Arts in 2013, the Hnatyshyn Visual Arts Award in 2009, the Jack and Doris Shadbolt Foundation's VIVA Award in 2004, and Honorary Doctorates from Emily Carr (2017) and OCADU (2005). Also in 2005, she was Canada's official representative at the Venice Biennale. In 2016, Rebecca was awarded the prestigious Gershon Iskowitz Prize by the Gershon Iskowitz Foundation in partnership with the Art Gallery of Ontario.

Read More

Bruce Conner

Artist

Audrey Capel Doray

Artist

Audrey Capel Doray (b. 1931) is a Canadian artist working in a variety of mediums—painting, printmaking, electronic art, murals and films. She received a BFA from McGill University and went on to study at Atelier 17 in Paris and at the Central School of Art in London. After moving to Vancouver in 1957, Capel Doray taught at the Vancouver School of Art (now Emily Carr University) from 1959 to 1961. In 1962, Capel Doray joined Alvin Balkind and Abraham Rogatnick's New Design Gallery, an influential art space that presented live theatre, visual art, films, concerts, lectures and poetry readings. Capel Doray was a major figure in the Vancouver scene of the 1960s and was engaged with experiments in new media, interactive and kinetic art and electronic communications. She and her late husband, Victor Doray, were community leaders, involving themselves in Intermedia and other experimental formations influenced by philosopher Marshall McLuhan. A recipient of four Canada Council awards, Capel Doray's work is held in numerous private and public collections, both nationally and internationally. Her work is described in North American Women Artists of the Twentieth Century as combining "robust social criticism with her own interpretation of humanist theory" and dealing with pop art and the feminist archetype, themes of "perpetual motion and endless transition", and the interplay of sound and light.

Read More

Helen Goodwin

Artist

Helen Goodwin (British, 1927-1985) was a dancer and choreographer who played a crucial role in the development of dance and the place of the "live arts" in Vancouver with the body as an ideal medium for depicting movement within visual arts. Goodwin taught at the University of British Columbia in the Physical Education and Theatre Departments beginning in 1955. She was active in performing and in presenting the work of experimental choreographers to Vancouver audiences through her participation in organizing programs such as Festival of Contemporary Arts at the University of British Columbia. In 1966, Goodwin became involved with the fledgling Sound Gallery, an artist-initiated space credited as having hosted Vancouver's earliest multimedia performance in March 1966. The Sound Gallery become Motion Studio in 1967 and Goodwin's dance troupe WECO became TheCo. Goodwin and TheCo joined with a group of visual artists, musicians, poets, dancers, architects, and filmmakers to found Vancouver's Intermedia Society in 1967. Before the Intermedia Society and TheCo wound up in 1971, Goodwin and her collaborators had held many highly successful performance events and festivals of local and international acclaim throughout Vancouver and at UBC including Intermedia Nights (1968), a five-day festival which included TheCo's performance of Plus Minus 216 and the Intermedia Dome Show produced by Intermedia at the Vancouver Art Gallery (1971) which included Goodwin's Dance Night / Dance Loops. TheCo's final performance was Goodwin's Environmental Opera presented at Spanish Banks in 1971 featuring many Intermedia affiliated artists. On December 18, 1985, Goodwin walked into the ocean near Spanish Banks and drowned. A wake was held the following week nearby. On December 21, 1987 at 3:45 pm, a performance of Winter Solstice was performed in memory of Goodwin at the UBC Museum of Anthropology.

Read More

Dorothy Iannone

Artist

Dorothy Iannone is best known for her exuberantly transgressive, sexually explicit, mostly autobiographical image and text works exploring "ecstatic unity." Iannone was born in Boston, MA where she attended Boston University and Brandeis University majoring in literature and currently lives and works in Berlin. She began painting in 1959 and traveled extensively with her husband James Upham in Europe and Asia. From 1963 until 1967, they ran a cooperative gallery in New York, and in 1966 they live for some months in the South of France, where Iannone began a close friendship with Robert Filliou and other artists from Fluxus community. On a trip to Iceland in 1967, she met and fell in love with German-Swiss artist Dieter Roth, and they lived together in different European cities until 1974. In 1976, Iannone moved to Berlin after receiving a grant from the DAAD Berlin Artists' Program, where she has lived ever since. Solo exhibitions of Iannone's work have been held at the New Museum, New York (2009), Kunsthalle Wien, Vienna (2006) and Sprengel Museum, Hannover (2005). Her work was included in the 4th Berlin Biennial in 2006, curated by Maurizio Cattelan, Massimiliano Gioni and Ali Subotnik and the 2006 Whitney Biennial. She has produced numerous artist books and is the subject of several monographs including Dorothy Iannone: This Sweetness Outside of Time (2014); Dorothy Iannone: Censorship and the Irrepressible Drive Toward Love and Divinity (2015) and Dorothy Iannone: A Cookbook (2019). Iannone's work is held in significant international collections, including at Centre Pompidou, Paris; Tate Modern, London; Berlinische Galerie, Berlin and Migros Museum für Gegenwartskunst, Zurich.

Read More

Jess

Artist

Jess (American, 1923-2004) was a San Francisco-based collagist and painter. He was born Burgess Franklin Collins in Long Beach, California and educated as a chemist before being drafted into the military. Jess worked as a radio-chemist with the Army Corps of Engineers, spending three years at the Atomic Energy Laboratory where he had a small part in the Manhattan Project to develop the first atom bomb. In 1946, Jess was discharged from the military and soon after renounced sciences for what he saw as more constructive pursuits. Jess enrolled in the California School of Fine Arts (now the San Francisco Art Institute) in 1948, at which time he dropped his last name. During this period, Jess met poet Robert Duncan who would become his lifelong partner and frequent collaborator. They were an influential force in the San Francisco artistic community, bringing together painters and poets, organizing exhibitions and readings. Jess's early work is influenced by his teachers, painters Clifford Still, David Park and William Corbett, as well as by his interest in French post-impressionist painting. Jess later became known for his "paste-up" technique, a method of making intricate and elaborate collage and "copies" of Victorian illustrations. Jess's collage work draws on themes such as eroticism, the male body, the occult, chemistry and alchemy, which often used old book illustrations, comics and print advertising as raw material. Jess worked reclusively and prolifically on paintings and paste-ups throughout his lifetime.

Read More

Liz Magor

Artist

Liz Magor (Canadian, b. 1948) is a Vancouver-based artist and associate professor at the Emily Carr University of Art and Design. Magor studied at the Vancouver School of Art (1970-71), Parsons School of Design (1968-70) and the University of British Columbia (1966-68). Over her career Magor has been recognized through several prestigious art awards such as the Gershon Iskowitz Foundation in partnership with the Art Gallery of Ontario (2014); The Audain Prize for Lifetime achievement (2009); the Governor General of Canada Award (2001) and York Wilson Endowment Award (2000). Magor has had major exhibitions at Musée d'art contemporain de Montréal (2016); Art Gallery of Ontario (2015); Peephole, Milan (2015); Presentation House Gallery, Vancouver (2014); Triangle, Marseille (2013); Henry Art Gallery, Seattle (2008); The Power Plant, Toronto (2003); Vancouver Art Gallery (2002); Documenta (1987); and the Venice Biennale (1984), among others. Magor is represented by Catriona Jeffries Gallery, Vancouver, Susan Hobbs Gallery, Toronto and Marcelle Alix, Paris.

Read More

Sam Perry

Artist

Writer, filmmaker, artist, Sam Perry was born in 1939. As a student at the University of British Columbia in the early 1960s, Perry came into contact with the experimental multimedia work of David Orcutt, who supported Perry's growing interest in film animation. By the mid-1960s, Perry's film and image projections would play a key role in the events at the Sound Gallery and the Motion Studio. In addition, Perry spearheaded the Tripps Festial (July 29-31, 1966), a multimedia sensorium of music, film, slides, and moving liquid utilizing over fifty projectors and 25,000 square feet of screen. Performers included Big Brother and the Holding Company (with Janis Joplin), the Grateful Dead, Quicksilver Messenger Service, the Daily Flash, and poet Michael McClure. Perry's interest lay in such an environment's ability to transform a participant's consciousness. The addition of light and film projections to musical performance was an attempt to alter the traditional relationship between audience and entertainer, shifting the focus away from the individual performances to the collective production of new realities. Perry took his own life in 1966.

Read More
Due to the uncertainty caused by the COVID-19 pandemic, we are postponing the Image Bank exhibition until June 2021. Our January exhibition will draw on recent acquisitions to the permanent collection.
Titled Stations: Some Recent Acquisitions, the exhibition will be in four or five interrelated modules that explore some of the gallery's research areas.
One module features recently acquired editions by Dorothy Iannone and works by women concrete poets and Fluxus artists. Iannone's courageous and life-affirming (sex positive) work is meant to spread joy and happiness. The Concrete Poetry and Fluxus movements which began in the late fifties and flourish til today were international movements. Networked to Eastern Europe, Japan and South America, they created the beginnings of a planetary movement that thrived outside London, New York and Paris. Concrete poets (or visual poets) explored sign systems, rather than prose, and their work is only more compelling seen through the current lens of a world of digital communication. In recent years, the Belkin has focused on adding women practitioners to its collections of Fluxus and Concrete Poetry material and some of this work is featured in this section. Another section sets up a conversation between the films of Sam Perry and the work of Helen Goodwin. Perry was a filmmaker, early advocate of LSD and organizer of the 1966 Trips Festival in Vancouver. His films, some used in light shows and long thought lost, recently resurfaced and are now in the Belkin's collection. The gallery also holds archival material relating to choreographer, Sound Gallery pioneer and Intermedia co-founder, Helen Goodwin. A third section features paintings from the 1960s by Audrey Capel Doray; at that time, Doray was producing paintings that explored the dawning of the digital age. A fourth "station" features powerful works by Rebecca Belmore, Liz Magor and Beau Dick. A fifth module includes work by San Francisco artists of the fifties and sixties associated with Jess, Robert Duncan and Robin Blaser along with works by San Francisco artist Bruce Conner, who filmed his 1965 opening at the old UBC Fine Arts Gallery.
COVID-19 is pushing us to rethink exhibitions. We are gratified that we still have an audience who wants the gallery experience we offer, even though the campus is only sparsely populated by students, staff and faculty. The increased turn to our website and online events only accelerates and refines how we engage using these forums. In the Belkin, we intend to use Stations to explore how such an exhibition might be more fluid and interactive. We imagine that works could be added, moved or removed during the course of the exhibition. Whole modules might be moved and new ones introduced.
Finally, a collection show is an opportunity to talk about the various narratives the Belkin has followed through research and acquisition, and strategize future directions. A recent snapshot of the collection revealed, unsurprisingly, that in terms of diversity it is somewhat impoverished. To this end, the Belkin has ratified a collection strategy intended to move towards balancing its gaps.
Acquisitions Statement
The Morris and Helen Belkin Art Gallery commits 100% of its acquisition budget to diversification of the collection by purchasing exclusively works by women artists, including self-identifying LGBTQ2S artists, and with a priority given to BIPOC artists. The Belkin continues a process that, through de-accession, is also serving to diversify the collection. Consideration of how donations will contribute to the diversification of the collection is a criterion used in determining to accept them.
We gratefully acknowledge the Canada Council for the Arts, the Province of British Columbia through the BC Arts Council, the Morris and Helen Belkin Foundation, and our Belkin Curator's Forum members for their ongoing support, and our individual donors who financially support our acquisitions and donate artworks to the collection. 
Image (above): Dorothy Iannone, Flora and Fauna, 1973
Installation images: Rachel Topham Photography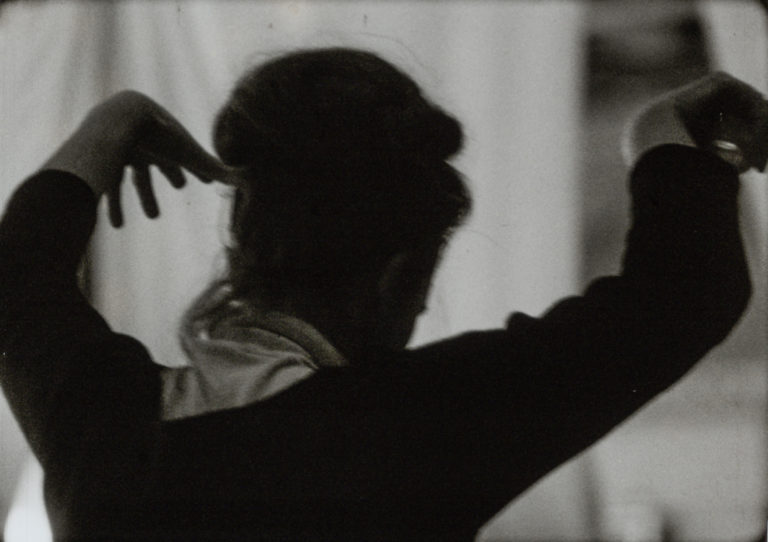 Sam Perry, Record of Rogatnichio (Extravaganza in UBC Armoury) (film still), 1965.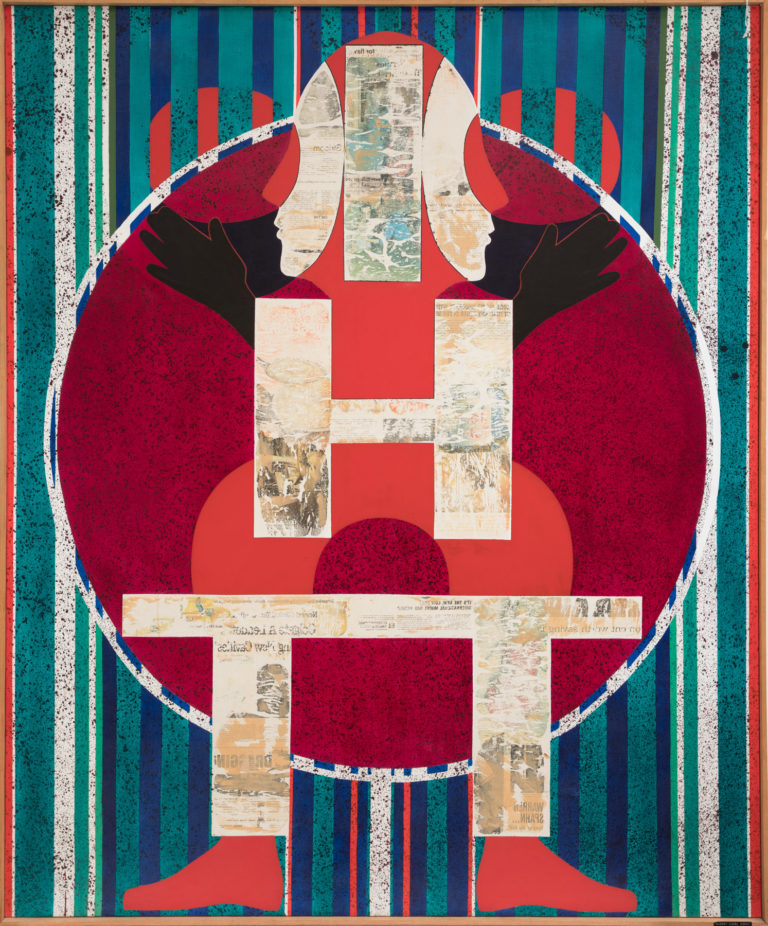 Audrey Capel Doray, Hieroglyphic Man III, 1965.
Rebecca Belmore

Artist

A member of Lac Seul First Nation (Anishinaabe), Rebecca Belmore is an internationally recognized multidisciplinary artist currently residing in Toronto. Rooted in the political and social realities of Indigenous communities, Belmore's works make evocative connections among bodies, land and language. Her exhibitions: include Biinjiya'iing Onji (From Inside), documenta 14 (2017); KWE: The Work of Rebecca Belmore, Justina M. Barnicke Gallery (2011); Rebecca Belmore: Rising to the Occasion, Vancouver Art Gallery (2008); and Fountain, Venice Biennale (2005). Performances include: Facing the Monumental (2012); Victorious (2011); X (2010); Vigil (2002); Wild (2001), and Creation or Death We Will Win (1991). Belmore's sculptures and installations include Wave Sound, Parks Canada, 2017; Trace, Canadian Museum for Human Rights (2014), and Ayum-ee-aawach Oomama-mowan: Speaking to Their Mother, (performances 1991, 1992, 1996 and 2008). Belmore received the Governor General's Award in Visual and Media Arts in 2013, the Hnatyshyn Visual Arts Award in 2009, the Jack and Doris Shadbolt Foundation's VIVA Award in 2004, and Honorary Doctorates from Emily Carr (2017) and OCADU (2005). Also in 2005, she was Canada's official representative at the Venice Biennale. In 2016, Rebecca was awarded the prestigious Gershon Iskowitz Prize by the Gershon Iskowitz Foundation in partnership with the Art Gallery of Ontario.

Read More

Bruce Conner

Artist

Audrey Capel Doray

Artist

Audrey Capel Doray (b. 1931) is a Canadian artist working in a variety of mediums—painting, printmaking, electronic art, murals and films. She received a BFA from McGill University and went on to study at Atelier 17 in Paris and at the Central School of Art in London. After moving to Vancouver in 1957, Capel Doray taught at the Vancouver School of Art (now Emily Carr University) from 1959 to 1961. In 1962, Capel Doray joined Alvin Balkind and Abraham Rogatnick's New Design Gallery, an influential art space that presented live theatre, visual art, films, concerts, lectures and poetry readings. Capel Doray was a major figure in the Vancouver scene of the 1960s and was engaged with experiments in new media, interactive and kinetic art and electronic communications. She and her late husband, Victor Doray, were community leaders, involving themselves in Intermedia and other experimental formations influenced by philosopher Marshall McLuhan. A recipient of four Canada Council awards, Capel Doray's work is held in numerous private and public collections, both nationally and internationally. Her work is described in North American Women Artists of the Twentieth Century as combining "robust social criticism with her own interpretation of humanist theory" and dealing with pop art and the feminist archetype, themes of "perpetual motion and endless transition", and the interplay of sound and light.

Read More

Helen Goodwin

Artist

Helen Goodwin (British, 1927-1985) was a dancer and choreographer who played a crucial role in the development of dance and the place of the "live arts" in Vancouver with the body as an ideal medium for depicting movement within visual arts. Goodwin taught at the University of British Columbia in the Physical Education and Theatre Departments beginning in 1955. She was active in performing and in presenting the work of experimental choreographers to Vancouver audiences through her participation in organizing programs such as Festival of Contemporary Arts at the University of British Columbia. In 1966, Goodwin became involved with the fledgling Sound Gallery, an artist-initiated space credited as having hosted Vancouver's earliest multimedia performance in March 1966. The Sound Gallery become Motion Studio in 1967 and Goodwin's dance troupe WECO became TheCo. Goodwin and TheCo joined with a group of visual artists, musicians, poets, dancers, architects, and filmmakers to found Vancouver's Intermedia Society in 1967. Before the Intermedia Society and TheCo wound up in 1971, Goodwin and her collaborators had held many highly successful performance events and festivals of local and international acclaim throughout Vancouver and at UBC including Intermedia Nights (1968), a five-day festival which included TheCo's performance of Plus Minus 216 and the Intermedia Dome Show produced by Intermedia at the Vancouver Art Gallery (1971) which included Goodwin's Dance Night / Dance Loops. TheCo's final performance was Goodwin's Environmental Opera presented at Spanish Banks in 1971 featuring many Intermedia affiliated artists. On December 18, 1985, Goodwin walked into the ocean near Spanish Banks and drowned. A wake was held the following week nearby. On December 21, 1987 at 3:45 pm, a performance of Winter Solstice was performed in memory of Goodwin at the UBC Museum of Anthropology.

Read More

Dorothy Iannone

Artist

Dorothy Iannone is best known for her exuberantly transgressive, sexually explicit, mostly autobiographical image and text works exploring "ecstatic unity." Iannone was born in Boston, MA where she attended Boston University and Brandeis University majoring in literature and currently lives and works in Berlin. She began painting in 1959 and traveled extensively with her husband James Upham in Europe and Asia. From 1963 until 1967, they ran a cooperative gallery in New York, and in 1966 they live for some months in the South of France, where Iannone began a close friendship with Robert Filliou and other artists from Fluxus community. On a trip to Iceland in 1967, she met and fell in love with German-Swiss artist Dieter Roth, and they lived together in different European cities until 1974. In 1976, Iannone moved to Berlin after receiving a grant from the DAAD Berlin Artists' Program, where she has lived ever since. Solo exhibitions of Iannone's work have been held at the New Museum, New York (2009), Kunsthalle Wien, Vienna (2006) and Sprengel Museum, Hannover (2005). Her work was included in the 4th Berlin Biennial in 2006, curated by Maurizio Cattelan, Massimiliano Gioni and Ali Subotnik and the 2006 Whitney Biennial. She has produced numerous artist books and is the subject of several monographs including Dorothy Iannone: This Sweetness Outside of Time (2014); Dorothy Iannone: Censorship and the Irrepressible Drive Toward Love and Divinity (2015) and Dorothy Iannone: A Cookbook (2019). Iannone's work is held in significant international collections, including at Centre Pompidou, Paris; Tate Modern, London; Berlinische Galerie, Berlin and Migros Museum für Gegenwartskunst, Zurich.

Read More

Jess

Artist

Jess (American, 1923-2004) was a San Francisco-based collagist and painter. He was born Burgess Franklin Collins in Long Beach, California and educated as a chemist before being drafted into the military. Jess worked as a radio-chemist with the Army Corps of Engineers, spending three years at the Atomic Energy Laboratory where he had a small part in the Manhattan Project to develop the first atom bomb. In 1946, Jess was discharged from the military and soon after renounced sciences for what he saw as more constructive pursuits. Jess enrolled in the California School of Fine Arts (now the San Francisco Art Institute) in 1948, at which time he dropped his last name. During this period, Jess met poet Robert Duncan who would become his lifelong partner and frequent collaborator. They were an influential force in the San Francisco artistic community, bringing together painters and poets, organizing exhibitions and readings. Jess's early work is influenced by his teachers, painters Clifford Still, David Park and William Corbett, as well as by his interest in French post-impressionist painting. Jess later became known for his "paste-up" technique, a method of making intricate and elaborate collage and "copies" of Victorian illustrations. Jess's collage work draws on themes such as eroticism, the male body, the occult, chemistry and alchemy, which often used old book illustrations, comics and print advertising as raw material. Jess worked reclusively and prolifically on paintings and paste-ups throughout his lifetime.

Read More

Liz Magor

Artist

Liz Magor (Canadian, b. 1948) is a Vancouver-based artist and associate professor at the Emily Carr University of Art and Design. Magor studied at the Vancouver School of Art (1970-71), Parsons School of Design (1968-70) and the University of British Columbia (1966-68). Over her career Magor has been recognized through several prestigious art awards such as the Gershon Iskowitz Foundation in partnership with the Art Gallery of Ontario (2014); The Audain Prize for Lifetime achievement (2009); the Governor General of Canada Award (2001) and York Wilson Endowment Award (2000). Magor has had major exhibitions at Musée d'art contemporain de Montréal (2016); Art Gallery of Ontario (2015); Peephole, Milan (2015); Presentation House Gallery, Vancouver (2014); Triangle, Marseille (2013); Henry Art Gallery, Seattle (2008); The Power Plant, Toronto (2003); Vancouver Art Gallery (2002); Documenta (1987); and the Venice Biennale (1984), among others. Magor is represented by Catriona Jeffries Gallery, Vancouver, Susan Hobbs Gallery, Toronto and Marcelle Alix, Paris.

Read More

Sam Perry

Artist

Writer, filmmaker, artist, Sam Perry was born in 1939. As a student at the University of British Columbia in the early 1960s, Perry came into contact with the experimental multimedia work of David Orcutt, who supported Perry's growing interest in film animation. By the mid-1960s, Perry's film and image projections would play a key role in the events at the Sound Gallery and the Motion Studio. In addition, Perry spearheaded the Tripps Festial (July 29-31, 1966), a multimedia sensorium of music, film, slides, and moving liquid utilizing over fifty projectors and 25,000 square feet of screen. Performers included Big Brother and the Holding Company (with Janis Joplin), the Grateful Dead, Quicksilver Messenger Service, the Daily Flash, and poet Michael McClure. Perry's interest lay in such an environment's ability to transform a participant's consciousness. The addition of light and film projections to musical performance was an attempt to alter the traditional relationship between audience and entertainer, shifting the focus away from the individual performances to the collective production of new realities. Perry took his own life in 1966.

Read More