Laiwan

Artist

Laiwan (b. 1961) is a Vancouver-based interdisciplinary artist, writer and educator with a wide-ranging practice based in poetics and philosophy. She was born in Zimbabwe of Chinese descent, immigrating to Canada in 1977. She received a diploma from Emily Carr College of Art and Design and MFA from Simon Fraser University School for Contemporary Arts. Her work engages performativity, audio, video, photography and installation in an investigation of poetic and philosophical themes related to embodiment, emotional intelligence and spatial politics located to the environment. Since the 1980s, Laiwan has worked as a writer and editor in arts and community publications and curated various programs in film and video festivals and exhibitions. She founded Or Gallery in Vancouver in 1983, and was chair of the Grunt Gallery Board of Directors from 2010 to 2014. Laiwan participates in public discourse, discussions, lectures, artist talks and workshops. She has taught in the MFA  Interdisciplinary Arts Program at Goddard College since 2001. Laiwan has received numerous grants and commissions, most recently including a BC Arts Council Visual Arts Award (2021), Canada Council Research and Creation Award (2020) and the Vancouver Queer Media Artist Award (2008), as well as commissions from the City of Vancouver's Public Art Program (2016), the Vancouver Heritage Foundation (2014), the Burnaby Art Gallery and a residency with the Department of Earth, Ocean and Atmospheric Sciences at the University of British Columbia (2017/18). https://www.laiwanette.net/

Read More
Laiwan
she who had scanned the flower of the world…, 2017
giclée prints and flowers in 35 mm slides
Collection of the Morris and Helen Belkin Art Gallery. Gift of the artist, 2018
Artist Laiwan writes: Begun in 1987 investigating the questions, What is an image? What is a photograph?, she who had scanned the flower of the world… is an ongoing project where I collect flowers from the city I am showing in, placing the petals into slide mounts. The flowers can be bought, given, picked to give expression to the species and lives of flowers found at that time and place. The slides are then projected, powered by a slide projector's autoplay function over the course of the installation. Due to natural causes of duration and temperature affected by heat from the projector lamp and its fierce uncompromising light, the images that the petals project change, evolve, degrade, mold and fade over the course of the installation. The changes daily and hourly are subtle, delicate, yet visible to an attentive and dedicated viewer. This project's seeming romanticism is countered by a subtle violence in the work.
This piece has had a variety of incarnations as a live slide projection with an accompanying performative reading of poetic text I wrote. It also exists as a limited edition of inkjet prints handbound into a book, and as backlit projection and prints shown on the wall in a gallery. The Morris and Helen Belkin Art Gallery at UBC purchased a set of prints for its permanent collection.
The title comes from a phrase in a poem by Sappho written in love for a soldier's wife who had lost her husband to war: she who had scanned the flower of the world's manhood…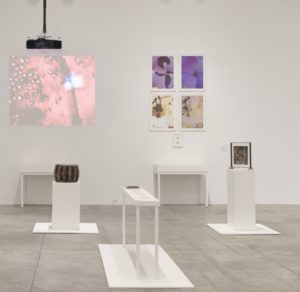 Read more about Laiwan and an excerpt from her poem she who had scanned the flower of the world, as published in TENDER (Vancouver: Talonbooks, 2020)
Read the poem [To an army wife, in Sardis…] by Sappho (6th century BCE)
Over the course of Stations: Some Recent Acquisitions, we will consider works from the Belkin's permanent collection through the lens of the pandemic world around us, in particular through the words of the artists themselves. Works from the Collection extends these works from the gallery space to the intimacy of the home; to see more of the Belkin's collection, visit https://collection.belkin.ubc.ca.
The above quotation by Laiwan is from the artist's website
Photos: Rachel Topham Photography
Laiwan

Artist

Laiwan (b. 1961) is a Vancouver-based interdisciplinary artist, writer and educator with a wide-ranging practice based in poetics and philosophy. She was born in Zimbabwe of Chinese descent, immigrating to Canada in 1977. She received a diploma from Emily Carr College of Art and Design and MFA from Simon Fraser University School for Contemporary Arts. Her work engages performativity, audio, video, photography and installation in an investigation of poetic and philosophical themes related to embodiment, emotional intelligence and spatial politics located to the environment. Since the 1980s, Laiwan has worked as a writer and editor in arts and community publications and curated various programs in film and video festivals and exhibitions. She founded Or Gallery in Vancouver in 1983, and was chair of the Grunt Gallery Board of Directors from 2010 to 2014. Laiwan participates in public discourse, discussions, lectures, artist talks and workshops. She has taught in the MFA  Interdisciplinary Arts Program at Goddard College since 2001. Laiwan has received numerous grants and commissions, most recently including a BC Arts Council Visual Arts Award (2021), Canada Council Research and Creation Award (2020) and the Vancouver Queer Media Artist Award (2008), as well as commissions from the City of Vancouver's Public Art Program (2016), the Vancouver Heritage Foundation (2014), the Burnaby Art Gallery and a residency with the Department of Earth, Ocean and Atmospheric Sciences at the University of British Columbia (2017/18). https://www.laiwanette.net/

Read More