Tania Willard

Artist

Tania Willard (Secwépemc Nation) works within the shifting ideas of contemporary and traditional as it relates to cultural arts and production. Often working with bodies of knowledge and skills that are conceptually linked to her interest in intersections between Aboriginal and other cultures. Willard has worked as a curator in residence with grunt gallery and Kamloops Art Gallery. Willard's curatorial work includes Beat Nation: Art Hip Hop and Aboriginal Culture, a national touring exhibition first presented at Vancouver Art Gallery in 2011, Unceded Territories: Lawrence Paul Yuxweluptun at the Museum of Anthropology co-curated by Karen Duffek in 2016 and CUSTOM MADE at Kamloops Art Gallery. She has also been selected as one of five national curators for a national scope exhibition in collaboration with Partners in Art and National Parks. Willard's personal curatorial projects include BUSH gallery, a conceptual space for land based art and action led by Indigenous artists. Willard's current research constructs a land rights aesthetic through intuitive archival acts and land-based practices, focusing on Secwepemc aesthetics/language/land and interrelated Indigenous art practices.

Read More

Melody Courage

Musician

Vancouver-based Métis soprano Melody Courage, of Dene, Cree and Chipewyan descent, gained national attention as The Native Girl in the 2017 world premiere of Marie Clements' and Brian Current's opera Missing, co-produced by City Opera Vancouver and Pacific Opera Victoria. Missing gives voice, in English and Gitxsan, to the story of Canada's missing and murdered Indigenous women. Courage received her degree and diploma in Opera Performance from the Vancouver Academy of Music after music studies at the University of British Columbia, followed by guest appearances in Vivaldi's Gloria with the National Arts Centre Orchestra and The Messiah with the Prince George Symphony Orchestra.

Read More
Tania Willard
Surrounded/Surrounding, 2018
wood burning fire ring, laser etched leather, wood, vinyl transfer
Collection of the artist
Surrounded/Surrounding includes a wood-burning fire bowl, etched leather camp stools and a life-sized rendering of the artist's wood pile in a graphic score. Written on the split logs and the spaces between them are references to the breathing, beating labour that creates what a fire needs, as well as the trees, sun, sky and ground that surrounds and creates all else.  Cursive text adorns the twelve camp stools, shifting from embraced to embracing, from enclosed to enclosing. The installation anticipates the event it proposes and these words evoke the transition from proposition to action. In collaboration with composer Patrick Carrabré, Métis soprano Melody Courage interprets Willard's Woodpile Score, reflecting on the themes of Surrounded/Surrounding in vocal performance.
On Monday, November 30 at 4:30 pm, Tania Willard will host an Instagram Live event (@willardart) on the Secwépemc Territory, where she will light a fire and ask people to join her remotely as witnesses.  The Belkin will join Willard on Instagram Live (@belkinartgallery) and share our documentation of Melody Courage's performance.
Your browser does not support the video tag.
Melody Courage performing Tania Willard's Surrounded/Surrounding, recorded on November 20, 2020.
5 minutes, 23 seconds
Tania Willard's work is part of Soundings: An Exhibition in Five Parts at the Morris and Helen Belkin Art Gallery (September 8-December 6, 2020).
Photos: Rachel Topham Photography
Video: Aya Garcia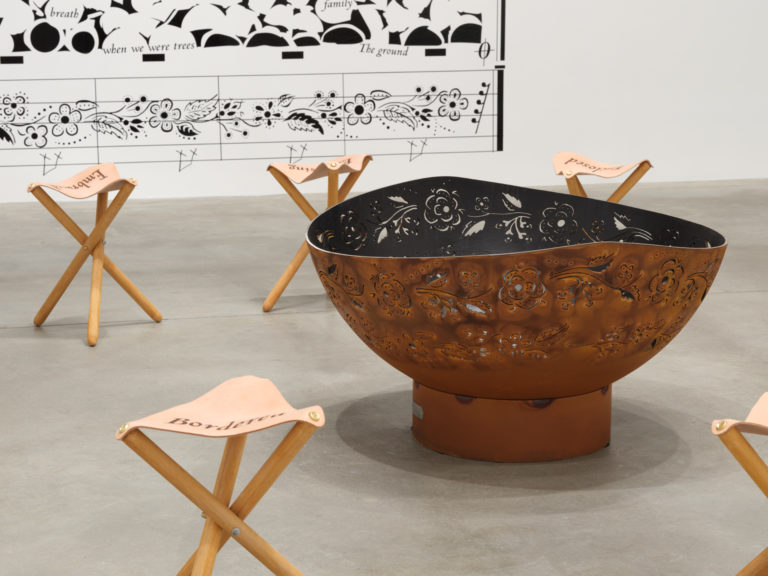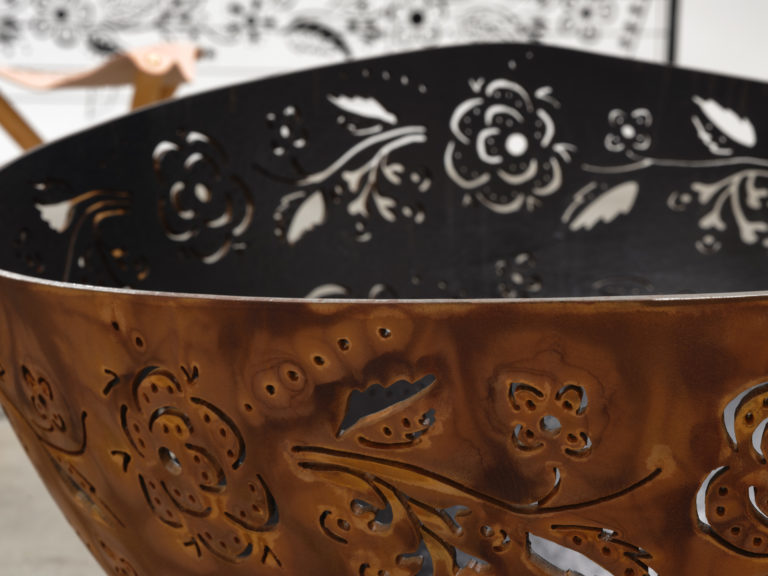 Tania Willard

Artist

Tania Willard (Secwépemc Nation) works within the shifting ideas of contemporary and traditional as it relates to cultural arts and production. Often working with bodies of knowledge and skills that are conceptually linked to her interest in intersections between Aboriginal and other cultures. Willard has worked as a curator in residence with grunt gallery and Kamloops Art Gallery. Willard's curatorial work includes Beat Nation: Art Hip Hop and Aboriginal Culture, a national touring exhibition first presented at Vancouver Art Gallery in 2011, Unceded Territories: Lawrence Paul Yuxweluptun at the Museum of Anthropology co-curated by Karen Duffek in 2016 and CUSTOM MADE at Kamloops Art Gallery. She has also been selected as one of five national curators for a national scope exhibition in collaboration with Partners in Art and National Parks. Willard's personal curatorial projects include BUSH gallery, a conceptual space for land based art and action led by Indigenous artists. Willard's current research constructs a land rights aesthetic through intuitive archival acts and land-based practices, focusing on Secwepemc aesthetics/language/land and interrelated Indigenous art practices.

Read More

Melody Courage

Musician

Vancouver-based Métis soprano Melody Courage, of Dene, Cree and Chipewyan descent, gained national attention as The Native Girl in the 2017 world premiere of Marie Clements' and Brian Current's opera Missing, co-produced by City Opera Vancouver and Pacific Opera Victoria. Missing gives voice, in English and Gitxsan, to the story of Canada's missing and murdered Indigenous women. Courage received her degree and diploma in Opera Performance from the Vancouver Academy of Music after music studies at the University of British Columbia, followed by guest appearances in Vivaldi's Gloria with the National Arts Centre Orchestra and The Messiah with the Prince George Symphony Orchestra.

Read More