UBC Contemporary Players

Presenter

Kyran Assing

Presenter

Paolo Bortolussi

Presenter

Melody Chen

Presenter

Julia Chien

Presenter

Sarah Ellis

Presenter

Ryan Esau

Presenter

Ellie Froese

Presenter

Tom Gamble

Presenter

Aaron Graham

Presenter

Corey Hamm

Presenter

Sarah Ho

Presenter

Van Le (violin)

Presenter

Laine Longton

Presenter

Satoko Nagashima

Presenter

Joel Thomson

Presenter

Sydney Titarenko

Presenter

Andrea Tremblay-Legendre

Presenter

Simeon Weststeijn

Presenter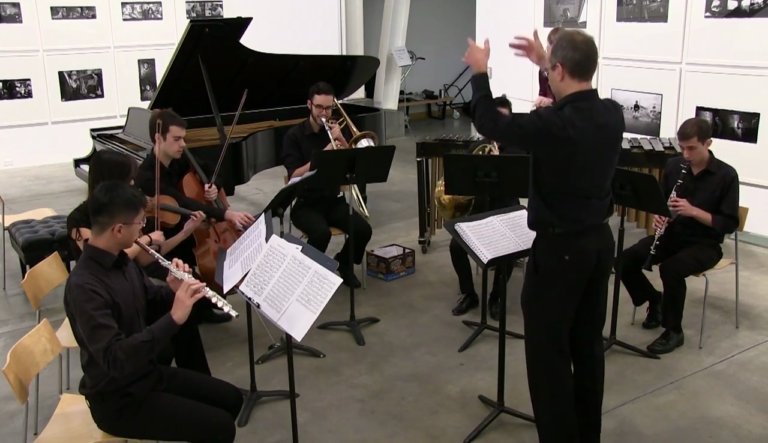 UBC Contemporary Players conducted by Paolo Bortolussi. Photo: Michael R. Barrick.
Once again, we are pleased to welcome the UBC Contemporary Players to the Belkin Art Gallery for a concert inspired by the exhibition Lalakenis/All Directions: A Journey of Truth and Unity. Led by Directors Corey Hamm and Paolo Bortolussi with support from Aaron Graham, this graduate and undergraduate student ensemble from the UBC School of Music will animate the Gallery for an afternoon program celebrating themes from the exhibition. And on TUESDAY, APRIL 12 at 2:30 pm, please join us for a once-in-a-lifetime performance of Alexander Scriabin's Complete Piano Sonatas, Nos. 1-10 performed by piano students of Corey Hamm. All welcome. Admission is free.
APRIL 8 PROGRAM
Terry Riley, Cantos Desiertos (1993)
i. Francesco en Paraiso
ii. Canción Desierto
iii. Quijote
Tom Gamble (guitar), Van Le (violin)
Jaelem Bhate, Dial (2015)
Sarah Ellis (bassoon), Simeon Weststeijn (marimba)
Aram Bajakian, 5 Martyrs (2015)
1. Introduction
2. Ashkhen
3. Khosrovidukht
4. Hripsime
5. Tamar
6. Gaiane
Satoko Nagashima (flute), Joel Thomson (guitar)
Nikolai Kapustin, Piano Sonata No. 2, Op. 54, Mvmts. 1 and 2 (1989)
Andrea Tremblay-Legendre (piano)
Tōru Takemitsu, Toward the Sea (1981)
Satoko Nagashima (alto flute), Joel Thomson (guitar)
Steve Reich, Double Sextet (2007)
Kyran Assing (cello 2), Paolo Bortolussi (flute 1), Melody Chen (violin 2), Julia Chien (vibraphone 2), Ryan Esau (flute 2), Ellie Froese (clarinet 2), Aaron Graham (vibraphone 1), Corey Hamm (piano 2), Sarah Ho (violin 1), Laine Longton (cello 1), Andrea Tremblay-Legendre (piano 1), Sydney Titarenko (clarinet 1)
CONCEIVED AND DEVELOPED BY SHELLY ROSENBLUM
UBC Contemporary Players

Presenter

Kyran Assing

Presenter

Paolo Bortolussi

Presenter

Melody Chen

Presenter

Julia Chien

Presenter

Sarah Ellis

Presenter

Ryan Esau

Presenter

Ellie Froese

Presenter

Tom Gamble

Presenter

Aaron Graham

Presenter

Corey Hamm

Presenter

Sarah Ho

Presenter

Van Le (violin)

Presenter

Laine Longton

Presenter

Satoko Nagashima

Presenter

Joel Thomson

Presenter

Sydney Titarenko

Presenter

Andrea Tremblay-Legendre

Presenter

Simeon Weststeijn

Presenter