Sunny Kerr

Sunny Kerr is Curator of Contemporary Art at Agnes Etherington Art Centre at Queen's University and the curator of Drift: Art and Dark Matter.

Read More

Nadia Lichtig

Artist

Nadia Lichtig is an artist currently living in the South of France. In her multilayered work, voice is transposed into various media including painting, print, sculpture, photography, performance, soundscape and song—each medium approached not as a field to be mastered, but as a source of possibilities to question our ability to decipher the present. Visual and aural aspects entangle in her performances. Lichtig studied linguistics at the LMU Munich in Germany and at the Ecole des Beaux-Arts de Paris, France with Jean-Luc Vilmouth, where she graduated with honours in 2001, before assisting Mike Kelley in Los Angeles the same year. She taught at the Shrishti School of Art and Technology, Bangalore, India as a visiting professor in 2006, at the Ecole des Beaux-Arts of Valence in 2007 and is professor of Fine Arts at the Ecole Supérieure des Beaux-arts of Montpellier (MOCO-ESBA), France since 2009. She has collaborated with musicians who are also visual artists, such as Bertrand Georges (Audible), Christian Bouyjou (Popopfalse), Nicolu (La Chatte), Nina Canal (Ut) and Michael Moorley (The dead C). Lichtig worked and works under several group names and pseudonyms (until 2009: EchoparK, Falseparklocation, Skrietch, Ghosttrap and Nanana).

Read More

Josèfa Ntjam

Artist

Josèfa Ntjam was born in 1992 in Metz (FR), and currently lives and works in Paris. Ntjam is part of a generation of artists who grew up with the internet, communicating and sending images by electromagnetic wave. Working with video, text, installation, performance and photomontage, Ntjam creates a story with every piece that acts as a reflection of the world around her. Drawing connections to science fiction and the cosmos, Ntjam has said of her work, "I sat there some time ago with Sun Ra in his Spaceship experimenting with a series of alternative stories. An exoteric syncretism with which I travel as a vessel in perpetual motion." Ntjam studied in Amiens and Dakar (Cheikh Anta Diop University) and graduated from l'Ecole Nationale Supérieure d'Art, Bourges (FR) and Ecole Nationale Supérieure d'Art, Paris-Cergy (FR). Her works and performance have been shown at numerous venues such as the 15th Biennial of Lyon, DOC! Paris, a la Zentral (CH), Palais de Tokyo, Beton Salon, La Cite internationale des arts, la Bienanale de Dakar (SN), Let Us Rflect Festival (FR), FRAC de Caen, and CAC Bretigny.

Read More

Anne Riley

Artist

Anne Riley is a multidisciplinary artist living as an uninvited Slavey Dene/German guest from Fort Nelson First Nation on the unceded territories of the Musqueam, Squamish and Tsleil-waututh Nations. Her work explores different ways of being and becoming, touch and Indigeneity. Riley received her BFA from the University of Texas at Austin in 2012. She has exhibited both in the US and Canada. Currently, she is working on a public art project commissioned by the City of Vancouver with her collaborator, T'uy'tanat Cease Wyss. Wyss and Riley's project A Constellation of Remediation consists of Indigenous remediation gardens planted throughout the city, decolonizing and healing the dirt back to soil. Riley and Wyss were recently longlisted for the 2021 Sobey Art Award.

Read More

Jol Thoms

Artist

Jol Thoms is a Canadian-born, European-based artist, author and sound designer. Both his written and moving-image work engage posthumanism, feminist science studies, general ecology and the environmental implications of pervasive technical/sensing devices. In the fields of neutrino and dark matter physics he collaborates with renowned physics institutes around the world. These "laboratory-landscapes" are the focus of his practice led PhD at the University of Westminster. In 2017 Thoms was a fellow of Schloss Solitude and resident artist at the Bosch Campus for Research and Advanced Engineering. Thoms graduated with an Honours BA in Philosophy, Art History and Visual Studies from the University of Toronto (2009) and later studied under Simon Starling at the Städelschule in Frankfurt (2013). Between 2014 and 2016 he developed and taught an experimental creative-research program for architecture students at the University of Braunschweig with then interim director Tomás Saraceno. In 2016 Thoms won the MERU Art*Science Award for his film G24|0vßß, which was installed in the Blind Faith: Between the Cognitive and the Visceral in Contemporary Art group exhibition at Haus der Kunst, Munich. Thoms is a lecturer in the MA Art and Ecology program at Goldsmiths University, London.

Read More

Denise Ferreira da Silva

Artist

An academic and practicing artist, Denise Ferreira da Silva is currently Professor & Director of UBC's Social Justice Institute-GRSJ and Adjunct Professor at Monash University's School of Art, Design, and Architecture.  She is the author of Toward a Global Idea of Race (University of Minnesota Press, 2007), A Dívida Impagavel (Oficina da Imaginaçāo Política and Living Commons, 2019), Unpayable Debt (Stenberg/MIT Press, 2021) and co-editor (with Paula Chakravartty) of Race, Empire, and the Crisis of the Subprime (Johns Hopkins University Press, 2013). Her several articles have been published in leading interdisciplinary journals, such as Social Text, Theory, Culture & Society, PhiloSOPHIA, Griffith Law Review, Theory & Event, The Black Scholar, to name a few. Her artistic works includes the films Serpent Rain (2016),  4Waters-Deep Implicancy (2018), and Soot Breath/Corpus Infinitum (in collaboration with Arjuna Neuman) and the relational art practices Poethical Readings and Sensing Salon (in collaboration with Valentina Desideri). She has exhibited and lectured at major art venues, such as the Pompidou Center (Paris), Whitechapel Gallery (London, MASP (Sāo Paulo), Guggenheim (New York), and MoMa (New York). She has also written for publications for major art events (Liverpool Biennale, 2017; Sao Paulo Biennale, 2016, Venice Biennale, 2017, and Documenta 14) and published in art venues, such as Canadian Art, Frieze, Pass, Texte Zur Kunst, and E-Flux. She is a member of the Collective EhChO.org and an Editor of Third Text.

Read More

Arjuna Neuman

Artist

Arjuna Neuman was born on an airplane, that's why he has two passports. He is an artist, filmmaker and writer. With recent presentations at CCA Glasgow; Centre Pompidou, Paris; Manifesta 10, Marseille; Showroom Gallery, London; TPW Gallery, Toronto; Forum Expanded, Berlin Berlinale; Jameel Art Centre, Dubai; Berlin Biennial 10, Germany; Serpentine, London X Qalandia Biennial, Palestine; Gasworks, London; Bold Tendencies, London, UK; Or Gallery, Vancouver; Whitechapel Gallery, London; Istanbul Modern, Turkey; MAAT and Docslisboa, Portugal; Sharjah Biennial 13, UAE; Bergen Assembly, Norway; at NTU Centre for Contemporary Art, Singapore; the 56th Venice Biennale and SuperCommunity; Industry of Light, London; the Haus Der Kulturen der Welt; at Ashkal Alwan and the Beirut Art Centre, Lebanon; Le Gaite Lyric, Paris; the Canadian Centre for Architecture; and the Rat School of Art, Seoul amongst others. As a writer he has published essays in Relief Press, Into the Pines Press, The Journal for New Writing, VIA Magazine, Concord, Art Voices, Flaunt, LEAP, Hearings and e-flux.

Read More
An invisible matter is having a gravitational effect on everything. Without the gravity of this "dark" matter, galaxies would fly apart. Observational data in astroparticle physics indicate that it exists, but so far dark matter hasn't been directly detected. Given the contours of such an unknown, artists Nadia Lichtig, Josèfa Ntjam, Anne Riley and Jol Thoms reflect on the "how" and "why" of physics and art as diverse and interrelating practices of knowledge. Through openness to exchange between disciplines, they have created works that are sensory agents between scientific ideas of dark matter and the exploration of that which has never been directly sensed.
For Drift: Art and Dark Matter, these four artists of national and international stature were invited to make new work while engaging with physicists, chemists and engineers contributing to the search for dark matter at SNOLAB's facility in Sudbury, two kilometres below the surface of the Earth. The title Drift draws from the mining term for a horizontal tunnel, in this case the hot underground passageway in the copper and nickel mine stretching between the elevator and the clean lab spaces of SNOLAB. The project thereby begins from a reflection on the forms and energies that connect physics to art, labour, landscapes, cultures and histories.
As a complement to the Drift exhibition, the Belkin is collaborating with the Stewart Blusson Quantum Matter Institute (SBQMI) and the Department of Physics and Astronomy at UBC on Ars Scientia, an interdisciplinary research project fusing the praxes of art and science. Beginning in May 2021, Ars Scientia partnered scientists with artists to conduct six-month residencies that explore the potential for academic art-science collaborations. Artists Justine Chambers, Josephine Lee, Khan Lee and Kelly Lycan will work with physicists Rysa Greenwood, Alannah Hallas, Daniel Korchinski, Kirk Madison, Sarah Morris and Luke Reynolds to identify areas of collaborative research in pursuit of both scientific and artistic aims. The residencies will culminate in a research symposium where collaborative findings will be shared, set to take place in November 2021.
Drift: Art and Dark Matter is a residency and exhibition project generated by Agnes Etherington Art Centre, the Arthur B. McDonald Canadian Astroparticle Physics Research Institute and SNOLAB, with the support of the Canada Council for the Arts, the Ontario Arts Council, the Stonecroft Foundation, George Taylor Richardson Memorial Fund and the City of Kingston Arts Fund through the Kingston Arts Council. The project is curated by Sunny Kerr, Curator of Contemporary Art at Agnes Etherington Art Centre. The Belkin gratefully acknowledges the generous support of the Canada Council for the Arts, the Province of British Columbia through the BC Arts Council, UBC Grants for Catalyzing Research Clusters, and our Belkin Curator's Forum members.
Planning your visit during COVID-19
Image (above): Jol Thoms, Orthomorph (Tunneling), 2020, digital print. Courtesy of the artist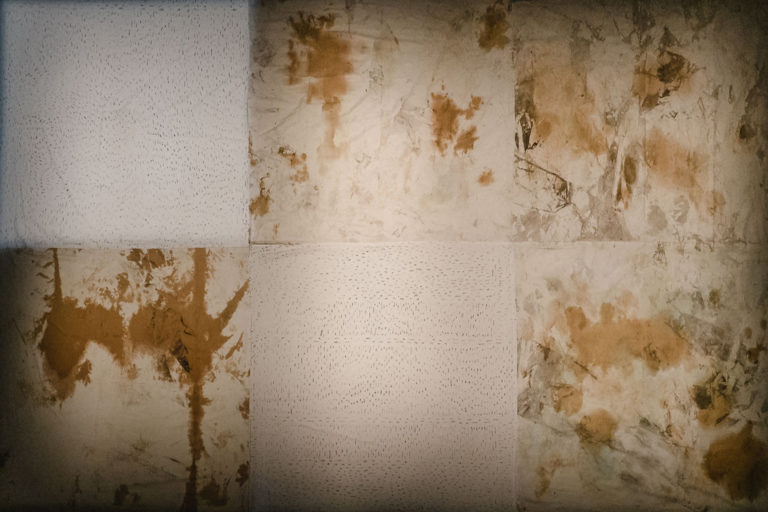 Nadia Lichtig, Blank Spots, 2021–ongoing, frottage on canvas, theatre lights, sound. Collection of the artist
Josèfa Ntjam, Organic Nebula (detail), 2019, carpet, photomontage. Collection of the artist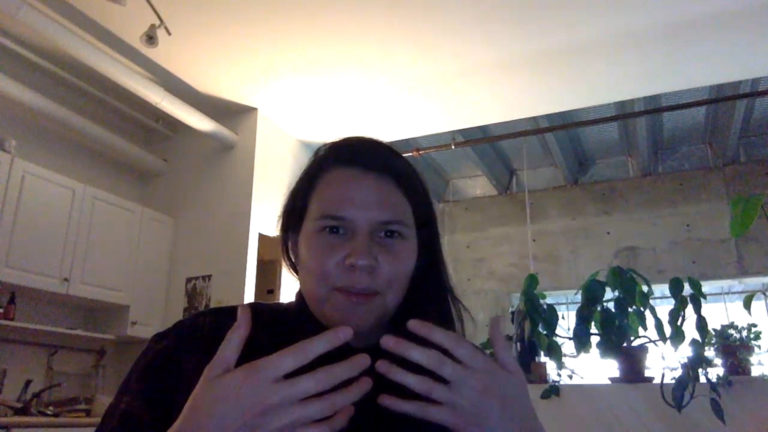 Anne Riley, the heart of the matter (still), 2020, video with sound. Collection of the artist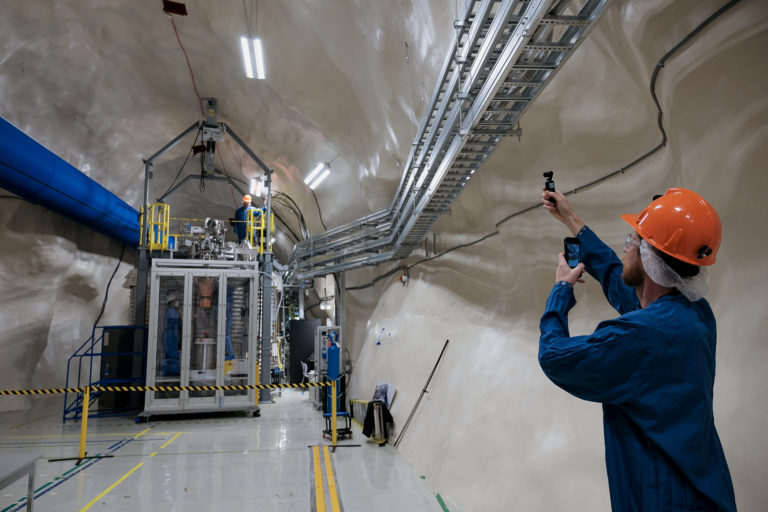 Artist Jol Thomson documents researchers working on CUTE (a Cryogenic Underground Test Facility) at SNOLAB. Photo: Gerry Kingsley
Sunny Kerr

Sunny Kerr is Curator of Contemporary Art at Agnes Etherington Art Centre at Queen's University and the curator of Drift: Art and Dark Matter.

Read More

Nadia Lichtig

Artist

Nadia Lichtig is an artist currently living in the South of France. In her multilayered work, voice is transposed into various media including painting, print, sculpture, photography, performance, soundscape and song—each medium approached not as a field to be mastered, but as a source of possibilities to question our ability to decipher the present. Visual and aural aspects entangle in her performances. Lichtig studied linguistics at the LMU Munich in Germany and at the Ecole des Beaux-Arts de Paris, France with Jean-Luc Vilmouth, where she graduated with honours in 2001, before assisting Mike Kelley in Los Angeles the same year. She taught at the Shrishti School of Art and Technology, Bangalore, India as a visiting professor in 2006, at the Ecole des Beaux-Arts of Valence in 2007 and is professor of Fine Arts at the Ecole Supérieure des Beaux-arts of Montpellier (MOCO-ESBA), France since 2009. She has collaborated with musicians who are also visual artists, such as Bertrand Georges (Audible), Christian Bouyjou (Popopfalse), Nicolu (La Chatte), Nina Canal (Ut) and Michael Moorley (The dead C). Lichtig worked and works under several group names and pseudonyms (until 2009: EchoparK, Falseparklocation, Skrietch, Ghosttrap and Nanana).

Read More

Josèfa Ntjam

Artist

Josèfa Ntjam was born in 1992 in Metz (FR), and currently lives and works in Paris. Ntjam is part of a generation of artists who grew up with the internet, communicating and sending images by electromagnetic wave. Working with video, text, installation, performance and photomontage, Ntjam creates a story with every piece that acts as a reflection of the world around her. Drawing connections to science fiction and the cosmos, Ntjam has said of her work, "I sat there some time ago with Sun Ra in his Spaceship experimenting with a series of alternative stories. An exoteric syncretism with which I travel as a vessel in perpetual motion." Ntjam studied in Amiens and Dakar (Cheikh Anta Diop University) and graduated from l'Ecole Nationale Supérieure d'Art, Bourges (FR) and Ecole Nationale Supérieure d'Art, Paris-Cergy (FR). Her works and performance have been shown at numerous venues such as the 15th Biennial of Lyon, DOC! Paris, a la Zentral (CH), Palais de Tokyo, Beton Salon, La Cite internationale des arts, la Bienanale de Dakar (SN), Let Us Rflect Festival (FR), FRAC de Caen, and CAC Bretigny.

Read More

Anne Riley

Artist

Anne Riley is a multidisciplinary artist living as an uninvited Slavey Dene/German guest from Fort Nelson First Nation on the unceded territories of the Musqueam, Squamish and Tsleil-waututh Nations. Her work explores different ways of being and becoming, touch and Indigeneity. Riley received her BFA from the University of Texas at Austin in 2012. She has exhibited both in the US and Canada. Currently, she is working on a public art project commissioned by the City of Vancouver with her collaborator, T'uy'tanat Cease Wyss. Wyss and Riley's project A Constellation of Remediation consists of Indigenous remediation gardens planted throughout the city, decolonizing and healing the dirt back to soil. Riley and Wyss were recently longlisted for the 2021 Sobey Art Award.

Read More

Jol Thoms

Artist

Jol Thoms is a Canadian-born, European-based artist, author and sound designer. Both his written and moving-image work engage posthumanism, feminist science studies, general ecology and the environmental implications of pervasive technical/sensing devices. In the fields of neutrino and dark matter physics he collaborates with renowned physics institutes around the world. These "laboratory-landscapes" are the focus of his practice led PhD at the University of Westminster. In 2017 Thoms was a fellow of Schloss Solitude and resident artist at the Bosch Campus for Research and Advanced Engineering. Thoms graduated with an Honours BA in Philosophy, Art History and Visual Studies from the University of Toronto (2009) and later studied under Simon Starling at the Städelschule in Frankfurt (2013). Between 2014 and 2016 he developed and taught an experimental creative-research program for architecture students at the University of Braunschweig with then interim director Tomás Saraceno. In 2016 Thoms won the MERU Art*Science Award for his film G24|0vßß, which was installed in the Blind Faith: Between the Cognitive and the Visceral in Contemporary Art group exhibition at Haus der Kunst, Munich. Thoms is a lecturer in the MA Art and Ecology program at Goldsmiths University, London.

Read More

Denise Ferreira da Silva

Artist

An academic and practicing artist, Denise Ferreira da Silva is currently Professor & Director of UBC's Social Justice Institute-GRSJ and Adjunct Professor at Monash University's School of Art, Design, and Architecture.  She is the author of Toward a Global Idea of Race (University of Minnesota Press, 2007), A Dívida Impagavel (Oficina da Imaginaçāo Política and Living Commons, 2019), Unpayable Debt (Stenberg/MIT Press, 2021) and co-editor (with Paula Chakravartty) of Race, Empire, and the Crisis of the Subprime (Johns Hopkins University Press, 2013). Her several articles have been published in leading interdisciplinary journals, such as Social Text, Theory, Culture & Society, PhiloSOPHIA, Griffith Law Review, Theory & Event, The Black Scholar, to name a few. Her artistic works includes the films Serpent Rain (2016),  4Waters-Deep Implicancy (2018), and Soot Breath/Corpus Infinitum (in collaboration with Arjuna Neuman) and the relational art practices Poethical Readings and Sensing Salon (in collaboration with Valentina Desideri). She has exhibited and lectured at major art venues, such as the Pompidou Center (Paris), Whitechapel Gallery (London, MASP (Sāo Paulo), Guggenheim (New York), and MoMa (New York). She has also written for publications for major art events (Liverpool Biennale, 2017; Sao Paulo Biennale, 2016, Venice Biennale, 2017, and Documenta 14) and published in art venues, such as Canadian Art, Frieze, Pass, Texte Zur Kunst, and E-Flux. She is a member of the Collective EhChO.org and an Editor of Third Text.

Read More

Arjuna Neuman

Artist

Arjuna Neuman was born on an airplane, that's why he has two passports. He is an artist, filmmaker and writer. With recent presentations at CCA Glasgow; Centre Pompidou, Paris; Manifesta 10, Marseille; Showroom Gallery, London; TPW Gallery, Toronto; Forum Expanded, Berlin Berlinale; Jameel Art Centre, Dubai; Berlin Biennial 10, Germany; Serpentine, London X Qalandia Biennial, Palestine; Gasworks, London; Bold Tendencies, London, UK; Or Gallery, Vancouver; Whitechapel Gallery, London; Istanbul Modern, Turkey; MAAT and Docslisboa, Portugal; Sharjah Biennial 13, UAE; Bergen Assembly, Norway; at NTU Centre for Contemporary Art, Singapore; the 56th Venice Biennale and SuperCommunity; Industry of Light, London; the Haus Der Kulturen der Welt; at Ashkal Alwan and the Beirut Art Centre, Lebanon; Le Gaite Lyric, Paris; the Canadian Centre for Architecture; and the Rat School of Art, Seoul amongst others. As a writer he has published essays in Relief Press, Into the Pines Press, The Journal for New Writing, VIA Magazine, Concord, Art Voices, Flaunt, LEAP, Hearings and e-flux.

Read More