By Bahar Mohazabnia
In a 2011 survey, Wikimedia found that less than 13% of its contributors identify as female. The reasons for the gender gap are up for debate: suggestions include leisure inequality, how gender socialization shapes public comportment, and the contentious nature of Wikipedia's talk pages. Wikimedia's gender trouble is well documented. While the reasons for the gender gap are up for debate, the practical effect of this disparity is not. It demonstrates an alarming absence in an increasingly important repository of shared knowledge.[1]
Since 2017, the Belkin has been committed to changing this!
Our relationship with Art+Feminism's Wikipedia Edit-a-thon began in October 2017 when Christine D'Onofrio (artist and faculty in UBC's Department of Art History, Visual Art and Theory) discussed her involvement with the project during a presentation for the Belkin's program Activism, Art and Archives at VIVO Media Arts Centre. Since then, the Belkin hosts an annual Wikipedia Edit-a-thon with the Art History Students Association (AHSA), the Visual Arts Students Association (VASA), the UBC Music, Art and Architecture Library, faculty and students in the Department of Art History, Visual Art and Theory (AHVA), artist-run centres and local arts organizations.
Our goal is to increase the presence of women, LGBTQ2S+, gender non-binary, people of colour, Black and Indigenous artists who have a work in the Belkin's collections and/or whose work has been in one of our exhibitions.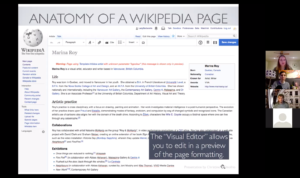 This year, the challenges presented by COVID-19 shifted us to a virtual sphere. The 2021 Edit-a-thon was held entirely online: 17 editors (participants) created 5 new articles, made 236 edits to 71 existing articles (Wikipedia pages), added 206 references and added a total of 15,500 words to existing and new pages. These articles have generated over 169,000 views.
We thank Yasmine Semeniuk (AHSA), Jayden Dreher (VASA), Christine D'Onofrio and Greg Gibson (AHVA), Sara Ellis (UBC Music, Art and Architecture Library), Denise Ryner, Laurie White, Moroti George, Kitt Peacock and Katrina Goetjen (Or Gallery), Debra Sloan (NorthWest Ceramics Foundation), as well as students in the Department of Art History, Visual Art and Theory for joining us this year.
Together – since 2017 – 178 editors have created 80 new articles, made 1,786 edits to 335 existing articles and added 156,200 words. The articles have drawn over 973,200 views.
The Belkin is grateful to everyone who has contributed over the past four years and we're looking forward to more! The reach of this project has been astronomical. Together, we are helping to mend Wikipedia's representational imbalances and providing online presence for inadequately represented artists, curators and cultural workers. We hope you will join us next year and help defeat the patriarchy, one edit at a time!
Images (above): Screenshots from Zoom Workshop, "Learn how and why we edit," February 25, 2021.