Jay Pahre

Jay Pahre (American, b. 1991) is a queer and trans settler artist, writer, and cultural worker currently based on the unceded territories of the of Musqueam, Squamish and Tsleil-Waututh peoples. Weaving between drawing, sculpture and writing, his work queries trans and queer nonhuman ecologies at points of intersection with the human. He received his BFA in Painting and BA in East Asian Studies from the University of Illinois in 2014, and went on to complete his MA in East Asian Studies in 2017. His work has been exhibited across the US and Canada. He has received multiple teaching awards alongside research and community-activism recognition for the support and advocacy work he has done for and with LGBTQ2S+ communities since 2009. For Pahre's online project, visit https://belkin.ubc.ca/jay-pahre/

Read More
it's sliding out along damp ground, it's scooting over leaves meshed thick with sodden mold, it's springing underfoot and pushing heaving against the movement of bodies up above, it's wriggling, a shivering, bolting, gnarly thing that chews at the bristling it thrushes itself against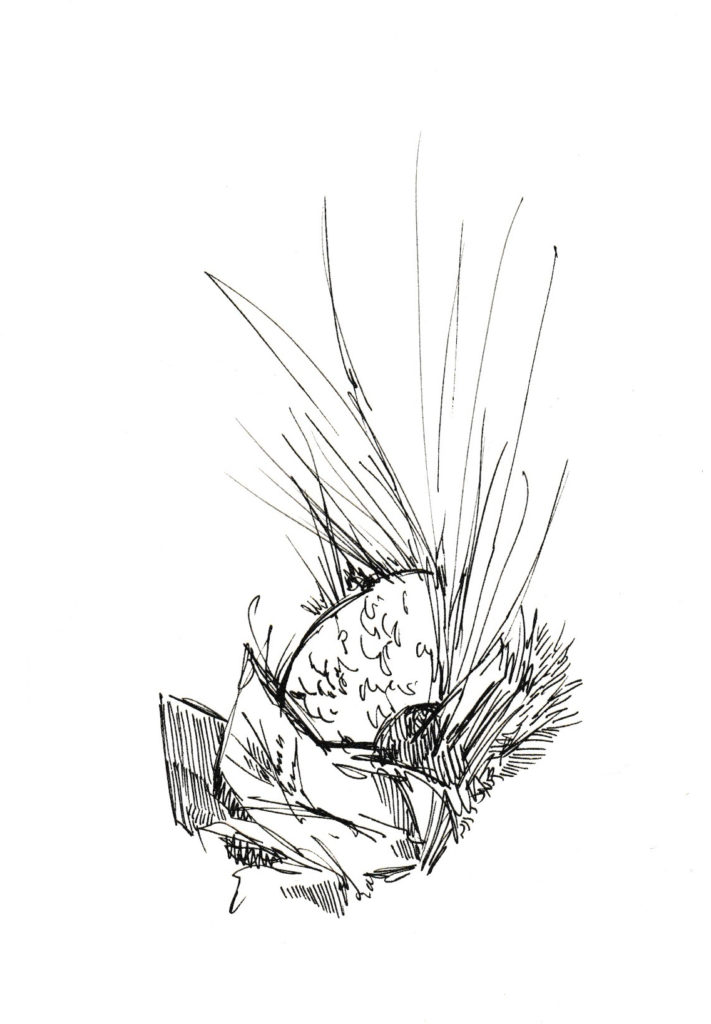 we are on the first rise of flipping this island when the half-rotten log gives way beneath him and he comes crashing to the ground. he walks with a limp from then on. we stop to rest and get our bearings. the next boat is behind us three days from now. the next-next boat is ahead of us ten days from now. we have five days of food.
we decide to continue. we avoid deadfall trees as much as we can. the ground quaffs with mushiness. soil- water is iodine-thick and full of beaver piss. it's salty. i lick sweat from my lip.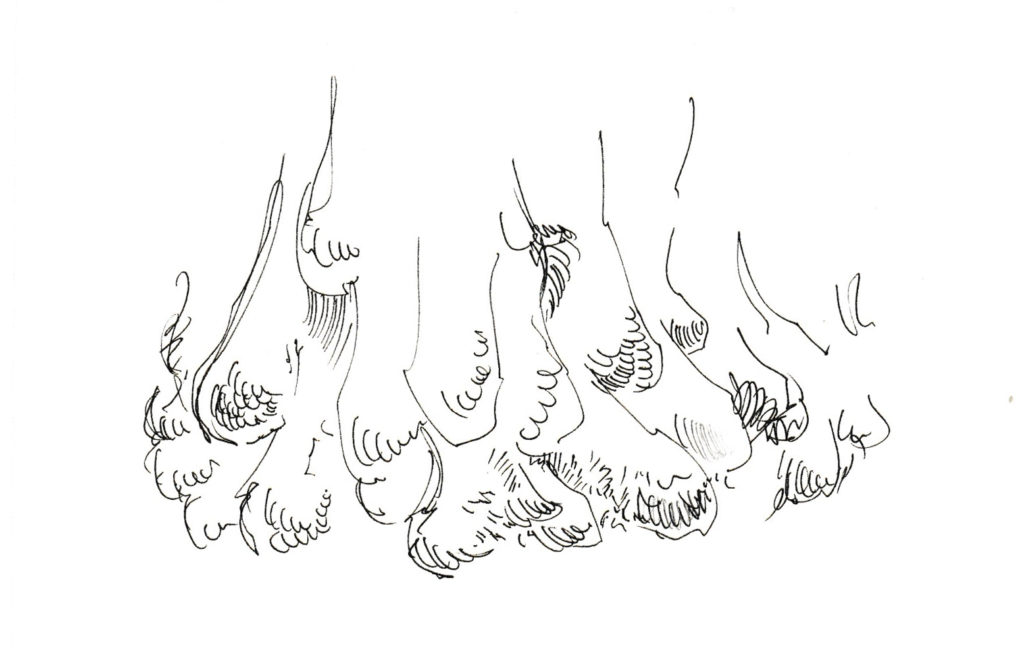 you are clutching fast to a span of hardness the width of your body with the stretch of nothingness that subsumes you; and you have felt this before but cooler, without legs, but now your body can carry you on up to shuffle on up to this long leaning stretch of hardness- and there is a pull that drew you up here but it is uncertain what for there is only the pressure of your feet clamping down tight; tight; around this width and holding you on and on and on so you are waiting in the stretch of nothing which subsumes you
and then… heat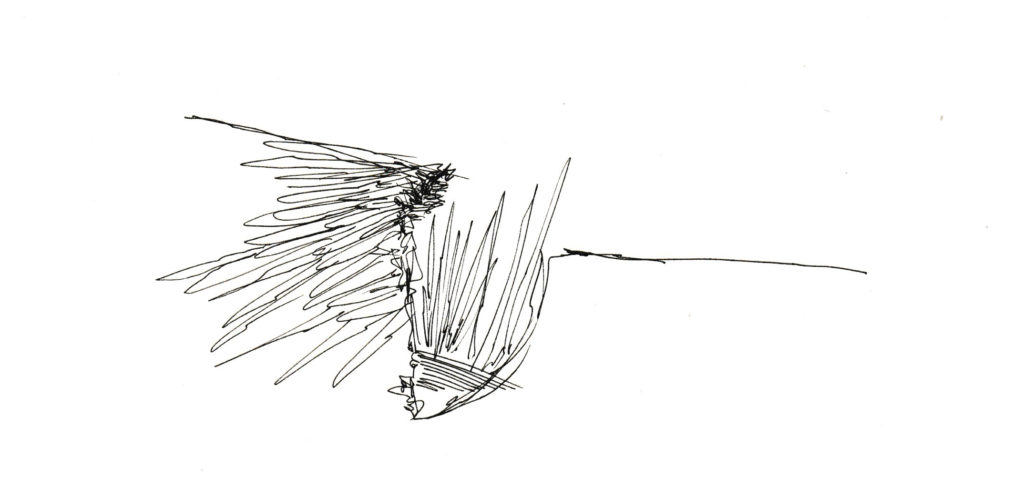 our backs slicked with sweat make us shiver through the night as the temperatures skim around freezing, my hands are clammy white shaking as i rub the testo-gel into gooseflesh skin; it's melting and dripping off, congealing too quick before it absorbs through flesh. white lines as saltcrust well up on hands and i rinse them off quick, shaking gel flecks into the shit vitrine. we limp-and-walk again. passing through tangle-brush, sucking down through swamp-cabbage mire, soaking to the skin.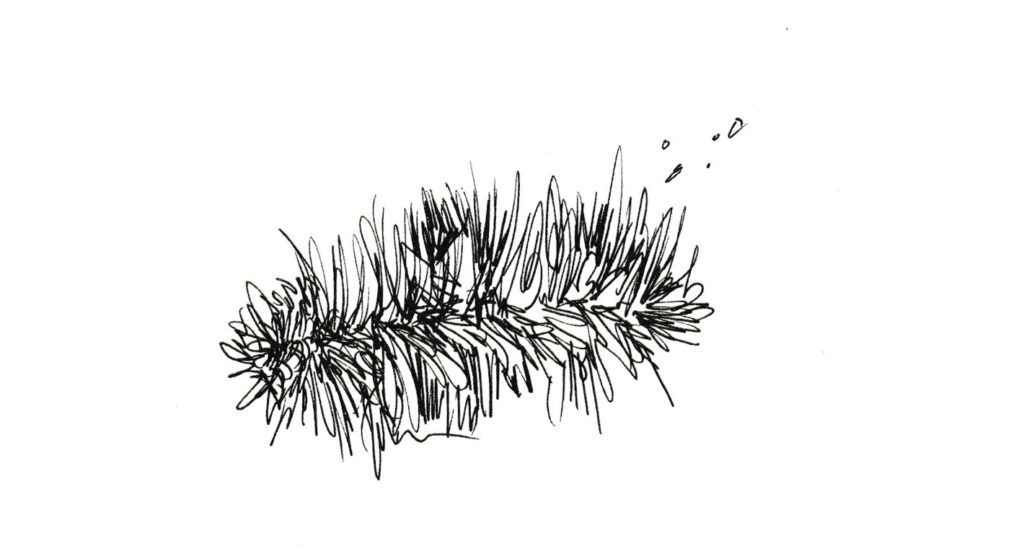 she is grazing; her moose-coat is mottled; thick with the weight of them; ticks; winter ticks; holding on tight due to weather; hanging on in boughs and burl-weights; swelling with the weight of her innards; making the hair turn white; making the hair fall out; make her freeze on thick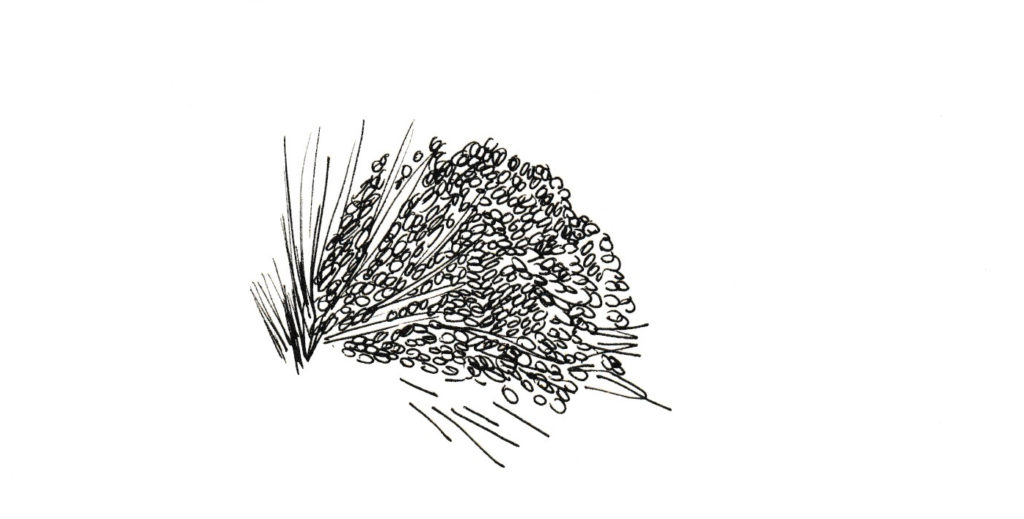 out while walking we piss on rocks to leave the salt to the air. so they will lick it up but not dig it out. to keep holes from forming in the ground. the holes are hungry. and they gulp you down whole.
these copper mines swallow whole wolves on this island; fucking they fall on in; and drown; and rot; and decompose; and become delicious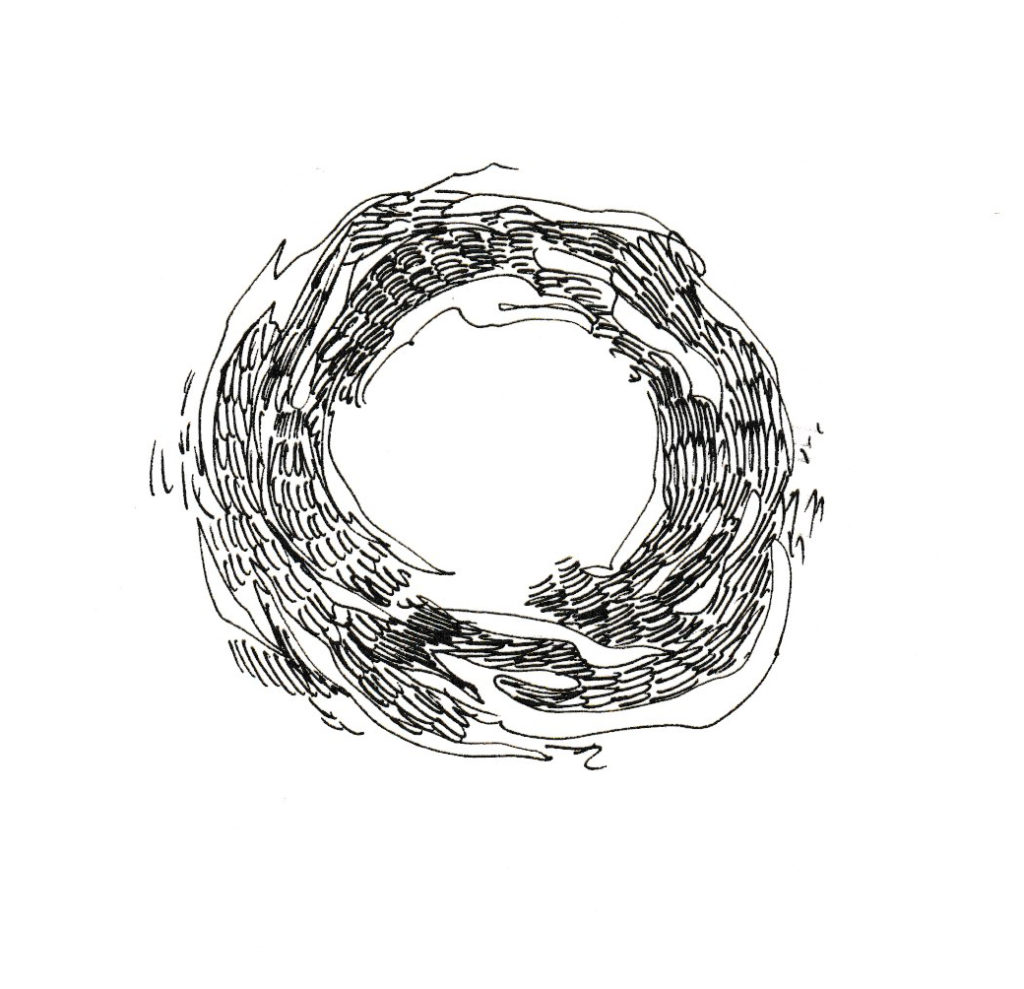 his foot is dragging and my hips are bruised mottled from packweight as we slide down the last stretch of swallowing copper-ground. birchwood shifts to tamarack, ash, underbrush, and water. iodine-yellow sinks it murky-like all the way down and we cannot see the depth of it. the stick-dam offers passage but not quite enough. we pick our way weaving through mushy islands, vaulting as we can with our packs.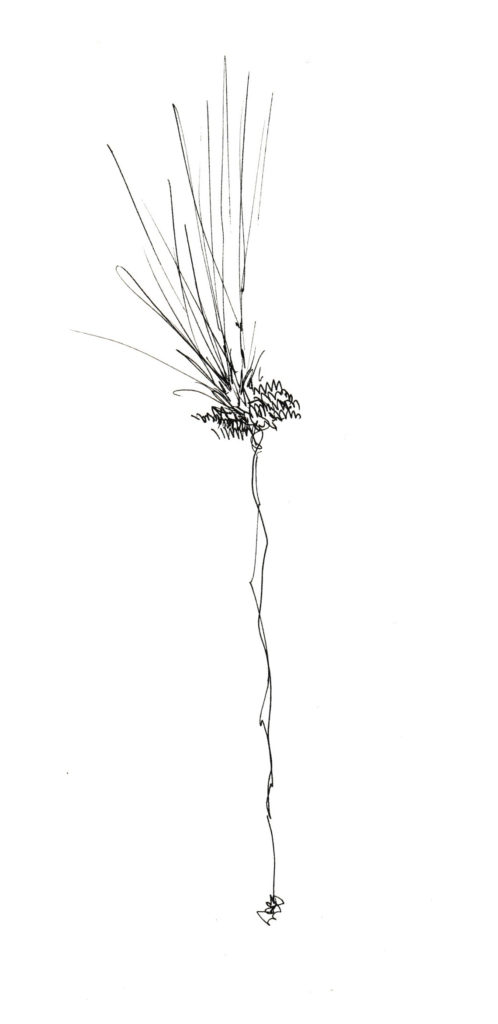 there is a place at the edges of this island where the water flows in two directions.
pushing against one another, these currents bend around the point of touch, and a whirlpool forms. this undertow will suck you down on past the length of your body, spiraling deep to the span of coldness far below. stretch your arms above and point your toes to the vastness below. imagine the length of your body a hundred times over.
six hundred feet down, the temperature of the waters of this lake haven't changed since the last ice age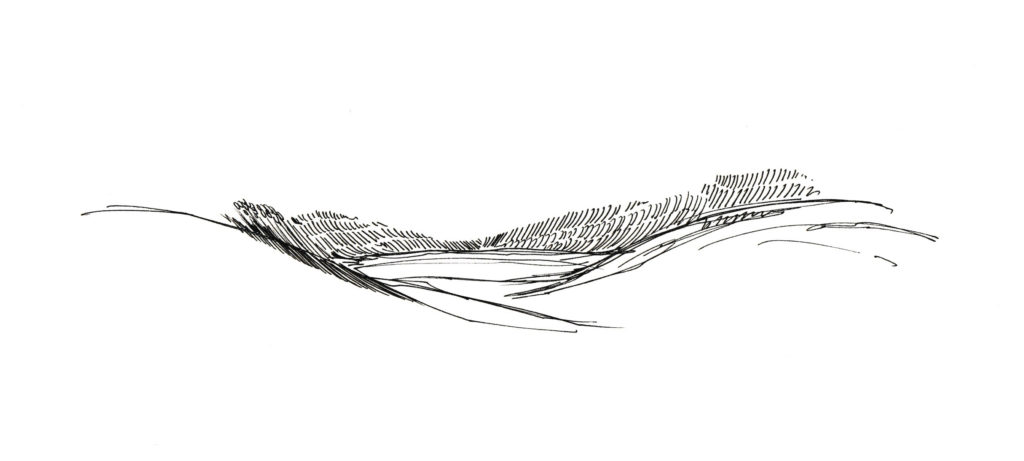 it's grinding sodden feet through marshbog as a forest of deadwood opens up before us. windfall. a half- day long stretch of timber wood flattened over the route. trunks propped up the height of us, and branches reverberating at the echoes of gusts above. branches throw their hanger-ons, and we are clambering over slick oozing wood to scuttle on through. yellowed mud thick with a glimmering sheen yawns on below our passage.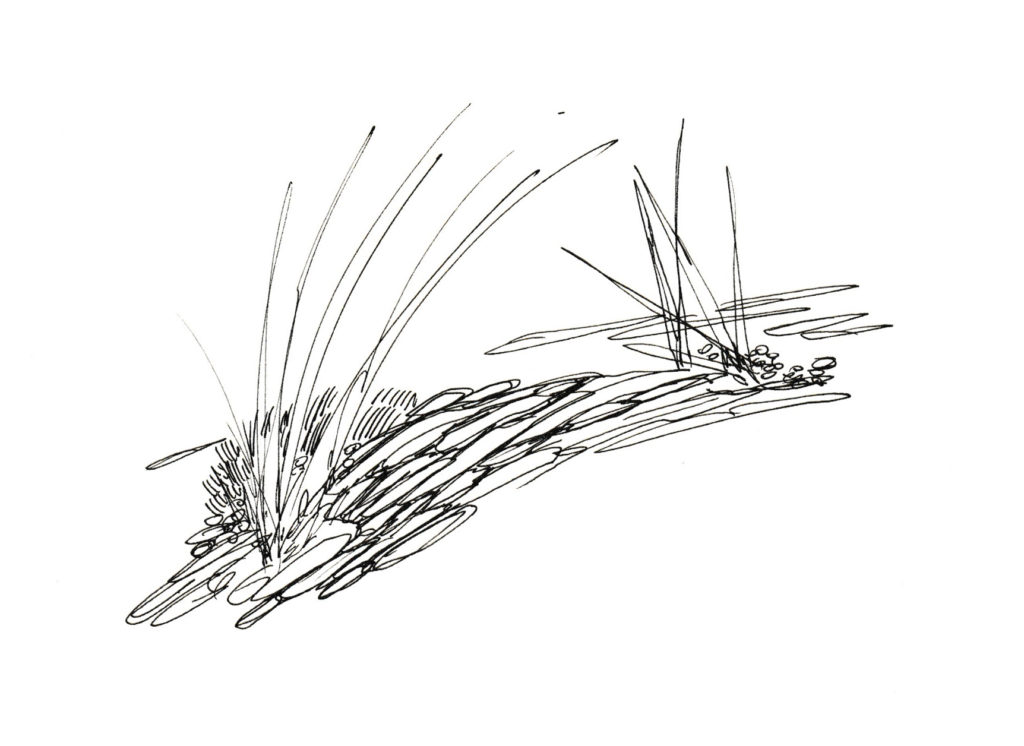 and you are stretching out over buckled ice-sheets not knowing what lays on the other side, diving down headlong through vastness, latching onto a piece of passing atmosphere, swelling with liquid from warm- moving vessels.
this is a speculative ecology, a transitory ecology, and an ecology on the move. this is knowing that will unmake parts of you. that you may keep going and may not come back at all. that you will latch on and let yourself be carried. that you will decompose and become delicious. that you will eat poisonous shit. that you will drown in a mine.
Jay Pahre

Jay Pahre (American, b. 1991) is a queer and trans settler artist, writer, and cultural worker currently based on the unceded territories of the of Musqueam, Squamish and Tsleil-Waututh peoples. Weaving between drawing, sculpture and writing, his work queries trans and queer nonhuman ecologies at points of intersection with the human. He received his BFA in Painting and BA in East Asian Studies from the University of Illinois in 2014, and went on to complete his MA in East Asian Studies in 2017. His work has been exhibited across the US and Canada. He has received multiple teaching awards alongside research and community-activism recognition for the support and advocacy work he has done for and with LGBTQ2S+ communities since 2009. For Pahre's online project, visit https://belkin.ubc.ca/jay-pahre/

Read More