Germaine Koh

Artist

Germaine Koh is a Canadian artist based in Vancouver, unceded ancestral territories of the Musqueam, Squamish and Tsleil-Waututh First Nations. Her work often adapts familiar situations, everyday actions and common spaces to encourage connections between people, technology and natural systems. Her ongoing projects include Home Made Home (http://homemadehome.ca), an initiative to build and advocate for alternative forms of housing, and League (http://league-league.org), a participatory project using play as a form of creative practice. She was the City of Vancouver's first Engineering Artist in Residence in 2018-20, and is scheduled to be the Koerner Artist in Residence at the University of British Columbia in 2021. In Summer 2020 she worked with the Belkin staff to help shape COVID-19 reopening protocols

Read More
In crown shyness, trees grow with distinct space between their crowns to avoid spreading pests, to avoid damaging their own fragile tips and to leave room for their peers. They make small, individual sacrifices for collective health. These natural processes are analogous to societies making adaptations rooted in mutual care: "crowd shyness" as a form of conscious citizenship.
Guided by a vision of collective care, artist Germaine Koh has been working alongside Belkin staff to workshop a comprehensive approach to public interaction. This includes protocols for re-opening the Belkin, but also ongoing workplace procedures that emphasize teamwork and acknowledge both the essential work done by visitor services staff and the fraught character of the gallery threshold. We are continuing as a team to look widely at topics such as exhibition staging, the Belkin's location on traditional Musqueam territory, and how the Gallery can become more transparent and responsive to diverse publics.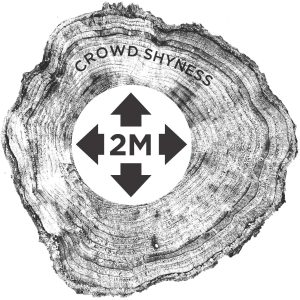 The Belkin invited Vancouver-based artist Germaine Koh to consider new pandemic protocols facing the gallery and to develop creative approaches addressing them. We welcome experimentation within the public realm and learning from and with others in the development of new solutions. This project involves ongoing consultation with Belkin staff and communities (curators, programmers, building operations, health and safety) to address quotidian procedures for visitors, as well as exhibition specific interventions for exhibitions. Together we will explore this opportunity for the prototyping and testing of concepts, as well as fine tuning and adaptation in further iterations.
Germaine Koh

Artist

Germaine Koh is a Canadian artist based in Vancouver, unceded ancestral territories of the Musqueam, Squamish and Tsleil-Waututh First Nations. Her work often adapts familiar situations, everyday actions and common spaces to encourage connections between people, technology and natural systems. Her ongoing projects include Home Made Home (http://homemadehome.ca), an initiative to build and advocate for alternative forms of housing, and League (http://league-league.org), a participatory project using play as a form of creative practice. She was the City of Vancouver's first Engineering Artist in Residence in 2018-20, and is scheduled to be the Koerner Artist in Residence at the University of British Columbia in 2021. In Summer 2020 she worked with the Belkin staff to help shape COVID-19 reopening protocols

Read More