Michael Morris

Artist

Michael Morris (b. 1946, Saltdean, UK) is a painter, photographer, video and performance artist and curator. His work is often media based and collaborative, involved with developing networks and in the production and presentation of new art activity. In his roles as curator and, primarily, as an artist, Morris was a key figure of the West Coast art scene during the 1960s. Morris studied at the University of Victoria and then at the Vancouver School of Art (now Emily Carr University), followed by graduate studies at Slade School of Fine Art at the University College London, during the 1960s. There he became interested in the work of Fluxus and the European avant-garde, which had a profound influence on his work and on the Vancouver experimental art scene in general. In 1969 he founded Image Bank with Vincent Trasov, a system of postal correspondence between participating artists for the exchange of information and ideas. The intention of Image Bank was to create a collaborative, process-based project in the hopes of engendering a shared creative consciousness—in opposition to the alienation endemic to modern capitalist society—through the deconstruction and recombination of its ideological forms. Morris was acting curator of the Vancouver Art Gallery and the Centre for Communications and the Arts at Simon Fraser University and has had many guest curatorships at other institutions. In 1973, he co-founded the Western Front—one of Canada's first artist-run centres—and served as co-director for seven years. In 1990 he and Trasov founded the Morris/Trasov Archive, housed at the Morris and Helen Belkin Art Gallery, to research contemporary art. He has established a strong international reputation and worked for many years in Berlin. Morris has participated in artist-in-residence programs both in Canada at the Banff Centre (1990) and at Open Studio (2003) and internationally at Berlin Kustlerprogramm (1981-1998). Morris has had numerous solo and collaborative exhibitions nationally and internationally, and is the recipient of numerous awards, including the 2015 Audain Prize for Lifetime Achievement in Visual Arts, the 2011 Governor General's Award in Visual and Media Arts and an Honorary Doctorate in 2005 by Emily Carr University of Art + Design.

Read More

Vincent Trasov

Artist

An important Canadian conceptual artist and a leader in the avant-garde community, Vincent Trasov (b. 1947, Edmonton, AB) is a painter, video and performance artist. His work is often media-based and collaborative in spirit, involved with developing networks. In 1969 he founded Image Bank with Michael Morris, a method for personal exchange of information amongst artists. Trasov has made videotapes since 1971. In 1973, Trasov co-founded and co-directed the Western Front Society, an artist-run centre for the production and presentation of new art activity. Trasov gained international prominence with his performance as Mr. Peanut (in a Planter's Peanut costume), an official candidate for Mayor of Vancouver in 1974. The Mr. Peanut role was intended as, amongst other things, a commentary about the perceived merging of art and politics. In 1981, he was invited to Berlin with Michael Morris as guest of Berliner Kunstlerprogramm, DAAD. He and Morris founded the Morris/Trasov Archive in 1990, housed at the Morris and Helen Belkin Art Gallery, to research contemporary art and communication. Trasov has had numerous international exhibitions and is represented in public and private collections in both Europe and North America. He presently resides in Berlin and Vancouver.

Read More
Image Bank explores the artistic collaboration of Michael Morris and Vincent Trasov with others, including their most spectacular works – extended performances with props, such as Colour Bar Research (1970-78) and Mr. Peanut's mayoralty campaign (1974) – alongside their extensive mail-art exchanges with other networkers such as Robert Filliou, Ant Farm and Ray Johnson's New York Correspondence School. The Peanut campaign, in which Vincent Trasov as Mr. Peanut ran for mayor of Vancouver, mobilized the artists associated with the newly founded artist-run centre, the Western Front (est. 1973) and the exhibition includes many collaborations with and amongst these artists (Martin Bartlett, Hank Bull, Kate Craig, General Idea, Gary Lee-Nova, Glenn Lewis, Eric Metcalfe, John Mitchell and others). The exhibition pulls films, photographs, drawings, collages and other ephemera from the Belkin's Morris/Trasov Archive to track the collaborative history of Image Bank. Founded in 1970 and lasting to 1978, Image Bank was a project initiated by Michael Morris, Vincent Trasov and Gary Lee-Nova that originated when they were all associated with the legendary Vancouver artist-run centre Intermedia. The exhibition reflects on a period of optimism where artists envisioned a non-hierarchical alternative to the world of art galleries and museums, where images and ideas could be freely exchanged through the international postal system thereby creating an open-ended and decentralized method of networking that presages social media.
The presentation of Image Bank at the Belkin was originally planned for the summer of 2020 to coincide with the Belkin's 25th anniversary and Image Bank's 50th anniversary. Postponed due to the COVID-19 pandemic and now presented in 2021, the exhibition remains a moment to mark these two joyous milestones. 
Image Bank is curated by Krist Gruijthuijsen, Maxine Kopsa and Scott Watson, and was first presented at KW Institute for Contemporary Art, Berlin (June 22-September 1, 2019) with support from the Canada Council for the Arts Abroad Program. A catalogue accompanies the exhibition, featuring critical texts by AA Bronson, Zanna Gilbert, Krist Gruijthuijsen, Angie Keefer, Maxine Kopsa, Hadrien Laroche, Gary Lee-Nova, Felicity Tayler and Scott Watson. Image Bank is generously supported by the Audain Foundation, the Canada Council for the Arts, the Province of British Columbia through the BC Arts Council and our Belkin Curator's Forum members.

Your browser does not support the video tag.
Michael Morris and Vincent Trasov, Babyland Colour Bars (excerpts), 1972/73, 16mm film transferred to video
Image (above): Mr. Peanut (Vincent Trasov), Art Rat (Gary Lee-Nova) and Can.D.Man (Robert Fones) at Queen Elizabeth Park, Vancouver, 1972. Photo: Michael Morris (M/T 036.176.21)
Colour research props, 1970. Photo: Michael Morris (M/T 65.14.02)
Postcard by Rain Rien (Rain Rodgers), 1973, mailed to Image Bank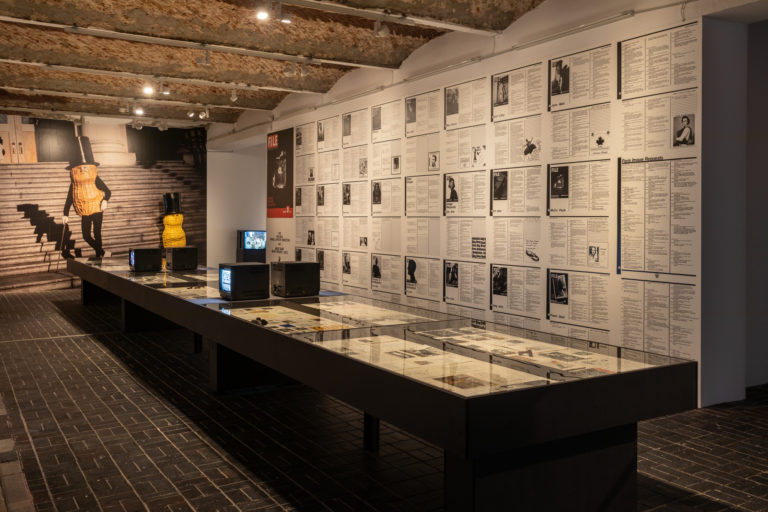 Installation view of Image Bank at KW Institute for Contemporary Art, Berlin, 2019. Photo: Frank Sperling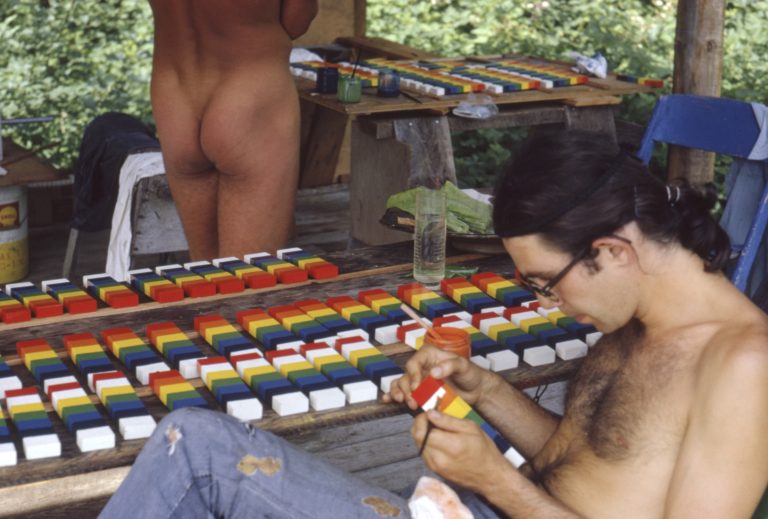 Gordon Allen painting colour bars at Babyland, 1972. Photo: Michael Morris (M/T 036.181.005)
Michael Morris

Artist

Michael Morris (b. 1946, Saltdean, UK) is a painter, photographer, video and performance artist and curator. His work is often media based and collaborative, involved with developing networks and in the production and presentation of new art activity. In his roles as curator and, primarily, as an artist, Morris was a key figure of the West Coast art scene during the 1960s. Morris studied at the University of Victoria and then at the Vancouver School of Art (now Emily Carr University), followed by graduate studies at Slade School of Fine Art at the University College London, during the 1960s. There he became interested in the work of Fluxus and the European avant-garde, which had a profound influence on his work and on the Vancouver experimental art scene in general. In 1969 he founded Image Bank with Vincent Trasov, a system of postal correspondence between participating artists for the exchange of information and ideas. The intention of Image Bank was to create a collaborative, process-based project in the hopes of engendering a shared creative consciousness—in opposition to the alienation endemic to modern capitalist society—through the deconstruction and recombination of its ideological forms. Morris was acting curator of the Vancouver Art Gallery and the Centre for Communications and the Arts at Simon Fraser University and has had many guest curatorships at other institutions. In 1973, he co-founded the Western Front—one of Canada's first artist-run centres—and served as co-director for seven years. In 1990 he and Trasov founded the Morris/Trasov Archive, housed at the Morris and Helen Belkin Art Gallery, to research contemporary art. He has established a strong international reputation and worked for many years in Berlin. Morris has participated in artist-in-residence programs both in Canada at the Banff Centre (1990) and at Open Studio (2003) and internationally at Berlin Kustlerprogramm (1981-1998). Morris has had numerous solo and collaborative exhibitions nationally and internationally, and is the recipient of numerous awards, including the 2015 Audain Prize for Lifetime Achievement in Visual Arts, the 2011 Governor General's Award in Visual and Media Arts and an Honorary Doctorate in 2005 by Emily Carr University of Art + Design.

Read More

Vincent Trasov

Artist

An important Canadian conceptual artist and a leader in the avant-garde community, Vincent Trasov (b. 1947, Edmonton, AB) is a painter, video and performance artist. His work is often media-based and collaborative in spirit, involved with developing networks. In 1969 he founded Image Bank with Michael Morris, a method for personal exchange of information amongst artists. Trasov has made videotapes since 1971. In 1973, Trasov co-founded and co-directed the Western Front Society, an artist-run centre for the production and presentation of new art activity. Trasov gained international prominence with his performance as Mr. Peanut (in a Planter's Peanut costume), an official candidate for Mayor of Vancouver in 1974. The Mr. Peanut role was intended as, amongst other things, a commentary about the perceived merging of art and politics. In 1981, he was invited to Berlin with Michael Morris as guest of Berliner Kunstlerprogramm, DAAD. He and Morris founded the Morris/Trasov Archive in 1990, housed at the Morris and Helen Belkin Art Gallery, to research contemporary art and communication. Trasov has had numerous international exhibitions and is represented in public and private collections in both Europe and North America. He presently resides in Berlin and Vancouver.

Read More