Esther Shalev-Gerz

Artist

Annette Hurtig, Curator

Curator

Charo Neville, Curator

Curator

Scott Watson

Curator

Scott Watson (Canadian, b. 1950) is Director Emeritus and Research Fellow at the Morris and Helen Belkin Art Gallery, University of British Columbia. A curator whose career has spanned more than thirty-five years, Watson is internationally recognized for his research and work in curatorial and exhibition studies, contemporary art and issues, and art theory and criticism. His distinctions include the Hnatyshyn Foundation Award for Curatorial Excellence in Contemporary Art (2010); the Alvin Balkind Award for Creative Curatorship in BC Arts (2008) and the UBC Dorothy Somerset Award for Performance Development in the Visual and Performing Arts (2005). Watson has published extensively in the areas of contemporary Canadian and international art. His 1990 monograph on Jack Shadbolt earned the Hubert Evans Non-Fiction Prize in 1991. Recent publications include Letters: Michael Morris and Concrete Poetry (2015); Thrown: British Columbia's Apprentices of Bernard Leach and their Contemporaries (2011), a finalist for the 2012 Roderick Haig-Brown Regional Prize; "Race, Wilderness, Territory and the Origins of the Modern Canadian Landscape" and "Disfigured Nature" (in Beyond Wilderness, McGill University Press, 2007); and "Transmission Difficulties: Vancouver Painting in the 1960s" (in Paint, Vancouver Art Gallery, 2006).

Read More
Esther Shalev-Gerz brings together key works by the Paris-based artist in the first solo exhibition of her work to be organized in Canada. First shown at the Kamloops Art Gallery in the spring of 2012, the exhibition will be presented with additional work by Shalev-Gerz at the Belkin Art Gallery.
For over twenty years, Shalev-Gerz has created installation and photographic work that addresses questions of collective and personal memory, of portraiture's possibilities within contemporary discourses, the politics of representation, history, place and citizenship. The pieces in this exhibition are emblematic of her work and offer new ways to approach our relationship to these questions.
Among the works to be exhibited is WHITE-OUT: Between Telling and Listening (2002), which presents a portrait of sorts—one comprised of fugitive stories that exist fleetingly between the actual and the fictional, between the imagined and the experienced. Like previous works by Shalev-Gerz, WHITE-OUT explores and discloses the space between telling and listening through a video portrait of Åsa Simma, a woman who is both Sami (the indigenous peoples of Northern Sweden, Finland, Norway and Russia) and Swedish.
Perpetuum Mobile (1998-2000) depicts a 10 Franc coin spinning in constant motion so that both sides merge into one, just as Åsa Simma's dual identity merges in a unified and perpetually evolving sense of self. A study of a currency replaced by the Euro and thus no longer in use, Perpetuum Mobile reflects upon money's symbolic value and its role among the other economic forces that determine and interconnect national and individual identities.
In Between Listening and Telling: Last Witnesses 1945-2005 (2005), a commemoration of the liberation of Auschwitz-Birkenau, Shalev-Gerz worked with the testimonies of sixty survivors now living in Paris to create a three-channel video installation that shows the same film on each screen, with a seven-second time-lapse between each one.
Shalev-Gerz returns to her childhood house in Vilnius, Lithuania in Still/Film (2009). One series of photographs show the house where she lived until she was eight; the second shows the site of the house from which her mother was forced to flee when she was nine, which Shalev-Gerz discovered by chance in the nearby town of Alytus.
A hardcover catalogue with essays by Elizabeth Matheson, Fanny Söderbäck and Ian Wallace published by the Kamloops Art Gallery accompanies the exhibition, along with a supplement designed specifically for the exhibition at the Belkin Art Gallery with an essay by Georges Didi-Huberman and preface by Scott Watson.
Esther Shalev-Gerz is co-curated by Charo Neville and Annette Hurtig and organized by the Kamloops Art Gallery, with additional works added at its presentation at the Morris and Helen Belkin Art Gallery. Works from this exhibition are also presented at the UBC Walter C. Koerner Library, 1958 Main Mall, Vancouver.
We gratefully acknowledge the generous support of the Canada Council for the Arts and our Belkin Curator's Forum members.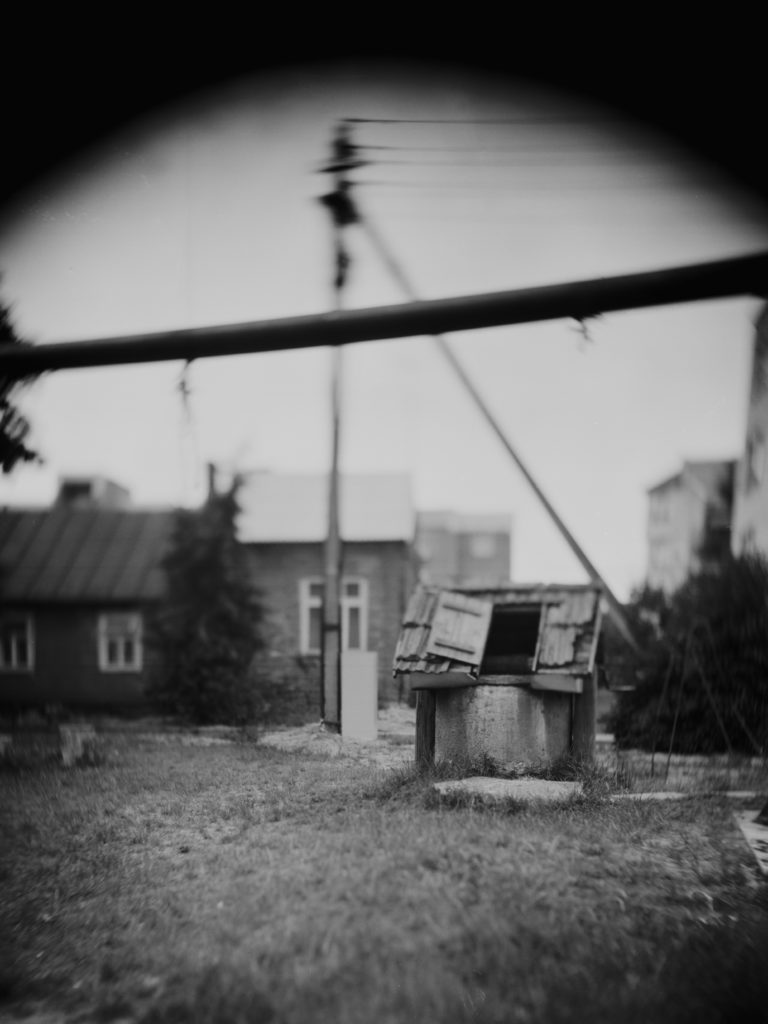 Esther Shalev-Gerz, Still/Film, 2009.
black-and-white photograph.
Esther Shalev-Gerz, WHITE-OUT: Between Telling and Listening (still), 2002. video.
Esther Shalev-Gerz

Artist

Annette Hurtig, Curator

Curator

Charo Neville, Curator

Curator

Scott Watson

Curator

Scott Watson (Canadian, b. 1950) is Director Emeritus and Research Fellow at the Morris and Helen Belkin Art Gallery, University of British Columbia. A curator whose career has spanned more than thirty-five years, Watson is internationally recognized for his research and work in curatorial and exhibition studies, contemporary art and issues, and art theory and criticism. His distinctions include the Hnatyshyn Foundation Award for Curatorial Excellence in Contemporary Art (2010); the Alvin Balkind Award for Creative Curatorship in BC Arts (2008) and the UBC Dorothy Somerset Award for Performance Development in the Visual and Performing Arts (2005). Watson has published extensively in the areas of contemporary Canadian and international art. His 1990 monograph on Jack Shadbolt earned the Hubert Evans Non-Fiction Prize in 1991. Recent publications include Letters: Michael Morris and Concrete Poetry (2015); Thrown: British Columbia's Apprentices of Bernard Leach and their Contemporaries (2011), a finalist for the 2012 Roderick Haig-Brown Regional Prize; "Race, Wilderness, Territory and the Origins of the Modern Canadian Landscape" and "Disfigured Nature" (in Beyond Wilderness, McGill University Press, 2007); and "Transmission Difficulties: Vancouver Painting in the 1960s" (in Paint, Vancouver Art Gallery, 2006).

Read More
Funders
Canada Council for the Arts

Belkin Curator's Forum