Beau Dick

Presenter

Linnea Dick

Presenter

Candice Hopkins

Presenter

Nicolaus Schafhausen

Presenter

Monika Szewczyk

Presenter
With Candice Hopkins and Monika Szewczyk, moderated by Nicolaus Schafhausen and special guests Linnea and Beau Dick
As part of the Fogo Island Dialogues, Candice Hopkins and Monika Szewczyk will present Islands, Sovereignty and Decolonial Futures, a public lecture moderated by Nicolaus Schafhausen that will reflect on intersections between their curatorial conversations around Documenta 14, Learning from Athens. As part of the curatorial team for the upcoming documenta 14, one of contemporary art's most important exhibitions that opens in Athens, Greece in April 2017 and Kassel, Germany in June 2017, Hopkins and Szewczyk will consider what it might mean to establish a continuum between the West Coast and the Southeast of Europe, with special attention given to the work of Beau and Linnea Dick. Linnea Dick, who recently opened documenta 14's Public Programs at the Athens Municipality Arts Centre, will provide an introduction to this conversation, and her father Hereditary Chief Beau Dick will provide concluding remarks.
This lecture is co-presented by Fogo Island Arts and organized by the Morris and Helen Belkin Art Gallery in collaboration with the UBC Department of Art History, Visual Art and Theory with the support of the Audain Endowment for Curatorial Studies.
Fogo Island Dialogues: Islands, Sovereignty and Decolonial Futures with Candice Hopkins and Monika Szewczyk, moderated by Nicolaus Schafhausen, and with special guests Linnea and Beau Dick, December 12, 2016
(1:58:18)
Fogo Island Arts is a residency-based contemporary art venue that supports research and production of new work for artists, filmmakers, writers, musicians, curators, designers and thinkers from around the world. Since 2008, FIA has brought some of the most exciting, emerging and renowned artists of today to Fogo Island, Newfoundland, Canada to take part in residencies and to present solo exhibitions at the Fogo Island Gallery. Combining contemporary art, iconic architecture and social innovation in a singular setting, FIA is a world-class institution that is uniquely rooted in community. Fogo Island Arts is an initiative of the Shorefast Foundation, a registered charity dedicated to improving the social, cultural and economic conditions on Fogo Island and other small places around the world.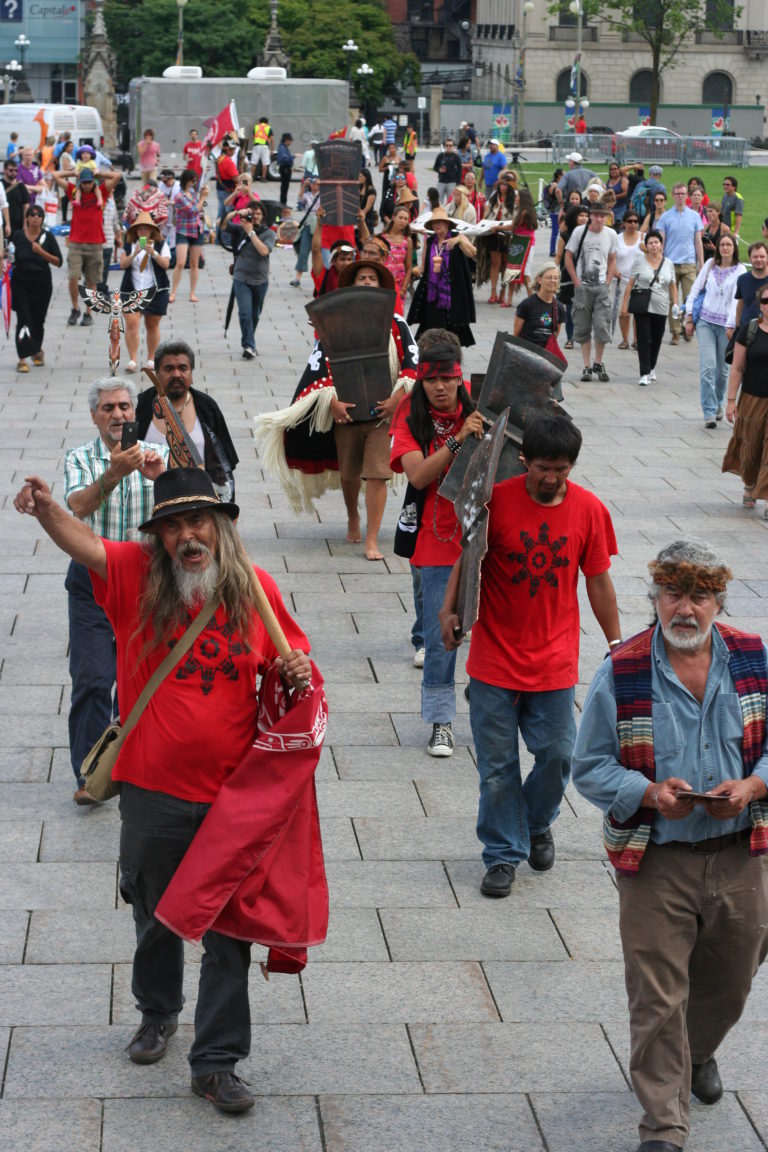 Beau Dick during the copper-breaking ceremony on Parliament Hill, Ottawa, July 27, 2014. Photo: Sue Heal

Organized by Morris and Helen Belkin Art Gallery ;; UBC Department of Art History, Visual Art and Theory
Beau Dick

Presenter

Linnea Dick

Presenter

Candice Hopkins

Presenter

Nicolaus Schafhausen

Presenter

Monika Szewczyk

Presenter