We are saddened by the passing of architect Peter Cardew, who died on October 26, 2020. We will remember Peter for his indelible impact on the city, and to us especially, for his innovative, sensitive and quietly dignified design of the Belkin (1995).
After graduating from the Kingston School of Art Department of Architecture in London and working in the office of Max Bächer in Stuttgart, Cardew immigrated to Canada in 1966. Through his work with Rhone & Iredale Architects and later his eponymous practice, Peter Cardew Architects, he designed some of our most well-loved and well-respected spaces, including the Crown Life Tower (1978-80), the Stone Band School in the Chilcotin (1991) and the Odlum Drive Live-Work Studios (1999). In addition to his own practice, Cardew was a dedicated participant in Vancouver's design discussions, contributing regularly on civic design panels and on student committees and critiques at UBC's School of Architecture and Landscape Architecture. Cardew was the recipient of numerous awards throughout his career, including the RAIC Lieutenant Governor Award for the Belkin in 1999 and the RAIC Gold Medal in 2012.

Of the Belkin, George Wagner wrote on its opening in 1995, "One of the most notable aspects of the Belkin Gallery is its introversion, the virtual severance of the interior spatial experience from the exterior form. … Director Scott Watson sees this quality as reflecting the marginalized status of contemporary art in our culture, admiring in the building 'a dignified pessimism, a truthful seriousness which allows us to go on.'" On the occasion of Cardew's RAIC Gold Medal, Watson recalled that the choice to engage him as the building's architect was clear: "Peter exemplified the ethical, philosophical and political understanding of architecture that we call Modernism" and prevailed over UBC's sometimes challenging bureaucracy with "unfailing charm, patience and level-headedness."
Our thoughts and sincere condolences are with Peter's family, friends and colleagues – we are honoured to work in one of his buildings.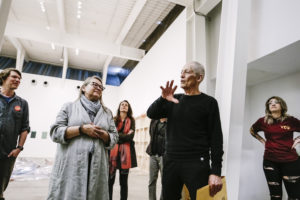 Photos (from top): Jared Korb; Timothy Hursley; sketch by Peter Cardew; Jared Korb.