Gerry Ambers

Artist

Carl Beam

Artist

Rebecca Belmore

Artist

A member of Lac Seul First Nation (Anishinaabe), Rebecca Belmore is an internationally recognized multidisciplinary artist currently residing in Toronto. Rooted in the political and social realities of Indigenous communities, Belmore's works make evocative connections among bodies, land and language. Her exhibitions: include Biinjiya'iing Onji (From Inside), documenta 14 (2017); KWE: The Work of Rebecca Belmore, Justina M. Barnicke Gallery (2011); Rebecca Belmore: Rising to the Occasion, Vancouver Art Gallery (2008); and Fountain, Venice Biennale (2005). Performances include: Facing the Monumental (2012); Victorious (2011); X (2010); Vigil (2002); Wild (2001), and Creation or Death We Will Win (1991). Belmore's sculptures and installations include Wave Sound, Parks Canada, 2017; Trace, Canadian Museum for Human Rights (2014), and Ayum-ee-aawach Oomama-mowan: Speaking to Their Mother, (performances 1991, 1992, 1996 and 2008). Belmore received the Governor General's Award in Visual and Media Arts in 2013, the Hnatyshyn Visual Arts Award in 2009, the Jack and Doris Shadbolt Foundation's VIVA Award in 2004, and Honorary Doctorates from Emily Carr (2017) and OCADU (2005). Also in 2005, she was Canada's official representative at the Venice Biennale. In 2016, Rebecca was awarded the prestigious Gershon Iskowitz Prize by the Gershon Iskowitz Foundation in partnership with the Art Gallery of Ontario.

Read More

Chris Bose

Artist

Cathy Busby

Artist

Joane Cardinal-Schubert

Artist

Beau Dick

Artist

Faye HeavyShield

Artist

Lisa Jackson

Artist

Alex Janvier and Norval Morrisseau

Artist

Gina Laing

Artist

Peter Morin

Artist

Jamasie Pitseolak

Artist

Skeena Reece

Artist

Skeena Reece is a Tsimshian/Gitksan and Cree artist based on the West Coast of British Columbia. She has garnered national and international attention most notably for Raven: On the Colonial Fleet (2010) her installation and performance work presented at the 2010 Sydney Biennale as part of the group exhibition Beat Nation. Her multi-disciplinary practice includes performance art, spoken word, humour, "sacred clowning," writing, singing, songwriting, video and visual art. She studied media arts at Emily Carr Institute of Art and Design, and was the recipient of the British Columbia Award for Excellence in the Arts (2012), the VIVA Award (2014) and the Hnyatshyn Award (2017). For her work on Savage (2010) in collaboration with Lisa Jackson, Reece won a Genie Award for Best Acting in a Short Film and the film won a Golden Sheaf Award for Best Multicultural Film, ReelWorld Outstanding Canadian Short Film, Leo Awards for Best Actress and Best Editing. Recent exhibitions include The Sacred Clown & Other Strangers (2015) at Urban Shaman Contemporary Aboriginal Art, Winnipeg, Moss (2017) at Oboro Gallery, Montreal, Sweetgrass and Honey (2018) at Plug In ICA, Winnipeg and at the Comox Valley Art Gallery (2018).

Read More

Sandra Semchuk and James Nicholas

Artist

Henry Speck

Artist

Adrian Stimson

Artist

Tania Willard

Artist

Lawrence Paul Yuxweluptun

Artist

Geoffrey Carr, Curator

Curator

Dana Claxton

Curator

Dana Claxton (Lakota, Canadian, b.1959) is a multidisciplinary artist born in Yorkton, Saskatchewan and based in Vancouver. Drawing on Lakota cultural values, history and language, Claxton questions the multifaceted layers of identity inherent to indigenous ways of being. Issues surrounding indigenous labour and resistance, resource extraction and capital feature prominently in her latest research and work on the Service, Office and Retail Worker's Union of Canada's (SORWUC's) 1978 protest action against the Muckamuck Restaurant.

Claxton's work has been shown internationally at the Museum of Modern Art (NYC), Walker Art Centre, Sundance Film Festival, Eiteljorg Museum, and the Museum of Contemporary Art (Sydney), and held in several major Canadian public collections. Her awards include the VIVA Award and the Eiteljorg Fellowship. Her work was selected for the Sydney Biennial (2010), Biennale de Montréal (2007), Biennale d'art contemporain du Havre, France (2006), Micro Wave, Hong Kong (2005) Art Star Biennale, Ottawa (2005), and Wro 03 Media Arts Biennale Wroclaw Poland (2003).

Read More

Tarah Hogue, Curator

Curator

Shelly Rosenblum

Curator

Shelly Rosenblum is Curator of Academic Programs at the Belkin. Inaugurating this position at the Belkin, Rosenblum's role is to develop programs that increase myriad forms of civic and academic engagement at UBC, the wider Vancouver community and beyond. Rosenblum received her PhD at Brown University and has taught at Brown, Wesleyan and UBC. Her awards include fellowships from the Center for the Humanities, Wesleyan University and a multi-year Presidential Postdoctoral Research Fellowship, Department of English, UBC. She was selected for the Summer Leadership Institute of the Association of Academic Museums and Galleries at the Kellogg School of Management, Northwestern University (2014). Her research interests include issues in contemporary art and museum theory, discourses of the Black Atlantic, critical theory, narrative and performativity. Her teaching covers the 17th to the 21st centuries. She remains active in professional associations related to academic museums and cultural studies, attending international conferences and workshops, and recently completing two terms (six years) on the Board of Directors at the Western Front, Vancouver, including serving as Board President. At UBC, Rosenblum is an Affiliate of the Peter Wall Institute for Advanced Studies.

Read More

Charlotte Townsend-Gault, Curator

Curator

Keith Wallace, Curator

Curator

Scott Watson, Curator

Curator
Witnesses: Art and Canada's Indian Residential Schools presents artists who have produced work arising from the history of Indian Residential Schools in Canada and coincides with, but is independent from, the Truth and Reconciliation Commission of Canada National Event that will take place in Vancouver from September 18 to 21, 2013. The exhibition features artists from British Columbia and across Canada, and is cross-generational to include those who directly experienced Indian Residential Schools as well as those who are witnesses to its ongoing impact. There is a sense in which we all must be witnesses. Witnesses aims to contribute to the education of the public about Indian Residential Schools, to illustrate how this issue has become embedded in Canadian art history and to demonstrate the strong social and cultural capacity of art. Combined, the works in the exhibition represent a convergence of various voices addressing this often difficult aspect of Canada's colonial history.
The exhibition includes iconic historical works by artists such as Joane Cardinal-Schubert, Alex Janvier and Norval Morrisseau, as well as more recent work and special commissions by some of Canada's most respected contemporary artists. Works have been sourced from across Canada and borrowed from artists, collectors and museums. Other artists include Gerry Ambers, Carl Beam, Rebecca Belmore, Chris Bose, Cathy Busby, Beau Dick, Faye HeavyShield, Lisa Jackson, Gina Laing, Peter Morin, Jamasie Pitseolak, Skeena Reece, Sandra Semchuk and James Nicholas, Henry Speck, Adrian Stimson, Tania Willard and Lawrence Paul Yuxweluptun. Public and educational programming will include guided tours, lectures, artist talks, performances and online programs.
Witnesses is curated by Geoffrey Carr, Dana Claxton, Tarah Hogue, Shelly Rosenblum, Charlotte Townsend-Gault, Keith Wallace and Scott Watson. This project is made possible with the generous support of the Audain Foundation, the Vancouver Foundation, the Canada Council for the Arts, The Leon and Thea Koerner Foundation, the British Columbia Arts Council and our Belkin Curator's Forum members. We gratefully acknowledge the support of the UBC Hampton Fund.
Health Supports: Working with Residential School history can be very stressful. If you encounter distress, resources are available. Please click here to learn more or call 1-866-925-4419 to access the Indian Residential Schools Crisis Line.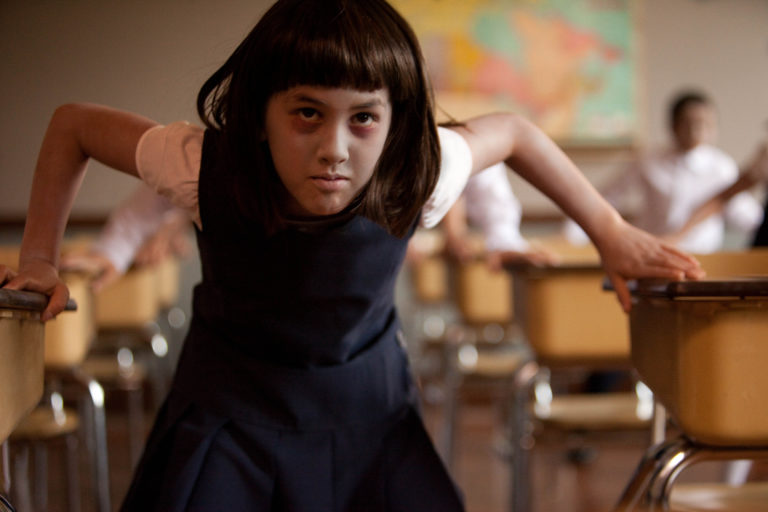 Lisa Jackson, Savage (video), 2009.
Production-still photo: Kris Krüg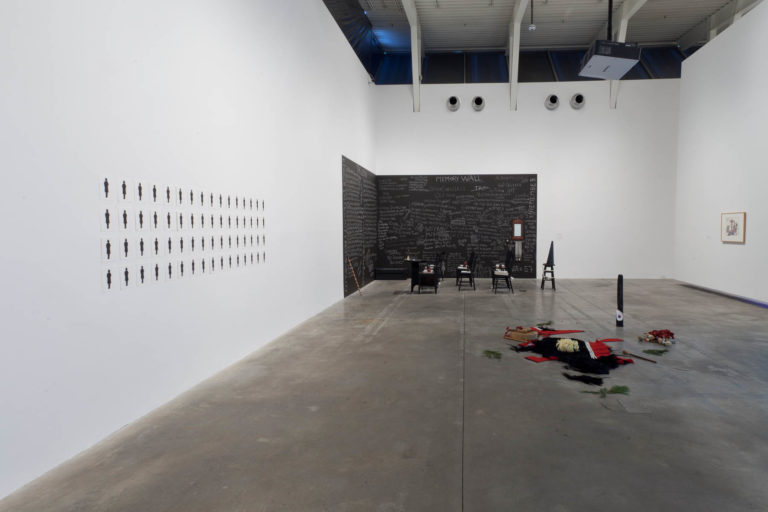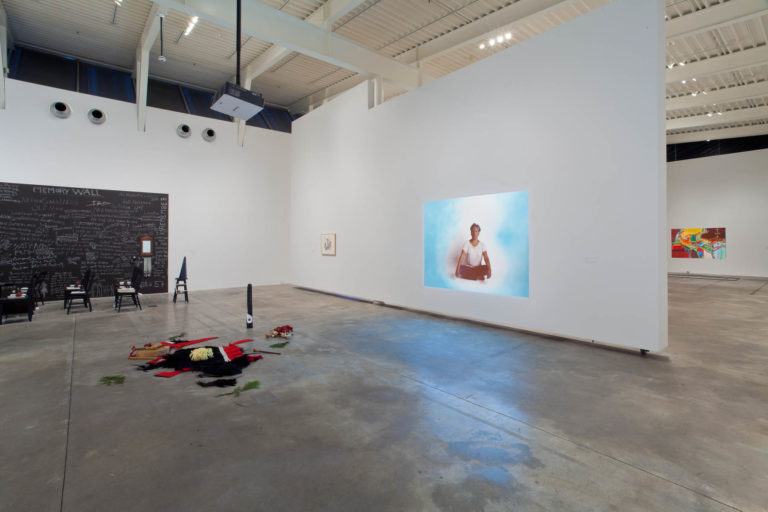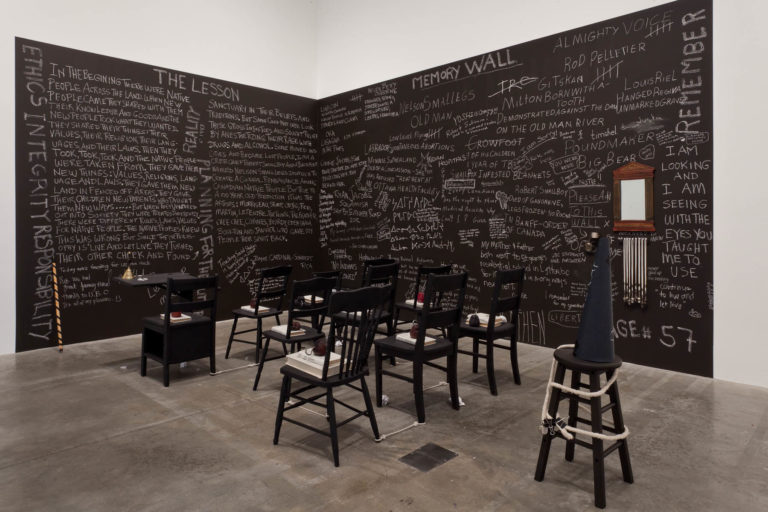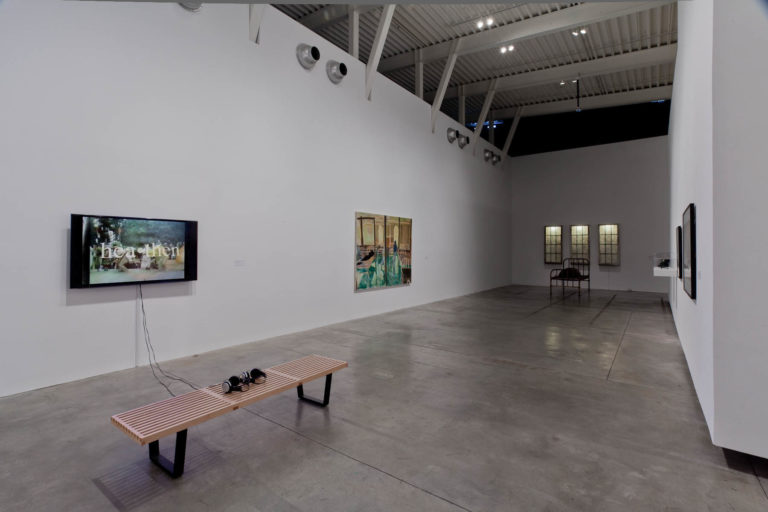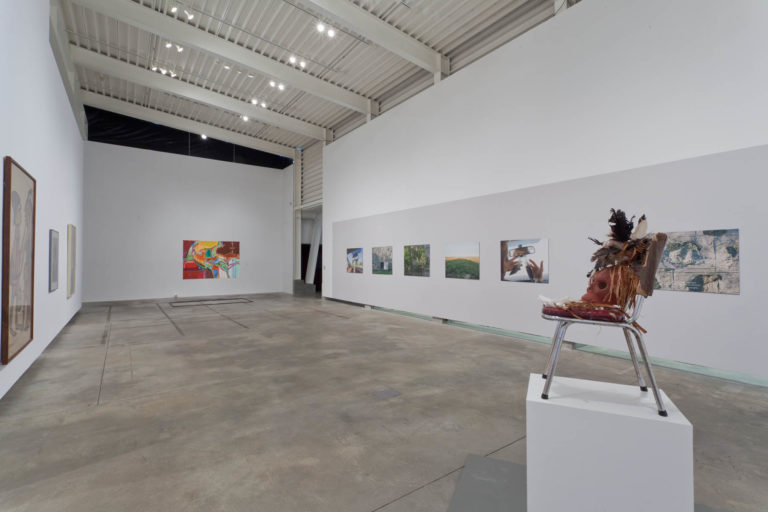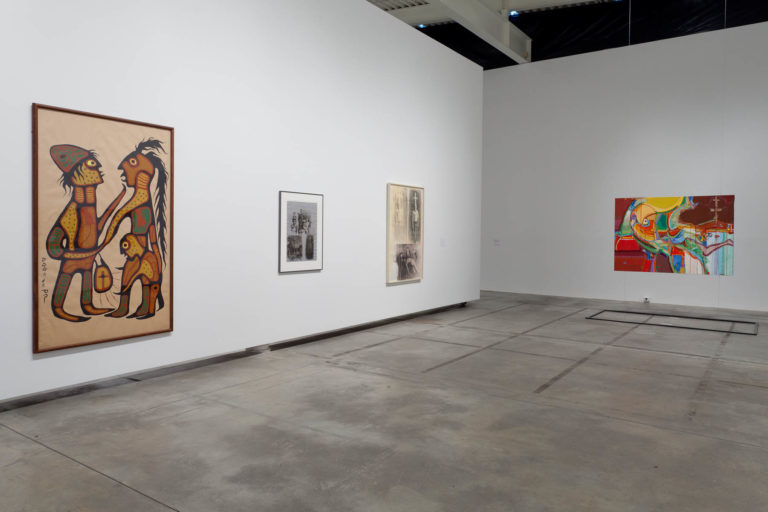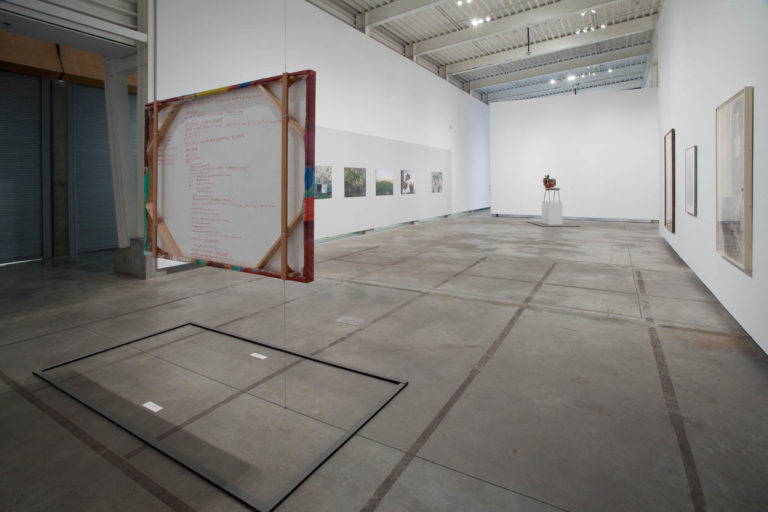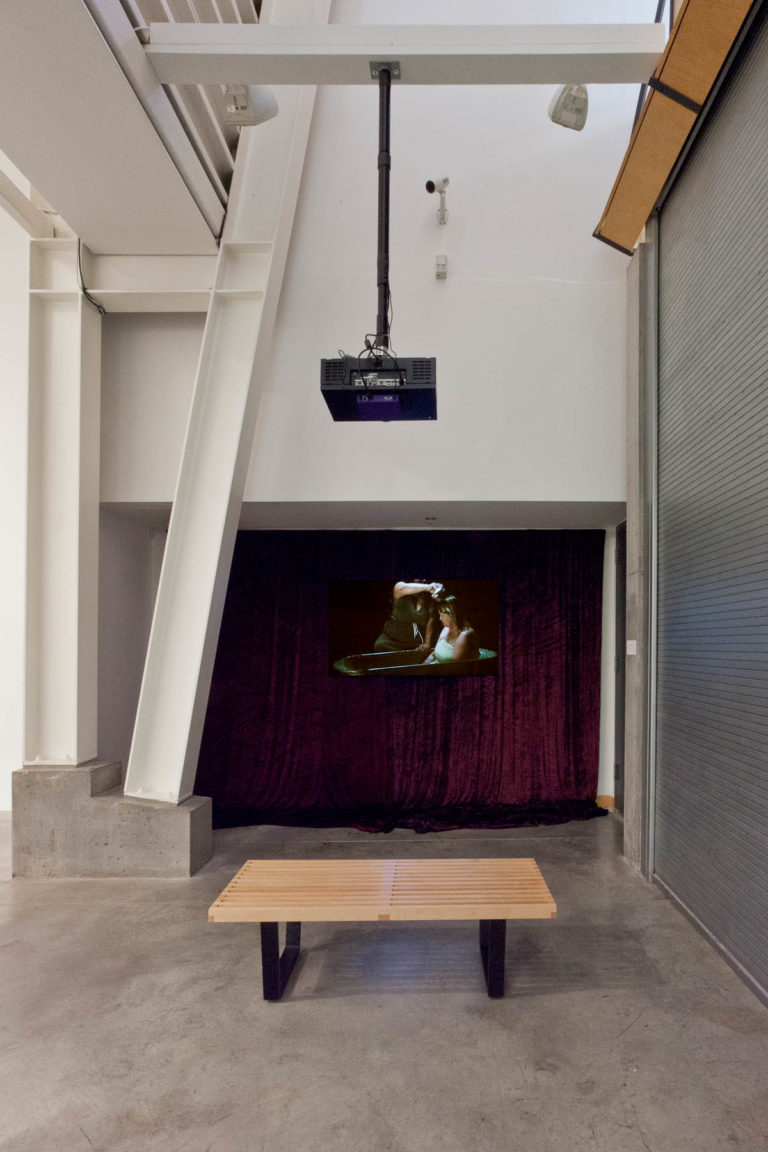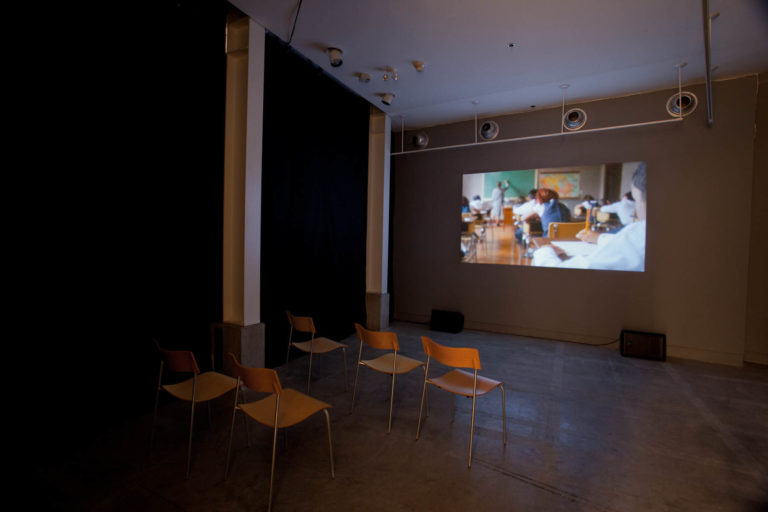 Installation view, Witnesses: Art and Canada's Indian Residential Schools at the Morris and Helen Belkin Art Gallery, September 6-December 1, 2013. Photos: Michael R. Barrick
Gerry Ambers

Artist

Carl Beam

Artist

Rebecca Belmore

Artist

A member of Lac Seul First Nation (Anishinaabe), Rebecca Belmore is an internationally recognized multidisciplinary artist currently residing in Toronto. Rooted in the political and social realities of Indigenous communities, Belmore's works make evocative connections among bodies, land and language. Her exhibitions: include Biinjiya'iing Onji (From Inside), documenta 14 (2017); KWE: The Work of Rebecca Belmore, Justina M. Barnicke Gallery (2011); Rebecca Belmore: Rising to the Occasion, Vancouver Art Gallery (2008); and Fountain, Venice Biennale (2005). Performances include: Facing the Monumental (2012); Victorious (2011); X (2010); Vigil (2002); Wild (2001), and Creation or Death We Will Win (1991). Belmore's sculptures and installations include Wave Sound, Parks Canada, 2017; Trace, Canadian Museum for Human Rights (2014), and Ayum-ee-aawach Oomama-mowan: Speaking to Their Mother, (performances 1991, 1992, 1996 and 2008). Belmore received the Governor General's Award in Visual and Media Arts in 2013, the Hnatyshyn Visual Arts Award in 2009, the Jack and Doris Shadbolt Foundation's VIVA Award in 2004, and Honorary Doctorates from Emily Carr (2017) and OCADU (2005). Also in 2005, she was Canada's official representative at the Venice Biennale. In 2016, Rebecca was awarded the prestigious Gershon Iskowitz Prize by the Gershon Iskowitz Foundation in partnership with the Art Gallery of Ontario.

Read More

Chris Bose

Artist

Cathy Busby

Artist

Joane Cardinal-Schubert

Artist

Beau Dick

Artist

Faye HeavyShield

Artist

Lisa Jackson

Artist

Alex Janvier and Norval Morrisseau

Artist

Gina Laing

Artist

Peter Morin

Artist

Jamasie Pitseolak

Artist

Skeena Reece

Artist

Skeena Reece is a Tsimshian/Gitksan and Cree artist based on the West Coast of British Columbia. She has garnered national and international attention most notably for Raven: On the Colonial Fleet (2010) her installation and performance work presented at the 2010 Sydney Biennale as part of the group exhibition Beat Nation. Her multi-disciplinary practice includes performance art, spoken word, humour, "sacred clowning," writing, singing, songwriting, video and visual art. She studied media arts at Emily Carr Institute of Art and Design, and was the recipient of the British Columbia Award for Excellence in the Arts (2012), the VIVA Award (2014) and the Hnyatshyn Award (2017). For her work on Savage (2010) in collaboration with Lisa Jackson, Reece won a Genie Award for Best Acting in a Short Film and the film won a Golden Sheaf Award for Best Multicultural Film, ReelWorld Outstanding Canadian Short Film, Leo Awards for Best Actress and Best Editing. Recent exhibitions include The Sacred Clown & Other Strangers (2015) at Urban Shaman Contemporary Aboriginal Art, Winnipeg, Moss (2017) at Oboro Gallery, Montreal, Sweetgrass and Honey (2018) at Plug In ICA, Winnipeg and at the Comox Valley Art Gallery (2018).

Read More

Sandra Semchuk and James Nicholas

Artist

Henry Speck

Artist

Adrian Stimson

Artist

Tania Willard

Artist

Lawrence Paul Yuxweluptun

Artist

Geoffrey Carr, Curator

Curator

Dana Claxton

Curator

Dana Claxton (Lakota, Canadian, b.1959) is a multidisciplinary artist born in Yorkton, Saskatchewan and based in Vancouver. Drawing on Lakota cultural values, history and language, Claxton questions the multifaceted layers of identity inherent to indigenous ways of being. Issues surrounding indigenous labour and resistance, resource extraction and capital feature prominently in her latest research and work on the Service, Office and Retail Worker's Union of Canada's (SORWUC's) 1978 protest action against the Muckamuck Restaurant.

Claxton's work has been shown internationally at the Museum of Modern Art (NYC), Walker Art Centre, Sundance Film Festival, Eiteljorg Museum, and the Museum of Contemporary Art (Sydney), and held in several major Canadian public collections. Her awards include the VIVA Award and the Eiteljorg Fellowship. Her work was selected for the Sydney Biennial (2010), Biennale de Montréal (2007), Biennale d'art contemporain du Havre, France (2006), Micro Wave, Hong Kong (2005) Art Star Biennale, Ottawa (2005), and Wro 03 Media Arts Biennale Wroclaw Poland (2003).

Read More

Tarah Hogue, Curator

Curator

Shelly Rosenblum

Curator

Shelly Rosenblum is Curator of Academic Programs at the Belkin. Inaugurating this position at the Belkin, Rosenblum's role is to develop programs that increase myriad forms of civic and academic engagement at UBC, the wider Vancouver community and beyond. Rosenblum received her PhD at Brown University and has taught at Brown, Wesleyan and UBC. Her awards include fellowships from the Center for the Humanities, Wesleyan University and a multi-year Presidential Postdoctoral Research Fellowship, Department of English, UBC. She was selected for the Summer Leadership Institute of the Association of Academic Museums and Galleries at the Kellogg School of Management, Northwestern University (2014). Her research interests include issues in contemporary art and museum theory, discourses of the Black Atlantic, critical theory, narrative and performativity. Her teaching covers the 17th to the 21st centuries. She remains active in professional associations related to academic museums and cultural studies, attending international conferences and workshops, and recently completing two terms (six years) on the Board of Directors at the Western Front, Vancouver, including serving as Board President. At UBC, Rosenblum is an Affiliate of the Peter Wall Institute for Advanced Studies.

Read More

Charlotte Townsend-Gault, Curator

Curator

Keith Wallace, Curator

Curator

Scott Watson, Curator

Curator
Funders
Audain Foundation

Vancouver Foundation

Canada Council for the Arts

The Leon and Thea Koerner Foundation

the British Columbia Arts Council

Belkin Curator's Forum members

UBC Hampton Fund