Henri Chopin

Artist

Robert Filliou

Artist

Brion Gysin

Artist

Ray Johnson

Artist

Alison Knowles

Artist

Walter Marchetti

Artist

John Mitchell

Artist

Carolee Schneemann

Artist

Vincent Trasov

Artist

An important Canadian conceptual artist and a leader in the avant-garde community, Vincent Trasov (b. 1947, Edmonton, AB) is a painter, video and performance artist. His work is often media-based and collaborative in spirit, involved with developing networks. In 1969 he founded Image Bank with Michael Morris, a method for personal exchange of information amongst artists. Trasov has made videotapes since 1971. In 1973, Trasov co-founded and co-directed the Western Front Society, an artist-run centre for the production and presentation of new art activity. Trasov gained international prominence with his performance as Mr. Peanut (in a Planter's Peanut costume), an official candidate for Mayor of Vancouver in 1974. The Mr. Peanut role was intended as, amongst other things, a commentary about the perceived merging of art and politics. In 1981, he was invited to Berlin with Michael Morris as guest of Berliner Kunstlerprogramm, DAAD. He and Morris founded the Morris/Trasov Archive in 1990, housed at the Morris and Helen Belkin Art Gallery, to research contemporary art and communication. Trasov has had numerous international exhibitions and is represented in public and private collections in both Europe and North America. He presently resides in Berlin and Vancouver.

Read More

Ben Vautier

Artist

Emmett Williams

Artist
This chance to view recent additions to the Belkin Art Gallery Collection has been thematically organized into the following three exhibitions:
Mr. Peanut Mayoralty Campaign, 1974
In 1974, Vincent Trasov and John Mitchell entered Mr. Peanut, Trasov's art persona, in the campaign for Mayor of Vancouver. As an intervention of art and its functions into a real socio-political landscape, the Mr. Peanut Mayoralty Campaign is a landmark work of Canadian conceptual performance art. The Belkin Art Gallery has recently purchased the Mr. Peanut costume and an edition of 18 mixed media objects from the campaign. Included in the exhibition are works and documents from the Morris/Trasov Archive. The exhibition is being prepared to travel in 2002.
In the Spirit of Fluxus
The Fluxus Movement began in the 1950s as a self-proclaimed "last avant-garde." The movement is now being re-evaluated as the radical "other" of the embrace of commodity fetishism and celebrity offered by Pop Art in the 1960s. The Belkin Gallery has recently acquired works by Alison Knowles and Carolee Schneemann. These will be shown with a video document on Knowles which has been produced by the Belkin Art Gallery and the Western Front. In addition, we will include works in the collection by Robert Filliou, Ray Johnson, Walter Marchetti, Ben Vautier, and Emmett Williams.
Henri Chopin and Brion Gysin
This exhibition provides a glimpse into the development of Concrete Poetry through the print works and archival materials in the Collection of the Belkin Art Gallery. Chopin, a Frenchman, and Gysin, an American, lived and worked between Paris and London in the 1950s and 1960s. Through their literary and plastic experiments, such as contributions to the French publication ReviewOU, a key platform for Concrete Poetry, both artists were integral to this early form of multi-media communication.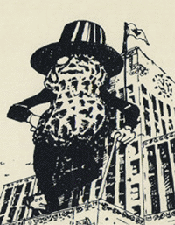 Robert Cumming, Mr. Peanut at City Hall.
Detail of cover illustration for The Rise and Fall of the Peanut Party.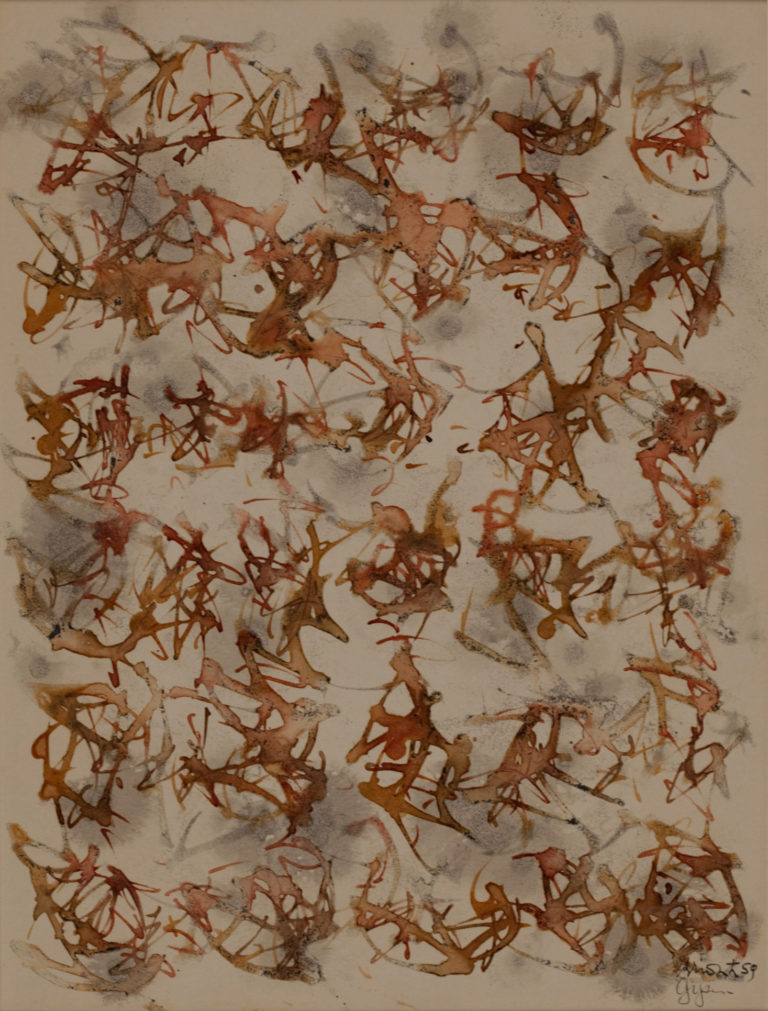 Brion Gysin, Untitled, 1959. Ink wash on paper and matboard, 34.5 x 26.2 cm.
Henri Chopin

Artist

Robert Filliou

Artist

Brion Gysin

Artist

Ray Johnson

Artist

Alison Knowles

Artist

Walter Marchetti

Artist

John Mitchell

Artist

Carolee Schneemann

Artist

Vincent Trasov

Artist

An important Canadian conceptual artist and a leader in the avant-garde community, Vincent Trasov (b. 1947, Edmonton, AB) is a painter, video and performance artist. His work is often media-based and collaborative in spirit, involved with developing networks. In 1969 he founded Image Bank with Michael Morris, a method for personal exchange of information amongst artists. Trasov has made videotapes since 1971. In 1973, Trasov co-founded and co-directed the Western Front Society, an artist-run centre for the production and presentation of new art activity. Trasov gained international prominence with his performance as Mr. Peanut (in a Planter's Peanut costume), an official candidate for Mayor of Vancouver in 1974. The Mr. Peanut role was intended as, amongst other things, a commentary about the perceived merging of art and politics. In 1981, he was invited to Berlin with Michael Morris as guest of Berliner Kunstlerprogramm, DAAD. He and Morris founded the Morris/Trasov Archive in 1990, housed at the Morris and Helen Belkin Art Gallery, to research contemporary art and communication. Trasov has had numerous international exhibitions and is represented in public and private collections in both Europe and North America. He presently resides in Berlin and Vancouver.

Read More

Ben Vautier

Artist

Emmett Williams

Artist