Mr. Peanut

Artist

Vincent Trasov

Artist

Keith Wallace, Curator

Curator
Between 1969 and 1974, Vancouver artist Vincent Trasov assumed the persona of the well-known Planters product logo Mr. Peanut as the framework for an ongoing performance art project. Trasov collected all things peanut and made drawings, photocopies, collages, photographs, videos, sculptures, and ceramics to illustrate how pervasive and potent the image of Mr. Peanut was in popular culture. In his most literal manifestation of Mr. Peanut, Trasov even constructed a human-sized costume that he would wear as he walked through the city, frolicked in nature, or performed on stage playing his violin and tap dancing with the Peanettes. This anthropomorphic animation of Mr. Peanut made its way across Canada, the United States, and into performance art history.
Perhaps his most broadly public project was the Mr. Peanut Campaign for Mayor in 1974 that he devised with fellow artist John Mitchell. Mr. Peanut registered as a candidate for Mayor of Vancouver in the civic elections and attended campaign debates and meetings, interacted with the public, gave press interviews, and was formally endorsed by the notorious author William Burroughs.
In his campaign, Mr. Peanut stood as a symbol for artists and their artistic aspirations, and another fellow artist, Michael Morris, outlined the campaign platform: P for performance, E for elegance, A for art, N for nonsense, U for uniqueness, and T for talent. The campaign motto was "Elect a nut for Mayor," and Trasov's performance brought Vancouver to national and international attention and received features in Esquire magazine and Andy Warhol's Interview magazine.
This exhibition, which consists of photographs, press material, and ephemera representing the campaign, is timed to coincide with the Vancouver municipal election that takes place on November 15, 2014. Mr. Peanut takes us back to a time forty years ago when humour and irreverence could intervene into the civic bureaucracy—several candidates were not pleased with the attention he garnered—and hopefully will inspire us to think about the importance of participating in the democratic process. While Mr. Peanut did not succeed in becoming Mayor, he did garner a respectable 3.4 percent of the vote.
This exhibition is a collaboration between the Morris and Helen Belkin Art Gallery and the Walter C. Koerner Library at the University of British Columbia, and is made possible with the generous support of the Audain Foundation. Art in the Library offers new perspectives on contemporary art by presenting art that questions our current perceptions about the world around us.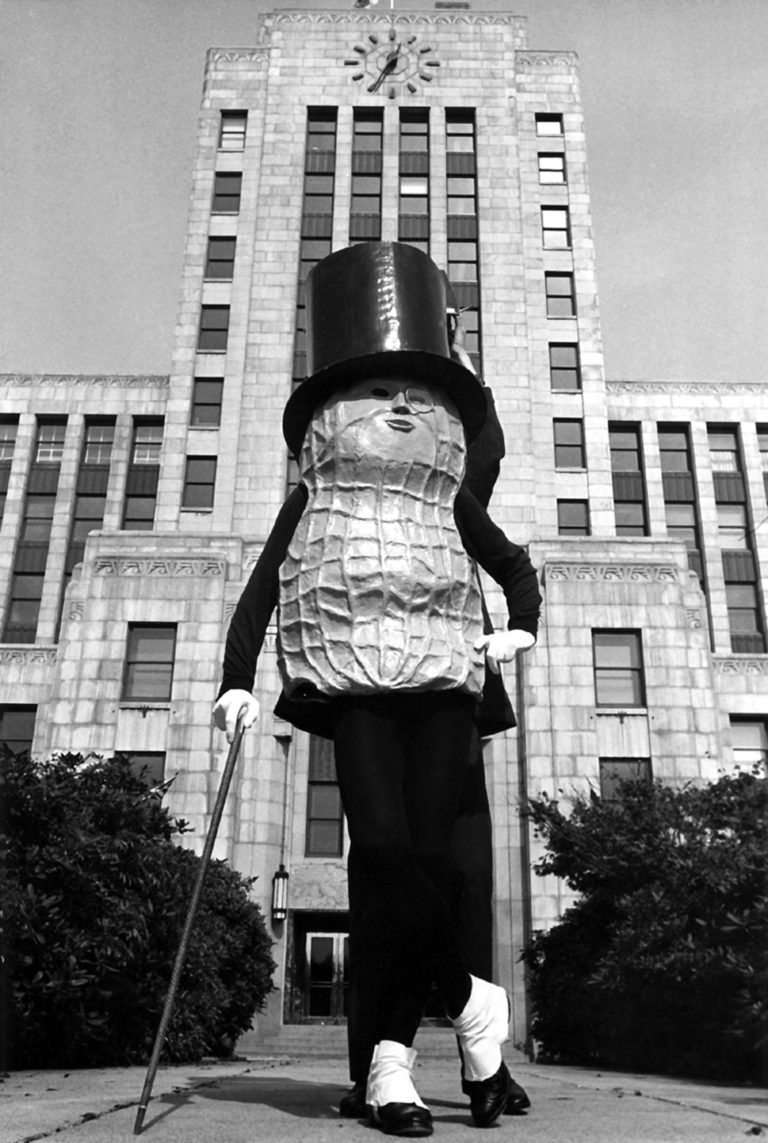 Taki Bluesinger, Mr. Peanut in front of City Hall, 1974, photograph. Collection of the Morris and Helen Belkin Art Gallery Archives.
Mr. Peanut

Artist

Vincent Trasov

Artist

Keith Wallace, Curator

Curator