Judy Radul

Artist

Scott Watson, Curator

Curator
World Rehearsal Court, a solo exhibition of new work by Vancouver artist Judy Radul, is a large-scale media installation. This work draws on Radul's research into the role of theatricality and new technologies in the court of law and it questions the distinctions between experience, testimony, truth and fiction that the law attempts to make distinct. World Rehearsal Court addresses the complexities of real-life experience that the court compresses into written record.
In one aspect of the installation, a seven-channel video work presents a series of courtroom vignettes based on trial transcripts from International Criminal Tribunals. Using a six-camera apparatus to videotape the proceedings, the work takes up the rigidity of the traditional court environment, a theatre where the physical arrangement of the players (judge, defense, prosecution) reflects their roles. In contrast to these pre-recorded court scenes, the other part of the installation is comprised of a series of computer-controlled live cameras that feed to an array of monitors. This use of real-time makes the Gallery a theatrical and cinematic space.
For the research of this work, Radul traveled to The Hague to observe trials at the Special Court for Sierra Leone and the International Criminal Tribunal for the former Yugoslavia. The installation draws upon the artist's previous work such as Downe's Point (2005), that explores the spatial architecture that sight through a camera lens creates. World Rehearsal Court also shares an interest in blind spots and the inarticulable aspects of representation that were explored through the use of blind actors in Describe Video (2007).
An online exhibition catalogue will be available in spring 2010 and will include contributions by Costas Douzinas, Professor of Law and Director of the Birkbeck Institute for the Humanities, University of London, London and Anselm Franke, Artistic Director, Extra City Center for Contemporary Art, Antwerp.
This project is supported by the Social Sciences and Humanities Research Council Creation Grants in Fine Arts, the Canada Council for the Arts, the British Columbia Arts Council, BAK basis voor actuele kunst, Utrecht, and the Western Front Media Arts Artist-in-Residence Program, Vancouver. Anselm Franke's presentation is part of the UBC Curatorial Lecture Series.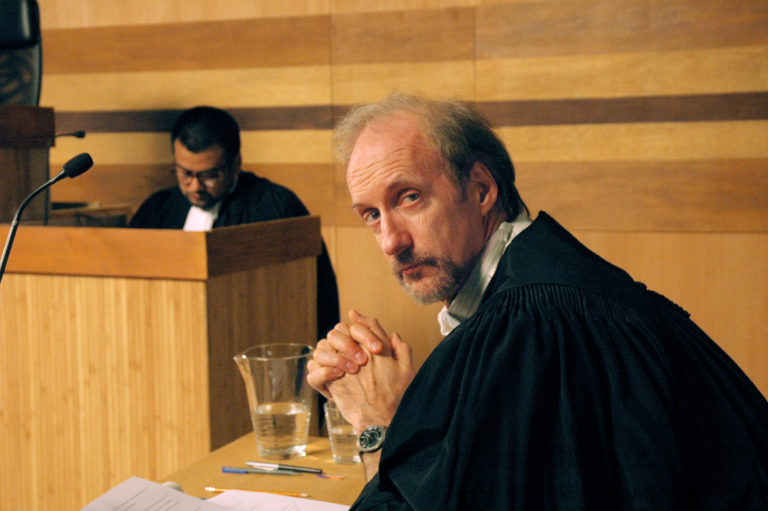 Judy Radul, World Rehearsal Court, 2009.
Seven channel video installation, running time 4 hours; Four servo-controlled video cameras, live camera position playback system, twelve monitors, dolly, track, found and built objects, plexiglass.
(Production still) Naufus Ramirez-Figueroa as the Registrar and Peter Anderson as the Prosecution.
Judy Radul

Artist

Scott Watson, Curator

Curator
Funders
Social Sciences and Humanities Research Council Creation Grants in Fine Arts

The Canada Council for the Arts

The British Columbia Arts Council

BAK basis voor actuele kunst, Utrecht

Western Front Media Arts Artist-in-Residence Program, Vancouver