Jamelie Hassan

Artist

Scott Watson

Curator

Scott Watson (Canadian, b. 1950) is Director Emeritus and Research Fellow at the Morris and Helen Belkin Art Gallery, University of British Columbia. A curator whose career has spanned more than thirty-five years, Watson is internationally recognized for his research and work in curatorial and exhibition studies, contemporary art and issues, and art theory and criticism. His distinctions include the Hnatyshyn Foundation Award for Curatorial Excellence in Contemporary Art (2010); the Alvin Balkind Award for Creative Curatorship in BC Arts (2008) and the UBC Dorothy Somerset Award for Performance Development in the Visual and Performing Arts (2005). Watson has published extensively in the areas of contemporary Canadian and international art. His 1990 monograph on Jack Shadbolt earned the Hubert Evans Non-Fiction Prize in 1991. Recent publications include Letters: Michael Morris and Concrete Poetry (2015); Thrown: British Columbia's Apprentices of Bernard Leach and their Contemporaries (2011), a finalist for the 2012 Roderick Haig-Brown Regional Prize; "Race, Wilderness, Territory and the Origins of the Modern Canadian Landscape" and "Disfigured Nature" (in Beyond Wilderness, McGill University Press, 2007); and "Transmission Difficulties: Vancouver Painting in the 1960s" (in Paint, Vancouver Art Gallery, 2006).

Read More
Since the 1970s, Jamelie Hassan's work has been concerned with global histories, cultural politics and how these affect one at a local and on personal level. When Hassan was growing up in southwestern Ontario, her father often repeated a saying of the Prophet Muhammad: Seek knowledge even unto China. It promoted the importance of study, travel and first hand experience in understanding the world from different perspectives.
As Dot Tuer writes in the exhibition catalogue, "This saying is the textual anchor of [Hassan's] written wall-text work … in which she translates [the] saying into Mandarin and Arabic to read, 'seek knowledge even onto China.' This semantic play between 'unto' and 'onto' conjures a spatial configuration of knowledge and language that maps the place one speaks from onto the place one travels to and learns from."
This installation is a collaboration of the Morris and Helen Belkin Art Gallery and the Walter C. Koerner Library at The University of British Columbia. It is made possible by the generous support of the Audain Foundation. Art in the Library aims to open possibilities for interpretation and new perspectives on contemporary art by presenting art that challenges and questions our current perceptions.
More work by this artist is presented in the exhibition, Jamelie Hassan: At the Far Edge of Words at the Morris and Helen Belkin Art Gallery until August 22, 2010.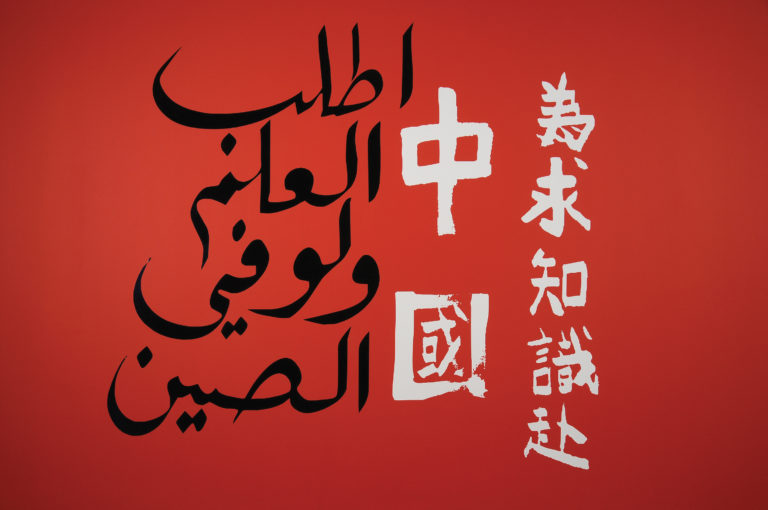 Jamelie Hassan, Seek Knowledge Even Onto China, 1993-95. Vinyl calligraphy and painted wall, varying dimensions. Collection of the artist.
Photo: John Tamblyn.
Jamelie Hassan

Artist

Scott Watson

Curator

Scott Watson (Canadian, b. 1950) is Director Emeritus and Research Fellow at the Morris and Helen Belkin Art Gallery, University of British Columbia. A curator whose career has spanned more than thirty-five years, Watson is internationally recognized for his research and work in curatorial and exhibition studies, contemporary art and issues, and art theory and criticism. His distinctions include the Hnatyshyn Foundation Award for Curatorial Excellence in Contemporary Art (2010); the Alvin Balkind Award for Creative Curatorship in BC Arts (2008) and the UBC Dorothy Somerset Award for Performance Development in the Visual and Performing Arts (2005). Watson has published extensively in the areas of contemporary Canadian and international art. His 1990 monograph on Jack Shadbolt earned the Hubert Evans Non-Fiction Prize in 1991. Recent publications include Letters: Michael Morris and Concrete Poetry (2015); Thrown: British Columbia's Apprentices of Bernard Leach and their Contemporaries (2011), a finalist for the 2012 Roderick Haig-Brown Regional Prize; "Race, Wilderness, Territory and the Origins of the Modern Canadian Landscape" and "Disfigured Nature" (in Beyond Wilderness, McGill University Press, 2007); and "Transmission Difficulties: Vancouver Painting in the 1960s" (in Paint, Vancouver Art Gallery, 2006).

Read More