Sol Hashemi

Sol Hashemi views his artworks as mushrooms popping up occasionally from a vast mycorrhizal web. His practice spans many niches, including foraging, woodworking, experimental product photography, stoneworking, cooking, organizing, conceptual floral design, writing, conversation, curating, brewing and the internet. Much as a network composed of fungi allows apparently isolated trees to communicate and share resources, Hashemi is interested in exploring how this relationship can exist through art. Solo exhibitions include Afterwards, What Comes Before is Different at James Harris Gallery (Seattle), Technical Support at Annarumma Gallery (Naples) and Software Update / System Build at The Henry Art Gallery (Seattle). He has also exhibited his work at Sculpture Center, the Portland Art Museum, Ditch Projects and Kunstverein Munchen. Hashemi was a founder of the art space Veronica and is a recipient of the Kayla Skinner Award from the Seattle Art Museum.

Read More

Martin Katzoff

Martin Katzoff is a printmaker and painter from Providence, Rhode Island.  Katzoff's etchings address mythology across ancient and modern cultural and religious contexts. His printmaking practice draws upon materials that shift into large abstract and surrealistic paintings reflecting catastrophic environmental events and human oddities. Katzoff's lyrical and immersive large-scale murals have been featured at the Freehand Hotel and Broken Shaker (New York, NY) and Stair Galleries (Hudson, NY). He is a graduate of Bard College and is currently an MFA candidate at the University of British Columbia.

Read More

Natalie Purschwitz

Natalie Purschwitz is an artist living and working on the traditional, ancestral and unceded territories of the xʷməθkʷəy̍əm (Musqueam), Sḵwx̱wú7mesh (Squamish) and Sel̓íl̓witulh (Tsleil-Waututh) people. Thinking about earth – as a complexity of materials, a location, a temporal range, a perspective, an intelligence, a system within systems, a geometric configuration, an embodiment of motion and a life-supporting loam – has become the primary substance of her research. She draws from personal experience, daily practice/observation and theoretical discourse to coax out relational clusters of meaning, correspondences and visual strands to form a matrix of interconnected nodes. Purschwitz has shown her work nationally and internationally at the Vancouver Art Gallery, Polygon Gallery (North Vancouver), Plug In ICA (Winnipeg), the Japanese Canadian National Museum (Burnaby), the McMichael Canadian Art Collection (Kleingburg, ON), the Prince Takamato Gallery (Tokyo, Japan), Canada House (London, UK) and AGX Galerie (Tehran, Iran).

Read More

Xan Shian

Xan Shian is an interdisciplinary artist and writer, and MFA candidate in the AHVA Department at UBC, whose practice uses the presence and absence of memory to question the corporeal tensions that manifest within her body. In this work, Xan examines how the Scottish and Gaelic folklores she grew up hearing help navigate the in-between spaces of personal, cultural and material encounter by seeking what is absent or unaccounted for. She has written for and shown works at spaces including the Polygon Gallery (Vancouver), Project Pangée (Montreal), the AHVA Gallery (UBC, Vancouver), and the Ou Gallery (Duncan). Xan makes art and lives as an uninvited guest on the traditional, ancestral and unceded territories of the xʷməθkwəy̓əm (Musqueam), Skwxwú7mesh (Squamish), and Səl̓ílwətaʔ/Selilwitulh (Tsleil-Waututh) Nations.

Read More

Dion Smith-Dokkie

Dion Smith-Dokkie is a visual artist and painter currently based in Vancouver, BC. Grounded in painting, he thinks about colour and light, interfaces, skins, screens, skies, and so forth. Dion has a BA in Humanities (Women's Studies) from the University of Victoria and a BFA in Painting and Drawing from Concordia University. He is a member of West Moberly First Nations, a Treaty 8 First Nation located in northeast British Columbia.

Read More
The Morris and Helen Belkin Art Gallery is pleased to present an exhibition of work by the 2021 graduates of the University of British Columbia's two-year Master of Fine Arts program: Sol Hashemi, Martin Katzoff, Natalie Purschwitz, Xan Shian and Dion Smith-Dokkie. This program in the Department of Art History, Visual Art and Theory is limited each year to a small group of four to six artists, who over the two years foster different sensibilities developed within an intimate and discursive working environment. We offer tours of the gallery for groups of up to five people. To request a tour, please email your preferred days and times to Public Programs.
This exhibition is presented with support from the Department of Art History, Visual Art and Theory at the University of British Columbia.
Image (above): Martin Katzoff, Reflections of Olana, 2021, oil on plywood, 121.9 x 243.8 cm. Courtesy of the artist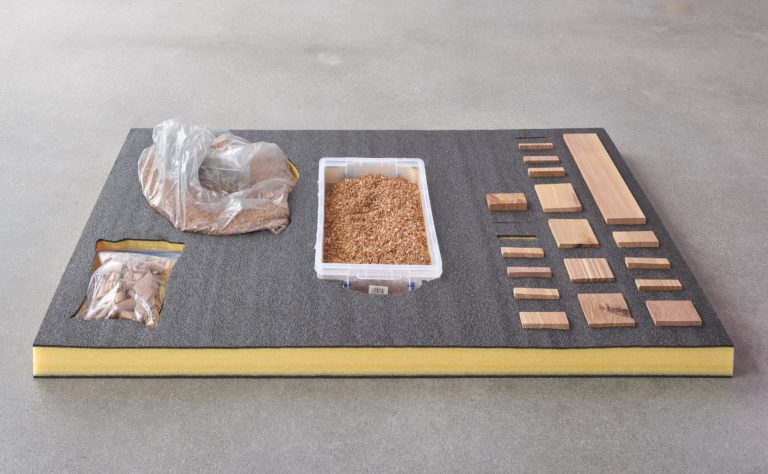 Sol Hashemi, Cedar Cart Offcuts in Kaizen Foam, 2020, cedar, plastic and Kaizen foam, 15 x 60 x 120 cm. Courtesy of the artist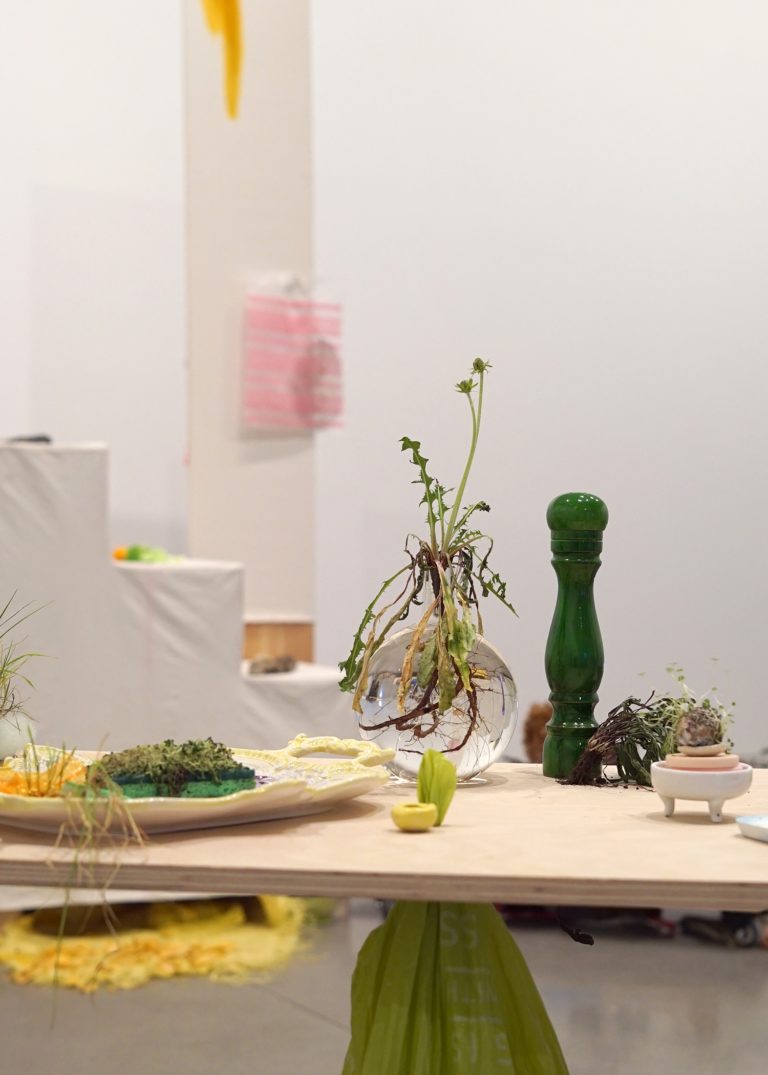 Natalie Purschwitz, Stalagmites (detail), 2020, evolving mixed media installation, variable dimensions. Courtesy of the artist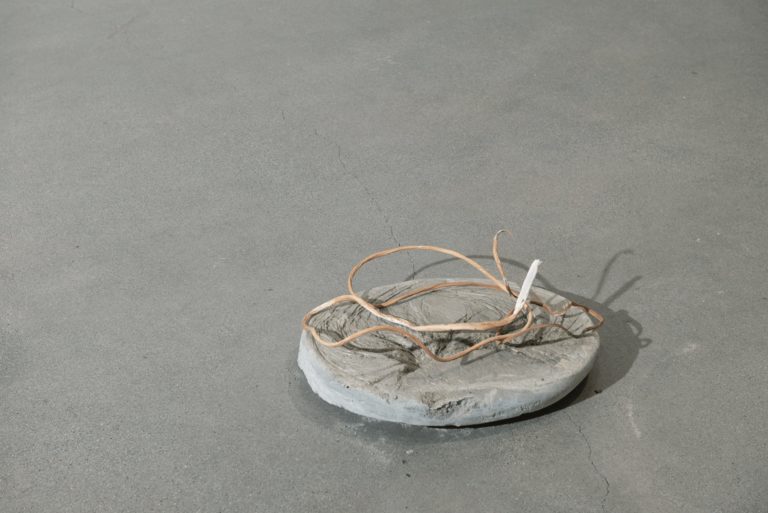 Xan Shian, Body from a series of irreversible reactions, 2020, dried kelp, concrete and latex, variable dimensions. Courtesy of the artist. Photo: Lewis Reid
Dion Smith-Dokkie, Islands with wings, 2020, oil on canvas, 91.4 x 203.2 cm. Courtesy of the artist.
Sol Hashemi

Sol Hashemi views his artworks as mushrooms popping up occasionally from a vast mycorrhizal web. His practice spans many niches, including foraging, woodworking, experimental product photography, stoneworking, cooking, organizing, conceptual floral design, writing, conversation, curating, brewing and the internet. Much as a network composed of fungi allows apparently isolated trees to communicate and share resources, Hashemi is interested in exploring how this relationship can exist through art. Solo exhibitions include Afterwards, What Comes Before is Different at James Harris Gallery (Seattle), Technical Support at Annarumma Gallery (Naples) and Software Update / System Build at The Henry Art Gallery (Seattle). He has also exhibited his work at Sculpture Center, the Portland Art Museum, Ditch Projects and Kunstverein Munchen. Hashemi was a founder of the art space Veronica and is a recipient of the Kayla Skinner Award from the Seattle Art Museum.

Read More

Martin Katzoff

Martin Katzoff is a printmaker and painter from Providence, Rhode Island.  Katzoff's etchings address mythology across ancient and modern cultural and religious contexts. His printmaking practice draws upon materials that shift into large abstract and surrealistic paintings reflecting catastrophic environmental events and human oddities. Katzoff's lyrical and immersive large-scale murals have been featured at the Freehand Hotel and Broken Shaker (New York, NY) and Stair Galleries (Hudson, NY). He is a graduate of Bard College and is currently an MFA candidate at the University of British Columbia.

Read More

Natalie Purschwitz

Natalie Purschwitz is an artist living and working on the traditional, ancestral and unceded territories of the xʷməθkʷəy̍əm (Musqueam), Sḵwx̱wú7mesh (Squamish) and Sel̓íl̓witulh (Tsleil-Waututh) people. Thinking about earth – as a complexity of materials, a location, a temporal range, a perspective, an intelligence, a system within systems, a geometric configuration, an embodiment of motion and a life-supporting loam – has become the primary substance of her research. She draws from personal experience, daily practice/observation and theoretical discourse to coax out relational clusters of meaning, correspondences and visual strands to form a matrix of interconnected nodes. Purschwitz has shown her work nationally and internationally at the Vancouver Art Gallery, Polygon Gallery (North Vancouver), Plug In ICA (Winnipeg), the Japanese Canadian National Museum (Burnaby), the McMichael Canadian Art Collection (Kleingburg, ON), the Prince Takamato Gallery (Tokyo, Japan), Canada House (London, UK) and AGX Galerie (Tehran, Iran).

Read More

Xan Shian

Xan Shian is an interdisciplinary artist and writer, and MFA candidate in the AHVA Department at UBC, whose practice uses the presence and absence of memory to question the corporeal tensions that manifest within her body. In this work, Xan examines how the Scottish and Gaelic folklores she grew up hearing help navigate the in-between spaces of personal, cultural and material encounter by seeking what is absent or unaccounted for. She has written for and shown works at spaces including the Polygon Gallery (Vancouver), Project Pangée (Montreal), the AHVA Gallery (UBC, Vancouver), and the Ou Gallery (Duncan). Xan makes art and lives as an uninvited guest on the traditional, ancestral and unceded territories of the xʷməθkwəy̓əm (Musqueam), Skwxwú7mesh (Squamish), and Səl̓ílwətaʔ/Selilwitulh (Tsleil-Waututh) Nations.

Read More

Dion Smith-Dokkie

Dion Smith-Dokkie is a visual artist and painter currently based in Vancouver, BC. Grounded in painting, he thinks about colour and light, interfaces, skins, screens, skies, and so forth. Dion has a BA in Humanities (Women's Studies) from the University of Victoria and a BFA in Painting and Drawing from Concordia University. He is a member of West Moberly First Nations, a Treaty 8 First Nation located in northeast British Columbia.

Read More