Andrea Fraser

Artist

Scott Watson, Curator

Curator

Scott Watson (Canadian, b. 1950) is Director of the Morris and Helen Belkin Art Gallery and Professor in the Department of Art History, Visual Art and Theory at the University of British Columbia. A curator whose career has spanned more than thirty-five years, Watson is internationally recognized for his research and work in curatorial and exhibition studies, contemporary art and issues, and art theory and criticism. His distinctions include the Hnatyshyn Foundation Award for Curatorial Excellence in Contemporary Art (2010); the Alvin Balkind Award for Creative Curatorship in BC Arts (2008) and the UBC Dorothy Somerset Award for Performance Development in the Visual and Performing Arts (2005). Watson has published extensively in the areas of contemporary Canadian and international art. His 1990 monograph on Jack Shadbolt earned the Hubert Evans Non-Fiction Prize in 1991. Recent publications include Letters: Michael Morris and Concrete Poetry (2015); Thrown: British Columbia's Apprentices of Bernard Leach and their Contemporaries (2011), a finalist for the 2012 Roderick Haig-Brown Regional Prize; "Race, Wilderness, Territory and the Origins of the Modern Canadian Landscape" and "Disfigured Nature" (in Beyond Wilderness, McGill University Press, 2007); and "Transmission Difficulties: Vancouver Painting in the 1960s" (in Paint, Vancouver Art Gallery, 2006). (2018)

Read More
The Morris and Helen Belkin Art Gallery is proud to present the first solo exhibition in Canada's of work by American artist Andrea Fraser. Informed by the work of Pierre Bourdieu, Fraser is well-known for her performances that appropriate different genres of public speech such as the museum tour and the inaugural address in order to critique the relations between the art institution, its patrons and its visitors. This exhibition consists of recent and new performance-based video work including Little Frank and his Carp (2001), Kunst muß hängen (Art Must Hang) (2001), Soldadera (1998/2002) and Exhibition (2002).
In Little Frank and his Carp Fraser plays the persona of a museum visitor. Filmed with hidden cameras in the Guggenheim Bilbao, she is represented listening to the official audio guide, which advises visitors, among other things, to caress the building's "powerfully sensual" curves. For Kunst muß hängen Fraser performed a drunken, impromptu speech by Martin Kippenberger, which she memorized in German. The effect is an ambivalent tribute to artistic ambivalence.
Soldadera (Scenes from Un Banquete en Tetlapayac) is an installation produced with footage shot by Rafael Ortega for the film directed by Olivier Debroise about Eisenstein at the Hacienda de Tetlapayac in Mexico. Soldadera juxtaposes scenes of Fraser appearing as Frances Flynn Paine, an associate of Abby Rockefeller working in Mexico in the 1930s, with Fraser appearing as a revolutionary peasant.
Exhibition is based on Fraser's participation in dancing with Rio de Janeiro samba school in Carnival and brings up issues about the artistic appropriations of popular cultural spectacles and its displacement into the art context.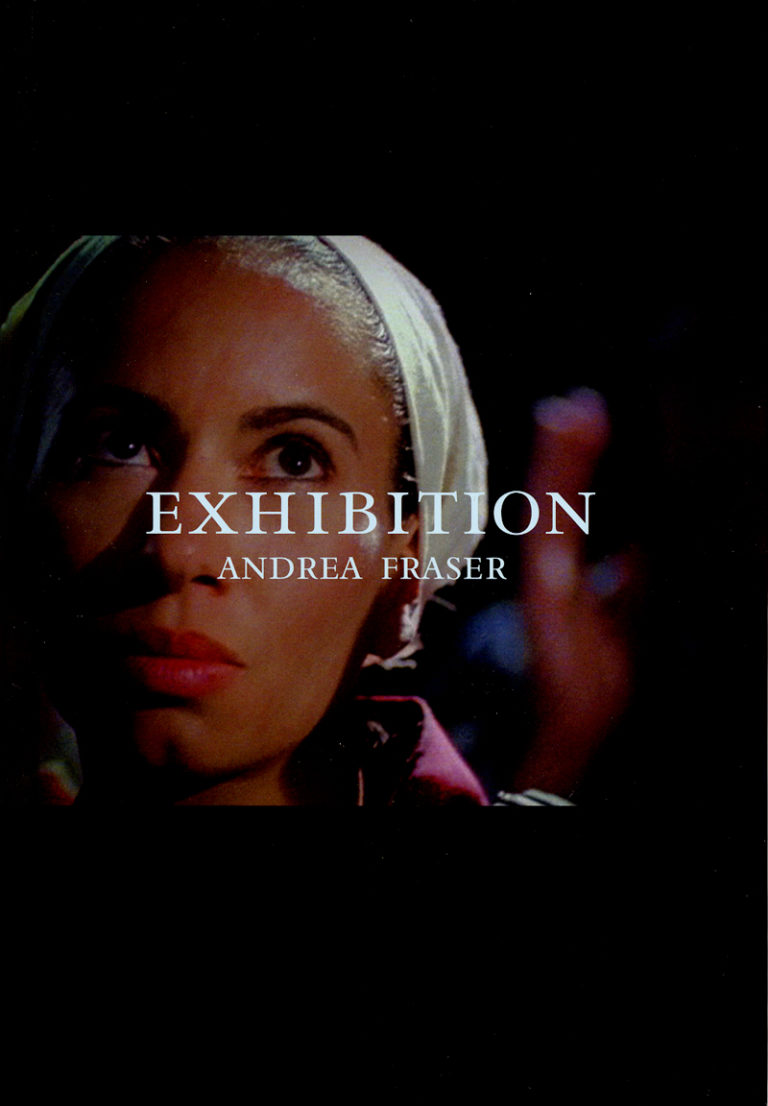 Andrea Fraser: Exhibition. Exhibition catalogue.
Andrea Fraser

Artist

Scott Watson, Curator

Curator

Scott Watson (Canadian, b. 1950) is Director of the Morris and Helen Belkin Art Gallery and Professor in the Department of Art History, Visual Art and Theory at the University of British Columbia. A curator whose career has spanned more than thirty-five years, Watson is internationally recognized for his research and work in curatorial and exhibition studies, contemporary art and issues, and art theory and criticism. His distinctions include the Hnatyshyn Foundation Award for Curatorial Excellence in Contemporary Art (2010); the Alvin Balkind Award for Creative Curatorship in BC Arts (2008) and the UBC Dorothy Somerset Award for Performance Development in the Visual and Performing Arts (2005). Watson has published extensively in the areas of contemporary Canadian and international art. His 1990 monograph on Jack Shadbolt earned the Hubert Evans Non-Fiction Prize in 1991. Recent publications include Letters: Michael Morris and Concrete Poetry (2015); Thrown: British Columbia's Apprentices of Bernard Leach and their Contemporaries (2011), a finalist for the 2012 Roderick Haig-Brown Regional Prize; "Race, Wilderness, Territory and the Origins of the Modern Canadian Landscape" and "Disfigured Nature" (in Beyond Wilderness, McGill University Press, 2007); and "Transmission Difficulties: Vancouver Painting in the 1960s" (in Paint, Vancouver Art Gallery, 2006). (2018)

Read More