Kim Soo Goodtrack

Artist

Kim Soo Goodtrack is member of the Lakota Wood Mountain reserve in southern Saskatchewan. She is a multidisciplinary artist, author, musician and educator who taught children and adults in the Vancouver School District for over two decades, and who has created, written and co-produced numerous educational television shows for APTN.

Read More

Dana Claxton

Artist

Dana Claxton (Lakota, Canadian, b.1959) is a multidisciplinary artist born in Yorkton, Saskatchewan and based in Vancouver. Drawing on Lakota cultural values, history and language, Claxton questions the multifaceted layers of identity inherent to indigenous ways of being. Issues surrounding indigenous labour and resistance, resource extraction and capital feature prominently in her latest research and work on the Service, Office and Retail Worker's Union of Canada's (SORWUC's) 1978 protest action against the Muckamuck Restaurant.

Claxton's work has been shown internationally at the Museum of Modern Art (NYC), Walker Art Centre, Sundance Film Festival, Eiteljorg Museum, and the Museum of Contemporary Art (Sydney), and held in several major Canadian public collections. Her awards include the VIVA Award and the Eiteljorg Fellowship. Her work was selected for the Sydney Biennial (2010), Biennale de Montréal (2007), Biennale d'art contemporain du Havre, France (2006), Micro Wave, Hong Kong (2005) Art Star Biennale, Ottawa (2005), and Wro 03 Media Arts Biennale Wroclaw Poland (2003).

Read More

Jeneen Frei Njootli

Artist

Jeneen Frei Njootli is a Vuntut Gwich'in artist whose practice is concerned with Indigeneity-in-politics, community engagement and productive disruption. Her interdisciplinary approach uses a range of media including performance, photography, sound and textiles to deconstruct the history of materials and investigate their relationship to trade, ceremonial regalia and the politics of Indigenous representation. She is a founding member of the ReMatriate collective.

Read More
Registration is now full
Join artist and educator Kim Soo Goodtrack and learn about the practice of making Ribbon Skirts. In conjunction with the exhibition, Beginning with the Seventies: Collective Acts, these workshops are part of a new collaborative installation by Dana Claxton and Jeneen Frei Njootli titled, The Sew In (2018). This work of art considers the sharing of Indigenous cultural knowledge, care, connection, labour and pleasure as integral components to the process of making art.
Participants will learn about Ribbon Skirts and techniques of how to sew a skirt and attach the ribbons. Some sewing experience is encouraged. Please bring your own fabric: 2 to 3 metres of cotton or cotton blend, prints or solids. All other materials, including ribbon, thread and equipment, will be provided. Participants will make a Ribbon Skirt and take home their creation.
To register
If you are interested in attending the Ribbon Skirt Making Workshop, email Belkin.RSVP@ubc.ca. Include your name, contact information and 2 to 5 sentences expressing why you would like to participate in this workshop. The deadline is September 28, 2018. We encourage people in the Indigenous community including mothers, fathers and LGBTQ2S to send an expression of interest. (Registration Full)
Please note: all participants are required to sign a waiver.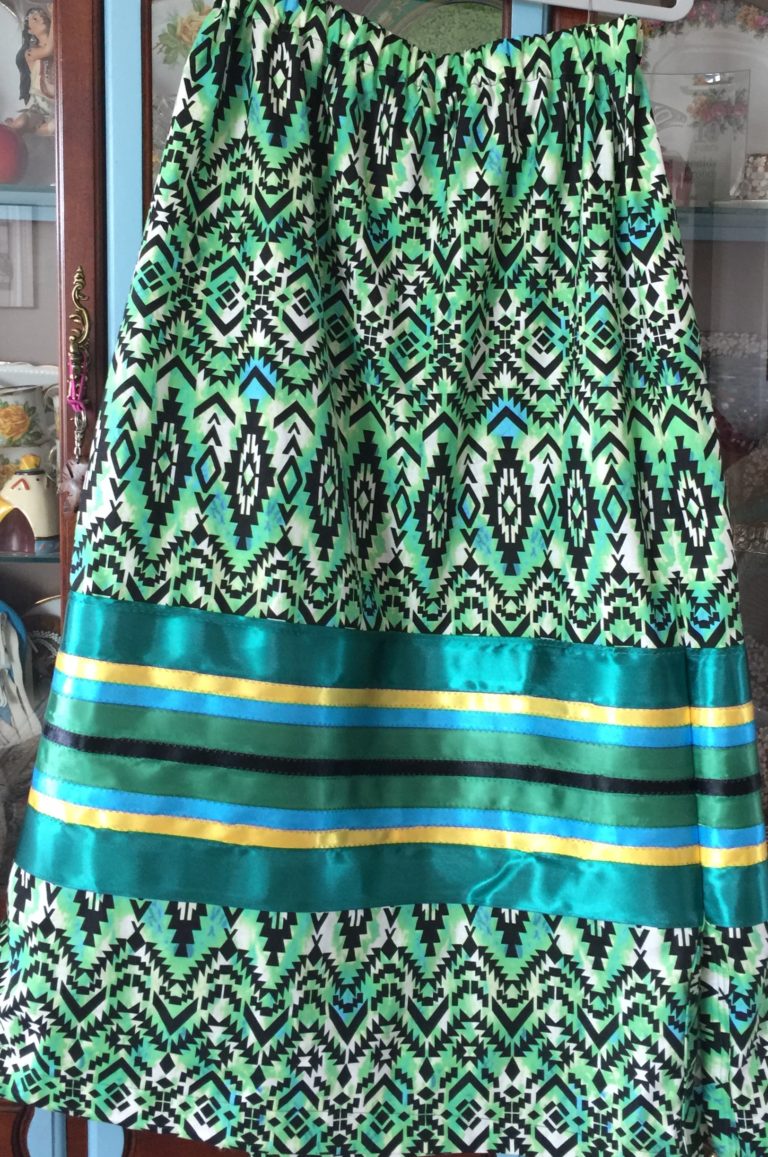 Ribbon Skirt by Kim Soo Goodtrack. Photo: Kim See Goodtrack.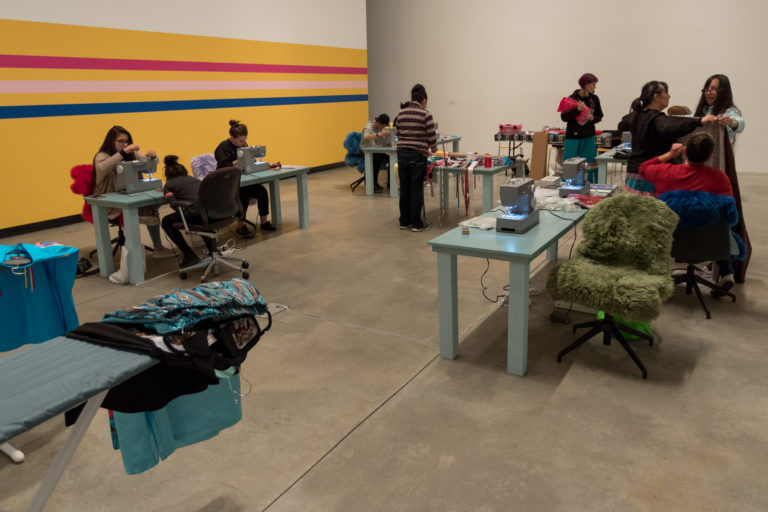 Ribbon Skirt Workshop, October 19, 2018 with Kim Soo Goodtrack. Photo: Michael R. Barrick.
Kim Soo Goodtrack

Artist

Kim Soo Goodtrack is member of the Lakota Wood Mountain reserve in southern Saskatchewan. She is a multidisciplinary artist, author, musician and educator who taught children and adults in the Vancouver School District for over two decades, and who has created, written and co-produced numerous educational television shows for APTN.

Read More

Dana Claxton

Artist

Dana Claxton (Lakota, Canadian, b.1959) is a multidisciplinary artist born in Yorkton, Saskatchewan and based in Vancouver. Drawing on Lakota cultural values, history and language, Claxton questions the multifaceted layers of identity inherent to indigenous ways of being. Issues surrounding indigenous labour and resistance, resource extraction and capital feature prominently in her latest research and work on the Service, Office and Retail Worker's Union of Canada's (SORWUC's) 1978 protest action against the Muckamuck Restaurant.

Claxton's work has been shown internationally at the Museum of Modern Art (NYC), Walker Art Centre, Sundance Film Festival, Eiteljorg Museum, and the Museum of Contemporary Art (Sydney), and held in several major Canadian public collections. Her awards include the VIVA Award and the Eiteljorg Fellowship. Her work was selected for the Sydney Biennial (2010), Biennale de Montréal (2007), Biennale d'art contemporain du Havre, France (2006), Micro Wave, Hong Kong (2005) Art Star Biennale, Ottawa (2005), and Wro 03 Media Arts Biennale Wroclaw Poland (2003).

Read More

Jeneen Frei Njootli

Artist

Jeneen Frei Njootli is a Vuntut Gwich'in artist whose practice is concerned with Indigeneity-in-politics, community engagement and productive disruption. Her interdisciplinary approach uses a range of media including performance, photography, sound and textiles to deconstruct the history of materials and investigate their relationship to trade, ceremonial regalia and the politics of Indigenous representation. She is a founding member of the ReMatriate collective.

Read More