UBC Contemporary Players

Presenter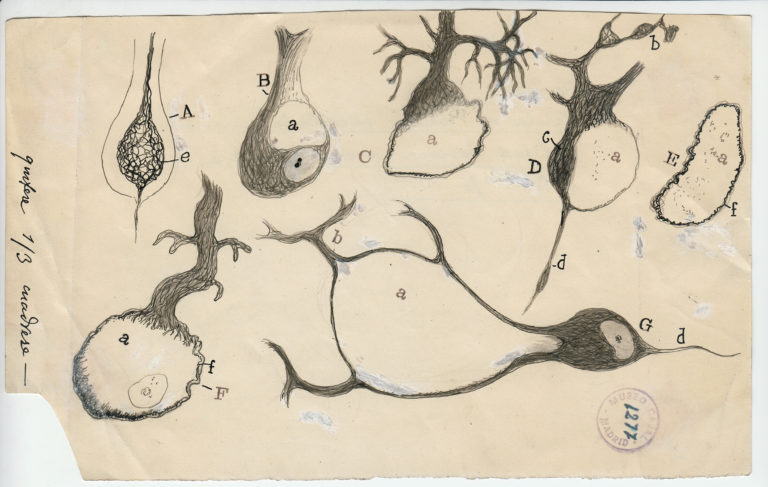 Santiago Ramón y Cajal, Injured Purkinje neurons, 1914, ink and pencil on paper. Courtesy of Instituto Cajal (CSIC).
Once again, we are pleased to welcome the UBC Contemporary Players to the Belkin Art Gallery for a concert inspired by the exhibition The Beautiful Brain: The Drawings of Santiago Ramón y Cajal. Led by Directors Corey Hamm and Paolo Bortolussi, this graduate and undergraduate student ensemble from the UBC School of Music will animate the Gallery for an afternoon program celebrating themes from the exhibition.
All welcome. Admission is free.
PROGRAM
Brian Cherney, Musique pour un espace clos (2005)
Marina Antoniou (trombone), Aaron Eggen (tuba), Rachel Rozelle (horn), Dasa Silhova and Willy Wang (trumpets)
Taylor Hall, Tessellations (2017)
Adam Dopierala and Luke Hildebrandt (vibraphones), Samantha Kung (violin), Emily Richardson (flute), Carmyn Slater (piano), Alexander Wilde (cello)
Fazil Say, Black Earth (2003)
Noah Ha (piano)
Luciano Berio, _Duetti per violoni​ (Béla – Shlomit – Yossi – Bruno – Camilla _ (1979-83)
Melody Chen and Jeongah Choi (violins)
George Crumb, Vox Balaenae (1971)​
Paul Hung (flute), Laine Longton (cello), Susan Xia (piano)
Derek Charke, _ Way of Life​_ (2001)
Marina Antoniou (trombone), Aaron Eggen (tuba), Rachel Rozelle (horn), Dasa Silhova and Willy Wang (trumpets), Paulo Bortolussi (conductor)
Howard Bashaw, Hosu (The Mountain) (1986)
Susan Xia (piano)
Michael Torke, The Yellow Pages (1985)
Melody Chen (violin), Yi-Hsien Chen (clarinet), Paul Hung (flute), Alexander Wilde (cello), Susan Xia (piano), Corey Hamm (conductor)
CONCEIVED AND DEVELOPED BY: SHELLY ROSENBLUM
UBC Contemporary Players

Presenter