George Brecht
Water Yam, 1963/72
Collection of the Morris and Helen Belkin Art Gallery Archives. Purchased with funds from the Morris and Helen Belkin Art Gallery Acquisition Fund, 2006
© Estate of George Brecht / SOCAN (2020)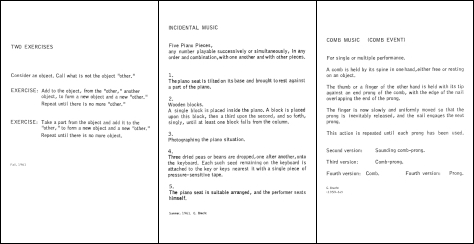 Download three of George Brecht's fluxscores
Fluxus was an international network of intermedia artists, composers and poets active from the early 1960s to the late 1970s, closely aligned with correspondence and mail artists of the same time. Fluxus – which comes from the Latin word "to flow" – was born from the experimental composition classes taught by John Cage from 1956 to 1961 at the New York School for Social Research. Interested in his ideas about merging art and daily life, George Brecht attended Cage's Electronic Music class in 1960, embracing the interplay of music, performance, poetry, typography that came to characterize the spirit of Fluxus. While the Fluxus movement continues to endure, it is particularly compelling to consider its intentions during this period of COVID-19. The fluid group of artists imagined internationalism beyond the sphere of Europe and America. They believed the practice of art was everyone's birthright. They placed a strong emphasis on play and participation. They aimed to improve the quality of life.
In opposition to the mainstream art market, Fluxus artists used non-traditional materials and approaches to create happenings – minute events such as eating lunch every day at the same time, activity cards with instructions to be completed, small boxes of games. Originally published in Germany in June 1963, George Brecht's Water Yam was a collection of instructional event scores, or fluxscores. Typically vague and somewhat obscure, these scores or performance scripts, whether performed in public, private or left to the imagination, leave space for chance and indeterminacy, allowing for interpretation on the part of the performer and the audience.
Attention to Fluxus has been a staple of the Belkin and it has me thinking a lot lately of why the pull is even stronger now. If I try to characterize what these COVID-19 days have been like so far, as we enter Week 9 of this new normal, there are some clear experiential touchstones: the reign of the uncanny, a deepening capacity for attention and observation, a desire for play, a return to the tactile, our surrender to the salve of repetition. Molly Young, in her gorgeous, tragi-comic account of quarantine, focuses on the "minor acts of norm-shedding" that constitute her novel (non)reality. She explains: "There is an argument that behaving unusually is a rational way to assimilate an altered reality, especially if the alteration is a rotten one. When you pre-emptively dismiss whatever rules of living are within your control, like using furniture or wearing clothes, you're injecting yourself with a tolerable portion of insanity, which works like a vaccine." Fluxus? If you try a few of the fluxscores we've provided (requirements: a willingness, a comb; preferred: a piano, some peas) perhaps you'll find some resonances with the key Fluxus preoccupations: a profound interest in process with very little interest in product and a radical do-it-yourself attitude. These instructions are well suited to sheltering in place and can be performed either in private or public. Most salient is the open-endedness, indeterminacy and sense of chance inherent in each. Each event or iteration of these scores leaves a profound capacity for sense-making (or feeling) anew, and the thrill of interpretation remains contingent upon the performer and/or the audience, collectively or in solitude. The values of simplicity and anti-commercialism, the radical gesture to humour, and the fundamentally democratic form of Water Yam are perfectly suited to our moment.
George Brecht (1926–2008), an American conceptual artist, is one of the Fluxus movement key protagonists of the 1960s. Brecht attended the Philadelphia College of Pharmacy and Science (1946-50), taking a job as a research chemist before pursuing fine art after being particularly inspired by the works of avant-garde composer John Cage from whom he took both an interest in chance and a focus on multimedia events that included music as defining elements of his work. Brecht was known for his sculptural installations of everyday objects and noises and for his use of written instructions, which he called event scores or fluxscores, in the creation of art.
Staff Picks: Works from the Collection considers one work in the Belkin's permanent collection that particularly inspires us; at this moment in May 2020, we are looking at these works through the lens of the current crises around us. This round of Staff Picks is brought to you by Shelly Rosenblum, the Belkin's Curator of Academic Programs, whose role is to conceive and organize programs that increase diverse forms of academic, public and civic engagement. To see more of the Belkin's collection, visit https://belkin.pastperfectonline.com/.