Mark Boulos

Artist

I make large-scale, multi-screen video installations about political militancy and religious ecstasy: revolutions and terrorists, miracles and saints. The characters in my films wrest their agency from the structures that would control them, including language, reason, gender, God, Capital, and the State. Their action is also performance: they rebel against the small roles society has cast for them, they re-imagine who they are, then they perform their greater selves. Thus, my work oscillates between fiction and non-fiction, or between mythology and history. My work has always been firmly grounded in documentary technique – that is to say, a concern with factual situations and real people. I have filmed Marxist guerillas in the Philippines, oil rebels in the Niger Delta, commodity traders during the first moments of the current financial crisis, jihadists in London and Brooklyn, Pentecostalists speaking in tongues, and a Damascus housewife who has visions of Christ.
My work interrogates the truth-claims of documentary, and asks why video so powerfully coerces a suspension of disbelief. The genre of my work may be "documentary," but I don't report objective facts; instead I aim to undermine empiricism by representing subjective belief so devout that it becomes real. My films examine events in which ideas become material, performance becomes authentic, word becomes deed, transcendence becomes immanent, or mythology becomes history.
That is why I make films about religious ecstasy and political militancy. My films often quote from scripture, and the images recall pre-modern religious painting and iconography. But the characters are non-fictional, and the narratives are driven along the historical axis of colonial politics. Still, the language that constructs these narratives undermines the reliability of the narrators. Scripture, revelation, confession, bearing witness, and poetry are the tropes through which my characters simultaneously rely on a higher authority and undermine their own. (2012)

Read More

Juan Gaitàn

Writer

Juan A. Gaitán is the Senior Curator at Witte de With Center for Contemporary Art, Rotterdam. Gaitán has curated many exhibitions internationally, especially in Canada, Colombia and The Netherlands. He has published monographic texts on several contemporary artists and is currently writing on freedom of expression and post-democratic politics. He has organised five exhibitions under the general theme of 'Morality', the leitmotiv of Witte de With's 2009/10 programme. (2012)

Read More

Molly Macdonald

Writer

Molly Macdonald's research interests are in Hegel and his French reception, continental philosophy, psychoanalysis. She has an article forthcoming in the spring edition of Parallax on the concept-metaphor of 'suturing' in the work of Gayatri Spivak and is at work on a monograph on Hegel's Phenomenology of Spirit and the psychoanalytic theory of André Green and Christopher Bollas, with a focus on concepts Force, binding, intersubjectivity and 'thirdness'. Dr. Macdonald currently teaches philosophy and literature at Queen Mary, University of London, where she completed her PhD in Philosophy in December 2008. She holds a BA from Barnard College, Columbia University and an MA in Modernism from the University of East Anglia. (2012)

Read More

Philippe-Alain Michaud

Writer

Philippe-Alain Michaud is the Film Curator at the Musée national d'art moderne-Centre Georges-Pompidou, Paris. He is the author of Aby Warburg et l'image en movement (Paris, 1998; English version: Aby Warburg and the Image in Motion, New York, 2004), Le peuple des images (Paris, 2002), Sketches. Histoire de l'art, cinema (Paris, 2006). He has curated the exhibitions Comme le rêve, le dessin (Paris, Musée du Louvre-Centre Pompidou, 2002),  Le mouvement des images (Paris, Centre Pompidou, 2006), Electric Nights (Moscow, Musée de la photographie, 2010), Brancusi, photo, film (Paris, Centre Pompidou, 2011), Magic Carpets (Rome, Villa Medicis, 2012). (2012)

Read More

Scott Watson

Curator

Scott Watson (Canadian, b. 1950) is Director of the Morris and Helen Belkin Art Gallery and Professor in the Department of Art History, Visual Art and Theory at the University of British Columbia. A curator whose career has spanned more than thirty-five years, Watson is internationally recognized for his research and work in curatorial and exhibition studies, contemporary art and issues, and art theory and criticism. His distinctions include the Hnatyshyn Foundation Award for Curatorial Excellence in Contemporary Art (2010); the Alvin Balkind Award for Creative Curatorship in BC Arts (2008) and the UBC Dorothy Somerset Award for Performance Development in the Visual and Performing Arts (2005). Watson has published extensively in the areas of contemporary Canadian and international art. His 1990 monograph on Jack Shadbolt earned the Hubert Evans Non-Fiction Prize in 1991. Recent publications include Letters: Michael Morris and Concrete Poetry (2015); Thrown: British Columbia's Apprentices of Bernard Leach and their Contemporaries (2011), a finalist for the 2012 Roderick Haig-Brown Regional Prize; "Race, Wilderness, Territory and the Origins of the Modern Canadian Landscape" and "Disfigured Nature" (in Beyond Wilderness, McGill University Press, 2007); and "Transmission Difficulties: Vancouver Painting in the 1960s" (in Paint, Vancouver Art Gallery, 2006). (2018)

Read More
2012, Morris and Helen Belkin Art Gallery, Vancouver
56 pages, colour, hardcover
$25.00 CAD
ISBN 978-0-88865-004-7
Exhibition catalogue from the Morris and Helen Belkin Art Gallery (8 October–5 December 2010).
Texts by Scott Watson, Marc Boulos & Philippe-Alain Michaud, Molly Macdonald and Juan Gaitán.
The subjects filmed by American-born Mark Boulos inhabit the realm of documentary, but he chooses to show his large-scale, multi-screen video installations in art venues and galleries. "To call a film 'art' is to release it from the demands of reportage and anthropology that otherwise burden documentaries," Boulos says. This extensively illustrated catalogue considers three of Boulos' most recent video installations, All That is Solid Melts into Air (featured in the Projects Gallery of MoMA, NY in 2012), The Word Was God and No Permanent Address. Boulos' subjects include the revolutionary fervor, political militancy, sexual identity and religious ecstasy of radical organizations such as the Filipino revolutionary New People's Army and the Movement for the Emancipation of the Niger Delta.
To purchase, please contact belkin.gallery@ubc.ca or 604.822.2759.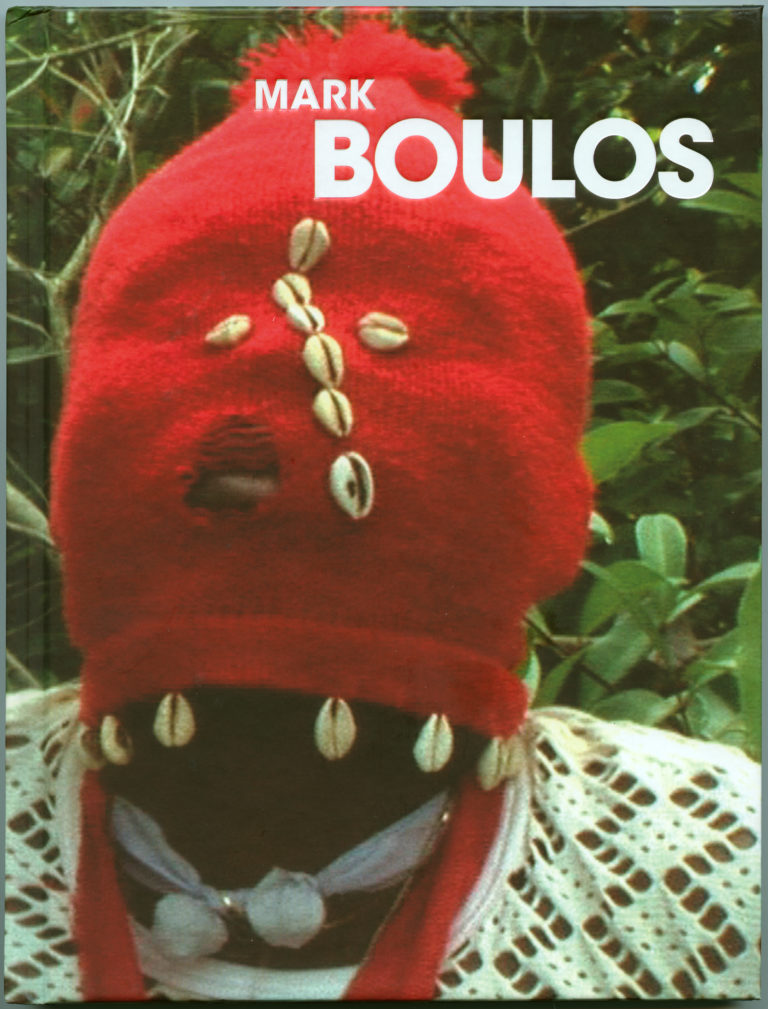 Mark Boulos Exhibition Catalogue.
Mark Boulos

Artist

I make large-scale, multi-screen video installations about political militancy and religious ecstasy: revolutions and terrorists, miracles and saints. The characters in my films wrest their agency from the structures that would control them, including language, reason, gender, God, Capital, and the State. Their action is also performance: they rebel against the small roles society has cast for them, they re-imagine who they are, then they perform their greater selves. Thus, my work oscillates between fiction and non-fiction, or between mythology and history. My work has always been firmly grounded in documentary technique – that is to say, a concern with factual situations and real people. I have filmed Marxist guerillas in the Philippines, oil rebels in the Niger Delta, commodity traders during the first moments of the current financial crisis, jihadists in London and Brooklyn, Pentecostalists speaking in tongues, and a Damascus housewife who has visions of Christ.
My work interrogates the truth-claims of documentary, and asks why video so powerfully coerces a suspension of disbelief. The genre of my work may be "documentary," but I don't report objective facts; instead I aim to undermine empiricism by representing subjective belief so devout that it becomes real. My films examine events in which ideas become material, performance becomes authentic, word becomes deed, transcendence becomes immanent, or mythology becomes history.
That is why I make films about religious ecstasy and political militancy. My films often quote from scripture, and the images recall pre-modern religious painting and iconography. But the characters are non-fictional, and the narratives are driven along the historical axis of colonial politics. Still, the language that constructs these narratives undermines the reliability of the narrators. Scripture, revelation, confession, bearing witness, and poetry are the tropes through which my characters simultaneously rely on a higher authority and undermine their own. (2012)

Read More

Juan Gaitàn

Writer

Juan A. Gaitán is the Senior Curator at Witte de With Center for Contemporary Art, Rotterdam. Gaitán has curated many exhibitions internationally, especially in Canada, Colombia and The Netherlands. He has published monographic texts on several contemporary artists and is currently writing on freedom of expression and post-democratic politics. He has organised five exhibitions under the general theme of 'Morality', the leitmotiv of Witte de With's 2009/10 programme. (2012)

Read More

Molly Macdonald

Writer

Molly Macdonald's research interests are in Hegel and his French reception, continental philosophy, psychoanalysis. She has an article forthcoming in the spring edition of Parallax on the concept-metaphor of 'suturing' in the work of Gayatri Spivak and is at work on a monograph on Hegel's Phenomenology of Spirit and the psychoanalytic theory of André Green and Christopher Bollas, with a focus on concepts Force, binding, intersubjectivity and 'thirdness'. Dr. Macdonald currently teaches philosophy and literature at Queen Mary, University of London, where she completed her PhD in Philosophy in December 2008. She holds a BA from Barnard College, Columbia University and an MA in Modernism from the University of East Anglia. (2012)

Read More

Philippe-Alain Michaud

Writer

Philippe-Alain Michaud is the Film Curator at the Musée national d'art moderne-Centre Georges-Pompidou, Paris. He is the author of Aby Warburg et l'image en movement (Paris, 1998; English version: Aby Warburg and the Image in Motion, New York, 2004), Le peuple des images (Paris, 2002), Sketches. Histoire de l'art, cinema (Paris, 2006). He has curated the exhibitions Comme le rêve, le dessin (Paris, Musée du Louvre-Centre Pompidou, 2002),  Le mouvement des images (Paris, Centre Pompidou, 2006), Electric Nights (Moscow, Musée de la photographie, 2010), Brancusi, photo, film (Paris, Centre Pompidou, 2011), Magic Carpets (Rome, Villa Medicis, 2012). (2012)

Read More

Scott Watson

Curator

Scott Watson (Canadian, b. 1950) is Director of the Morris and Helen Belkin Art Gallery and Professor in the Department of Art History, Visual Art and Theory at the University of British Columbia. A curator whose career has spanned more than thirty-five years, Watson is internationally recognized for his research and work in curatorial and exhibition studies, contemporary art and issues, and art theory and criticism. His distinctions include the Hnatyshyn Foundation Award for Curatorial Excellence in Contemporary Art (2010); the Alvin Balkind Award for Creative Curatorship in BC Arts (2008) and the UBC Dorothy Somerset Award for Performance Development in the Visual and Performing Arts (2005). Watson has published extensively in the areas of contemporary Canadian and international art. His 1990 monograph on Jack Shadbolt earned the Hubert Evans Non-Fiction Prize in 1991. Recent publications include Letters: Michael Morris and Concrete Poetry (2015); Thrown: British Columbia's Apprentices of Bernard Leach and their Contemporaries (2011), a finalist for the 2012 Roderick Haig-Brown Regional Prize; "Race, Wilderness, Territory and the Origins of the Modern Canadian Landscape" and "Disfigured Nature" (in Beyond Wilderness, McGill University Press, 2007); and "Transmission Difficulties: Vancouver Painting in the 1960s" (in Paint, Vancouver Art Gallery, 2006). (2018)

Read More