Jamie Hilder

Writer

Jamie Hilder (Canadian, b. 1977) is a Vancouver-based artist and writer whose work often addresses the intersections of economics, aesthetics and performance. His book Designed Words for a Designed World: The International Concrete Poetry Movement, 1955-1971, was published by McGill-Queens University Press in 2016. He is an instructor in the Department of Critical and Cultural Studies at Emily Carr University of Art and Design. (2018)

Read More

David MacWilliam

Writer

David MacWilliam is an artist, educator and independent curator living in Vancouver, Canada. He has exhibited his paintings in numerous solo and group exhibitions over the past forty years. He received a BFA from the Nova Scotia College of Art and Design (NSCAD), and has an MA in Visual Arts from University of the Arts London. From 1988 to 2017, he taught visual art at Emily Carr University of Art + Design, in Vancouver, Canada, where he is currently Professor Emeritus in the Audain Faculty of Art. He continues to develop a specific iconography of material abstraction and remains primarily concerned with the social role of art, the relationships between forms and colour, and painting as labour.
His art has been exhibited extensively in Canada and occasionally in Europe over the past 35 years. Some of these exhibitions include the Paris Biennale (1982), Vancouver Art Gallery's Art and Artists 1939-83 (1983), and most recently in the VAG's PAINT exhibition (2006/07). He had one person exhibitions at the Art Gallery of Greater Victoria (1984), and the Vancouver Art Gallery (1990) and the Galleria Panorama, Barcelona (1997), the Musee Regional de Rimouski in Quebec (1998) and Winchester Galleries, Victoria (2006, 2013).
He completed Kingsway Luminaires, a permanent public art installation commissioned by the City of Vancouver's Public Art Program as part of Mapping and Marking, artist-initiated projects for Vancouver 2010, which is his second public project using programmed full spectrum LED lights.
His book Unfolding (2012) includes reproductions of forty of his inkblot paintings along with essays by Winnipeg psychiatrist Dr. Jeanne Randolph and Canadian artist and art historian Robert Linsley. (2018)

Read More

Michael Morris

Artist

Michael Morris (b. 1946, Saltdean, UK) is a painter, photographer, video and performance artist and curator. His work is often media based and collaborative, involved with developing networks and in the production and presentation of new art activity. In his roles as curator and, primarily, as an artist, Morris was a key figure of the West Coast art scene during the 1960s. Morris studied at the University of Victoria and then at the Vancouver School of Art (now Emily Carr University), followed by graduate studies at Slade School of Fine Art at the University College London, during the 1960s. There he became interested in the work of Fluxus and the European avant-garde, which had a profound influence on his work and on the Vancouver experimental art scene in general. In 1969 he founded Image Bank with Vincent Trasov, a system of postal correspondence between participating artists for the exchange of information and ideas. The intention of Image Bank was to create a collaborative, process-based project in the hopes of engendering a shared creative consciousness—in opposition to the alienation endemic to modern capitalist society—through the deconstruction and recombination of its ideological forms. Morris was acting curator of the Vancouver Art Gallery and the Centre for Communications and the Arts at Simon Fraser University and has had many guest curatorships at other institutions. In 1973, he co-founded the Western Front—one of Canada's first artist-run centres—and served as co-director for seven years. In 1990 he and Trasov founded the Morris/Trasov Archive, housed at the Morris and Helen Belkin Art Gallery, to research contemporary art. He has established a strong international reputation and worked for many years in Berlin. Morris has participated in artist-in-residence programs both in Canada at the Banff Centre (1990) and at Open Studio (2003) and internationally at Berlin Kustlerprogramm (1981-1998). Morris has had numerous solo and collaborative exhibitions nationally and internationally, and is the recipient of numerous awards, including the 2015 Audain Prize for Lifetime Achievement in Visual Arts, the 2011 Governor General's Award in Visual and Media Arts and an Honorary Doctorate in 2005 by Emily Carr University of Art + Design.

Read More

Michael Turner

Curator, Writer

Michael Turner is a writer of fiction, criticism and song based in the unceded territories of the Musqueam, Squamish and Tsleil Waututh people. His most recent book, 9×11 and other poems like Bird, Nine, x and Eleven, is published by New Star Books. (2018)

Read More

Jana Tyner

Editor

Scott Watson

Curator, Writer

Scott Watson (Canadian, b. 1950) is Director of the Morris and Helen Belkin Art Gallery and Professor in the Department of Art History, Visual Art and Theory at the University of British Columbia. A curator whose career has spanned more than thirty-five years, Watson is internationally recognized for his research and work in curatorial and exhibition studies, contemporary art and issues, and art theory and criticism. His distinctions include the Hnatyshyn Foundation Award for Curatorial Excellence in Contemporary Art (2010); the Alvin Balkind Award for Creative Curatorship in BC Arts (2008) and the UBC Dorothy Somerset Award for Performance Development in the Visual and Performing Arts (2005). Watson has published extensively in the areas of contemporary Canadian and international art. His 1990 monograph on Jack Shadbolt earned the Hubert Evans Non-Fiction Prize in 1991. Recent publications include Letters: Michael Morris and Concrete Poetry (2015); Thrown: British Columbia's Apprentices of Bernard Leach and their Contemporaries (2011), a finalist for the 2012 Roderick Haig-Brown Regional Prize; "Race, Wilderness, Territory and the Origins of the Modern Canadian Landscape" and "Disfigured Nature" (in Beyond Wilderness, McGill University Press, 2007); and "Transmission Difficulties: Vancouver Painting in the 1960s" (in Paint, Vancouver Art Gallery, 2006). (2018)

Read More

William Wood

Writer
2015, Morris and Helen Belkin Art Gallery and Black Dog Publishing, Vancouver and London, UK
192 pages, b/w and colour, hardcover
$40.00 CAD
ISBN 978-1-910433-00-3
With essays by Jamie Hilder, David MacWilliam, Michael Turner, Scott Watson and William Wood; edited by Scott Watson and Jana Tyner.
Published in conjunction with Black Dog Publishing, UK, this richly illustrated book includes critical essays on concrete poetry and Michael Morris, featuring a chronology of Morris's prolific practice from the mid-1960s onwards. It follows the 2012 exhibition of the same name that was held at the Belkin Art Gallery, which focused on a series of large-scale paintings with inserted mirrors that Morris made in 1969 — his last paintings until the early 1980s — brought together at the Belkin for the first time since then. The Belkin's show presented the paintings in the context of contemporaneous examples of concrete poetry, a practice that had influenced Morris and catalyzed his move into other forms of art making such as sculpture, photography and performance, examples of which were also represented in the exhibition. This book focuses on Morris's activity in the late 1960s and his "last paintings," in an attempt to restore them to an art historical context.
To purchase, please contact belkin.gallery@ubc.ca or 604.822.2759.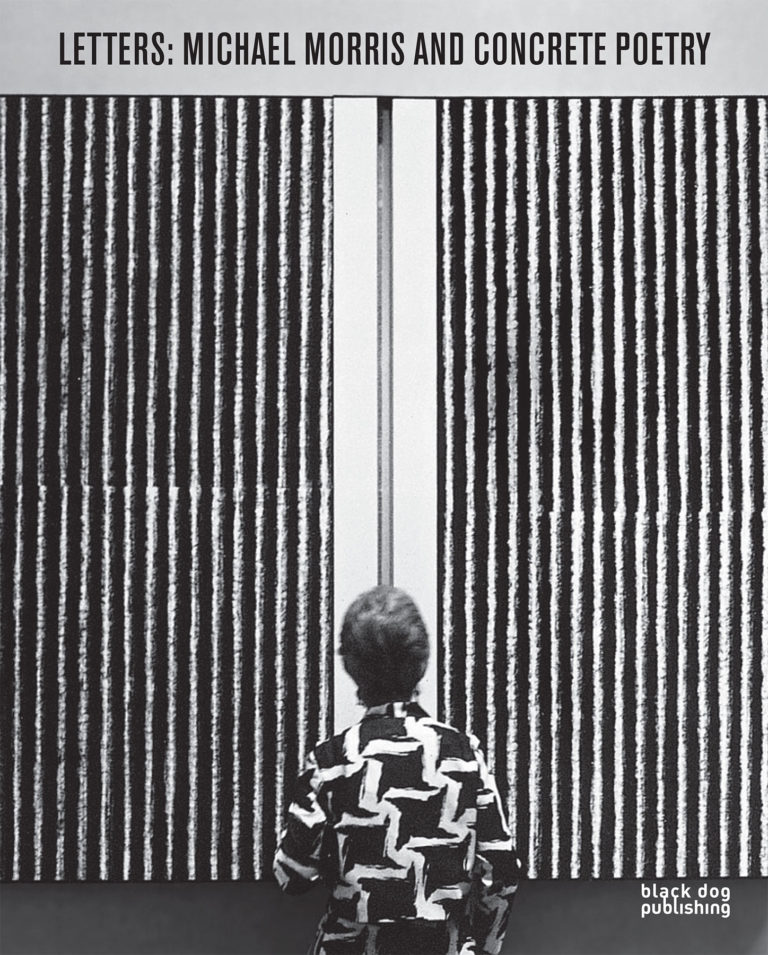 Jamie Hilder

Writer

Jamie Hilder (Canadian, b. 1977) is a Vancouver-based artist and writer whose work often addresses the intersections of economics, aesthetics and performance. His book Designed Words for a Designed World: The International Concrete Poetry Movement, 1955-1971, was published by McGill-Queens University Press in 2016. He is an instructor in the Department of Critical and Cultural Studies at Emily Carr University of Art and Design. (2018)

Read More

David MacWilliam

Writer

David MacWilliam is an artist, educator and independent curator living in Vancouver, Canada. He has exhibited his paintings in numerous solo and group exhibitions over the past forty years. He received a BFA from the Nova Scotia College of Art and Design (NSCAD), and has an MA in Visual Arts from University of the Arts London. From 1988 to 2017, he taught visual art at Emily Carr University of Art + Design, in Vancouver, Canada, where he is currently Professor Emeritus in the Audain Faculty of Art. He continues to develop a specific iconography of material abstraction and remains primarily concerned with the social role of art, the relationships between forms and colour, and painting as labour.
His art has been exhibited extensively in Canada and occasionally in Europe over the past 35 years. Some of these exhibitions include the Paris Biennale (1982), Vancouver Art Gallery's Art and Artists 1939-83 (1983), and most recently in the VAG's PAINT exhibition (2006/07). He had one person exhibitions at the Art Gallery of Greater Victoria (1984), and the Vancouver Art Gallery (1990) and the Galleria Panorama, Barcelona (1997), the Musee Regional de Rimouski in Quebec (1998) and Winchester Galleries, Victoria (2006, 2013).
He completed Kingsway Luminaires, a permanent public art installation commissioned by the City of Vancouver's Public Art Program as part of Mapping and Marking, artist-initiated projects for Vancouver 2010, which is his second public project using programmed full spectrum LED lights.
His book Unfolding (2012) includes reproductions of forty of his inkblot paintings along with essays by Winnipeg psychiatrist Dr. Jeanne Randolph and Canadian artist and art historian Robert Linsley. (2018)

Read More

Michael Morris

Artist

Michael Morris (b. 1946, Saltdean, UK) is a painter, photographer, video and performance artist and curator. His work is often media based and collaborative, involved with developing networks and in the production and presentation of new art activity. In his roles as curator and, primarily, as an artist, Morris was a key figure of the West Coast art scene during the 1960s. Morris studied at the University of Victoria and then at the Vancouver School of Art (now Emily Carr University), followed by graduate studies at Slade School of Fine Art at the University College London, during the 1960s. There he became interested in the work of Fluxus and the European avant-garde, which had a profound influence on his work and on the Vancouver experimental art scene in general. In 1969 he founded Image Bank with Vincent Trasov, a system of postal correspondence between participating artists for the exchange of information and ideas. The intention of Image Bank was to create a collaborative, process-based project in the hopes of engendering a shared creative consciousness—in opposition to the alienation endemic to modern capitalist society—through the deconstruction and recombination of its ideological forms. Morris was acting curator of the Vancouver Art Gallery and the Centre for Communications and the Arts at Simon Fraser University and has had many guest curatorships at other institutions. In 1973, he co-founded the Western Front—one of Canada's first artist-run centres—and served as co-director for seven years. In 1990 he and Trasov founded the Morris/Trasov Archive, housed at the Morris and Helen Belkin Art Gallery, to research contemporary art. He has established a strong international reputation and worked for many years in Berlin. Morris has participated in artist-in-residence programs both in Canada at the Banff Centre (1990) and at Open Studio (2003) and internationally at Berlin Kustlerprogramm (1981-1998). Morris has had numerous solo and collaborative exhibitions nationally and internationally, and is the recipient of numerous awards, including the 2015 Audain Prize for Lifetime Achievement in Visual Arts, the 2011 Governor General's Award in Visual and Media Arts and an Honorary Doctorate in 2005 by Emily Carr University of Art + Design.

Read More

Michael Turner

Curator, Writer

Michael Turner is a writer of fiction, criticism and song based in the unceded territories of the Musqueam, Squamish and Tsleil Waututh people. His most recent book, 9×11 and other poems like Bird, Nine, x and Eleven, is published by New Star Books. (2018)

Read More

Jana Tyner

Editor

Scott Watson

Curator, Writer

Scott Watson (Canadian, b. 1950) is Director of the Morris and Helen Belkin Art Gallery and Professor in the Department of Art History, Visual Art and Theory at the University of British Columbia. A curator whose career has spanned more than thirty-five years, Watson is internationally recognized for his research and work in curatorial and exhibition studies, contemporary art and issues, and art theory and criticism. His distinctions include the Hnatyshyn Foundation Award for Curatorial Excellence in Contemporary Art (2010); the Alvin Balkind Award for Creative Curatorship in BC Arts (2008) and the UBC Dorothy Somerset Award for Performance Development in the Visual and Performing Arts (2005). Watson has published extensively in the areas of contemporary Canadian and international art. His 1990 monograph on Jack Shadbolt earned the Hubert Evans Non-Fiction Prize in 1991. Recent publications include Letters: Michael Morris and Concrete Poetry (2015); Thrown: British Columbia's Apprentices of Bernard Leach and their Contemporaries (2011), a finalist for the 2012 Roderick Haig-Brown Regional Prize; "Race, Wilderness, Territory and the Origins of the Modern Canadian Landscape" and "Disfigured Nature" (in Beyond Wilderness, McGill University Press, 2007); and "Transmission Difficulties: Vancouver Painting in the 1960s" (in Paint, Vancouver Art Gallery, 2006). (2018)

Read More

William Wood

Writer