Julia Feyrer

Artist

Julia Feyrer's (b. 1982, Victoria, BC) work has been the subject of solo exhibitions, including Kitchen at grunt gallery, Vancouver (2014); Escape Scenes at Western Front, Vancouver (2014); Alternatives and Opportunities at Catriona Jeffries Gallery, Vancouver (2012); and Irregular
Time Signatures at Johan Berggren Gallery, Malmö, Sweden (2011). She has participated in group exhibitions at museums, including the Belkin Art Gallery, Vancouver; The Rooms, Newfoundland; Jewish Museum, New York; Victoria Art Gallery, Canada; Presentation House Gallery, Vancouver; and Bielefelder Kunstverein, Bielefeld, Germany. She is co-editor of the online Spoox Audiozine and author of a series of artist books from Perro Verlag press.

Read More

Tamara Henderson

Artist

Tamara Henderson's (b. 1982, Sackville, NB) recent solo exhibitions include The Blur Inbetween at the Art Gallery of Edmonton (2016); Charmer Scripture at Rodeo, London (2014); Speaking in Scales at Andrew Kreps Gallery, New York (2014); Tapped Out and Spiraling in Stride at Grazer Kunstverein, Graz, Austria (2014); Sans Tête Au Monde with Santiago Mostyn at Kunsthall Stavanger, Norway (2014); and Evergreen Minutes of the Phantom Figure at Kunstverein Nürnberg, Germany (2013). She has participated in group exhibitions at venues such as Insomnia at Bonniers Konsthalle (2017), the Glasgow International (2016); Toronto Kunstverein (2014); Rodeo, Istanbul (2013); Western Front, Vancouver (2013); Magasin III, Stockholm; and Midway Contemporary Art, Minneapolis. Her work was included in dOCUMENTA 13, Kassel, Germany (2012), where she presented Sloshed Ballot & Anonymous Loan. Henderson was shortlisted for the 2013 Sobey Art Award.

Read More
2019, Morris and Helen Belkin Art Gallery and Institute of Contemporary Art, University of Pennsylvania
176 pages, b/w and colour, paperback
$25.00 CAD
ISBN 9-780888-653055
Exhibition catalogue from Julia Feyrer and Tamara Henderson: The Last Waves at the Morris and Helen Belkin Art Gallery (6 September-4 December 2016)
With essays by Alex Klein, Jesse McKee and Scott Watson.
Edited by Scott Watson, Greg Gibson and Jana Tyner.
This publication marks the culmination of Julia Feyrer and Tamara Henderson's three-part exhibition project. Julia Feyrer and Tamara Henderson documents the project viewed through the artists' films from the perspective of the exhibition installations at Banff Centre, ICA and the Belkin Art Gallery that served as the sets for their films, as well as from the artists' process archives, which include the writing, poetry, drawing, and painting that form the backbone of the artists' respective practices. This fully-illustrated catalogue, designed by Mark Owens, includes essays by curators Jesse McKee (Banff Centre), Alex Klein (ICA) and Scott Watson (Belkin Art Gallery).
Julia Feyrer and Tamara Henderson are Vancouver-based artists who have worked together since 2009. In addition to their 2015 exhibition Consider the Belvedere at the ICA Philadelphia, they have collaborated on Enter the Fog at The Rooms, Saint Johns, NF (2016); Bottles Under the Influence at Walter Philips Gallery at the Banff Centre (2013) and Unfinished Corpse Bar at Jacob Lawrence Gallery, University of Washington, Seattle (2013). They recently participated together in residencies at The Rooms, Newfoundland and at IASPIS in Stockholm, Sweden.
To purchase, please contact belkin.gallery@ubc.ca or 604.822.2759.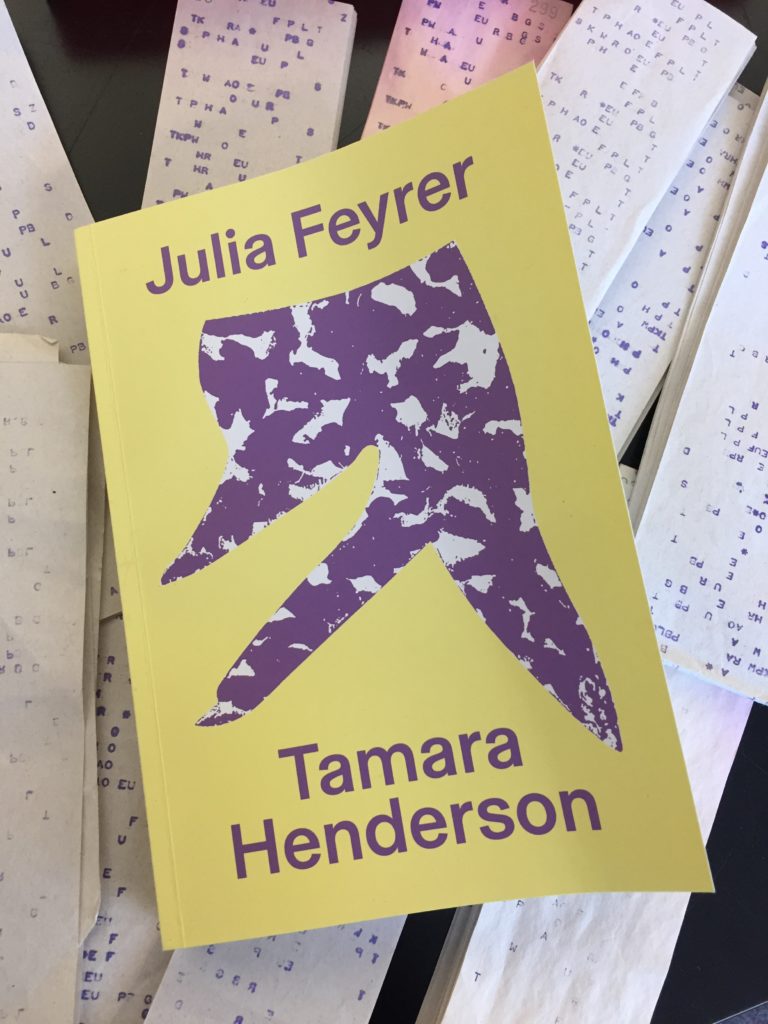 Julia Feyrer

Artist

Julia Feyrer's (b. 1982, Victoria, BC) work has been the subject of solo exhibitions, including Kitchen at grunt gallery, Vancouver (2014); Escape Scenes at Western Front, Vancouver (2014); Alternatives and Opportunities at Catriona Jeffries Gallery, Vancouver (2012); and Irregular
Time Signatures at Johan Berggren Gallery, Malmö, Sweden (2011). She has participated in group exhibitions at museums, including the Belkin Art Gallery, Vancouver; The Rooms, Newfoundland; Jewish Museum, New York; Victoria Art Gallery, Canada; Presentation House Gallery, Vancouver; and Bielefelder Kunstverein, Bielefeld, Germany. She is co-editor of the online Spoox Audiozine and author of a series of artist books from Perro Verlag press.

Read More

Tamara Henderson

Artist

Tamara Henderson's (b. 1982, Sackville, NB) recent solo exhibitions include The Blur Inbetween at the Art Gallery of Edmonton (2016); Charmer Scripture at Rodeo, London (2014); Speaking in Scales at Andrew Kreps Gallery, New York (2014); Tapped Out and Spiraling in Stride at Grazer Kunstverein, Graz, Austria (2014); Sans Tête Au Monde with Santiago Mostyn at Kunsthall Stavanger, Norway (2014); and Evergreen Minutes of the Phantom Figure at Kunstverein Nürnberg, Germany (2013). She has participated in group exhibitions at venues such as Insomnia at Bonniers Konsthalle (2017), the Glasgow International (2016); Toronto Kunstverein (2014); Rodeo, Istanbul (2013); Western Front, Vancouver (2013); Magasin III, Stockholm; and Midway Contemporary Art, Minneapolis. Her work was included in dOCUMENTA 13, Kassel, Germany (2012), where she presented Sloshed Ballot & Anonymous Loan. Henderson was shortlisted for the 2013 Sobey Art Award.

Read More