Dieter Roelstraete

Curator, Writer

Reid Shier

Writer

Sheperd Steiner

Writer

Monika Szewczyk

Writer

Michael Turner

Writer

Ian Wallace

Writer

Ian Wallace was born in Shoreham, England in 1943. After completing his studies at the University of British Columbia and graduating with a Master's Degree in Art History, he taught art history at UBC from 1967 to 1970 and at the Emily Carr Institute of Art and Design from 1972 to 1998. Wallace has been active in the creation, promotion and appreciation of innovative processes in contemporary art practice through writing, teaching and exhibiting his work. Wallace has been an influential figure in the development of an internationally acknowledged photographic and conceptual art practice in Vancouver. Ian Wallace is represented by Catriona Jeffries Gallery, Vancouver; Hauser & Wirth, London, New York and Zurich; Jessica Silverman, San Francisco; and Galerie Greta Meert, Brussels. In 2004 he was the recipient of the Governor General's Award for the Visual Arts and in 2013 appointed Officer of the Order of Canada. (2018)

Read More

Scott Watson

Curator, Writer

Scott Watson (Canadian, b. 1950) is Director of the Morris and Helen Belkin Art Gallery and Professor in the Department of Art History, Visual Art and Theory at the University of British Columbia. A curator whose career has spanned more than thirty-five years, Watson is internationally recognized for his research and work in curatorial and exhibition studies, contemporary art and issues, and art theory and criticism. His distinctions include the Hnatyshyn Foundation Award for Curatorial Excellence in Contemporary Art (2010); the Alvin Balkind Award for Creative Curatorship in BC Arts (2008) and the UBC Dorothy Somerset Award for Performance Development in the Visual and Performing Arts (2005). Watson has published extensively in the areas of contemporary Canadian and international art. His 1990 monograph on Jack Shadbolt earned the Hubert Evans Non-Fiction Prize in 1991. Recent publications include Letters: Michael Morris and Concrete Poetry (2015); Thrown: British Columbia's Apprentices of Bernard Leach and their Contemporaries (2011), a finalist for the 2012 Roderick Haig-Brown Regional Prize; "Race, Wilderness, Territory and the Origins of the Modern Canadian Landscape" and "Disfigured Nature" (in Beyond Wilderness, McGill University Press, 2007); and "Transmission Difficulties: Vancouver Painting in the 1960s" (in Paint, Vancouver Art Gallery, 2006). (2018)

Read More

William Wood

Writer
2005, Museum of Contemporary Art Antwerp (MuHKA)
207 pages, b/w and colour
$35.00 CAD
ISBN 0-88865-785-4
Exhibition catalogue at the Museum of Contemporary Art Antwerp (MuHKA): 17 December 2005 – 26 February 2006.
Curated by Scott Watson & Dieter Roelstraete; essays by Scott Watson, Dieter Roelstraete, Reid Shier, Shepherd Steiner, Monika Szewczyk, Michael Turner, Ian Wallace, William Wood.
On March 17, 2006 at the Belkin Satellite, the Belkin in association with the Antwerp Museum of Contemporary Art (MuHKA) launched Intertidal: Vancouver Art & Artists to accompany the exhibition of the same name, a major survey of contemporary art from Vancouver. The exhibition was shown at the MuHKA in Antwerp, Belgium, and was the first major survey of works by Vancouver-based artists to be held in Europe and the largest exhibition of Canadian art held abroad since the exhibit Canada Trajectories in Paris, France, 1973.
The catalogue was designed by Vancouver-based graphic designer Robin Mitchell, and co-edited by Scott Watson, Director/Curator of the Morris and Helen Belkin Art Gallery and Dieter Roelstraete, Curator of the Antwerp Museum of Contemporary Art.
To purchase, please contact belkin.gallery@ubc.ca or 604.822.2759.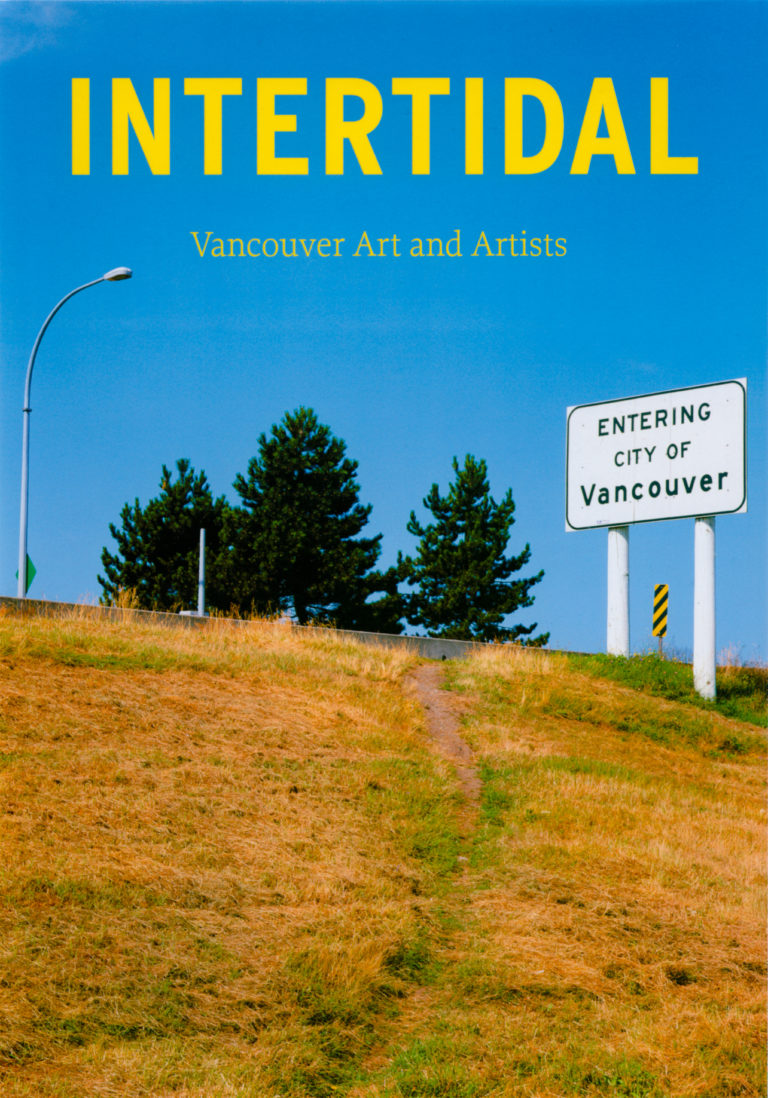 Intertidal: Vancouver Art & Artists, Exhibition catalogue at the Museum of Contemporary Art Antwerp (MuHKA)
Dieter Roelstraete

Curator, Writer

Reid Shier

Writer

Sheperd Steiner

Writer

Monika Szewczyk

Writer

Michael Turner

Writer

Ian Wallace

Writer

Ian Wallace was born in Shoreham, England in 1943. After completing his studies at the University of British Columbia and graduating with a Master's Degree in Art History, he taught art history at UBC from 1967 to 1970 and at the Emily Carr Institute of Art and Design from 1972 to 1998. Wallace has been active in the creation, promotion and appreciation of innovative processes in contemporary art practice through writing, teaching and exhibiting his work. Wallace has been an influential figure in the development of an internationally acknowledged photographic and conceptual art practice in Vancouver. Ian Wallace is represented by Catriona Jeffries Gallery, Vancouver; Hauser & Wirth, London, New York and Zurich; Jessica Silverman, San Francisco; and Galerie Greta Meert, Brussels. In 2004 he was the recipient of the Governor General's Award for the Visual Arts and in 2013 appointed Officer of the Order of Canada. (2018)

Read More

Scott Watson

Curator, Writer

Scott Watson (Canadian, b. 1950) is Director of the Morris and Helen Belkin Art Gallery and Professor in the Department of Art History, Visual Art and Theory at the University of British Columbia. A curator whose career has spanned more than thirty-five years, Watson is internationally recognized for his research and work in curatorial and exhibition studies, contemporary art and issues, and art theory and criticism. His distinctions include the Hnatyshyn Foundation Award for Curatorial Excellence in Contemporary Art (2010); the Alvin Balkind Award for Creative Curatorship in BC Arts (2008) and the UBC Dorothy Somerset Award for Performance Development in the Visual and Performing Arts (2005). Watson has published extensively in the areas of contemporary Canadian and international art. His 1990 monograph on Jack Shadbolt earned the Hubert Evans Non-Fiction Prize in 1991. Recent publications include Letters: Michael Morris and Concrete Poetry (2015); Thrown: British Columbia's Apprentices of Bernard Leach and their Contemporaries (2011), a finalist for the 2012 Roderick Haig-Brown Regional Prize; "Race, Wilderness, Territory and the Origins of the Modern Canadian Landscape" and "Disfigured Nature" (in Beyond Wilderness, McGill University Press, 2007); and "Transmission Difficulties: Vancouver Painting in the 1960s" (in Paint, Vancouver Art Gallery, 2006). (2018)

Read More

William Wood

Writer