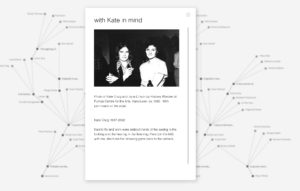 As part of Collective Acts, we invite you to visit the newly-launched Intuition Commons, a space that aims to facilitate an archive of female influences in creative practice that lie outside of conventional citations. You are invited to contribute your own moments through stories or multimedia creative gestures that detail the intuitive, affective or tacit links with female-identified artists that have informed your own creative output and ways of being in the world. The site is accepting contributions with the hopes of creating a rhizomatic web of links — visual connections and nuanced and overlapping stories that demonstrate the complexity of relationships we have with knowing through art.
Intuition Commons is supported by the Canada Council for the Arts, the British Columbia Arts Council and CreativeBC.
For more information about this project, contact the artist at intuitioncommons@gmail.com
Image (above): Christine D'Onofrio, Intuition Commons, www.intuitioncommons.com, 2018. Courtesy of the artist.